If you see a link that promotes "Twilight: Breaking Dawn"game, be careful, this is most likely a scam that will grab your personal data. A new scam is being spread in Facebook.
The link that is being promoted leads to what looks like a Facebook page with a big "Play now" button. When you click on this button, you will automatically "Like" this. This is done without your permission. This link will also be automatically posted on your Wall. This will lead to further distribution of this scam.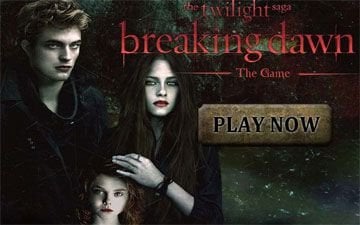 After this you will be asked to give a permission to a Facebook App, and then you will end up filling out a survey. Scammers are making money from people who fills these surveys.
What should you do if you have been scamed? (Intructions are provided by Sophos)
Facebook offers these tips on its Security page:

Don't click on strange links, even if they're from friends, and notify the person if you see something suspicious.

Don't click on friend requests from unknown parties.

Review your security settings and consider enabling log-in notifications. They're in the drop-down box under Account on the upper right-hand corner of your FB home page.

If you come across a scam, report it so that it can be taken down.

Don't download any applications you aren't certain about.

For using Facebook from places like hotels and airports, text "otp" to 32665 for a one-time password to your account.
More information: Sophos Blog.