Monday, 22 August 2011 15:58
A new scam message are being spread through botnets. The message itself looks like a traffic ticked that came from New York State police. This spam message states that you need to print out the enclosed traffic ticked and send it to town court. Don't trust this message it's a scam. Internet criminals are using this spam message to spread fake antivirus programs.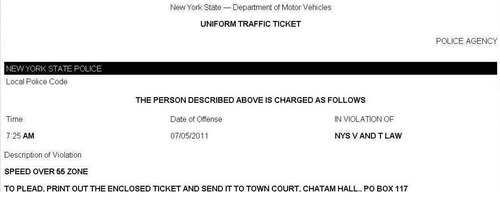 If you try to open the attached file, instead of viewing the PDF file your computer will be infected with a fake antivirus program which will hijack your computer. Fake Antivirus programs are used to scare computer users into thinking that PC's are infected with various malware. When we analyzed this scam message the infected file downloaded a fake AV called System Repair. You can find the removal guide for System Repair HERE. Previously seen fake AV distribution campaigns also used a downloader file which is capable of downloading various rogue programs. After fake computer security scans such rogue programs will state that you have to purchase the full version of the program in order to remove the found threats. Always do some research before purchasing a computer security program. The origin of "Uniform traffic ticket" scam message is Ukraine. If you received such message, you shouldn't open the attached file.
Police ask that recipients of the hoax e-mail delete the e-mail it and not forward it. They advise computer users to activate anti-virus software, firewalls, and take other security measures, only opening e-mails from familiar sources.