Thursday, 29 March 2012 10:50
Internet criminals are always looking for new ways of spreading their misleading applications. Most commonly they use spam campaigns, hijacked websites and various redirects. Search engine result poisoning are also used to spread malware, Cyber criminals are waiting for some global event and then creates optimized websites to distribute their rogue programs. While on their quest of infecting as much computers as possible, Internet criminals are able to compromise legitimate Ad networks and serve their misleading applications through websites which uses the services of the mentioned ad networks. This strategy allows them to reach a very wide auditory of computer users and infect thousands of machines. Latest research shows that Internet criminals were able to compromise several ad servers which are running OpenX ads. They were able to add malicious JavaScript to Ad servers which redirects computer users to misleading websites serving malware. The added script allows adding additional iframe element to the page which then loads content from servers controlled by Internet criminals. This a very powerful technique allowing Cyber criminals to control a very high volume of web traffic.
When a computer user enters  a legitimate website which shows ads from compromised networks their browser will be redirected to attack websites which uses security vulnerabilities to install fake anti-viruses or Trojans on their machines. In the recent attack computers were infected with Smart Fortress 2012 - a fake antivirus program which comes from the same family as Security Shield.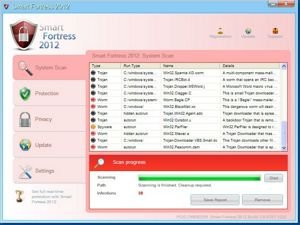 When installed on your computer these rogue programs will imitate a security scan and then will show a big list on supposedly detected security threats on your computer. These bogus antivirus programs are designed to scare computer users into thinking that their computers are infected and then selling them a licence to remove the detected security threats. Fake antivirus distribution is a very profitable business for Internet criminals and compromising of ad networks enables them to reach a high volume of computer users. To protect your computer from such attacks you should use a legitimate security program with On-Access Scanning features such as Malwarebytes Antimalware or Spy Hunter.