Strachclyde Police virus - how to remove it and unlock your PC?
Strachclyde Police computer screen locker is another ransomware PC infection created by Cyber criminals. As it's previous versions this screen locker is developed with a sole purpose - tricking unsuspecting PC users into paying a non existent fine for watching pornography etc. You shouldn't pay this fine, it's a scam - if you pay this fine you will send your money to Cyber criminals and your computer will still be blocked. Internet criminals who designed this scam has slightly changed it's design and the deceptive message that is presented in this ransomware.
While most of other ransomware infections are threatening that for the supposed law infringement Criminal Code provides for a deprivation of liberty this ransomware (Starchclyde Police) states that if you ignore this message all supposedly illegal material and all of your information stored on your PC could be removed. You shouldn't trust this message, it's a scam - none of the authorities including Strachclyde Police collect fines using screen lockers. It's quite easy to identify that this message is fake, by reading the deceptive text in this message you will see a lot of grammar and style mistakes.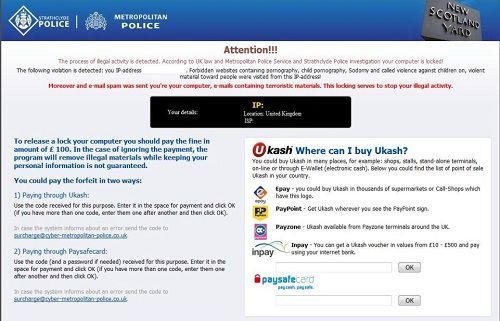 Strachclyde Police ransomware is distributed using Trojans and drive-by downloads, Cyber criminals are using malicious websites to spread their screen lockers. If you PC is infected with such ransomware you won't be able to access your desktop, the best way of treating such message is it's elimination from your computer. Follow the steps in the provided removal guide and remove Strachclyde Police scam from your PC.
Fake message shown in Strachclyde Police ransomware:
Strathclyde police Metropolitan police New Scotland yard
Attention!!! The process of illegal activity is detected. According to UK law and Metropolitan Police Service and Strathclyde Police investigation your computer is locked! The following violation is detected: your IP-address ... Forbidden websites containing pornography, child pornography, Sodomy and called violence against children on, violent material toward people were visited from this IP-address!
Moreover and e-mail spam was sent you're your computer, e-mails containing terrorist materials. This locking serves to stop your illegal activity.
To release a lock your computer you should pay the fine in amount of 100 pounds. In the case of ignoring the payment, the program will remove illegal materials while keeping your personal information is not guaranteed.
You could pay the forfeit in two ways:
1. Paying through Ukash
2. Paying through paysafecard
Strachclyde Police virus removal:
Step 1
Start your computer in safe mode. Click Start, then click Shut down. Select Restart and click OK. During your computer starting process press F8 key on your keyboard multiple times until Windows Advanced Options menu shows up, then select Safe mode with networking from the list and press ENTER.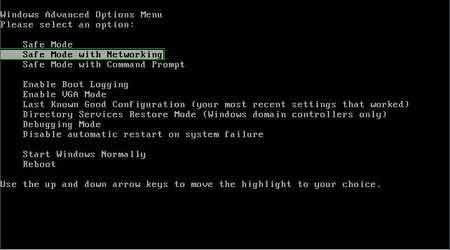 Video showing how to start Windows 7 in "Safe Mode with Networking":
Step 2
Log in to the account that is infected with Strachclyde Police ransomware. Start your Internet browser and download a legitimate anti-spyware program. Update the anti-spyware software and start a full system scan. Remove all the entries that it detects.
remover for Strachclyde Police ransomware
By downloading any software listed on this website you agree to our Privacy Policy and Terms of Use. We are affiliated with anti-virus and anti-spyware software listed on this site. All the products we recommend were carefully tested and approved by our technicians as being one of the most effective solutions for removing this threat.

After completing these steps your computer should be clean, reboot your computer in normal mode.
Alternative Strachclyde Police ransomware removal guide:
If this ransomware blocks your screen when you start your computer in safe mode with networking, try starting your PC in safe mode with command prompt.
1. During your computer starting process press F8 key on your keyboard multiple times until Windows Advanced Options menu shows up, then select Safe mode with command prompt from the list and press ENTER.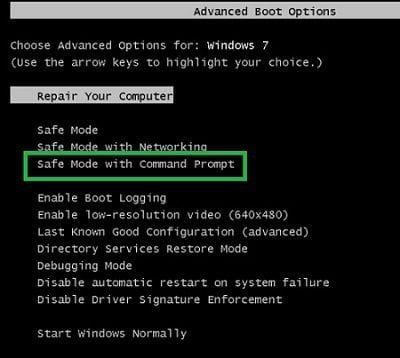 2. In the opened command prompt type explorer and press Enter. This command will open explorer window, don't close it and continue to the next step.
3. In the command prompt type regedit and press Enter. This will open the registry editor window.
4. In the registry editor window you should navigate to HKEY_LOCAL_MACHINE\SOFTWARE\Microsoft\Windows NT\CurrentVersion\Winlogon\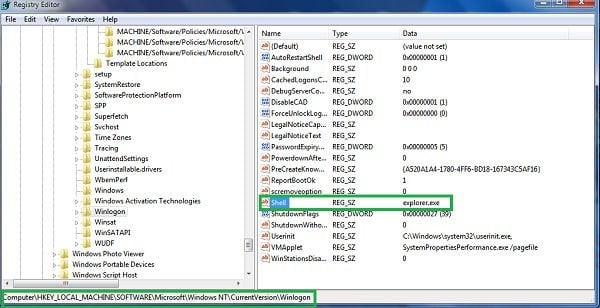 5. In the right side of the window locate "Shell" and right click on it. Click on Modify. The default value data is Explorer.exe if you see something else written in this window remove it and type in Explorer.exe (you can write down whatever else was written in the value data section - this is a path of the rogue execution file) - use this information to navigate to the rogue executable and remove it.
6. Restart your computer, download and install a legitimate anti-spyware software and perform a full system scan to eliminate any left remnants of Strachclyde Police ransomware.
remover for Strachclyde Police ransomware
By downloading any software listed on this website you agree to our Privacy Policy and Terms of Use. We are affiliated with anti-virus and anti-spyware software listed on this site. All the products we recommend were carefully tested and approved by our technicians as being one of the most effective solutions for removing this threat.
If you can't start your computer in safe mode with networking (or with command prompt) you should boot your computer using a rescue disk. Some variants of ransomware disables safe mode making it's removal more complicated. For this step you will need access to another computer. After removing Strachclyde Police ransomware from your PC restart your computer and scan it with a legitimate antispyware software to remove any possibly left remnants of this security infection.
Anti-spyware programs known to detect and remove Strachclyde Police ransomware: