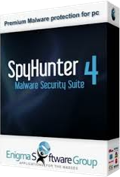 Works with: Microsoft Windows 7 (32bit, 64bit), Windows Vista (32bit, 64bit), Windows XP SP2+ (32bit)

By downloading this software you agree to our Privacy Policy and Terms of Use. We are affiliated with anti-virus and anti-spyware software listed on this site. All the products we recommend were carefully tested and approved by our technicians as being one of the most effective solutions for removing viruses and/or malware.
SpyHunter 4 is an anti-spyware program that was designed to help computer users clean malware, viruses, rogue antivirus program, ransomware, and every other security related issues. This anti-spyware program has powerful features which help computers avoid security infections on daily basis. Some of the features worth mentioning: rootkit detection capabilities (rootkits are security infections which uses encryption to avoid detection by traditional security programs), Spyware HelpDesk (this feature allow SpyHunter's technicians to remotely analyze and fix the infected machine and apply for custom fixes if needed), System Guards (a proactive defense mechanism which will automatically block malicious processes etc.). SpyHunter 4 is certified by West Coast Labs' Checkmark Certification System and is trusted by many computer users and technicians. If your computer has been infiltrated by some rogue program, has been locked by a ransomware infection or has other security issues you should give SpyHunter 4 a try.
Features:
Detection and removal of spyware, rootkits, adware, keyloggers, cookies, trojans, worms etc.
Spyware Helpdesk: an interactive one-on-one customer support used in cases when a custom fix is needed.
Daily malware definition updates.
System Guards ensures that none of malicious processes would be active on a computer.
Kills browser hijackers, removes rootkits.
Network Sentry feature gives a complete control over your system networking settings.
Screen shots: