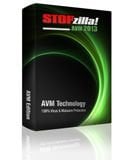 Works with: Microsoft Windows 7 (32bit, 64bit), Windows Vista SP1+ (32bit, 64bit), Windows XP SP2+ (32bit)

By downloading this software you agree to our Privacy Policy and Terms of Use. We are affiliated with anti-virus and anti-spyware software listed on this site. All the products we recommend were carefully tested and approved by our technicians as being one of the most effective solutions for removing viruses and/or malware.
STOPzilla is one of the most popular complete anti spyware solution on the market today. It has all the features, that good anti-spyware software must have and even more. It's award-winning spyware detection technology removed all Spyware, Adware, Pop-up ads, Phishing attacks, hijackers, rootkits, Trojans, bots, drive-by downloads, rogue programs, messenger service ads, keyloggers, malicious BHOs, dialers and other infections in our testing machine. STOPzilla has highly advanced installer that is unlike any other security program. Now, almost all recent malware programs try to block any attempts to install spyware removers or other security software. But, STOPzilla has a solution for this. It's installer was developed to break through Malware infections that tries to stop your installation. Usually, the installation of STOPzilla succeeds and you can start removal process.
"[STOPzilla]... blocked all the Spyware in our testing"

- cnet download.com
Awards:
Features:
Detects, blocks, and quarantines Spyware and Adware in real time.
Four configurable types of on-demand and automatic Spyware scanning.
Can be set to update automatically or on demand for optimal protection.
Advanced Pop-up protection blocks ads that slow down your surfing.
Kills browser hijackers, removes rootkits, prevents botnet attacks.
Blocks Phishing attacks, protects from malicious Web sites.
Screen shots: