STOPzilla AntiMalware 6.0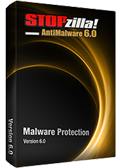 Works with: Windows XP (32-bit)(SP3), Windows Vista (32-bit and 64-bit), Windows 7 (32-bit and 64-bit), Windows 8 (32-bit and 64-bit)
STOPzilla! Anti-Malware 6.0 Malware Protection
By downloading this software you agree to our Privacy Policy and Terms of Use. All the products we recommend were carefully tested and approved by our technicians as being one of the most effective solutions for removing viruses and/or malware.
STOPzilla! AntiMalware 6.0 is an anti malware software package developed by a company called iS3. This program is based upon AVM Technology, a multi-layered malware detection system capable of locating a variety of malicious threats on users' computers. The program was first released in 2001, providing functionality as an online pop-up ad blocker. After thirteen years of development, STOPzilla! has evolved into fully-fledged antimalware software with products that now include antivirus, anti-malware, mobile security, and PC optimization programs. STOPzilla! AntiMalware 6.0 costs $19.95 for a one-year license. For this price, computer users receive a fully functional anti-malware program that is updated daily and capable of detecting the latest security threats.
This program is also fully compatible with most popular antivirus programs and works seamlessly with users' primary security software. There is no free version of STOPzilla! AntiMalware 6.0, but as with most antimalware tools, it offers a trial version to enable users to try the product before deciding to purchase the full version.
Overview:
The installation of this anti-malware program takes just two clicks of the 'Next' button, and no more than a minute for the set up to complete. Immediately following the lightning-fast installation, STOPzilla! updates its malware database and initiates a quick system scan. StopZilla! AntiMalware 6.0 functions with a modern black user interface and a main window displaying various warning messages and reminders. These keep users informed of recently detected malicious programs and when to run a full system scan. The home screen also displays statistics of scanned files, threats removed, and updates applied. Users who experience any problems or errors can easily reach STOPzilla!'s support team using a live chat button.
Performance:
Although STOPzilla! AntiMalware 6.0 did affect the performance of our test machine when running a full system scan, in general it has a low impact on PC performance. The 'quick system scan' completes in under 2 minutes. Intelligent and full system scans complete in a significantly longer time frame, however, this is acceptable since these scan options analyse a wider range of files and registry entries. Furthermore, an increasing volume of malware evolves daily, and thus the anti-malware signature database grows considerably as a result. Therefore, taking into account this vast and ever-growing security threats database, STOPzilla! meets performance expectations.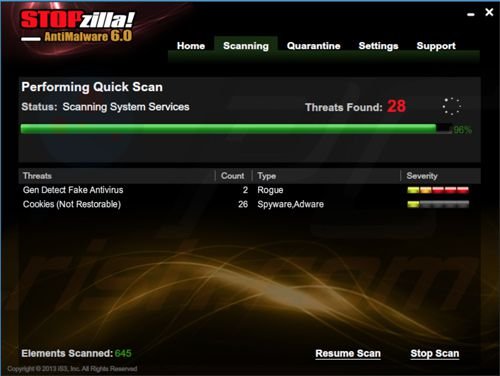 Scanning:
STOPzilla! AntiMalware 6.0 offers 4 types of PC scan: Quick Scan, Intelligent Scan, Full Scan, and Custom Scan. Users are also allowed to schedule a custom scan time. Quick Scan checks the most common areas where security infections might hide. Intelligent Scan is relatively quick, however, this scan option checks a wider range of file types. Full Scan thoroughly examines the user's entire computer. Custom Scan scans specific areas of the user's computer (individual files or folders).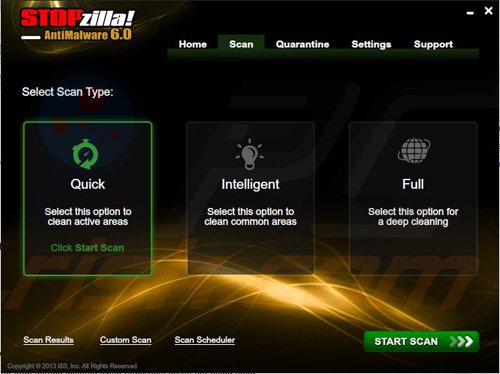 Features:
Extensive malware signatures database - one of the largest malware threats databases in the industry. Ensures a high detection rate of Trojans, adware, fake antivirus programs, and other security infections.
Does not interfere with existing antivirus programs - works seamlessly with popular antivirus programs.
Low impact on system performance - designed for maximum performance by reducing the use of system resources.
Easy to Use - intuitive User Interface.
Conclusion:
STOPZilla! AntiMlawre 6.0 is a solid anti-malware program that is easy-to-use. The program provides useful real-time protection and excellent malware detection and removal features. Although STOPzilla! does not offer a free version, users can download a trial version to give the program a try. The license costs $19.95 per year for a single PC and $39.95 for three PC's. While this program is not considered as a complete security suite, it does provide users with a secondary layer of protection and complements any existing antivirus programs installed.