How To Fix "PVP.net Patcher Kernel has stopped working"
How To Fix "PVP.net Patcher Kernel has stopped working" League Of Legends Problem
League of Legends, also known as LoL is one of the most grossing free multiplayer online games that is a mix of both RTS (Real-time strategy) and RPG (role-playing game) and it is one of the most popular Multiplayer Online Battle Arena genre games. Basically it is a game where there are two opposing teams and the goal is to destroy the opposing team's nexus. A Nexus in LoL is a protected structure located within the enemy's base. It was released in year 2009 and it is still a very popular game that attracts players from all over the world.
If you are reading this, then most probably you encountered the error which says that "PVP.net Patcher Kernel has stopped working" and you are unable to launch the game. This can be very frustrating, knowing how addictive this game is. This error occurs when a certain problem causes the particular program to stop working correctly and Windows is closing the program without letting you to pass through it. Usually this means that the client does not get appropriate permission to for it to run. Good news is that there are couple of ways that could possibly fix this problem without needing to reinstall the game. In this guide we are going to provide thoroughly described solutions, all you need to to is simply follow the steps and hopefully you will be able to play League of Legends again. Read the guide and find out how.

Table of Contents:
Run LoL As Administrator
An administrator account is an account that allows its users to affect other users. Administrators can change various security settings, install software, access all files on the system etc. One of the easiest possible ways to fix the "PVP.net Patcher Kernel has stopped working" problem is to run Lol as administrator. However, to run it as administrator you must be logged into administrator account first. Assuming that you are using the administrative account, right-click the League of Legends shortcut on your desktop (or the original executable file, that you are using to launch the file) and select "Run as administrator" option from the contextual menu. See if this fixes the problem and if you are now able to launch League of Legends without any problems.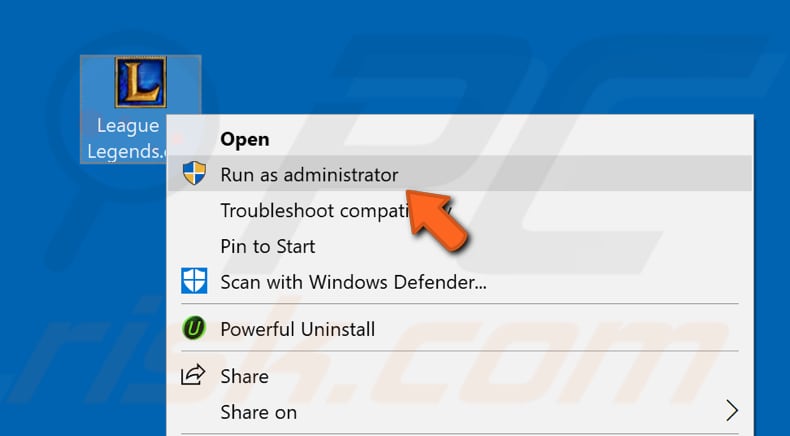 If you were able to launch the game by running it as administrator and you want to make the file to be opened as administrator every time you launch it, simply right-click it again and select Properties. Go to "Compatibility" tab and find the "Run this program as an administrator" checkbox, tick it as click "Apply" to save the changes. Now the game will be started with administrative rights every time you launch it.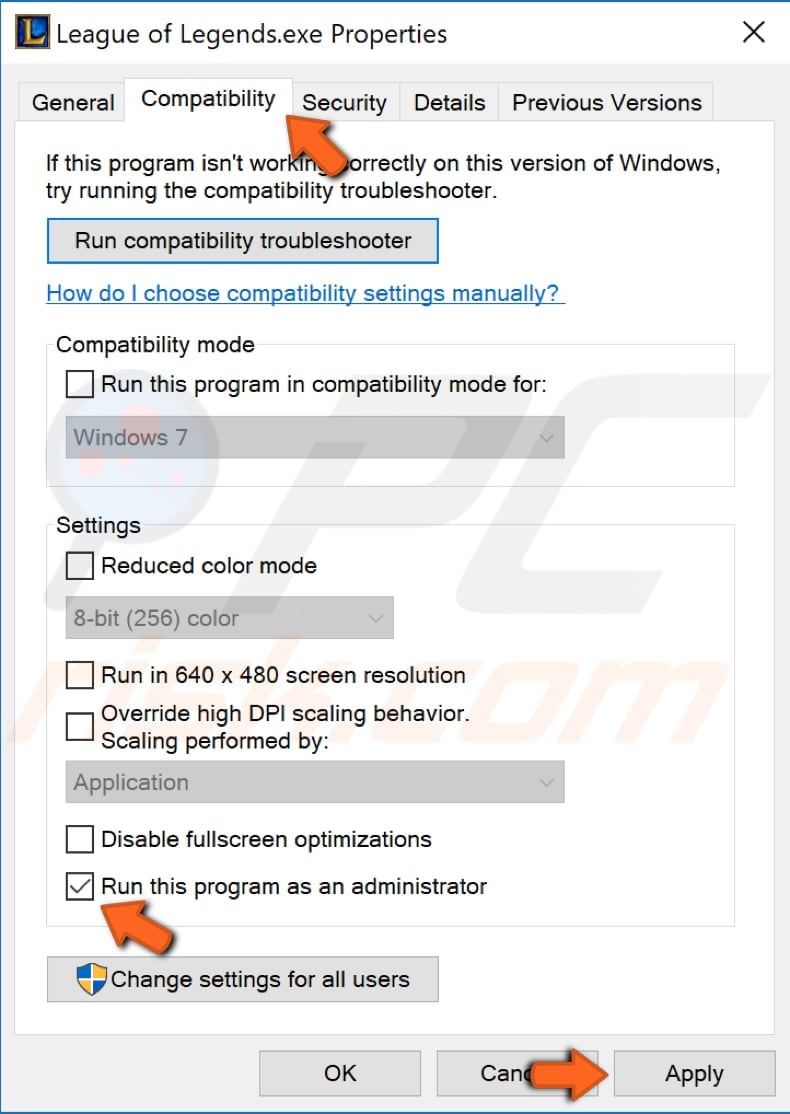 End LoL Process
Another thing that could possibly fix the "PVP.net Patcher Kernel has stopped working" problem is ending the LoL process using Task Manager. Task Manager is very useful when there is a need to close/terminate a particular running program that is frozen, not responding, taking too many CPU resources, or simply not working properly. Task Manager helps to close programs and stop processes from running (when exiting normally does not work). To open it press the Ctrl + Shift + Esc keys on your keyboard, or right-click the Start and select "Task Manager" from the contextual menu.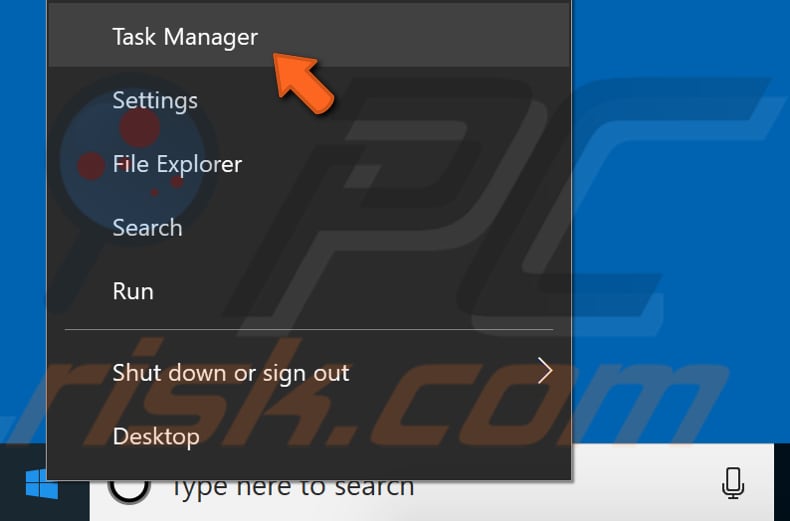 In open Task Manager you will see a list of services and programs that are currently running. Find any process related to League of Legends and right-click it, select "End task" from the contextual menu. If there are several League of Legends processes running, then apply the steps to each of them. Now run LoL as administrator again and see if this fixed the "PVP.net Patcher Kernel has stopped working" problem.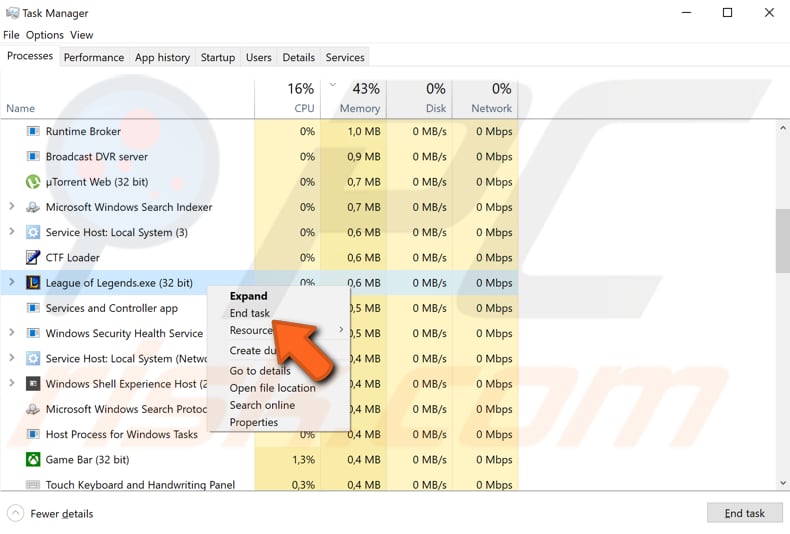 Remove Game Patch Files
If running League of Legends as administrator or ending the League of Legends processes could not fix the "PVP.net Patcher Kernel has stopped working" problem, then we recommend you to try to remove some of the game patch files of LoL. Maybe these game patch files got corrupted or they are configured improperly, then removing them could help, since the LoL game will automatically download missing files and replace them with the missing ones.
First, you will need to find the RADS folder, that should be in your Local Disk (C:), under Riot Games folder, that is under League of Legends Folder, and open it.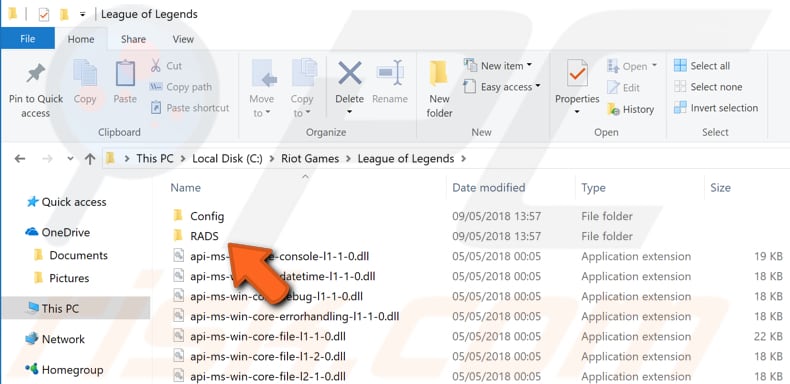 Now go to projects > lol_air_client > releases > and select the latest folder. Find "releasemanifest" and "S_OK" files and delete them.

Now open the "deploy" folder, then find and delete "properties", "META-INF", "logs" and "LoLClient.exe" files. Restart your computer and launch the game as administrator again to see if this fixed the "PVP.net Patcher Kernel has stopped working" problem.
That's it, we hope this guide was useful and you were able to fix the "PVP.net Patcher Kernel has stopped working" problem that prevented you from launching the game. If there is another method that solved this problem for you and it is not mentioned in our guide - do not hesitate to share it with us and with the others by leaving a comment in our comment section below.
Video Showing How To Fix "PVP.net Patcher Kernel has Stopped working" Problem: