Wsappx Causing High CPU Usage. How To Fix It?
Wsappx Process Is Causing High CPU Usage. What Is Wsappx And How To Reduce CPU Usage Caused By It
Wsappx is a legitimate Microsoft Windows process that can be found on Windows 8 and Windows 10 operating systems. This process can be seen running in Task Manager under Processes. The wsappx process is related to Windows Universal Apps (WUA) and Windows Store and it runs in in the background. If you double-click the wsappx process, you will see that there are two additional sub processes running under wsappx, the AppXSVC and ClipSVC process. First one provides infrastructure support for deploying Store applications, second one provides infrastructure support for the Microsoft Store.
If you are reading this, then most probably you have noticed that the wsappx process is taking too much of your CPU (Central Processing Unit). That is not some abnormal behaviour, however, wsappx process usually uses higher percentage of CPU only when it is installing, uninstalling or updating Microsoft Store apps. So, if you are seeing that wsappx is eating up your CPU, then it is probably because you are uninstalling or installing some apps, or because Microsoft Store is automatically updating apps on your Windows operating system.
Normally you would not need to do anything about it, since it is a normal process with totally normal consequences, like high CPU usage. However, it is possible that this service is having problems while trying to install, uninstall or update some app and this could cause longer high CPU usage than usual. Or it could take up much more CPU than it is supposed to. In this guide we are going to show you how to fix possible problems that are related to the wsappx process, read the guide below and follow our described steps one by one, and hopefully the high CPU usage problem caused by the wsappx process/service will be solved.

Table of Contents:
Run Windows Store Apps Troubleshooter
Windows includes a number of troubleshooters designed to quickly diagnose and automatically resolve various computer problems. Troubleshooters cannot fix all problems, but they are a good place to start if you encounter a problem with your computer, operating system or connected devices. To start troubleshooting, go to Settings and type "troubleshoot", select "Troubleshoot" from the list.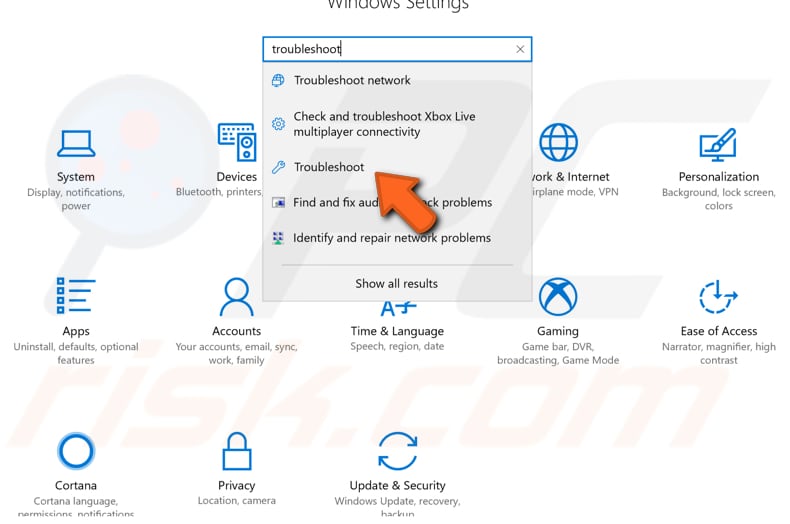 Find "Windows Store Apps" under "Find and fix other problems", select it and click "Run the troubleshooter". See if this solves the problem with the wsappx process.
Disable Windows Store Using Registry Editor
Windows Registry, usually referred to as just the registry, is a collection of databases of configuration settings in Microsoft Windows operating systems. It is used to store much of the information and settings for software programs, hardware devices, user preferences, operating system configurations, and much more. Many of the options exposed in the registry are not accessible elsewhere in Windows. In order to edit your registry you will need to use Windows Registry Editor. To open Registry Editor open Run dialog box again (press Windows Windows key + R or right-click Start and select "Run") and type "regedit". Press Enter or click "OK".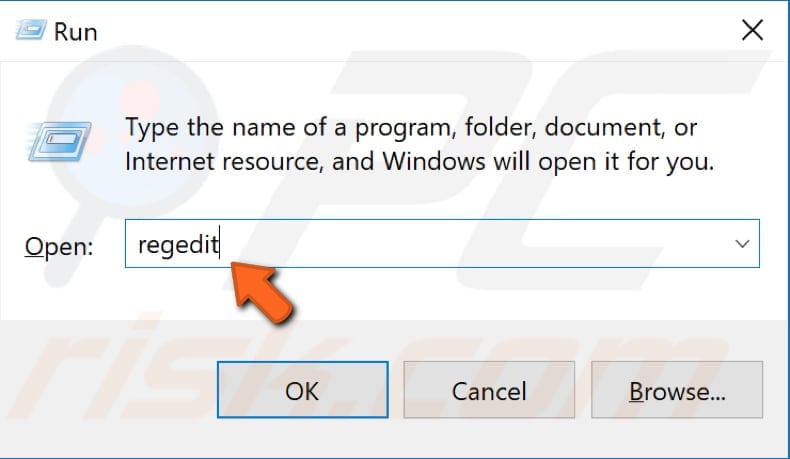 Once Registry Editor is open, follow this path: "HKEY_LOCAL_MACHINE\SOFTWARE\Policies\Microsoft\WindowsStore". You can copy it from our article and paste it into Registry Editor's upper bar if you like. If the "WindowsStore" key does not exist, then you will need to create it. To create the WindowsStore key you need to right-click the "Microsoft" key and select "New", then "Key" and name it "WindowsStore".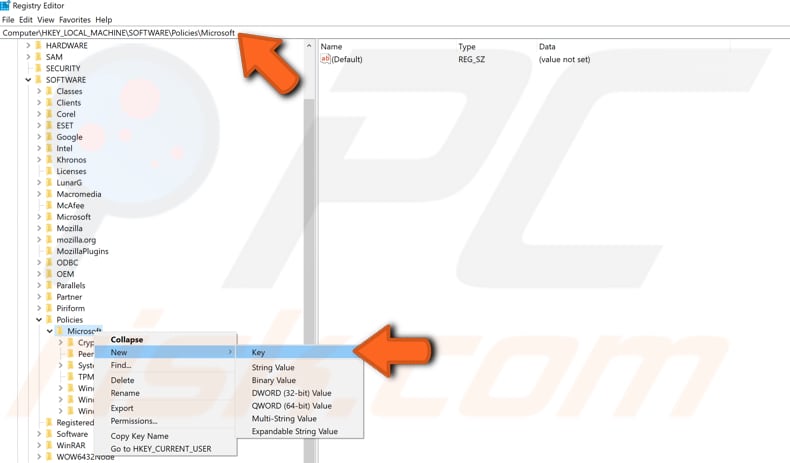 Now select the newly created WindowsStore key and right-click it's background on the right pane. You will now need to create new DWORD value within the Windows Store key and name it "RemoveWindowsStore". Select "New", then "DWORD (32-bit) Value".
Now double-click the created "RemoveWindowsStore" DWORD and set value data to 1. Click "OK" and exit Registry Editor. Restart your computer, Windows Store should be disabled now.
NOTE: Third-party apps won't be available to installed or to updated when Windows Store is disabled. If you need to enable Windows Store again, undo the previously mentioned steps, simply delete the "RemoveWindowsStore" DWORD or set its value to 0.
Disable Windows Store Using Local Group Policy Editor
The Local Group Policy Editor (also known as gpedit.msc) is a Microsoft Management Console that allows users to manage Computer Configuration and User Configuration settings. By default, the policies that are set in the Local Group Policy Editor apply to all Windows user accounts. This feature is available only in Windows Pro, Enterprise and Education editions, and not others such as Windows Home Edition. If your operating system supports this feature, then you can use it to disable Windows Store.
To open Local Group Policy Editor launch Run again and type "gpedit.msc", press Enter to start it. Now follow this path: "Computer Configuration > Administartive Templates > Windows Components > Store". In Store folder you will see several settings, one of them will be named "Turn off the Store application". Double-click it, choose "Enabled" option and click "Apply" to save the changes that will disable Windows Store. If you want to undo these changes, simply set "Turn off the Store application" setting to "Disabled".
NOTE: Third-party apps won't be available to installed or to updated when Windows Store is disabled.
Scan Your System For Viruses
It is possible that high CPU usage caused by the wsappx process persists due to malware or a virus. You can use Windows Defender (built-in antivirus program) which protects your computer against viruses, spyware, other malicious software. Or you can run any other third-party antivirus if you have one installed. To run full system scan using Windows Defender type "virus" in Search and click on the "Virus & threat protection" result.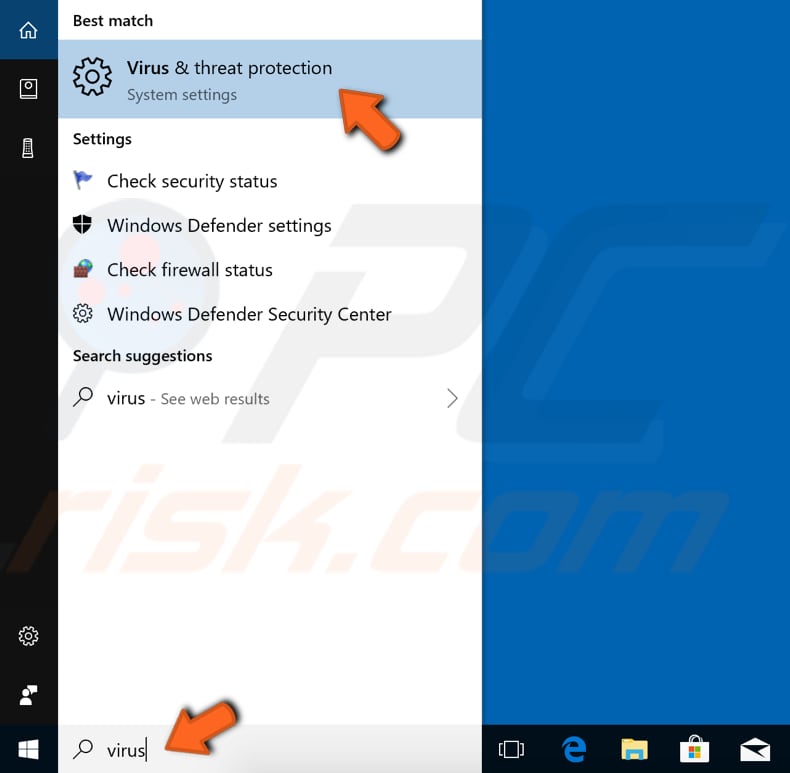 In the Virus & threat protection window, click "Advanced scan".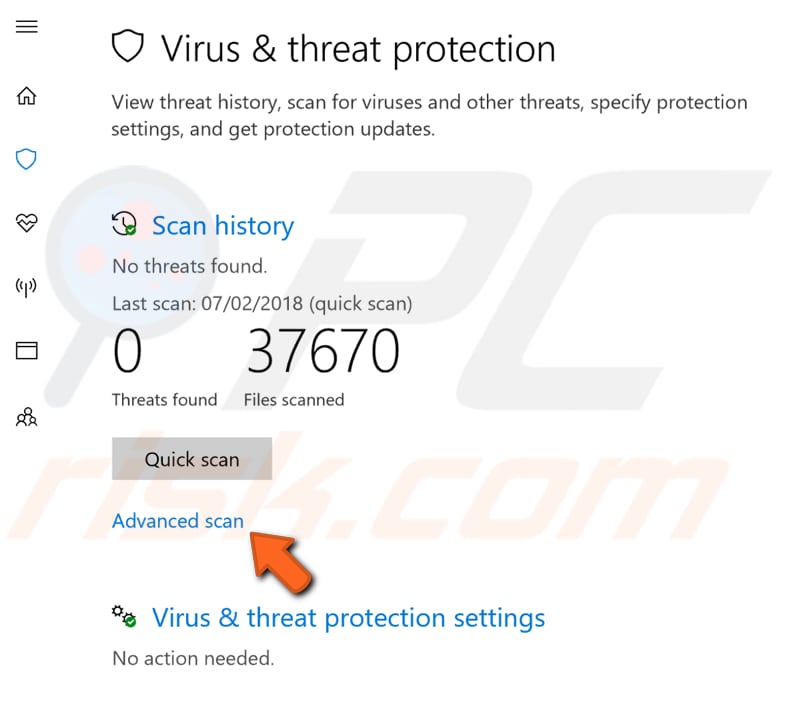 Select "Full scan" and click "Scan now". This will start scanning your system for malware. If there are any viruses found, delete them.
If you want you can choose virus and malware scanner from our Top anti-malware list. The list consists of well known top spyware removers and will help you choose the right software for your computer's protection. You can find the list by clicking this link. 
That's it, we hope these solutions were helpful and you are no longer having any problems with the wsappx process. If there is another method that solved this wsappx high CPU usage problem and it is not mentioned in our guide - do not hesitate to share it with us and with the others by leaving a comment in our comment section below.
Video Showing How To Reduce High CPU Usage Caused By Wsappx: