Google Chrome Is Unresponsive
How To Fix "Google Chrome is unresponsive. Relaunch now?" Issue
Google Chrome is one of the most popular web browsers in the world which was released 10 years ago. At first it was available only on Microsoft Windows and was later ported to macOS, iOS, Linux and Android. It has become one fast, simple and secure browser for all devices. It is designed to be fast in every possible way, secure by default and easy to use safely by everyone. It is improving every day and usually users do not have any problems with it. However, even great products like Google Chrome sometimes begin to behave unexpectedly.
If you are reading this, then most probably you have encountered the issue where Google Chrome says that it is unresponsive and asks you if you want to relaunch it. However, relaunching it does not help as well. This usually happens when you are trying to open a link in an email message in Outlook or even when you are trying to simply launch the Google Chrome app itself. It is possible that the antivirus or firewall software you are using is blocking Google Chrome, in other words, it is possible that Chrome is marked as not trusted or not permitted by your antivirus or firewall program. Another reason for this could be that there are multiple Google Chrome processes are running in the background and you need to close them. In order to fix this problem you may also need to uninstall Google Chrome from your completely and then use the Google Chrome alternate installer which allows you to install it while being offline. Also, you might need to run your antivirus software to scan for suspicious or malicious software and use the Chrome Cleanup Tool. There are various other methods that could possibly fix the "Google Chrome is unresponsive. Relaunch now?" problem and you will find them all in our guide below. Simply follow our described steps and see which method solves the problem for you.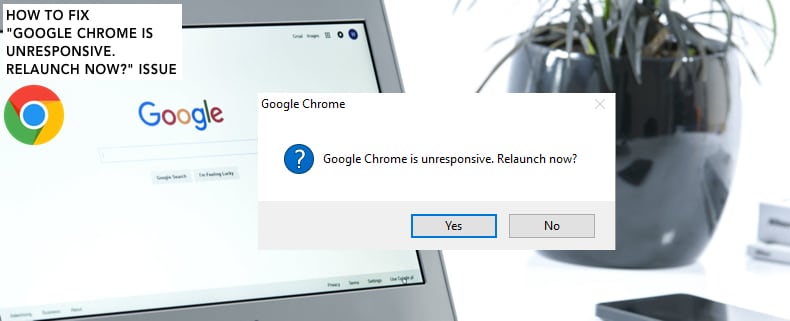 Table of Contents:
Temporarily Disable Your Antivirus
As we mentioned in our introduction, it is possible that your antivirus (anti-malware) software or firewall is blocking Google Chrome (it is marked as untrusted) and that is why you are getting the "Google Chrome is unresponsive. Relaunch now?" message. To make sure that the installed third-party antivirus software is not the culprit of this problem we recommend you to try to temporarily disable it and check if the problem still persists. If disabling (or uninstalling) your antivirus actually helps, then we recommend you to switch to another antivirus software or to reinstall the currently installed one, or to check your antivirus or firewall software and see if Google Chrome is not marked as untrusted or if it is not permitted. If you are not sure how to disable your antivirus, then read this guide. There you will find instructions on how to disable some of the most popular antivirus programs.
End Google Chrome Processes
Another thing that might solve this "Google Chrome is unresponsive. Relaunch now?" problem is to end Google Chrome's processes that are running in the background. Task Manager is very useful when there is a need to close/terminate a particular running program that is frozen, not responding, taking too many CPU resources, or simply not working properly. Task Manager helps to close programs and stop processes from running (when exiting normally does not work). To open it press the Ctrl + Shift + Esc keys on your keyboard, or right-click the Start and select "Task Manager" from the contextual menu.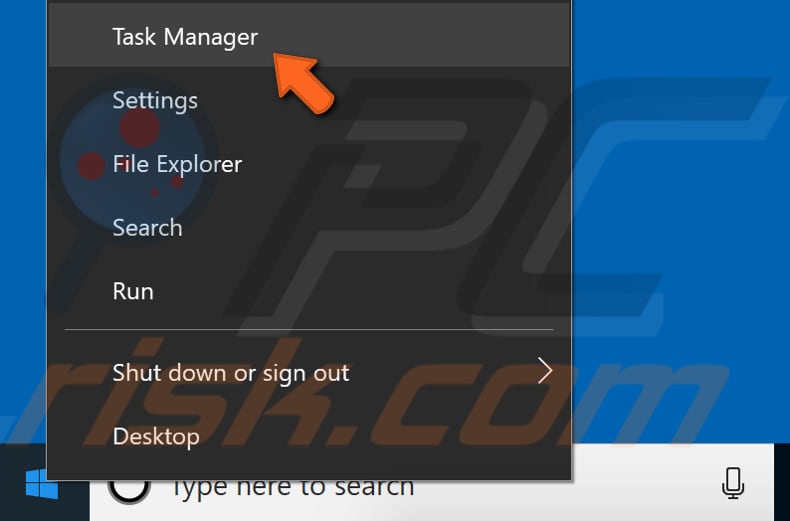 In open Task Manager you will see a list of services and programs that are currently running. Find Google Chrome processes, right-click each of them and select "End task" from the contextual menu. Exit Task Manager and try to open Google Chrome again, see if the "Google Chrome is unresponsive. Relaunch now?" problem still persists.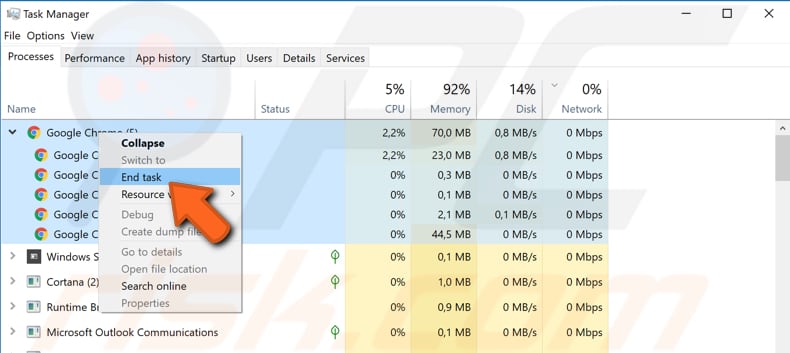 Reinstall Google Chrome
In this method we are going to show you how to uninstall Google Chrome and then reinstall it using the alternate Google Chrome installer. First, right-click Start and select Run, or press Windows key + R on your keyboard to open the Run dialog box.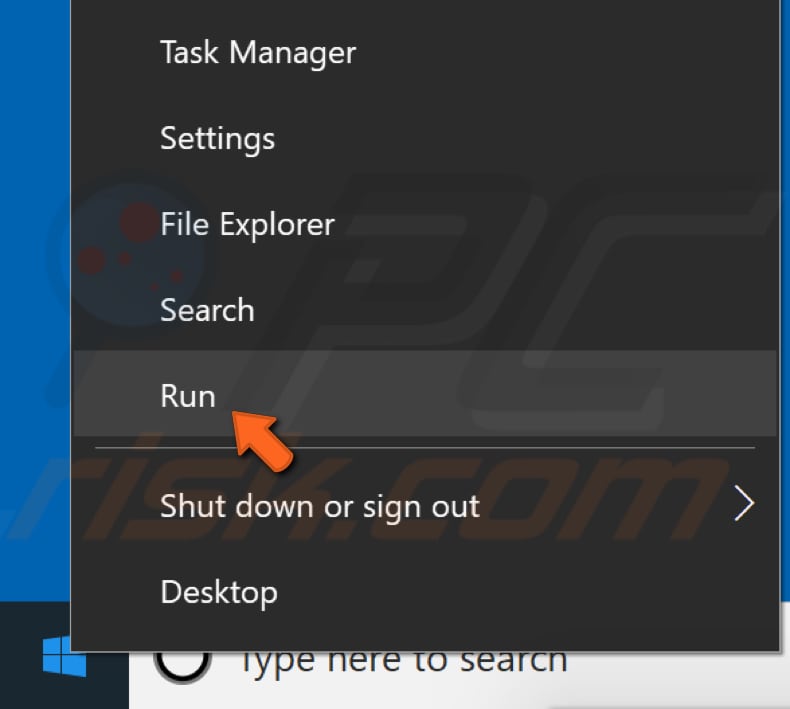 Type "appwiz.cpl" and press Enter on your keyboard, this will launch "Programs and Features" window for you.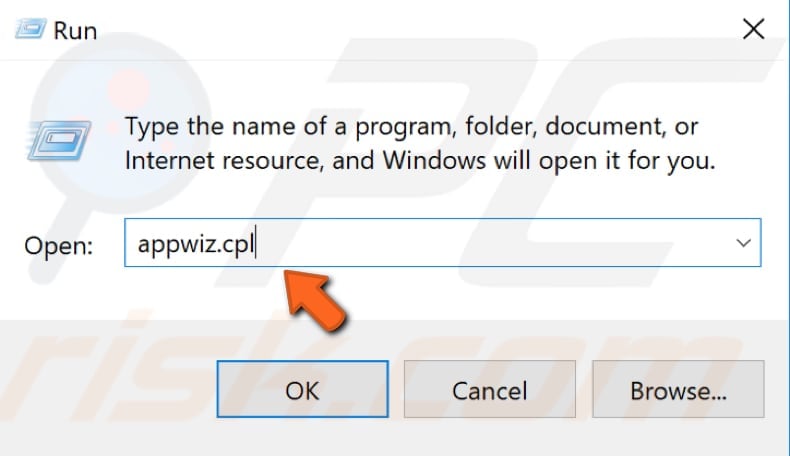 In opened Programs and Features window locate Google Chrome program and uninstall it by right-clicking on it and choosing "Uninstall" from the dropdown menu.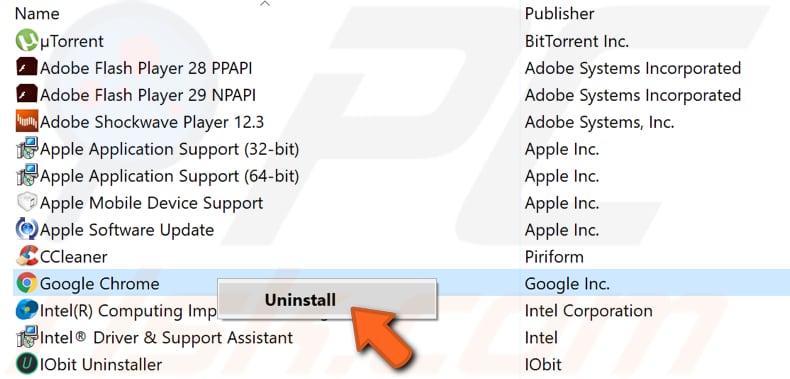 Now go to this website and download the alternate Google Chrome Offline installer. Install Google Chrome using this installer and see if the "Google Chrome is unresponsive. Relaunch now?" problem still persists.
Use Google Chrome Cleanup Tool
Chrome can help you find suspicious or unwanted programs on your computer, the Chrome Cleanup Tool scans your computer for programs that can cause problems in Google Chrome. Targeted applications are potentially unwanted programs, malware and adware extensions that cause advertisements or other unwanted actions that appear in Google Chrome. To start cleaning your computer from unwanted programs open Google Chrome if it is possible in any way and type "chrome://settings/clenaup" in the address bar, press Enter. Now click the "FIND" button and Chrome will start looking for harmful software. If it finds anything suspicious, click "REMOVE".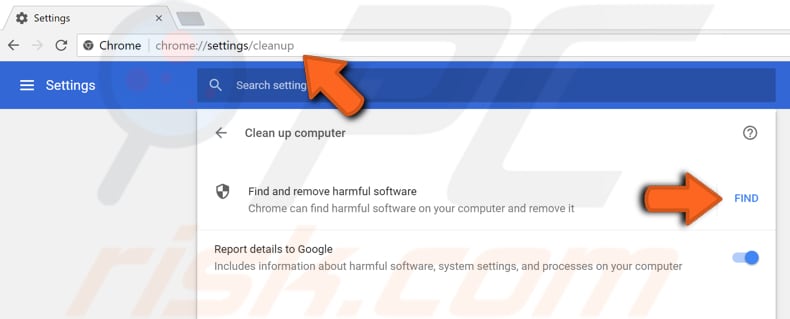 If you are unable to open Google Chrome, then download Google Chrome Cleanup Tool using a different browser and launch it.
Additionally we recommend you to use Windows Defender (built-in antivirus program) which protects your computer against viruses, spyware, other malicious software. Or you can run any other third-party antivirus if you have one installed. To run full system scan using Windows Defender type "virus" in Search and click on the "Virus & threat protection" result.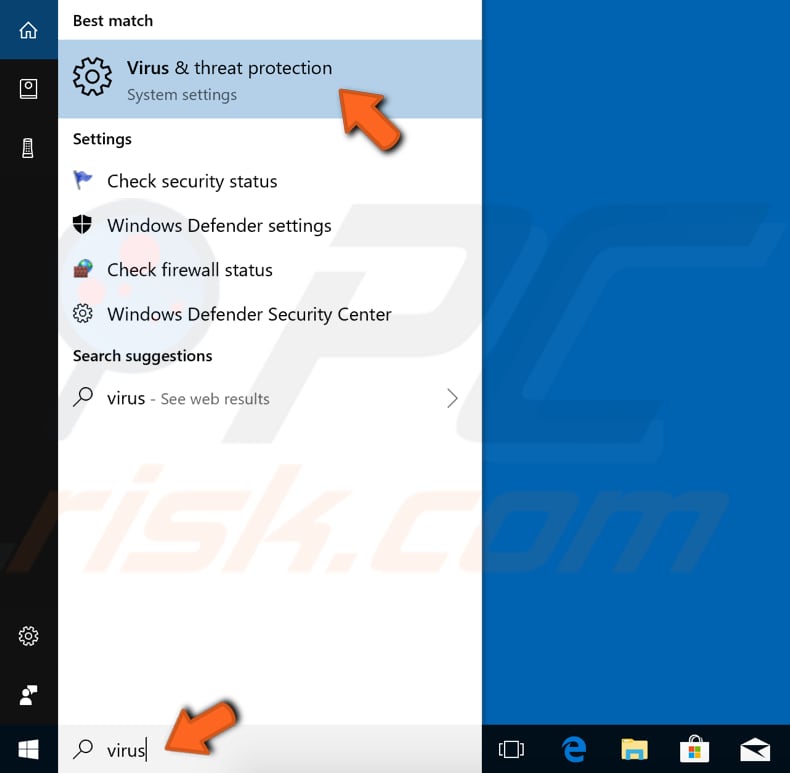 In the Virus & threat protection window find and click "Run a new advanced scan" option.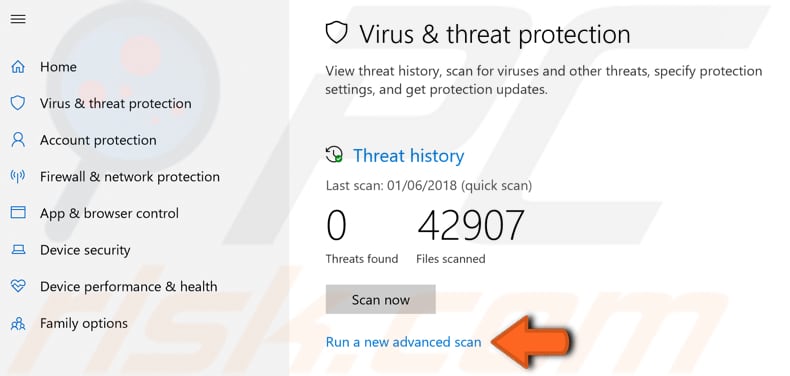 You will see a list of advanced scans. We recommend you to choose the "Full scan" which will check all files and running programs on your hard disk but it will take some time, usually it takes more than one hour to complete. To start Full scan click "Scan now" when the "Full scan" option is selected.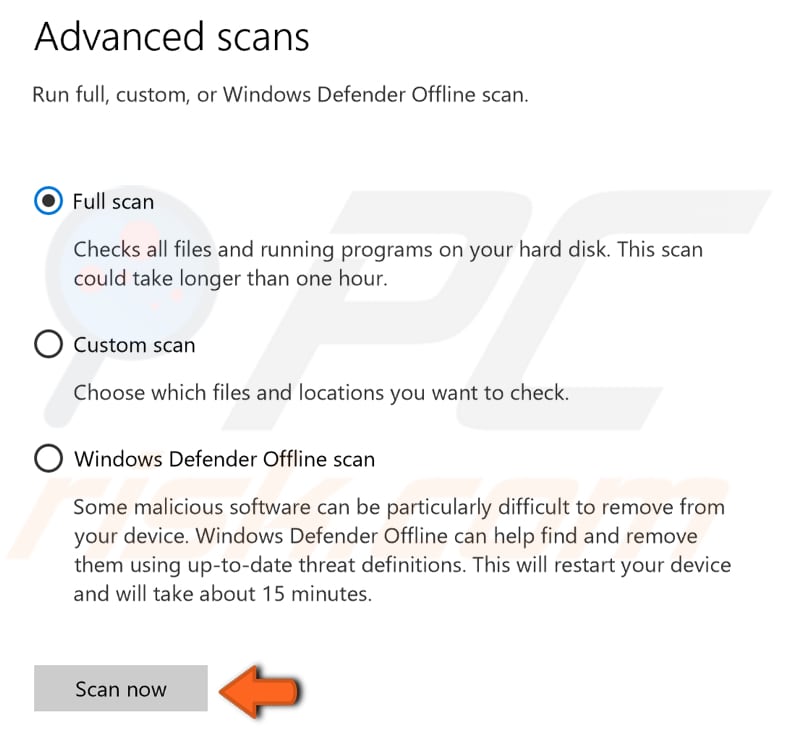 If you want you can choose virus and malware scanner from our Top anti-malware list. The list consists of well known top spyware removers and will help you choose the right software for your computer's protection. You can find the list by clicking this link. 
Run Program As Administrator
If this "Google Chrome is unresponsive. Relaunch now?" issue occurs when you are trying to open a link in Outlook or some other app, then try to open that program as administrator. To do so simply right-click that program and select "Run as administrator" from the contextual menu. Once you open a program as administrator, you should be able open links using Google Chrome without any problems.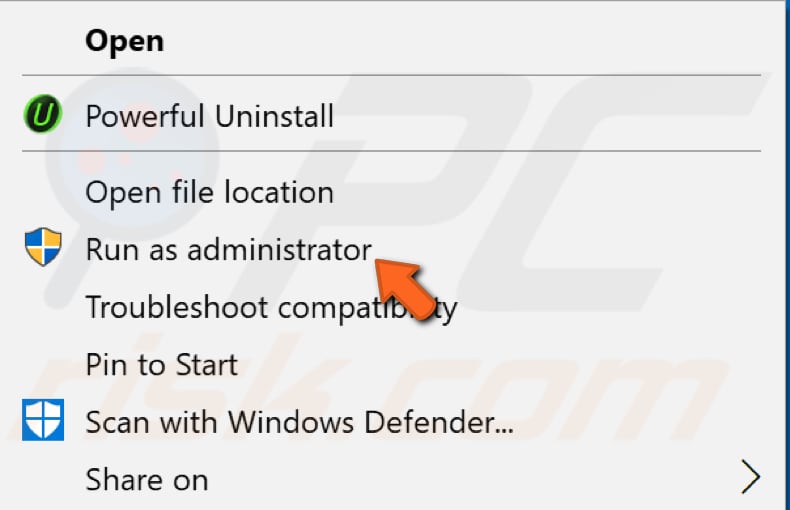 If you want to always run this particular app as administrator, right-click it again and select "Properties". Now select the "Compatibility" tab and tick the "Run this program as administrator" checkbox. Click "Apply" to save the changes.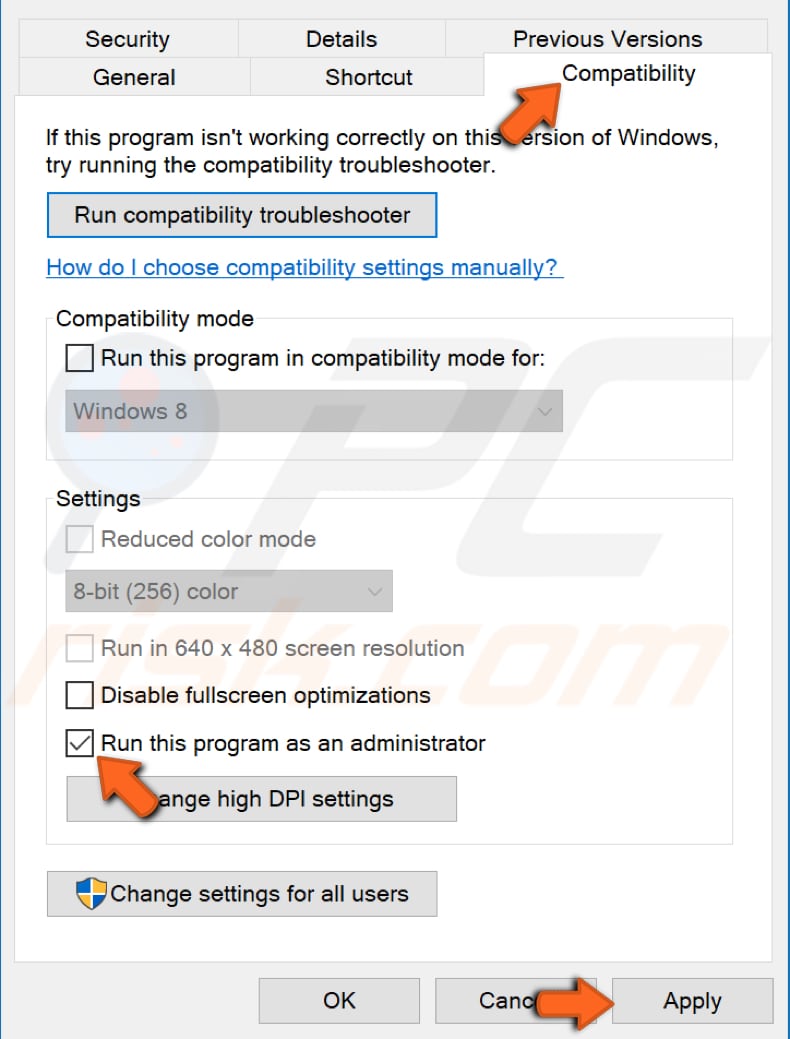 Add Process Per Site Parameter
It is possible to set the Google Chrome browser to create only a single process for multiple tabs. Some users reported that stopping Google Chrome from opening a new process for every single tab solved the "Google Chrome is unresponsive. Relaunch now?" problem. To do so, right-click Google Chrome icon on your desktop and select "Properties" from the contextual menu. Select the "Shortcut" tab and add the "--process-per-site" (without quotations marks) line at the end of the "Target" line. Click "Apply" to save the changes and see if the "Google Chrome is unresponsive. Relaunch now?" issue still persists.
Disable Extensions
Extensions are software programs that allow users to customize their browsing experience. By using extensions you can make Chrome (or other web browser) compatible with your personal needs or preferences. It is possible that some of the installed extension are causing the "Google Chrome is unresponsive. Relaunch now?" issue. To access installed extensions type the "chrome://extensions" address into the Chrome address bar and press Enter. You will see all installed extensions, you can choose whether you want to disable or to remove them. If disabling extensions solved the problem, then you will know that one of the extensions (or more than one) is interfering with Google Chrome. If that is the case, enable installed extensions one by one to see which one is causing the problem and remove it.

That's it, after applying all the methods the "Google Chrome is unresponsive. Relaunch now?" issue should be resolved. If there is another method that solved this problem for you and it is not mentioned in our guide - do not hesitate to share it with us and with the others by leaving a comment in our comment section below.
Video Showing How To Fix "Google Chrome is unresponsive. Relaunch now?" Issue: