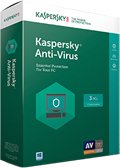 Works with: Windows XP (32-bit) (SP2), Windows Vista (32-bit and 64-bit), Windows 7 (32-bit and 64-bit), Windows 8 (32-bit and 64-bit), Windows 8.1 (32-bit and 64-bit), Windows 10 (32-bit and 64bit)
Kaspersky has long been one of the most respectable names in the anti-virus market. Here we look at their 2017 product. Kaspersky is a Russian company located in Moscow. One could quip that Russians should write anti-virus software since they are writing so much of the world's viruses. But they are also a country with many well-known mathematicians and computer scientists including Eugene Kaspersky (Евгений Касперский), who founded his company way back in 1997.
The company pours much energy into research. They say they find 310,000 new viruses every day. They have a solid reputation with 270,000 business users and 120 OEM agreements, which means 3rd party companies like firewall providers and anti-spam engines that bundle Kaspersky into their products.
Platform Support:
Their product runs everywhere but iOS. Apple has been removing anti-virus software from the iTunes marketplace for a couple of years, saying it is not needed, because iOS runs all of its processes in isolated containers. That's also true for parts of Windows 10 and Windows 2016 Server, which we wrote about here.
Kaspersky runs on Windows XP, 7, 8, and 10 and Windows tablets. There are also versions for Android and MAC.
Price:
The company has the basic version and expanded versions of its based product called Kaspersky Internet Security and Kaspersky Total Security.
● $39.95 1 PC. 30-day trial. $59.95 and $79.95 for the upgraded products.
● Android Free
● $29.99 MAC
Free virus scan download here.
Features:
As you move up to the more expensive products they provide additional features that, while they are not anti-virus features, provide additional security. The anti-virus products are all going to be basically the same with regards to that basic function. The key is to pick a company with a large installed base and positive ratings from reviews, like this one.
Those additional and regular anti-virus features include:
● Security for online shopping & banking—they call this Safe Money. When you go to PayPal and other sites a special browser window pops up. They call this the Protected Browser. So it must be their own browser or a browser-plugin that can somehow communicate with Chrome etc. and pass data there. The idea is that hackers are less likely to be able to attack this tool which is set apart from the regular Chrome or Firefox browsers.
● Identity protection—anti-phishing email protection, open and snooped Wi-Fi security alerts, and monitors the webcam.
● Parental guard—set controls to block adult content, tobacco, drugs, weapons, etc. Even locks ecommerce so that your kids cannot spend your money without your permission.
● Password vault—generates passwords and stored them in a vault. Of course Google Chrome does this too.
● Provides file encryption and backup—this means they will encrypt and backup your data to Dropbox for you.
● Kaspersky Security Network (KSN)—users can opti-in to uploading stats to help crowdsource protection for all Kaspersky users.
● PC Clean Up tool—removes security issues and keeps PC running smoother by reducing clutter.
● Lost mobile device—wipe and locate lost or stolen Android tablet or smartphone.
Screenshots:
AV Testing Lab:
AV Testing is an independent Lab in German that conducts software tests of the major anti-virus vendors. They give Kaspersky their Top rating, which they also gave to Bitdefender and others. They give it top marks too for protection, performance, and usability.