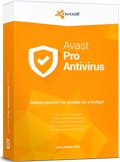 Works with: Windows XP (32-bit) (SP2), Windows Vista (32-bit and 64-bit), Windows 7 (32-bit and 64-bit), Windows 8 (32-bit and 64-bit), Windows 8.1 (32-bit and 64-bit), Windows 10 (32-bit and 64bit)
It seems the majority of anti-virus companies come from Europe and Russia. Avast is based in the Czech Republic. In a statement that will certainly anger its rivals, Reuters said they are, "maker of the world's most popular computer antivirus program." The company spent $1.3 billion USD to buy a competitor, AVG, growing their user base to 400 million users. Reuters says that gives them 40% of the world's market.
Platforms:
They support all the major platforms. As with the rest, their offering on iTunes is limited to products that are not anti-virus, as Apple does not allow those onto iOS, saying their OS does not need that.
Features:
● The company has four different products: Premier, Internet Security, Pro Antivirus, and Free Antivirus. As with other providers they offer other products not directly related to anti-virus to differentiate themselves from their competitors.
● Intelligent Antivirus—includes crowdsourced databases, heuristics, and other best practices.
● Home Network Security—alerts about open or possibly hacked routers.
● Smart Scan—on-demand virus scan.
● Secure DNS—provides an alternative DNS server than your ISP. The idea is to reduce the chance of DNS spoofing, where hackers alter DNS records to send your traffic to another destination.
● Secure Line—single-click VPN. That is a substantial advantage over having to sign up with a VPN company and then having to configure it. They promote it saying it hides your IP address. It also lets people view video content in other countries, where it is geographically blocked, although Netflix, Amazon, and other providers block that. Costs $59.99 per year. If that is what you want use a Smart DNS company, as those still work.
● SafeZone Browser—Kaspersky has this feature too. It opens a browser that is separate from Chrome or Firefox for PayPal or other websites where people enter payment information. The idea is hackers are less likely to have hacked the Avast browser than the more widely-used Chrome, Safari, Firefox, Opera, etc.
● In-product Support—open a support ticket with a click inside the product.
● Locate mobile devices—self-explanatory.
● Browser cleanup—removes add-ons and extensions that might not have been installed without your permission. When you inspect PCs that older people and people who are not technical-savvy use you often see that their browser is filled with toolbars they probably did not mean to install.
● Sandbox—lets you download and interact with suspicious files. This could be used by advanced users to inspect torrent files and suspicious JPG and PHP files where hackers might have attached code.
● Password manager—all of the anti-virus products we have reviewed have this as well. Lets you store commonly-entered passwords so you do not have to type them. Stores them in the cloud so that you can sync them across devices. Tryout their password strength tool here.
● Photo storage—they have also joined the crowded market of offering cloud storage for photos.
Screenshots:
Price:
For 1 PC:
$39.95 1 year
$74.99 2 years
$109.99 3 years
Free antivirus
$59.99 VPN 1 year
AV Testing Lab:
The independent AV Testing Lab gives Avast 5 stars on protection and usability but only 3 on performance. So compared to Kaspersky and Bitdefender, which we also reviewed here, the computer might run a little slower when the user loads a web page or copies a file.