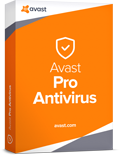 Works with: Windows XP (32-bit) (SP2), Windows Vista (32-bit and 64-bit), Windows 7 (32-bit and 64-bit), Windows 8 (32-bit and 64-bit), Windows 8.1 (32-bit and 64-bit), Windows 10 (32-bit and 64bit)
Avast is often better known for their free antivirus offering but the Prague based company can boast 400 million users and claims to have 40% of the security software market outside of China. In 2016, it acquired AVG, and Avast products now combine the best of both technologies. The software is powerful and full of features including real-time virus protection, URL filtering, a password manager, browser clean-up module, wireless network checker, and a secure browser for your online banking and shopping.
While Avast Antivirus is a solid product there are some negatives that prevent the offering from been considered on par with Bitdefender of Kaspersky for example. One of these problems is the price point of the product. At $39.99 for one license for the period of a year, it is priced in the same bracket as Bitdefender, Norton, Kaspersky, and Webroot. This in itself is not the real issue, the issue lies in why someone would purchase Pro when the free version has almost all the same features bar two.
Avast's slate grey, green, and purple interface on paper sounds like it could be hideous. However, it works and the interface is easy to use and understand. With a simple green checkmark indicating the user's system is protected, a yellow exclamation if something is potentially worrisome, and a red exclamation is something has gone wrong and needs immediate attention. The free versions interface includes locked icons on some of the tabs to indicate features accessible to paid customers.
Features
It is fairly staggering how many features Avast included in their free offering and it seems to fly in the face of the cybersecurity business model. The following is a list of features shared by both the free version and the paid version:
Software Updater. This looks for browsers and other important software packages that are out of date and may require patching. This is particularly in light of some user habits of not downloading the latest version of the software installed on their computer, leaving the computer vulnerable to attack.
Rescue Disk. Both versions allow the user to create a bootable rescue disk in the event an infection becomes too entrenched for the software to handle.
Password Manager. Although it is a simple one, and there are dedicated products which do a better job, that this is included essentially in a free antivirus is a plus. This works by saves all your login information in one secure folder.
SafeZone Browser. There are a number of browser extensions included in Avast which is designed to make your internet browsing safer. SafeZone kicks in when Avast detects that you are banking online which creates a separate desktop isolated from malware and keyloggers.
Product Upsell
Whether this is a feature or an irritant would depend on the user. When the privacy page is clicked on the user will find a button that invokes the Secureline VPN. If the user would want to go private as is suggested this separate product would need to be purchased. In another instance, if you select Cleanup on the performance page the user is prompted to purchase Avast's Cleanup offering.
Pro Features
Previously called Secure DNS, Avast's Real Site component secures your system's connection to a reliable, uncompromised DNS server. This helps prevent DNS hijackers steering you from legitimate sites to fake ones that look like the real ones. While the user may think they are on a bank's website, and eventually the user will be logged in and taken to the real site, someone is stealing the user's credentials. Avast's DNS redirecting helps ensure you are always taken to the true site and not a phantom one. This kind of DNS poisoning is like phishing, but more pernicious and is a great feature even if you don't often see it in action.
Avast Pro also includes a sandbox function. Avast's Sandbox allows you to run a program that might be dangerous by virtualizing all the file and Registry changes made by the program. When it terminates, all of those changes vanish. While a nice feature it will not often be used by the average user. Similar to Avast's Real Site that although these are unique it is hard for the home user to see the value of these features and the price tag associated with the upgrade to Pro.
Independent Lab Tests
Avast often scores far better than average in detecting malware samples in testing. What is of concern is the inconsistencies seen in the results found in different independent testing labs. In AV-Comparatives' regular real-world protection tests usually, give a very consistent indicator of reliability, however, Avast has at times topped the list and returned average and below-average results. Overall the picture is not bad at all, Avast got more Advanced+ awards in 2016 than BullGuard, F-Secure, Sophos, and Trend Micro but the inconsistency does leave a certain amount of questions to be answered.
Avast did score better in AV Test's Window home user test. There are only two test for 2016 and 2017 but Avast performed exceptionally well in both of those tests. Those tests cast Avast in a very positive light, the same cannot be said of SE-Labs Jan-Mar 2017 Home Anti-Malware Protection test. The lab placed Avast Free Antivirus in the last place out of eight products, behind even Microsoft Security Essentials. What then can the consumer read into the varied results? This question becomes more pertinent when other tests having Avast achieving results above average. The best possible interpretation is simply that Avast is not as consistent as world leaders Bitdefender and Kaspersky.
In performance is where Avast's scores are average. PassMark's March 2017 Security Products Performance report assesses 15 top antivirus tools with 23 metrics, and Avast scored a mid-table eighth. AV-Comparatives' May 2017 Performance Test also placed Avast roughly in the middle of a field of 21. The performance tests seem to agree that Avast's performance is average but not terrible. The performance drain is not likely to slow down the average user's system by any discernible margin.
Screenshots:
System Requirements
Windows 10 except Mobile and IoT Core Edition (32 or 64-bit); Windows 8/8.1 except RT and Starter Edition (32 or 64-bit); Windows 7 SP1 or higher, any Edition (32 or 64-bit); Windows Vista SP2 or higher, except Starter Edition (32 or 64-bit); Windows XP SP3, any Edition (32-bit)
Windows fully compatible PC with Intel Pentium 4 / AMD Athlon 64 processor or above (must support SSE2 instructions)
256 MB RAM or above.
2 GB free space on the hard disk.
Internet connection to download, activate, and maintain updates of the program and antivirus database.
Optimally standard screen resolution not less than 800 x 600 pixels is recommended.
A quick read through of Avast's minimum system requirements illustrates that it will run on almost any machine. This in turn probably leads to much of the offering's popularity.
Why Pay?
While Avast Pro is by no means a horrible antivirus software package, it is actually very good and capable with more features than many of its competitors it is plagued by an issue of its own creation. That being the free version offered by the company. For those looking for a good antivirus, they may just as well download the free version. While the two extra features you get with the Pro version are unique and very good their implementation is not crucial. How many times will the user need or use the sandbox to warrant the price tag? How many times will the user actually see that they have been redirected away from a fake website trying to steal user credentials?
Avast is a great choice of Antivirus and a popular one, it even provides its free version for commercial use, however, they have made it hard for consumers to see the value in paying $40 when they can get the free version which in very practical ways is the paid versions equal.