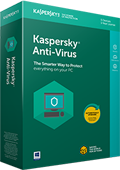 Works with: Windows XP (32-bit) (SP2), Windows Vista (32-bit and 64-bit), Windows 7 (32-bit and 64-bit), Windows 8 (32-bit and 64-bit), Windows 8.1 (32-bit and 64-bit), Windows 10 (32-bit and 64bit)
Since the company was founded in 1997 by Eugene Kaspersky the company has developed a reputation for providing excellent products. Along with other antivirus offerings such as Bitdefender, McAfee, and TrendMicro, Kaspersky's product offerings are continually recommended by industry professionals and are often considered to be top editor's choices within media houses. Kaspersky's 2018 offering continues this trend.
As to the all-important aspect of cost, Kaspersky appears to be more expensive than other offerings with the product clocking in at $59.99. Particularly when you consider most other offerings come in at under $40, it might lose some appeal. However, where many of those offerings only come with a single license, Kaspersky seems to understand that people have multiple devices they wish to protect. Thus Kaspersky offers 3 licenses for $59.99 with the option of purchasing 3 more for an additional $20.
As one would expect from a company considered to be one of the world leaders in cybersecurity installation of the product is simple. Once installed the user interface has not changed appreciably since the last offering, so those familiar with the previous program will have little to no problem navigating the vast array of features on offer. For those purchasing Kaspersky Lab's Antivirus for the first time, it will not take long to figure out how to use the product as interactions between the user and program are set out logically. This point is probably illustrated best in the familiar green banner on top of the user interface which turns red when the user's attention is required.
Features
Shared features with the free version
Like with many Antivirus offering today a free version is available for download. While the free version and the paid version share many features, there will always be some differences between the both with the paid version obviously offering more features and direct support from the company. While there are obvious differences the two versions do share some important features:
Spyware Protection. Although not necessarily termed spyware protection by Kaspersky themselves, both versions have an on-screen keyboard. This feature does require the user to activate the feature and then reboot but allows for the user to enter in passwords without physically using the keyboard. This is a great way to avoid pesky keyloggers gaining access to important login details.
Secure Connection VPN. While both versions do come with this feature no matter if you have the free version or the top of the line Total Security you only have a 200mb per day bandwidth limit.
Search Filter. This is by no means a unique feature to Kaspersky's offering as other products do a similar thing by flagging dangerous links so users can avoid clicking on them. This feature is included in both the free and the paid version.
System Watcher
System monitoring is included in both the free and the paid version but in the paid version it includes an added benefit. In both versions, when the tab is clicked the user can select to have the software monitor file, web, email, and instant messaging for threats in real time and these can be customised to the user's preference. The paid version includes a fifth option called System Watcher which by all accounts is an excellent feature. It is not purely focussed on detecting ransomware but does a great job at protecting against the latest malware variants infecting systems today in independent tests.
System Watcher is able to detect activity that clearly relates to malware or exploits. Once suspicious activity is detected it then prevents the activity and terminates the perpetrating process. It then does its best to roll back any malicious actions that may have occurred before it recognized the process as malicious, even restoring unencrypted copies of files trashed by ransomware. While not specifically designed to tackle ransomware exclusively it does a great job of defending against it.
Microsoft Windows Troubleshooting
Both the free and paid versions have this feature which is designed to repair any changes to Windows settings. This can only be done though in the paid version. So the free version only informs you that harmful changes have been made.
Other features
Included with Kaspersky's latest offering in a number of useful features. One of these was the Recovery Disc feature. If you purchased a boxed version your disc will also act as the recovery disc. If you downloaded the software an ISO file will act as a recovery disc. The actual process of creating such a disk or back up is confusing. When you click on the feature you a redirected to a website then further redirected to tech support. Privacy cleaner is another added feature which initiates a scan of the user's computer and then details what activities conducted may interest a hacker after personal details. These findings can be exempt from future scans at the user's discretion.
The latest offering by Kaspersky also includes the Browser configuration scan. This tool specifically examines Internet Explorer settings and reports configuration problems, identifying some as recommended and some as optional. Perhaps the most useful feature offered in the 2018 edition is the Vulnerability Scan. This component checks for missing security patches in the operating system and in popular applications.
Another feature that must be mentioned that is included in the paid version is the true tech support. Paying customers can email tech support anytime. Agents are available for telephone or live chat support during extended hours. If you have a serious problem, having direct access to tech support can be seen as invaluable.
Results in Lab Tests
Tests conducted by the independent German lab AV-TEST showed Kaspersky Antivirus 2018 to perform exceptionally well. Tests are conducted on both Window 7 and Windows 10 machines every two months in which Kaspersky found and eradicated every single piece of "zero-day" malware (detected by heuristic monitoring) as well as every piece of known "widespread" malware (detected by signature matching). Kaspersky's perfect scores were not a result of lady luck as when it came to detecting false positives the test found that Kaspersky registered a score of three, while Bitdefender, for example, scored 13 false positives. Kaspersky beat all other competitors with regards to registering false positives. Were Kaspersky loses out to its rivals is in the area of resources required. Here is performed worse than Norton and Bitdefender. However, such a drain in performance is hardly noticeable in a real-world application.
Screenshots:
System Requirements
Kaspersky's 2018 Windows product lineup software supports Windows XP (Service Pack 3 for 32-bit machines, Service Pack 2 for 64-bit) through Windows 10. The separate Kaspersky Internet Security for Mac requires OS X 10.11 El Capitan or later. The various mobile products require iOS 9.0 or newer, Android 4.1 or newer, or Windows Phone 8 or newer.
General requirements:
920 MB of free disk space
CD/DVD drive (when installing from a CD)
Internet connection (for installation and activation, participation in Kaspersky Secure Network, as well as database and program module updates)
Computer mouse
Microsoft Internet Explorer 8.0 or later
Microsoft Windows Installer 3.0 or later
Microsoft .Net Framework 4 or later
Compatible Internet Browsers:
Microsoft Internet Explorer 8.0 or later
Mozilla Firefox 38.x and later
Mozilla Firefox 43.x – 52.x
Google Chrome 45.x – 55.x
Mozilla Firefox ESR 38.5 – 45.2
Limitations:
Installation of the application on Microsoft Windows XP with the FAT32 file system is not supported.
To access My Kaspersky portal, we recommend using Microsoft Internet Explorer 9.0 or later.
A Strong Contender for Top Spot
Kaspersky Lab's Antivirus 2018 is a strong choice for any consumer looking to secure their computer against outside interference. Although it drains more resources than some of its competitors it is feature rich and it is very hard to argue against the results it achieved in independent lab testing. Kaspersky's latest offering ensures that it is in the running for one of the best antivirus programs on the market currently. One of the only problems found was with the Recovery Disc feature been confusing. Another potential problem to consumers will rest in the free version has a lot to offer when compared to the basic paid version. It is only when consumers buy the top of the line offerings, Internet Security, and Total Security, that they receive a near faultless antivirus software package.