Bitdefender Antivirus Plus 2018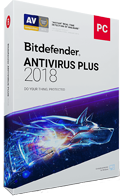 Works with: Windows XP (32-bit) (SP2), Windows Vista (32-bit and 64-bit), Windows 7 (32-bit and 64-bit), Windows 8 (32-bit and 64-bit), Windows 8.1 (32-bit and 64-bit), Windows 10 (32-bit and 64bit)
Bitdefender Antivirus Plus consistently ranks in various publications as editor's choice. The 2018 offering by the company is no different. There are a number of reasons for this and all those reasons can be seen as subjective. One fact to argue with is Bitdefender's consistent exceptional results in third-party lab tests. The offering generally is one of, if not the best all-round performer in those tests. Another reason many editors will choose Bitdefender as a top performer, or at the very least highly recommend the offering is the sheer amount of features available in the basic package, features often included only in other companies top of the line products. More on the features and independent lab results to follow.
Pricing has not changed since the previous version at $39.99 for a single license or $59.99 for three licenses for a year. This prices the product in and around similar top-rated offerings such as Kaspersky, Norton, and Webroot. McAfee is priced at $59.99 but that lets you install antivirus protection on all the Windows, macOS, Android, and iOS devices in your household.
As one can expect installation is a breeze. Bitdefender does require more user input than some other offerings, and installation does take longer than other products. Also, the initial scan does take longer when compared to other products. This is a potential downside for those impatient or wanting the process to be quicker so they can move on with other things. Considering this a mark against the product is a tad hasty. Once installed past users will hardly notice any difference in the interface when compared to previous editions. New users of the program will not be troubled in using the program effectively as the layout is easy to navigate and the features are organized logically.
Autopilot
As with most antivirus offerings system health is indicated by displaying green for healthy or red for when there is an issue requiring attention. This is almost a default position in the realm of antivirus software but almost everybody will understand what is implied. One feature that has become a staple for Bitdefender is their Autopilot feature. When activated the antivirus takes care of business with an absolute minimum of fuss. It quietly wipes out any malware it finds. It updates itself as needed. If it really wants to communicate with you, it displays a number on the Notifications icon. Selecting the Autopilot feature will mean that the status of the system will always display green. One can also see when the Protection and Privacy tabs are clicked what comes with the top of line offerings, Internet Security, and Total Security. On the Protection Features page, you see that firewall and antispam protection require an upgrade. Under Privacy Features, file encryption, webcam protection, and parental advisor all require an upgrade. The Tools page, furthermore, is filled entirely with features that are only present in Bitdefender's top-of-the-line suite.
Features
Bitdefender's Antivirus Plus comes packed with features dealing with each, in turn, would bore readers to tears. What follows is a quick summary of features that one might expect to find on a top of the line offering rather than a company's basic offering. This features may not necessarily be unique to Bitdefender but still, deserve a mention.
Phishing Protection
Many regard this as the best protection against malicious and fraudulent URLs currently available to the market. This feature works at the network level, with no need for a browser plugin. It has been reported that although the feature is marketed at preventing access to malware-hosting URLs, it shone in tests concerning phishing sites. It is a great tool in combatting phishing as it analyses pages in real time, rather than relying on blacklists of sites known to be used by fraudsters, who often just put up another site once one is blacklisted. Although browsers, such as Chrome, Firefox, and Edge have measures and tools in place to try and counter phishing Bitdefender's solution is far more robust and outperforms what the browsers mentioned have to offer.
TrafficLight
This feature operates by marking search results as safe or dangerous using the expected green and red icons. While not unique, this feature has an added benefit in that if you encounter a red warning icon, you can click it for full details. The resulting page breaks down just why the site was flagged, identifying more than a dozen varieties of dangerous and fraudulent sites. At the top of the list is generally phishing and malware related issues but Bitdefender goes one step further and provides information related to piracy sites, employment scams, and click-fraud sites.
Multiple Scan Choices
On the Protection Features page, users will notice multiple options for scanning their computer from a quick a scan which can take little under a minute to a full system scan which initially can take over an hour. Subsequent full scans take substantially less time, this suggests that on the initial scan Bitdefender looks to optimise future scans. It is not unheard of that certain types of malware resists been detected by scans and is becoming increasingly common, in these instances Bitdefender's Rescue Mode comes into its own. Unlike other products that require the user to download an ISO image or burn a rescue disk, Rescue Mode will reboot into an alternate operating system, one in which Windows-based malware can be detected during the scanning process. Users can also customise scans and set a scanning schedule this is done by clicking the Manage Scans option. Bitdefender also scans for vulnerabilities which include missing security patches for important apps and system components as well as check for weak passwords.
Built-in Ransomware Protection
Ransomware can be combatted via antivirus software one of two ways. It can either detect ransomware-specific behavior tracking or by simply preventing unauthorized modification of important files. Bitdefender utilizes the latter method. Safe Files works by protecting files in the Documents, Pictures, Videos, and Desktop folders, but you can add any other folders that contain important documents. Safe Files permits access by known, trusted programs, but if an unknown process tries to modify or create files in a protected location, Bitdefender blocks it and pops up a notification. Bitdefender also includes another layer of protection against ransomware in its Advanced Threat Defense component which operates in the background but when the feature is seen in action it successfully detects and blocks real-world ransomware attacks.
Safepay
Bitdefender also includes Wallet, which was found on earlier versions and has remained relatively unchanged, designed to protect logon credentials and passwords. Another feature to add to the already long list is Safepay which automatically detects when you are about to access a banking website and offers the user a secure connection. Safepay is essentially a desktop all its own, with a hardened browser built in. Processes running in the Safepay desktop have no connection with the regular desktop thus preventing keylogger or other keystroke-stealing spyware from stealing logon details.
Independent Lab Tests
Bitdefender continually scores incredibly well in independent lab tests. So far it is regarded as one on the best antivirus offerings available on Windows 10 based on its test results. In two rounds of evaluations conducted in 2017 by German independent lab AV-TEST on Windows 7, one in January and February and the second in July and August, Bitdefender Internet Security snagged nearly every piece of rogue software, whether new "zero-day" threats or well-known malware. In tests done on a Windows 10 machine in March and April, Bitdefender scored perfectly across the board. In the second round of Windows 10 evaluations conducted in May and June 2017, Bitdefender again stopped all malware but scored four false positives which in itself is far less false positives than many of the company's rivals. Test done by the Austrian independent lab AV-Comparatives found that the software stopped an average of 99.9 percent of online malware on a Windows 7 machine. On a Windows 10 machine the lab found that Bitdefender stopped 99.7 percent of Internet-borne malware; in August, it stopped 100 percent. The program registered zero false positives in either month. This proved Bitdefender to be one of the most consistently reliable antivirus offerings on the market.
Screenshots:
System Requirements
Operating System:
Microsoft Windows 7(SP1)
Microsoft Windows 8
Microsoft Windows 8.1
Microsoft Windows 10
Recommended System Requirements:
CPU: Intel CORE 2 Duo (2 GHz) or equivalent processor
Memory (RAM): 2 GB
Available free hard disk space: 2 GB free space
Feature Packed and Offers Great Protection
In summary, users could do far worse than choosing Bitdefender. As a side note and another positive for the product, it tested as one of the best in terms of performance and not draining the system resources by any noticeable margin. If you needed another reason to purchase the product.