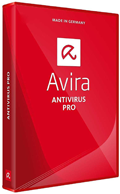 Works with: Windows XP (32-bit) (SP2), Windows Vista (32-bit and 64-bit), Windows 7 (32-bit and 64-bit), Windows 8 (32-bit and 64-bit), Windows 8.1 (32-bit and 64-bit), Windows 10 (32-bit and 64bit)
The latest offering from the German company is as solid and dependable as previous offerings in terms of its malware engine. It scores well independent tests, as will be seen, but potential users are going to struggle to justify spending the money for the Pro version rather than the free version which has taken the art of teasing users to a new level. In essence, Avira potentially has the same problems as its European neighbor Avast, in that the free version does all you want from a basic antivirus program and does those well. It is doubtful if the user who paid for the Pro version will feel as if it is money well spent. With prices ranging from $38 for one license for a year to $151 to come five computers for the same amount of time, Avira Pro is on par with other offerings including Kaspersky, Bitdefender, and Norton who are often rated by independent labs and media houses as better.
Installation of both the free and the pro version is simple and hassle-free. Once installed though, the user is bombarded with a predominantly white interface packed with features. This can be intimidating to first-time users of the program or users just wanting to scan their computer. Other companies have spent a lot of time and effort to simplify the interface as much as possible, it feels like Avira has gone the other direction by adding more.
Well, some users will find this intimidating and naturally take away from the user's experience of the offering, Avira has made its latest offering far more customisable. In that regard, Avira does beat out the competition but if you don't have time to sit down and sift through all the information you are slapped with, you may regret your decision in antivirus software.
Free vs Pro
As was mentioned above the many potential customers will wonder if it is worth spending the money on the Pro version. In one respect were Pro does differ considerably is that it extends its service with real-time blocking of phishing and infected websites, and an extra layer to protect your online shopping and banking transactions. While at first glance you may think you won the lotto by downloading the free version as you see features with a password manager, a VPN, and a system optimizer, these are just trials and will require a further purchase of software created by Avira. All in all the free version acts as an antivirus designed to try and get the user to upgrade. What follows are features that are found in the pro version.
Device Control
This feature is designed to allow the user to control user access to USB or external hard drives. In practice, however, it's poorly implemented, with a basic interface hidden away in the Settings dialog. Other reviewers found that didn't appear to do anything particularly useful with no easy way to specifically prevent users changing Device Control settings.
Firewall
The pro version comes with a Firewall feature, it, however, is not an independent firewall. Rather it only checks the settings of the Windows firewall. It provides an interface to manage these, but this isn't a significant improvement on the standard firewall dialogs, and overall the feature has little value.
URL Blocking
Avira can help keep the user safe while browsing the internet but this requires the installation of the browser extensions Browser Safety or Safe Shopping. These extensions do not work with Internet Explorer or Edge. Unfortunately, besides not working on Edge it is cumbersome when compared to the competition. Avira also includes another module called Web Protection which tries to cover everything, but this doesn't seem to use the same technology but still doesn't work properly on Edge or Internet Explorer. There is also a Mail Protection module but like the Web Protection module is little more than a report page.
Independent Lab Tests
Avira typically scores highly in AV-Comparatives' monthly real-world protection tests, often achieving 100% protection rates. The company was awarded the top Advanced+ rating seven times in 2016, matching Bitdefender and Kaspersky. AV-Test's recent Windows Home User test returned similar results. This product was one of five top-rated packages from a field of 18, along with Bitdefender, Kaspersky, Norton and Trend Micro.
In MRG Effitas tests, which test in particular how well an antivirus package copes against financial malware, Avira Internet Security delivered better support than most packages but was beaten by one real-world bot. The only packages which protected against all threats were Kaspersky Internet Security and Webroot SecureAnywhere. While Avira does score well in tests that measure protection it is in tests relating to performance that things fall to pieces slightly. In Passmark's Performance Benchmark Report, Avira placed 13th out of 15 places. AV-Comparatives' May 2017 Performance Test runs different checks but still makes for grim reading, ranking the company a disappointing 14th out of the test set.
Screenshots:
System Requirements
Operating system
PC running Windows 7 or later (for Free Antivirus and Antivirus Pro)
Mac running OS X 10.11 (El Capitan) or later (for Antivirus Pro)
Android running 4.0.3 or later (for Antivirus Pro)
Processor
AMD: Ab Athlon 64/Sempron (Paris Core)/Opteron
Centaur Technologie: starting with VIA C7
Intel: starting with Pentium 4 (Desktop) or Pentium M (Laptop)
Transmeta: starting with Efficeon
Memory
Hard Disk
2GB+ available disk space (additional temporary and quarantine space needed)
Browser
Internet Explorer 8 or higher
Great Engine but Struggles to Compete with Market Leaders
If you are looking for an antivirus package which only protects against malware Avira may be your choice, however, Avast and Bitdefender's free offerings can be regarded as better. Avast packs more features as standard and has better performance scores. Bitdefender, although bare bones, will protect against infection better and with less fuss. If you are dead set on Avira your still probably better off with the free version as the pro version certainly does not warrant the extra cost. If you are looking to buy an offering Bitdefender and Kaspersky offer solutions feature rich for the same price with far better performance. It seems Avira, although it protects against malware well is a bit of a one-trick pony.