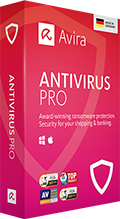 Works with: Windows 7 (32-bit and 64-bit), Windows 8 (32-bit and 64-bit), Windows 8.1 (32-bit and 64-bit), Windows 10 (32-bit and 64bit)
It would seem to be competitive in the antivirus market a new version needs to be released yearly. To build an entirely new product in a year is an impossible task, so new versions look to improve existing features while adding new ones. German-based security firm Avira, like the other players in the market, have adopted a similar approach but with some rather individual differences. Like with their competitors the company offers an armada of suites ranging from a free version all the way to a complete suite containing all the bells and whistles. The first paid for product is Avira Antivirus Pro and is the subject of this review.
Cost
There is no denying it, Avira Antivirus Pro is a well-priced offering costing the user 36 USD for a single device for a year. To place that number in context the average cost for a similar product with the same time and device restrictions in approximately 48 USD. The company does offer reduced costs for when you need to install the product on multiple devices.  For five devices you'll pay 57 USD, however, you may get more value from premium suites like McAfee and Norton that charge around 100 USD for up to ten devices. Conversely, Avira offers a third payment option, that of monthly which is around 4 USD a month. A monthly option separates them from many competitors and does provide more options for consumers which is positive.
Avira Pro is a no frills no fuss suite so if you are looking for added features you would need to consider purchasing Avira Prime which includes Antivirus Pro, identity protection, a system optimizer, third-party software updates, a password manager, and a VPN. This does come with a significant price jump all things considered. Avira Prime charges 130 USD for an unlimited number of devices. When "unlimited" is read what they mean to say is up to 25 devices. That been said that is still double what Avira's competitors offer although at a higher price.
Initial Setup
The easiest way, not the most intuitive way, to get Pro is to download and install the free version. Then if happy you can upgrade your subscription to Pro. One positive of this is that it will give the user a good idea of its speed and ease of use. It would seem though that Avira is wanting to users to subscribe to Prime rather. The company offers a 30 day trial for Prime, which includes Pro. Another thing to consider is that the trial does not require the user to enter any payment details. So those looking for a full antivirus suite and not sure which to choose at least Avira gives you a trial so you can decide for yourself.
Once Pro has been downloaded installation is simple. Perhaps the hardest part of the process is indeed just trying to download Pro as a standalone product. From there on the suite will open and those familiar with Avira Pro 2018 or the free version will notice a familiar setting.
User Interface
The white, grey, and green user interface is a near identical twin to the free version. On the left side, there are five menu options: Status, Scan, Modules, Quarantine, and Activity. Status shows the active protection features in Antivirus Pro and what their states are. There is also a Run a quick scan button that takes up a big chunk of the window, as well as a message informing you when the last scan was. Overall, this area is the same as it was last year. Visually the graphics are a little different, the color shades are deeper, and the scan button is now green instead of white but these rather than being revolutionary are purely cosmetic. One major feature difference over the free version and 2018 paid for versions is that the firewall icon is gone, replaced with Ransomware Protection.
It will undoubtedly the scan button visited most. Once clicked the scan menu shows all the various options you'd expect, including a full scan, a quick scan of just the essentials, a custom scan, and scan scheduling. Users will notice that there is no USB scanning feature apparent, this is only done when a USB drive is inserted. It is important to note Avira does not automatically scan a USB drive for viruses, rather it just lets the user decide whether to "allow" or "block" said drive. The feature also labels each USB drive as potentially malicious, which is not helpful and a little bit scary for novice users.
Features
While not necessarily a feature but does deserve special mention is the upgraded performance Avira has incorporated into 2019's Pro. Avira Antivirus Pro is the debut of 'Project AGEN'. This handy upgrade supplements checksum-based virus definitions with far more efficient pattern-based machine learning. According to Avira this essentially cut virus definition files by up to 75%, improving startup times, speeding up detection and reducing the time, and bandwidth required for updates. Also according to Avira the 2019 edition now averages two to five times better performance than other security products on the market' in terms of minimizing any lag during startup and operation. This is directly from Avira's internal studies so it will be interesting to see these claims independently verified.
If a consumer is looking for a feature-rich product, perhaps Pro is not the best choice. Many of Pro's features are shared with the free version. They both include the same malware engine. Also, the Browser Safety feature is shared. This feature serves to fend off phishing sites and fraudulent sites that attempt to steal your passwords. Both also come with a large entourage of associated Avira programs with most of them were free. These include Avira Connect which serves as a launch pad for all the other Avira products, and it helps you connect to the online Avira portal. Avira Phantom VPN protects your privacy on unsecured networks, for up to 1GB of traffic per month on a single device, this can be upgraded to 10 USD a month. Avira Home Guard lists all devices that connect to your home network and flags possible security problems. Avira Software Updater checks for missing security updates, though its scope is seriously limited.
Features that Pro has that are not shared include is Web Protection and a ransomware protection module. The Web Protection differs significantly from Browser Safety in that Web Protection acts at the network level, keeping all web-connected programs from hooking up with dangerous URLs. Browser Safety is a browser extension which only works on Chrome and Firefox. Pro has also included a ransomware protection module in 2019's arsenal. This module is designed to eliminate any ransomware that might get past the ordinary real-time protection. This can be seen as an added layer of security on top of effective real-time protection. The Pro version also includes Mail Protection which scans incoming POP3 and IMAP email for malware. This again is an added layer of protection on top of the real-time protection.
Protection
This is perhaps Avira's strongest selling point. Avira Antivirus Pro 2019 earned high rankings from testing house AV-Test. For July and August, Antivirus Pro earned a 100 percent performance against the zero-day, web, and email threats test that included 275 samples. For those same months, Antivirus Pro earned a 99.9 percent against nearly 20,000 samples for AV-Test's "widespread and prevalent malware" test. This performance ranks with the best consistently and is a feather in the cap for the company.
Avira Antivirus Pro did equally well in AV-Comparatives' tests. Avira blocked 99.5 percent of the threats and had one false positive against 197 samples in the real-world protection test for September 2018. In the malware protection test, also carried out in September 2018, Avira had a 99.9 percent online detection rate with two false positives, and a 96.6 percent offline detection rate. The online protection rate was even better at 99.98 percent.
Screenshots:
System Requirements
Windows 7 (32-bit and 64-bit), Windows 8 (32-bit and 64-bit), Windows 8.1 (32-bit and 64-bit), Windows 10 (32-bit and 64bit)
Windows fully compatible PC with Intel Pentium 4 / AMD Athlon 64 processor or above (must support SSE2 instructions)
2 GB of RAM or above.
2 GB free space on the hard disk.
To install, you'll need administrator rights, an internet connection, and a web browser. For automatic antivirus updates and optimal malware detection, you'll need an internet connection.
Conclusion
Avira's consistently good independent test scores are where users will find value. This is not value that is always seen but fulfills the protection promise any antivirus suite looks to keep. Along with great protection, the offering does not impact system performance in any discernible and with the new machine learning technology incorporated that is even less of a concern. The ultimate struggle the company will have is convincing free users to upgrade to a paid for the suite. Another battle that Pro faces then is its relation to Avira Prime. Those looking for a complete antivirus suite are better choosing Prime. This leaves Pro in an awkward position and has resulted in many in the press, perhaps harshly, concluded that users are better off ignoring Pro altogether.
This is not only a problem faced by Avira but most if not all of the firms offering a free version of their product. One can only wonder how long it will be before companies see no value in offering a paid for version that is not a complete security suite. Ultimately it will be the consumer who would have to make an all or nothing decision. Luckily many of the free options out there punch above their weight limit.