Bitdefender Antivirus Plus 2019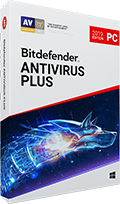 Works with: Windows 7 (32-bit and 64-bit), Windows 8 (32-bit and 64-bit), Windows 8.1 (32-bit and 64-bit), Windows 10 (32-bit and 64bit)
Choosing the right antivirus package can be an incredibly difficult and trying affair. First, the brand needs to be picked then the package best suited to both your needs and wallet. Given the sheer amount of options consumers might not know where to begin. This is where reviews such as this one can be of service. The following review focuses on Bitdefender's Antivirus Plus 2019 offering. Bitdefender as a security firm has developed a reputation for providing the most value for the amount of money spent, while still providing reliable protection. Antivirus Plus 2019 continues this trend.
Cost
Bitdefender's Antivirus Plus 2019 is their base level product designed at protecting Windows systems with Internet Security and Total Security being the more comprehensive products. That being said Antivirus Plus is no slouch in the features department. Antivirus Plus includes a comprehensive antivirus, real-time behavior monitoring, and multi-layered ransomware protection, for a start. There is also malicious website blocking, online banking protection, a password manager, and secure file deletion included in the bottom tier product. This in itself is impressive. Antivirus Plus has a list price of anywhere between 40 USD to 80 USD. However, if downloaded from Bitdefender directly the package costs 23.99 USD which is a great saving for such a feature-rich product. Antivirus Plus can also be installed on up to three devices.
The package further includes a Hotspot Shield-powered VPN. This can be considered the weakest of the features as it is incredibly basic. The VPN doesn't allow you to choose your location and restricts you to a 200MB data transfer allowance per day, which is just enough for email and very light internet browsing. While incredibly basic it can be upgraded separately with the premium VPN which will cost around 39 USD. This may give the user something to think about but does not detract the antivirus in any way.
Initial Setup
What some may feel like a negative and other par for the course Bitdefender requires users to create a free Bitdefender account. This is done before the installation package can be downloaded. Fortunately, the most important information given to the company is just your email address. Bitdefender is not alone in including this requirement as many other security firms are including or have already included a similar requirement. It might be considered a pain by some users but registering does come with a perk in that the user can check on the security status of a registered device from Bitdefender's web console.
Once registered, downloading and installation of the product is simple. This is to be expected from any modern antivirus and Antivirus Plus does not fail to meet the expectations of modern users in this regard. The setup includes an initial scan of the device to ensure that is clean and that nothing will hamper the process. This is followed by the installation of recommended browser extensions that work on Chrome, Firefox, and Internet Explorer.
User Interface
Upon the first launch of the package, the user will be presented with a tour of the software. For anyone familiar with a modern antivirus the tour can be skipped as the interface is intuitive and user-friendly. The interface is an example of a polished interface and provides easy access to desired locations and features. Quick scans are just a click away, while a left-hand sidebar organizes the suite's other tools into Protection, Privacy, and utility areas. Expanding these displays the various options available within and most users will quickly be able to find their way around.
Much of the interface is customizable and the user can change the default options if required. If the user is not interested in the VPN, for example, it can easily be swapped out for another button. When all the options and customizations are taken into account the interface provides beginners with easy access to core features, while antivirus veterans have enough to play with and tweak to remain happy.
Features
One of the first features that deserves special mention is the multiple scan options offered by Antivirus Plus. Users can perform a Quick Scan which scans the areas of a device most likely infected, or a full System Scan which scans the entire device. Further, there is a Manage Scans option which lets the user create new scan types to check specific files and folders. How the scan works can also be modified to look for specific threats such as rootkits or simply to scan for unwanted applications. There is also an Explorer Scan option which enables scanning objects from Explorer's right-click menu, and there is a bootable rescue environment to help you remove more persistent threats. It is in the area of scanning speeds where critics have found a flaw. The initial scan can take what may seem an age to complete. Subsequent scan times are reasonable but not as fast as many of Bitdefender's competitors. A full system scan can take over an hour to complete but the time does decrease with every subsequent scan.
Antivirus Plus also comes with Bitdefender's password manager, called Wallet. The application is able to store website credentials, credit card details, wireless network passwords, application logins, and license keys, email server credentials, and personal details for any number of individuals. Wallet is a great tool for protecting that information which cybercriminals drool over and is the prime target of data breaches. While Wallet installs an extension into your favored browser and will fill in basic login pages, it will not fill out more complicated forms, unlike other product offerings. Regardless, it is an important tool to have in combatting internet-based threats.
Like other highly regarded antivirus products, Antivirus Plus comes with a secure browser, called Safepay, which protects online banking and other sensitive transactions from spyware and other malware variants. Independent tests showed that keyloggers and screenshot tools were not able to steal information used in the browser. The last feature deserving of an honorable mention is the Vulnerability Scanner. This tool runs some basic checks for missing application updates and Windows patches, weak passwords, and a few network issues. This is done to keep the user's vulnerability exposure to a minimum.
While not receiving an honorable mention, the File Shredder may be a tool more suited to novice users. It works by securely wiping selected files and folders to ensure there's no chance they can be recovered. For those handling sensitive documents on a regular basis will find a use for the application but unlike specialized software packages, it does not allow for changing or modifying the shredding algorithm. It is unlikely that the File Shredder will be the make or break feature as to whether consumers by the antivirus offering as those needing to securely wipe documents will likely have a specialized product already.
Protection
Having a selection of usable features have become important to security firms looking to compete in an already fiercely competitive market. Antivirus Plus does well in this regard considering that it is Bitdefender's bottom tier product. They could have easily forced consumers to pay a premium for the same features by excluding them from Antivirus Plus. However, while features are nice it is ultimately how an antivirus product protects the device that is the most important consideration.  
Based on two independent reviews Bitdefender's malware engine performed well. AV-Comparatives' February to June 2018 Real-World Protection report summarized the results of five individual tests, and once again, Bitdefender performed very well. The engine blocked 99.8% of threats, putting it third out of 18 for protection, just fractionally behind Trend Micro and F-Secure. AV-Test's Windows 10 tests for April 2018 went even further, showing Bitdefender blocking 100% of test threats. AV-Tests also tested the number of false detections, when legitimate software is detected as malware, here Bitdefender scored far better than the industry standard.
Bitdefender prides itself on their ability to protect against ransomware threats. To this extent, Tech Radar did their own tests and found that when put against a real-world ransomware. Antivirus Plus stopped the infection immediately before it could execute and encrypt target files. In another test the antivirus package was put up against a custom ransomware simulator, meaning that the software would come against something it had not seen before. Here the antivirus allowed it to run but it did manage to kill the process and restore the encrypted files.
Screenshots:
System requirements:
Minimum requirements:
Operating System: Windows 7 with Service Pack 1, Windows 8, Windows 8.1, and Windows 10
CPU: Dual Core 1.6 GHz processor
Memory (RAM): 1 GB
Available free hard disk space: 2 GB free space
Recommended requirements:
Operating System: Windows 7 with Service Pack 1, Windows 8, Windows 8.1, and Windows 10
CPU: Intel CORE 2 Duo (2 GHz) or equivalent processor
Memory (RAM): 2 GB
Available free hard disk space: 2.5 GB free space
Conclusion
Bitdefender's products continually rank in editors top picks year on year. Antivirus Plus continues this trend and is a great pick for novice and non-professional users. For those wanting more Internet Security and Total Security fill in the blanks for those needing more than an antivirus.
The product is feature rich and all those features have a use to some extent. Those needing a VPN or a file shredder will need a more robust product but what you get for the price those features can be seen as an added bonus. Antivirus Plus scores incredibly well on the protection front and it is here where the true value of the product shines. Bitdefender's malware engine is near faultless and will give even the most neurotic user peace of mind.