Kaspersky Anti-Virus 2019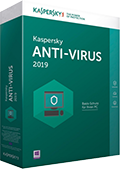 Works with: Windows 7 (32-bit and 64-bit), Windows 8 (32-bit and 64-bit), Windows 8.1 (32-bit and 64-bit), Windows 10 (32-bit and 64bit)
Kaspersky Labs in some respects has had a fairly torrid year. Rumors, without much been supplied in terms of evidence, surfaced alleging the security firm has less than savory relations with the Russian government. As a result, Kaspersky products have been banned from been used in US government departments. Kaspersky has moved large parts of their business to Geneva to help reinforce their independence from all government institutions. With such turbulence, one has to wonder if has affected their core product, their antivirus?
It would seem not. Kaspersky Anti-Virus 2019 cleaned up independent tests and is still many an editor's choice for best antivirus offering. Anti-Virus 2019 is the first paid for the product above the free version and when compared to Bitdefender's similar offering it may seem lackluster in terms of features. This does not relegate Anti-Virus 2019 to the poor choice bin at all.
Cost
Kaspersky Labs have placed all their latest products within the accepted price points. Anti-Virus 2019 will cost you 39.95 USD for one license over the course of a year. Three licenses will cost 75.95 USD with both prices taken directly from Kaspersky's global website. Certain regions may get a better price according to region-specific websites but the dollar pricing does give the consumer a rough idea of how much money they need to part with. With regards to the competition, Kaspersky's pricing structure is good. Bitdefender, Webroot, and ZoneAlarm, among others, charge 39.99 USD for a single license. On the other hand, F-Secure gives you three licenses for 39.99 USD. While McAfee AntiVirus Plus matches Kaspersky's price for multiple licenses, however, that subscription lets you install McAfee on every Windows, macOS, Android, and iOS device in your household.
Initial Setup
Kaspersky's installation process is simple, streamlined, and just about as speedy as the industry has seen. The trial download links are clearly highlighted on the website and the installer itself is tiny. Once the license agreement has been agreed to and automatically downloaded the offering will set up the rest of the package.  Many would think that would be it but there is still one more step. Once the dashboard opens you may be warned of an issue, that being some applications need to be updated. Most packages do that automatically on installation, but having control over such features can be seen as a positive and gives the user the sense that their chosen product is actively protecting their data.
User Interface
Once setup is complete and applications updated the user can now truly experience the dashboard. For those who have the previous edition will notice almost nothing has changed. There is a status panel at the top, a More Tools button at the bottom, and button-panels for Scan, Database Update, Reports, and On-Screen Keyboard. The color scheme has changed a bit if one looks hard enough. The status panel is now white with a slight pattern rather than green, and the button-panels are more defined. Not a revolutionary change but probably a slight improvement over something that was far from terrible, to begin with.
The Scan panel allows you to run quick or full system scans. Also, it allows for checking your external drives or whatever files and folders you specify. All this functionality requires more navigation than some packages, so, for example, it takes three clicks from the console to launch a Quick Scan, but this does not mean that it is difficult to navigate. Using the interface is still intuitive despite the extra complexity. A simple scheduler is on hand to automatically run any scan type every day, weekday, weekend, weekly or monthly. Sensible configuration options allow the scan to be run the next day if the computer is turned off while it's active. Further, you can minimize any performance impact by running scans only when the computer is locked, or your screensaver is active. That been said the performance impact is minimal and far from noticeable.
Features
As with almost all the antivirus suites on the market Kaspersky shares some features with the free version. Kaspersky Free includes the behavior-based System Watcher, it has all the antivirus protection that you get in the premium antivirus. One of these shared features that deserves special mention is the phishing protection. Often malware is designed to sneak past your security. In order to do this, hackers prepare websites that look exactly like PayPal, or eBay, or your bank. Designed purely to try and steal your passwords and usernames effectively handing over an entire account to them. Kaspersky's anti-phishing module is designed to prevent this by not allowing the user to access such sites and effectively blocks them from even been accessed.
Over and above the free version Anti-Virus 2019 includes a System Watcher, Ransomware Protection, Rescue Disk, Vulnerability Scan, Browser Configuration Check, and a Privacy Cleaner. The System Watcher is designed to detect malicious activity, including ransomware activity, in processes missed by the main real-time antivirus. While the Ransomware Protection overlaps somewhat with the watcher but is further capable of defending against ransomware that launches at Windows startup. Other protection features do not start this early and cannot stop ransomware that starts upon Windows starting.
The Rescue Disk feature allows the user to create a bootable disk or USB drive. It is a rather large download of 500 MB but can be a lifesaver in dire situations. The Vulnerability Scan looks for missing security patches in the operating system and in browsers and other popular programs to further harden your security stance. Abuse of software packages like Flash has been a major infection vector for hackers. It is a great feature particularly those with multiple software packages that need updating frequently.
The Browser Configuration Check is designed to specifically analyze and detect problems with Internet Explorer. Ultimately, this may be the less used feature but for those using Internet Explorer might find some value with it. The Privacy Cleaner, on the other hand, is a great tool for those who spend extended periods online. As you surf the web your browser history picks up information that many hackers are after. The cleaner helps you manage this information in order to better protect yourself. At the start, this component does warn that its clean up could cause some inconvenience. For example, clearing out cookies can wipe out your saved settings for websites that use them. However, you can select that the component cleans cookies, history, and temp files for Internet Explorer, Chrome, and Opera.
Protection
As mentioned above Kaspersky performed exceptionally well in independent labs' tests. Kaspersky, in fact, performed best with four reputable independent labs. AV-Comparatives' Real-World Protection tests aim to show how all the top antivirus engines perform against a range of known and brand-new threats. The July 2018 report placed Kaspersky in first place out of a field of 18. It was the only package to achieve a perfect score, where it both blocked 100% of the test threats and didn't raise a single false alarm. It is important to remember with the Austrian lab's tests that there can be changes month to month in terms of threats blocked. That been said Kaspersky scores continually well.
AV-Test's June 2018 Windows tests were even more positive about Kaspersky's engine, with the company scoring full marks for protection, performance, and usability. Only Avira and McAfee (from a field of 18) were able to match Kaspersky's score. In the October 2018 results, Kaspersky again scored incredibly well, in fact as well as is possible, with full marks in protection, performance, and usability. Historically Kaspersky is always a top performer and top-rated product in AV-Test's results.
Screenshots:
System requirements:
Internet connection required – for product activation & updates and for access to some features
Windows-based desktops and laptops
1,500 MB free space on the hard drive
Microsoft® Internet Explorer® 10 or higher
Microsoft .NET Framework 4 or higher
Microsoft Windows 101 Home / Pro / Enterprise
Microsoft Windows 8 & 8.1 / Pro / Enterprise / 8.1 update
Microsoft Windows 7 Starter / Home Basic & Premium / Professional / Ultimate – SP0 or higher
Processor: 1 GHz or higher
Memory (RAM): 1 GB (32-bit) or 2 GB (64-bit)
Windows-based tablets (system with an Intel® processor)
Microsoft Windows 101 Home / Pro / Enterprise
Microsoft Windows 8 & 8.1 / Pro (64-bit)
Minimum screen resolution: 1024x600
Note: previews and beta versions of operating systems are not supported. Kaspersky Anti-Virus 2019 supports only final releases of operating systems.
Conclusion
Kaspersky Anti-Virus 2019 is a great product despite the external difficulties the company has gone through this past year. Great independent lab test scores, which are consistent across the board, is a major selling point for the product. While not boasting as many features for a lower tier product as some of the competitors, what the offering does it does well. When compared with the other top contenders the differences are hair-splitting at best. Perhaps the only complaint that can be leveled against Anti-Virus 2019 is that some of the features tend to overlap rather than been completely separate modules.
It also seems to do what other companies struggle with, that being the competition with their own free version. It's true that the core antivirus technology is the same as what's in Kaspersky Free, but the paid edition includes a collection of bonus scans, full access to configuration settings, and the ability to get direct tech support by phone or live chat. That is excluding the other features mentioned above. Anti-Virus 2019 is certainly a great pick for anyone looking to secure their PC.
In concluding, Kaspersky Anti-Virus 2019 doesn't have the extras to match some of the competition, but who cares when you're getting one of the best and most accurate antivirus engines around? That is the ultimate test for any antivirus offering.