Kaspersky Anti-Virus 2020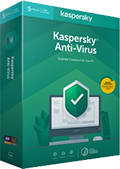 Works with: Windows 7/8/8.1/10 (32-bit and 64-bit)
Year on year Kaspersky produces antivirus software packages that rank near the best, if not the best for that year. This year is no different. The product line-up for 2020 is again a great choice for consumers on any budget. Perhaps what is more impressive is the company despite allegations of being linked to the Russian government and having to move operations to Switzerland, the products released by the company have remained impressively consistent.
Kaspersky Anti-Virus 2020 for Windows offers complete protection with a wide variety of features, depending on which package you go for. One negative is the lack of features included with the lower-tier packages. In this regard, Bitdefender has Kaspersky beat as consumers will find better value in the lower tiers of Bitdefender's product range. Overall though it is hard to argue with someone if they choose Kaspersky Anti-Virus to protect their machine. Kaspersky is also now leading the pack as it has adopted two-factor authentication for online accounts, showing that best security practices can be implemented into software for a more secure online presence.
Appearance of Kaspersky Anti-Virus 2020: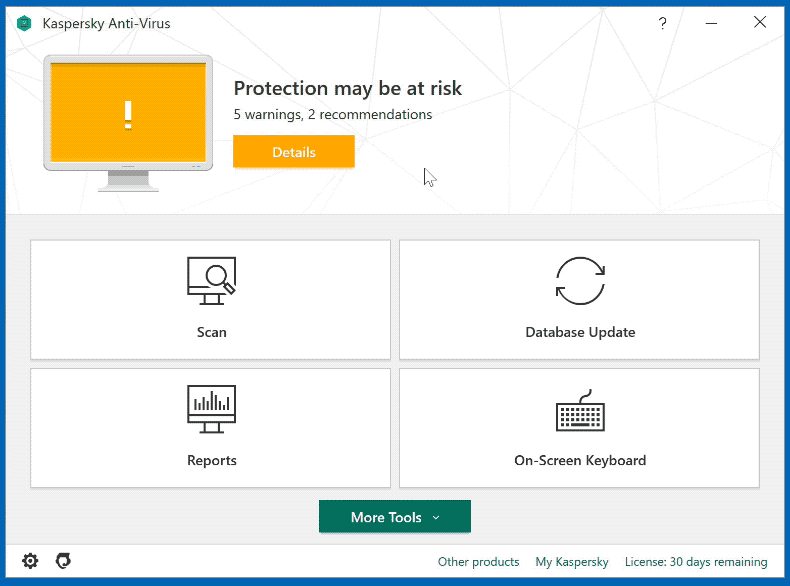 Product Line-up
Like with most good to great antivirus suites offered today, they all share the same malware engine throughout the product line-up. This means that even the free version of Kaspersky Anti-Virus, which was formerly called Kaspersky Free Antivirus now named Kaspersky Security Cloud Free, comes with the same malware engine as the higher tier products. If all that is needed are the basics then Security Cloud Free is a good option as even the basics include Kaspersky's password manager and client software for Kaspersky's Secure Connection VPN service. It is important to note that the password manager is limited to 15 login credentials. An unlimited package can be purchased at 15 USD per year, or an unlimited service comes standard with Total Security. The VPN is also limited to 200 MB per day, or 300 MB if you have a My Kaspersky online account, again an unlimited package can be bought for 30 USD per year which is relatively cheap compared to other specialized VPN services.
The first paid license is Kaspersky Anti-Virus with the starting price of 60 USD per year and can be installed on three to ten separate PCs. Anti-Virus includes phishing and spyware protection which can actively scan email attachments, check for vulnerabilities, as well as perform functions that are expected of phishing and spyware protection modules. Users should be on the lookout as many vendors and Kaspersky partners will often sell Anti-Virus for far less than the list price, so it is advised you keep a lookout for deals. Here Kaspersky is in direct competition with Bitdefender as the latter's offering comes with more features and makes Kaspersky's product look a little space on the feature front.
The next tier up is Kaspersky's Internet Security which starts from 80 USD per year and comes with licenses for three to ten PCs. The major selling point for this package is that it comes with software for Macs, Android devices, and iPhones and iPads. The software can protect against unwanted apps and webcam hijacking. The package also includes Kaspersky's Safe Money hardened browser and limited parental controls.
Now Kaspersky moves to the upper tier with Kaspersky Total Security with a cost of 90 USD per year for three computers. More licenses can be bought at varying rates, those being 100 USD for five PCs and 150 USD for ten. Total Security includes a backup feature, encrypt and shred files, protect against a ransomware attack, and includes web-based parental controls.
On the same tier as Total Security, Kaspersky also offers an internet-based security package called Kaspersky Security Cloud which costs 90 USD per year. The packages comes with unlimited password-manager use, up to 500MB a day of VPN data and some identity-protection features. A family package costs 150 USD for up to 20 devices and adds better parental controls. Kaspersky security software works with Windows 7 through 10, macOS 10.12 through 10.14, Android 4.2 Jelly Bean and later, and iOS 11 or later. The iOS protection software comes with a tracker for lost or stolen devices and also has a module to filter out malicious websites. As of yet, Linux is not supported by Kaspersky products.
Protection Offered
Kaspersky Labs have a solid reputation when it comes to protection. To bolster the protection offered by the company, the software performs a mix of scans in an attempt to cover all the bases. Further, Kaspersky employs heuristic monitoring which allows the software to spot suspicious behavior and malicious code. Further, the company applies artificial intelligence models for better analysis at the company's headquarters which in turn the company sends malware-definition updates to its 400 million users several times a day. Kaspersky seeing the threat posed by fileless attacks and attacks on the Unified Extensible Firmware Interface (UEFI) startup system has added better ways to detect and mitigate such threats.
Another interesting feature that results in real-world protection is Kaspersky's Application Control that sets restrictions on what programs can and can't run. By default, the Application Control will only run trusted applications. Further, the software for each element has three levels of scan intensity and the Gaming mode that works with games, movies and even large Excel spreadsheets. The System Watcher keeps an eye out for the first signs of a ransomware attack. In the direst of situations if all else has failed Kaspersky's Rescue Disk can restart the system from a USB flash drive and remove any residual infections. It is important to note that Rescue Disk is a separate product and needs to be downloaded separately.
Antivirus Performance
Year on year Kaspersky scores excellently on independent lab tests and this year has been no different. One of Kaspersky's greatest feats in this regard is the number of false positives scored which is none in the latest rounds of testing. German lab AV-Test results showed that Kaspersky scored a flawless 100% in both the known malware category and the zero-day category for the May and June cycle of tests. Norton, Trend Micro, and Windows Defender scores similarly, however, Norton had three false positives. Impressively, since 2017 Kaspersky has failed to score perfectly on only one occasion. In summary, the company failed to get 100% in one of 60 tests.
Austrian lab, AV-Comparatives, results were just as impressive as AV-Test, with the company detecting 100% of online malware with no false positives for the February to May 2019 testing cycle. In the June to October test cycle Kaspersky's malware engine blocked 99.1%, while not perfect it is still a result that places the product in the best performing category. Lastly, London based SE-Labs gave Kaspersky it's highest rating in tests conducted from April through June 2019. Along with ESET, Windows Defender, and Norton each detected 100% of malware without any false positives. It can be argued that Microsoft's offering beat out the others as it managed to block all malware encountered while the other neutralized a tiny percent rather than block it outright.
Security Features
As alluded to above, depending on which tiered package the consumer purchased determines what features are included. Even if the consumer opts for the free version the package is still able to block phishing sites that use shortened URLs using the anti-phishing component. Internet Security is where many of the more useful features come into play including basic parental controls, a two-way firewall, and anti-spyware features such as protection against webcam hijacking. Internet Security further includes the Private Browsing setting and extensions for Internet Explorer, Firefox and Chrome. Safe Money is arguably the feature that will get the most use, or at the very least should. It is Kaspersky's hardened browser which forces the use of HTTPS encryption and blocks common web attacks and has a virtual keyboard to prevent keyloggers from stealing credentials.
Total Security then adds an unlimited version of the Password Manager and better parental controls with Safe Kids Premium. The component allows for parents to monitor Facebook usage block objectionable material and geo-locate their children's phones. Further, parents can set screen time limits across phones, tablets and PCs hopefully helping in making sure homework is at least attempted. Total Security also comes with Backup and Restore which is capable of copies of important files and keeps them away from ransomware attacks. By default, it backs up My Documents, Pictures, Videos, and Music with other files been able to be added by the user. It is limited in the sense that full drives cannot be backed up in this way.
When the package is linked with the company's My Kaspersky online account you can use the new two-factor authentication (2FA) for better online account protection. The component works by a server sending your phone a text message with a one-time code required for logging in. To the best of the writer's knowledge, Kaspersky is the first to implement this and make it available for customers. It is often moaned by security researchers that users should but do not use 2FA when possible. It is good to see a company taking the initiative to make it easier for users to adopt better security habits.
Resources Impact
Above on negative was drawn that Bitdefender offers a better product than Kaspersky's mid-tier offering. Another negative that can be leveled at Total Security, in particular, is that it does require a lot of the machine's resources and often taking longer to scan than the company's competitors. An initial scan can take as long as 10 minutes depending on the system. This is in itself is not terrible and on par with other packages on the market. The difference came in once the software indexed the system scans complete scans only came down by more than a half. That being said Quick Scans were done incredibly quickly, clocking in at under a minute. AV-Comparatives also do a performance score, in which Kaspersky Total Security scored a 7.9. In comparison, it was slightly better than Bitdefender's 8.3 but paled in comparison to McAfee's 0.8.
Installation and Interface
The installation process starts with an installer of 2.5 MB needing to be downloaded. Once done and installed it will download the 125 MB main installer. Once completed the program will perform a quick scan then will install the entire product. Once the entire product is installed users can then opt-out of Kaspersky collecting malware and other threat data from the user's system.
The interface is all past users of the product have come to expect from Kaspersky. The main screen features a green checkmark and eight main tasks in front, with current security recommendations up above. On Total Security these will be Scan, Database Update, Safe Money, Password Manager, Privacy Protection, Backup and Restore, Parental Control, and My Kaspersky online account access respectively. Other add-ons are easy to navigate to under the More Tools category. Customizing scans is also easy and in general, even those who don't use computers frequently should have no trouble navigating the interface and using the product.
Screenshots of Kaspersky Anti-Virus 2020:
System requirements:
For all devices
Internet connection required – for product activation & updates and for access to some features
Windows®-based desktops and laptops
1500 MB free space on the hard drive
Microsoft® Internet Explorer® 10 or higher
Microsoft .NET Framework 4 or higher
Microsoft Windows 10 Home / Pro / Enterprise
Microsoft Windows 8 & 8.1 / Pro / Enterprise / 8.1 update
Microsoft Windows 7 Starter / Home Basic & Premium / Professional / Ultimate – SP1 or higher
Processor: 1 GHz or higher
Memory (RAM): 1 GB (32-bit) or 2 GB (64-bit)
Windows-based tablets (system with an Intel® processor)
Microsoft Windows 10 Home / Pro / Enterprise
Microsoft Windows 8 & 8.1 / Pro (64-bit)
Minimum screen resolution: 1024 x 768
Please note we do not support the beta versions/previews of new operating systems. Only final, officially released operating systems are supported by the product.
If you're using Windows 10, you might need to download & install all available patches for your Kaspersky Lab security software. Product is not intended to operate on Windows 10 Mobile/S editions.
Conclusion
Kaspersky's Total Security represents the high water mark for antivirus suites. The main reason for this is that the product while been feature-rich provides excellent security solutions. The offering from the lowest tier to highest is built for protection and that is essentially what customers want. The product is by no means perfect, it is resource heavy and it would have completely blown other competitors out the water if it managed to provide an unlimited VPN service along with Total Security.