ESET NOD32 Antivirus 2020

Works with: Windows 7/8/8.1/10 (32-bit and 64-bit), Windows Home Server (64-bit)
ESET was founded in 1987 in Slovakia and since the company's founding, it has grown to be a company to help secure PCs across the globe. The company now offers antivirus solutions for Windows, Mac, and Android as well as offering tailored business solutions. For the average home user, a tailored business solution might as well be a lesson in Ancient Greek, for that reason, it will be ESET's NOD32 Antivirus 2020 that will be the main product reviewed.
ESET's offering is a yearly contender for the best product within certain categories and generally always features in the top 10 of whichever publication it is reviewed for. It's this consistency that has helped developed ESET's reputation to produce effective and reliable products year on year while also boasting a wealth of experience from decades of successful business operations. Another reason for the reputation is the lack of discernible system impact even on older machines, this has come to be a hallmark of top tier antivirus packages.
Appearance of ESET NOD32 Antivirus 2020: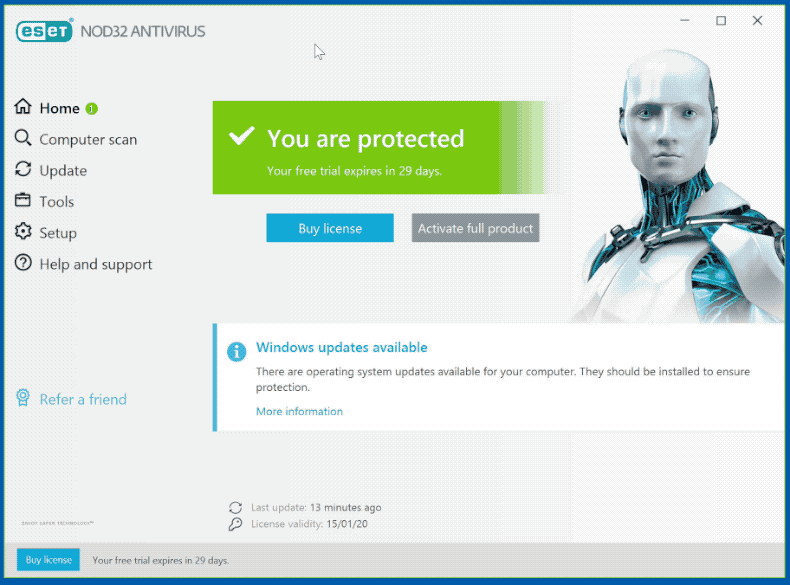 Product Range
Like many of ESET's competitors, the company offers numerous tiers within its product range. ESET also offers packages for Mac and Android devices as well as products for covering multiple devices across numerous platforms. As to the options for Windows, ESET offers the baseline NOD32 Antivirus which costs 39.99 USD for one license for one year. Users can purchase up to five licenses for 79.99 USD. NOD32 includes anti-phishing, exploit blocker, UEFI protection, and a ransomware shield. The next option for Windows users is Internet Security which costs 49.99 USD for one license, with a maximum of ten licenses available for purchase at 139.99 USD. Internet Security comes with all NOD32 Antivirus does and a lot more and is ESET's most popular product. Extra features include banking protection, firewall, parental protection controls, anti-spam component, and webcam protection. Last but not least is Smart Security Premium, which includes all of the aforementioned features, as well as password management and image encryption tools. One license of Smart Security Premium costs 59.99 USD, with a maximum of ten licenses available for purchase at 149.99 USD.
For Mac, ESET offers a similar product range at the same price as the Windows option. Rather than being named the same the Mac options are named ESET Cyber Security and ESET Cyber Security Pro and are priced the same as their Windows cousins. One of the key differences between the ranges been that with Cyber Security Pro you can buy up to ten licenses which cost 139.99 USD. The Mac versions do have a few separate features for Mac users, including presentation mode, automatic updates, and removable media control which Mac users might find useful but do not differentiate the Windows and Mac versions to distinctly from each other.
For Android devices, ESET offers Mobile Security, which is either a free version or a paid-for one boasting more features worthy of the price. Mobile Security costs 14.99 USD for one device with licenses for five devices weighing in at 74.95 USD. The premium edition includes location tracking, anti-phishing, and anti-theft components over and above what the free version offers. Lastly, ESET's top tier offering is Smart Security Premium, which can be installed across numerous platforms. One license costs 59.99 USD, three costs 99.99 USD, and ten licenses will set you back 149.99 USD. As well as being able to install Smart Security across multiple devices and platforms, the package also provides ESET's Secure Data and Password Manager components.
Antivirus Protection
Even by choosing NOD32 or the Mac equivalent, Cyber Security, users will have made great strides in securing their machines from the wide variety of malware threats currently faced today. To do this effectively ESET not only scans for threats but also scans for suspicious behavior, sometimes referred to as heuristic monitoring, in order to prevent malware infections. To supplement this ESET automatically updates virus definitions on a constant basis as well as protecting against zero-day threats. These are what consumers have come to expect from malware engines and ESET does supplement the level of protection offered with a number of features.
These features include the Ransomware Shield, which applies behavior-based monitoring with traditional antivirus scanning technology to detect and prevent ransomware from modifying and encrypting files. Other features include the UEFI (Unified Extensible Firmware Interface) scanner which helps prevent malware persistence. UEFI malware, that being malware that can survive reboots and system reinstallations has become an ever more present threat. Even more security features include an anti-spam component that prevents mail servers from being hacked and a firewall to prevent connections to untrusted networks.
Having a wide array of extra features is great but ultimately an antivirus product is judged on how effectively it protects against malware infections. This is a question asked by three independent labs who put malware engines through their paces. ESET is one of those products tested multiple times throughout the year by AV-Comparatives, AV-Test, and SE Labs. In AV-Comparative's tests for October 2019, ESET's malware engine scored 98.4% in the real world test in terms of malware blocked. 1.6% of malware samples manged to compromise the system and two false positives were registered. This meant that ESET did not score as well when compared to competitors like Kaspersky and Bitdefender who blocked 99% and 100% respectively round off.
The last time AV-Test tested ESET's engine was in December 2017 where it blocked 100% of known and prevalent malware strains at the time and 98.9% of zero-day threats spread via email and online vectors. It would be interesting to see later test results from AV-Test for the current iteration of ESET's malware engine, however, it must be noted that historically ESET has been a consistent performer in terms of test results. SE Labs found that the product 100% of malware samples thrown at it.
Installation and Interface
As has come to be expected by both ESET users and consumers in general software installation should be simple. ESET again delivers in this regard. Simply by going to their official website, click on the download link, the installer will then proceed to download. Once installed ESET will update and perform a quick scan. The installation file weighs less than 4MB, and, it takes the software up to 3 minutes to install depending on the system. The installer will also allow users to preselect features by checking or unchecking them.
As to the interface, it is intuitive and relatively easy to use. ESET has been criticized in the past for making interfaces harder to navigate than necessary by offering a vast selection of options. Over the years the company has streamlined the interface without reducing on the options if offers those wanting a more robust experience. This allows average users to get what they want out of the product, while those who like to tinker with every setting will also not be disappointed. This all in all makes ESET's product score highly on the ease of use side of things, not something ESET has been known for in the past.
The interface sets out everything in easy to follow and navigate tabs. Scanning, Banking and Payment Protection, and Home Network Protection form the main tabs with other options available on the left-hand side. As to the scanning option, more than likely the most used feature of any antivirus package, every file and folder can be scanned. In addition to standard scanning options, those being Smart scan, Context menu scan, In-depth scan, you can use the advanced features for scanning. After scanning, you may choose a number of actions including no action, shutdown, reboot, sleep, or hibernate.
Screenshots of ESET NOD32 Antivirus 2020:
System requirements
Your system should meet the following hardware and software requirements for ESET NOD32 Antivirus to perform optimally:
Processors Supported
32-bit (x86) processor with SSE2 instruction set or 64-bit (x64) processor, 1 GHz or higher
Supported Operating Systems
Microsoft® Windows® 10
Microsoft® Windows® 8.1
Microsoft® Windows® 8
Microsoft® Windows® 7 SP1 with latest Windows updates
Microsoft® Windows® Home Server 2011 64-bit
Other
An internet connection is required for activation and ESET NOD32 Antivirus updates to function properly.
System Impact
Compared to some of the competition ESET places very little impact on the OS and hardware. With approximately 650 megabytes of hard drive space and 100MB of RAM in idle mode, ESET doesn't require much computing power to work properly. In the Task Manager, it adds 2 to 3 processes above what the OS and other software add. In some tests, a 10% increase was noted at peak usage times. This low system impact was further confirmed by AV-Comparatives' Performance Test. Where ESET scored "very fast" in all but one category, which it scored "fast" in. As to system impact in the October tests, ESET scored 98.7, with a 1.3 impact on the system. This was the best out of all the products tested.
A Great Choice despite Minor Flaws
One major black mark which can be leveled at ESET is the customer support side of their operation. At the time of writing there appears to be no 24/7 support options or phone support. Currently, there is an extensive library offered by the company and email support. Here other competitors have the upper hand with chat, email, and phone customer support options. While ESET does have a good social media presence other companies offer those support features listed previously.
Conclusion
Despite the lack of customer support, minor lapses in AV-Comparatives' last real-world malware tests, and a few minor flaws, the product offered is of the highest class. If you are looking for an antivirus solution that does provide excellent protection with minimal system impact ESET may be the choice for you. If you are looking for more features like a VPN for example, then Kaspersky and Bitdefender could be options. If forced to choose a product for Windows or Mac Internet Security and Cyber Security Pro are well worth the investment.