Bitdefender Antivirus Plus 2020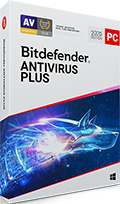 Works with: Windows 7/8/8.1/10 (32-bit and 64-bit)
Often when reviewers and journalists review Bitdefender and their latest antivirus offerings terms like "value for money" and "bang for your buck" are bandied about. Given the product offered by Bitdefender, these statements are entirely true. Bitdefender consistently offers a great antivirus solution for less than their competitors. Does Antivirus Plus 2020 continue this trend?
The short answer is yes. However, the company has looked to add extra features and make existing features run more efficiently. In numerous tests, Bitdefender was often the fastest to perform scans while draining little in the way of system resources. This is always seen as a win in reviewer's books but performance aside, Antivirus Plus 2020 offers features every great product has offered in the past and then some. For instance, the Windows build of Total Security grants users access to an antivirus, a firewall, spam filter, malicious website blocking, online banking protection, parental controls, a limited VPN, a password manager, file encryption, secure file deletion, PC clean-up and optimization which are just some of the overall features.
Appearance of Bitdefender Antivirus Plus 2020: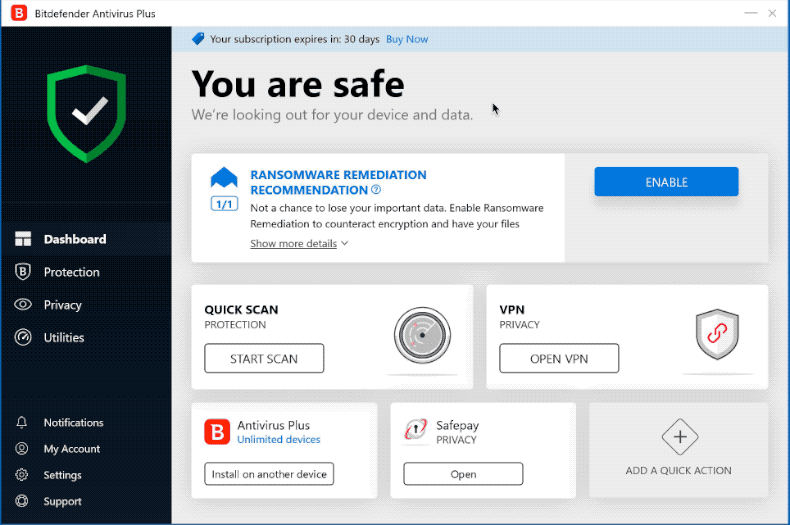 Product Family
As with many other offerings, Bitdefender offers a tiered product line which starts with a free version which is fundamentally an antivirus engine. The free version provides malware protection and a phishing and fraud protection module as well. This is a nice touch as many offerings on the market just provide malware detection and eradication. It is the paid versions that really increase the scope of protection offered. The first paid tier, Antivirus Plus, offers an unlimited password manager, a Wi-Fi network scanner, a file shredder, a hardened web browser, and Bitdefender's new Anti-Tracker web-privacy feature. This will cost the user 40 USD for a year for one PC. Alternatively, 10 PCs license offers are available coming in at 80 USD. This price point is incredibly competitive for such a full-featured product.
Next up is Bitdefender Internet Security, which is offered exclusively for Windows, unlike other offerings that can be installed on Macs as well. Internet Security adds parental controls, file encryption, a two-way firewall, anti-spam screening and webcam, and microphone protection. Internet Security costs 60 USD for one PC and 90 USD for 10 PCs which makes Internet Security arguably the best value for money offering currently in the range. Total Security fills out the third paid for tier and is the one that can be installed on Macs and Android devices. Total Security comes with Bitdefender's website-screening and phone-tracking app for iPhones and iPads. These added features, of course, add to the cost and given the wide variety of devices Total Security covers the offering costs 90 USD for 5 separate devices or 100 USD for 10 devices. For those running Windows, Internet Security is most certainly the sweet spot for features versus cost.
Bitdefender also offers a Family Pack which is an expanded license f Total Security that covers 15 systems for 120 USD per year. It is important to note at this stage that all of the paid-for products include Bitdefender's VPN software, although it is limited. As it stands the VPN is limited to 200 MB per day but you can pay a further 40 USD a year for unlimited service. This in itself is not a bad price to pay for a VPN. That being said Bitdefender is offering a new product for 2020, that being Premium Security which comes with an unlimited VPN and priority tech support as standard. Premium Security costs 150 USD for 10 devices which for someone looking for a VPN and antivirus suite is a good choice.
Antivirus Protection and Features
VPNs and a raft full of other features are nice valued-added products that are becoming increasingly popular with other vendors and products. However, it is defending against malware that is the software's primary concern. The first line of defense offered by Bitdefender is its scanning function. The scanner also boasts a heuristic monitor designed to pick up malware behaviors rather than specific files. In a world were malware changes and newer versions are seen more often behavioral analysis is fast becoming a must-have feature. To assist in the scanner's ability to correctly identify malware and remove it from the system Bitdefender uploads threats to its servers. This results in definitions been updated several times a day and been sent to 500 million systems currently running Bitdefender.
Another feature that deserves special mention is Bitdefender's Safe Files. This feature places files into a specific folder which allows for no changes or modifications to be made to those files. This feature is combined with the Ransomware Remediation module which copies these files so in the event of a ransomware infection the safe files can be easily recovered. The Safe Files feature has been criticized for being overzealous and preventing users from carrying out daily operations like unzipping a file that was automatically placed in the folder. This feature can be turned off like almost all the features and its overall use will be determined by the user.
New for 2020 is the Anti-Tracker Browser Extension which Total Security will automatically load to browsers installed on the system. The extension is currently compatible with Internet Explorer, Chrome, Firefox, and Opera with plans to increase the compatibility to Edge once the Chromium-based version has been released. The basic operation of the extension is that it tracks and informs the user of all the times it has blocked trackers on web pages visited. Where Bitdefender's offering stands out is how the extension organizes the privacy information. When you click on the extension while visiting a webpage, you get a ton of information about the attempted tracking. At the top is the total number of trackers blocked, as well as the page load time without them. Below this, the user can see which blocked trackers are a result of advertising, analytics, customer interaction, social media, etc.
Antivirus Performance
All of Bitdefender's paid for products use the same malware engine so regardless of the package chosen the detection of malware and its remediation will be the same across the board. For testing purposes, it is the engine itself that gets put through its paces by independent testing laboratories who publish their results at different times throughout the year. These tests done give consumers valuable information about how antivirus products will perform if under attack. In these Bitdefender normally scores way above average but not flawlessly as some other brands have done in the past. In AV-Labs tests conducted in May and June 2019 on Windows 10, the German lab showed that Bitdefender detected 100% of known and widespread malware samples. However, in the tests that test for zero-day defense, Bitdefender scored 98.8% in the June test but scored perfectly in May. Microsoft, Norton, and Trend Micro scored flawlessly in these tests placing Bitdefender a step or two behind.
In terms of false positives, Bitdefender registered three of them. A false positive been benign software has been detected as malware. In this regard, Kaspersky, Microsoft, and Trend Micro did not raise one false positive. Since 2017 Bitdefender has only failed to get perfect scores on the Labs detection tests three out of 60 times. Despite not getting 100% on all the tests such consistency is a testament to the malware engine developed by Bitdefender. Over this period the only vendor to have scored flawlessly in this regard is Norton with all others registering less than perfect scores on a number of occasions.
The next lab seen as a great benchmark for performance is AV-Comparative, here again, Bitdefender scored well in the Austrian lab's tests. Kaspersky managed to notch a 100% with Bitdefender scoring a more than commendable 99.9%. In the tests, Bitdefender logged two false positives versus Kaspersky's none in tests conducted from February to May of this year. No antivirus vendor has been able to flawlessly pass all tests since 2017 so scoring in the high nineties places Bitdefender in the top percentile score consistently.
System Impact
One of the main advantages of purchasing Bitdefender is very good scan times with minimal effect on hardware performance. Measuring these depends solely on the machine running the software but tests have been conducted showing that benchmark results were achieved in little over eight seconds. This rose to 9.4% once Total Security was installed on the test machine. Quick scans then took a further 9 seconds after that, placing Bitdefender amongst and in many cases the best offerings by the company's competitors. For doing a complete scan on the entire device times were consistently around 15 minutes on its initial scan which again is comparable to the competition. From then on a full scan consistently came in at under 3 minutes.
Installation and Interface
As has come to be expected the installation of any antivirus suite should be simple, easy, and quick. These are things consumers have come to expect from software products in general. Bitdefender lives up to these expectations. Once the 11 MB main installer is installed it will normally take a further five or six minutes to install Total Security on top of that. If an issue does occur Bitdefender does offer 24/7 online support with call, in-browser chat, and email options with a 24 hour response time for all those not willing to pay for Premium Security.
Once installed users familiar with the product will be greeted to a very, if not exactly the same, interface as previously. If it works why fix it and antivirus packages aren't the place for interface experimentation especially when there are a host of features need. The interface is dominated by the top five security tasks, those being: a scan recommendation, Quick Scan, VPN, protecting other systems and the Safepay secure browser. If needed the user can add a sixth of their choosing. On the left users will find Protection for scanning details, Vulnerability, Firewall, AntiSpam, Threat Defenses and Ransomware with further options to be accessed via those options. All in all, it only takes minutes to customize the package and its behavior moving forward.
Screenshots of Bitdefender Antivirus Plus 2020:
System requirements
Operating System: Windows 7 with Service Pack 1, Windows 8, Windows 8.1, and Windows 10
CPU: Intel CORE 2 Duo (2 GHz) or equivalent processor
Memory (RAM): 2 GB
Available free hard disk space: 2.5 GB free space
Internet Explorer version 10 or higher
Parental Controls Premium
Not included with any of the packages offered by Bitdefender but offered as a value-added service is Parental Controls Premium. Designed as a product to help prevent cyberbullying and children from engaging in potentially dangerous behavior the application uses device-based artificial intelligence to find patterns of bullying, attempts to meet children outside of the home and nude photos. The application does not block the bad behavior rather it informs the parent that something untoward might be happening on the device. It also does not share what the child is sending or receiving with the parents either. This feature costs a further 50 USD on top of what the package chosen costs.
Conclusion
Bitdefender Antivirus Plus 2020 is a complete package of that there is little doubt. Coupled with an effective malware engine and security features depending on the package paid for users can be confident they have made great strides in securing their system or device. Another major advantage is the quick scan times and impact on hardware performance, this is an attractive selling point. For these reasons, Bitdefender continues to be a great choice amongst a market also looking to outdo the competition.