ESET Internet Security 2021 Edition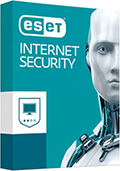 When choosing a comprehensive antivirus suite, the number of choices users now have can cause no small amount of option paralysis. There are always several options that rise above many of the others. For some time now, ESET's offerings built off their popular NOD32 antivirus are constantly high scorers in independent lab tests and are feature-rich. This has led the Slovakian company to make great inroads into the American market. An important question to answer then is does the latest midrange offering, Internet Security, continue the trend? In short, yes but there is room for improvement in the product.
Still, Internet Security is a solid choice for anyone looking for much better than average antivirus protection.
Works with: Microsoft Windows 10/8.1/8/7 with SP1 and latest KB updates installed
Cost
Every security firm that offers an antivirus solution with different price points performs a tightrope act in balancing features versus cost. ESET is no different in this regard, but the company has struck a balance that makes Internet Security priced at a competitive point for all the features it includes over and above antivirus protection. Internet Security includes webcam security, online banking protection, and a home network analyzer as well as features we have come to expect like a firewall, spam filter, and parental controls.
For the consumer, it's how these features are costed that makes all the difference. ESET Internet Security costs 49.99 USD for one license. The company makes further provisions for those wanting additional licenses up to 10 can be purchased at an additional 10 USD per license. There is also a three-license package that costs 69.99 USD, so there is no real saving in choosing the three-license package versus adding two additional licenses to the base price. At these price points, Internet Security, in general, is a cheaper option than many of its rivals but still has many of the extra features one has come to expect from a mid-tiered product.
What is not made clear to those purchasing licenses from ESET is that a license can be used to activate ESET's macOS and Android security products. You can also activate macOS protection with an ESET antivirus license but using a suite license gets you the Pro edition.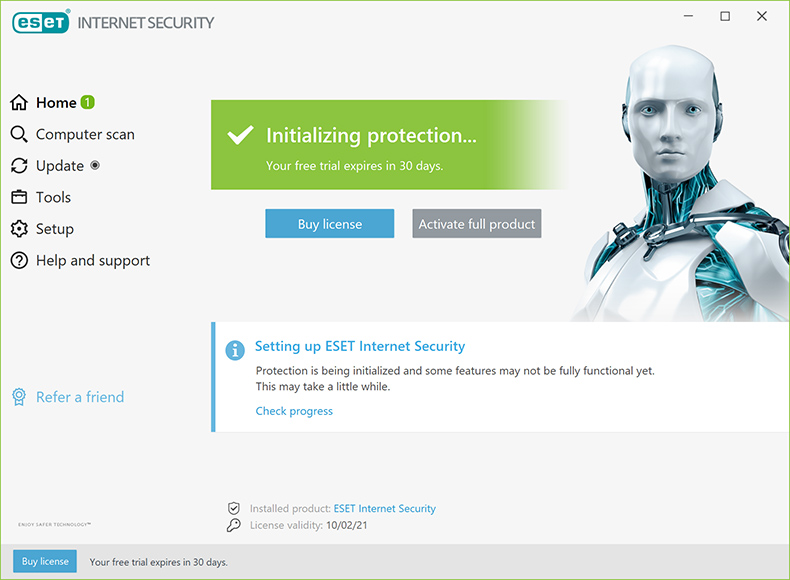 Antivirus Performance
As mentioned above Internet Security is built off NOD32 Antivirus. For any antivirus suite, this would make a great foundation to build on. ESET has managed to get great scores from independent labs for several years now and this year is no different. ESET has been tested by the four most respected independent labs with each labs' results summarized below.
SE Labs did their last round of tests for the third quarter of 2020, with the testing period spanning July to September. Overall ESET scored incredibly well receiving a AAA rating, the highest the lab awards. The lab also judges antivirus performance by judging what it calls total accuracy. ESET scored a total accuracy of 99% with Kaspersky the only company to do better with 100%.
AV-Test Institute performed their last test in October 2020. Here again, ESET performed well in all three categories the lab uses to rate antivirus products. The lab tests the protection, performance, and usability of the product with each category being scored a maximum of 6 giving a total possible score of 18. ESET achieved a total score of 17.5, scoring full marks in protection and usability with performance scoring a respectable 5.5.
AV-Comparatives eschews using a numeric scale but rather ranks products Advanced+, Advanced, and Standard depending on how they perform. Of the four separate tests conducted by the lab where ESET has tested the antivirus scored Advanced+ in all four with Advanced+ being the highest possible score, a product can achieve. The only other antivirus producers to score that well were Kaspersky and Bitdefender.
The last of the four labs that conduct independent tests is MRG Effitas with their latest test results being published in December 2020. Much of the lab's tests revolve around using real-world malware samples and then seeing how the particular antivirus responds. ESET again proved to be the match of the tests and received Level 1 certification from the lab. Symantec was the only other vendor to receive this certification. If a vendor receives Level 1 the antivirus detected all threats on first exposure and passed a stringent live botnet test.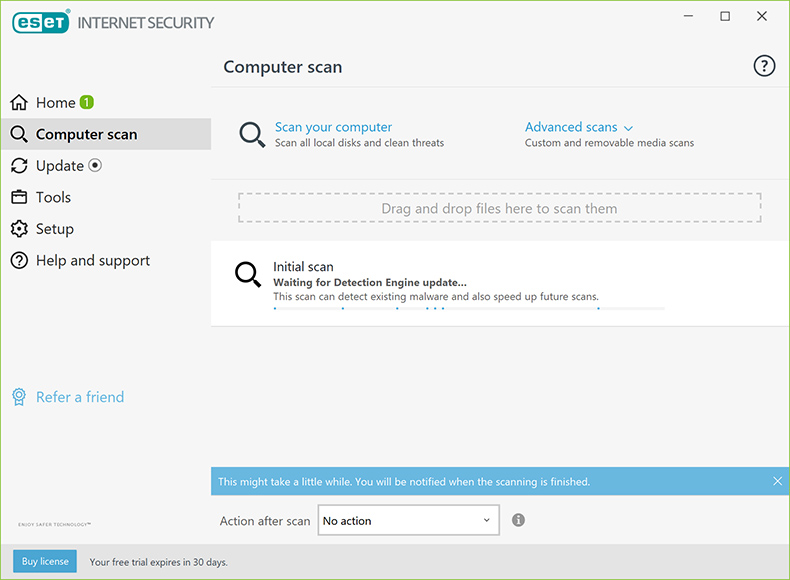 Shared Features
The first feature deserving special mention is ESET's Host Intrusion Prevention System (HIPS). The feature is designed to protect users from attacks that look to exploit vulnerabilities with the operating system. The feature can further protest users from attacks that look to exploit vulnerabilities within applications. In several other reviews, the feature performed better than many of ESETs competitors. The next feature, well deserving a special mention, is likely better suited to business environments rather than an antivirus suite geared for home users. Device Control allows a user a high level of control over external devices like card readers, imaging devices, Bluetooth devices, and more traditional external storage devices. This makes it possible for users to ban all USB drives, or only allow certain devices to interact with the machine based on a list of exceptions. The feature could be used in the home environment but would see more use in business environments where there are possibly hundreds of machines with unique users, decreasing the level of control administrators have over machines.
Several other features are shared across all ESET's offerings including Internet Security including those two mentioned above. However, much of the array of security features are better suited to those with experience in the IT sector rather than the broad spectrum of computer experience typically see in the home. Many of these features can be found in the More Tools option, which is only found after clicking the Tools options. Of these features the most useful is SysInspector which takes a snapshot of the system the antivirus is installed on; this can be done in the future and shows the user what has changed on the system between snapshots. It is recommended that you create a baseline snapshot shortly after an install to get the most out of this feature. The next few paragraphs will be dedicated to features found on Internet Security, not shared with lower-tier offerings.
The Firewall
This has been the bane of many a reviewer's ESET experience for some time now. It is not that the Firewall fails in the task of defending against web-based attacks, the feature performs this task adequately. It is how the Firewall goes about its tasks that many will find irritating. Third-party firewalls need to provide an added layer of security the default Windows Firewall does not, namely increasing the level of program control to stop Internet connections from being misused via the network permissions of programs that might be altered maliciously. By default, ESET does not offer this straight off the bat. The Firewall is set to automatic by default and to change to some version of program control the firewall must be set to interactive mode.
In general, this is fine as in Interactive mode when a program attempts to access either the Internet or a network the end-user will be presented with a pop up that will ask the user to accept or deny the request. What can be frustrating is it will do this for each program attempting to connect to the Internet or network. Once you have allowed a program to access other connections it won't do it again, however, there is no database of trusted programs so the user must do this for each program at least once. It should be noted that if you do not create a rule that permanently grants the program access, done by checking a checkbox on the popup alert, you will have to approve the request every time. To complicate matters further, if you have set up password protection on settings, a requirement for the parental control feature, every time the firewall popup appears you will also have to enter your password.
These eccentricities are by no means a deal-breaker, but when you compare ESET's firewall to some of its competitors it falls short. Offerings by Kaspersky and Norton have comprehensive whitelists for trusted apps, automatically block untrusted connections, and keeps an eye for unknowns. This is all done behind the scenes requiring nowhere the effort ESET's firewall does to get it up and running.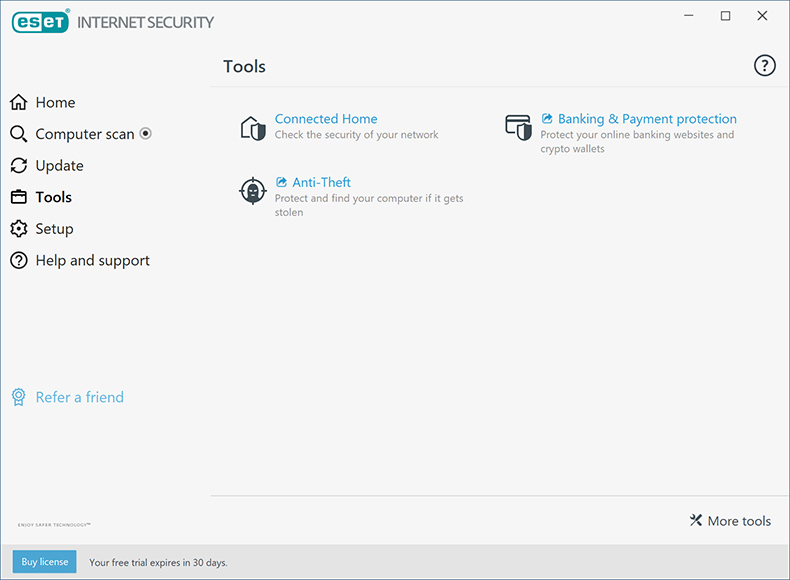 Parental Control
Consumers looking to get a good antivirus suite have almost come to expect a parental control feature. At there, simplest such features filter out inappropriate content and may even allow for limited screen time scheduling to hopefully help on the homework front. Over the years more controls have been added to parental control features to include monitoring your child's social media accounts and contact lists, track position via their smartphone, place age restrictions on games and even promote young users from taking breaks between prolonged sessions in front of a screen.
ESET has approached its parental control feature differently and lacking many of those additions mentioned above. Firstly, parental control is not enabled by default, this makes sense as not all users will need such a feature. Once enabled, the parent will have to set up a password which prevents changes been made to settings without the password. Further, all users on the specific machine need to be specified as adult or child, with the child accounts you further need to enter in their birthdate. The date is used by the feature to preconfigure 30 content categories to be blocked depending on the age of the child. An oddity of the feature is that even when a child account is active ESET popups requiring the password will appear.
One of the feature's greatest assets is that ESET manages all the HTTPS requests meaning that clever teenagers can't bypass the protections by using a secure anonymizing proxy. If that is the feature's greatest asset, then its worst is the lack of many of the features mentioned above that many of the company's competitors have incorporated into their parental control features.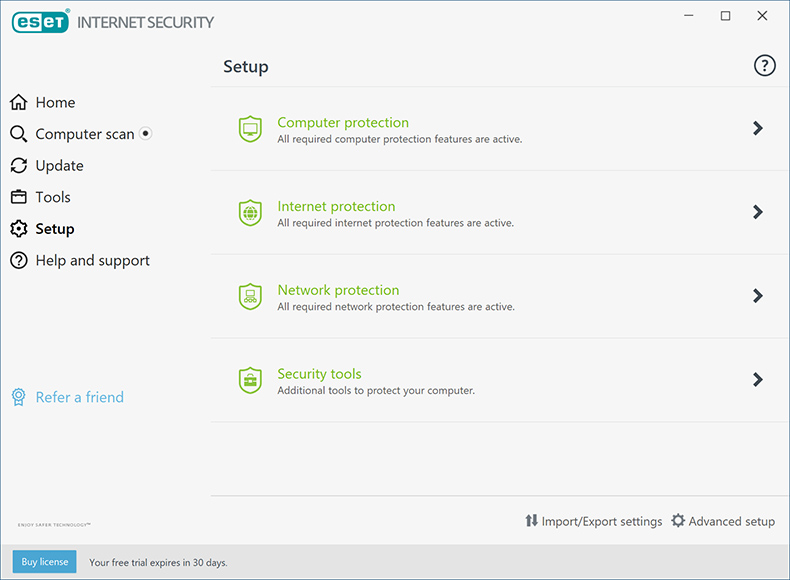 Conclusion
Internet Security does include several other features not shared with the base version Email Protection and an Anti-Theft System. Like both the Firewall and Parental Control they are serviceable and do exactly what they set out to do, however, other products have far more refined and feature-rich extras. ESET's strength is not in how many features it can pack into a mid-tier suite but rather in the level of protection the malware provides. All four independent labs confirm that the antimalware engine is more than capable of standing up to the variety of threats home users must deal with. Given that, in general, Internet Security is cheaper than many of its rivals, meaning the balance between cost, protection, and features have all been well juggled. For those wanting unrivaled protection and who don't need several bells and whistles attached, Internet Security is more than worthy of consideration.
Appearance of ESET Internet Security 2021 Edition: