Bitdefender Internet Security 2021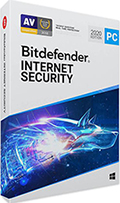 Over the years Bitdefender's consumer antivirus products have developed a reputation for being amongst the best in the world for their relevant price points. Currently, Bitdefender has five offerings which include Bitdefender Antivirus Free Edition through Bitdefender Antivirus Plus, Bitdefender Internet Security, and Bitdefender Total Security to the flagship Bitdefender Premium Security with its unlimited VPN use. The focus of this article will fall to Internet Security, as it is their mid-tiered paid-for offering which has several features home users could most certainly use if not needed.
It is important to note that all five are built of the same antimalware engine, so no matter what product is chosen, it is still built of the same foundation tested by independent labs.
As choices go, Internet Security is a great choice given the number of extra features it comes. It does include a VPN, but only allows 200 MB of usage at a time. This has been improved but comparable products sometimes offer an unlimited VPN. Some might find the limit frustrating but many of the product's other features can make up for the lack of an unlimited VPN.
Works with: Microsoft Windows 10/8.1/8/7 with SP1 and latest KB updates installed
Cost
Internet Security's feature list includes a comprehensive parental control feature as well as an impressive firewall and video and audio protections. Further, the suite has an impressive ransomware defense array that is most certainly worth the premium over Bitdefender Antivirus Plus. Many of the features Internet Security has are often reserved for other company's top-tier products which is always a plus for Bitdefender as the mange to stay consumer-friendly with regards to price points.
For three licenses Internet Security weighs in at just under 80 USD, however, often promos through various publications can be found reducing the cost somewhat. For a single license a consumer will look to pay 60 USD or thereabouts, so the three-license package certainly makes sense for households that often need more than one license.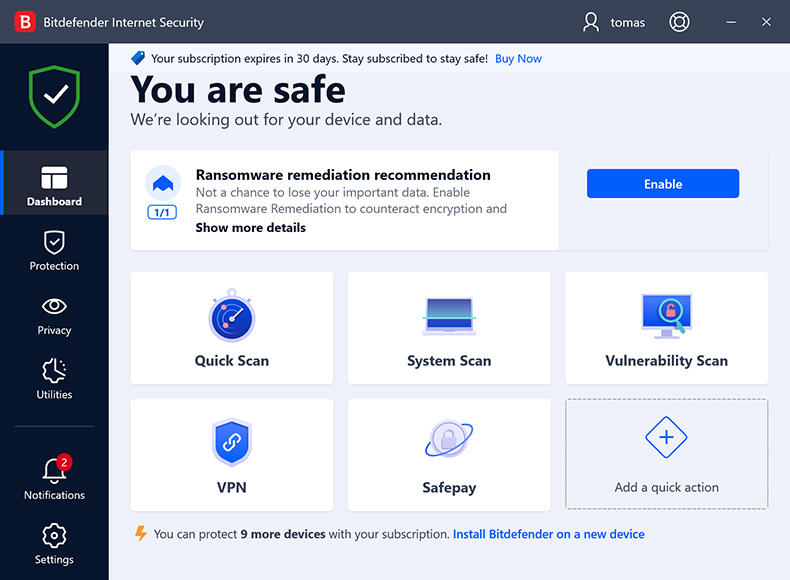 Antivirus Performance
As mentioned above all of Bitdefender's products geared towards home users are built of the same antimalware engine. That implies that to have a great product a great foundation, or antimalware engine, is needed. Fortunately, several independent labs test such things helping consumers make educated choices as to who their preferred antivirus vendor will be. Bitdefender is often tested by three well-known and reputable labs, AV-Test, AV-Comparatives, and MRG Effitas. In summary, Bitdefender has scored well to incredibly well in independent tests for some time now, including the most recent tests conducted by the three labs in question.
Taking a look at each labs' results in greater detail a start will be made with AV-Test. The lab's last round of tests was published in October. The lab namely tests with three metrics which include protection, performance, and usability scored out of a total of six. Internet Security scored 6, 6, and 5.5 respectively resulting in the product being awarded the lab's Top Product award.
Bitdefender has been regularly tested by AV-Comparatives since 2008 and has been consistently excellent since March 2015. Rather than giving a series of scored tests, Av Comparatives ranks products Advanced+, Advanced, or Standard. In both real-world tests, malware removal tests, and performance tests Bitdefender scores Advanced+ on a consistent basis.
MRG Effitas chooses to test malware by seeing how it matches up to real-world malware samples seen in the wild, malware tested against antivirus products even include UEFI and fileless malware. Like AV-Comparatives, products are ranked with MRG Effitas using only three certifications, Level 1, Level 2, and not certified. To achieve Level 1 certification the product must block all detected threats and pass the labs Live Botnet test. Only two companies achieved this ESET and Symantec. Level 2 certification requires the product to detect and neutralize 98% of all threats and then still be able to remediate threats even if missed during the initial scan, further missed cases cannot be greater than 10% of the total cases tested. Bitdefender achieved Level 2 which is still impressive.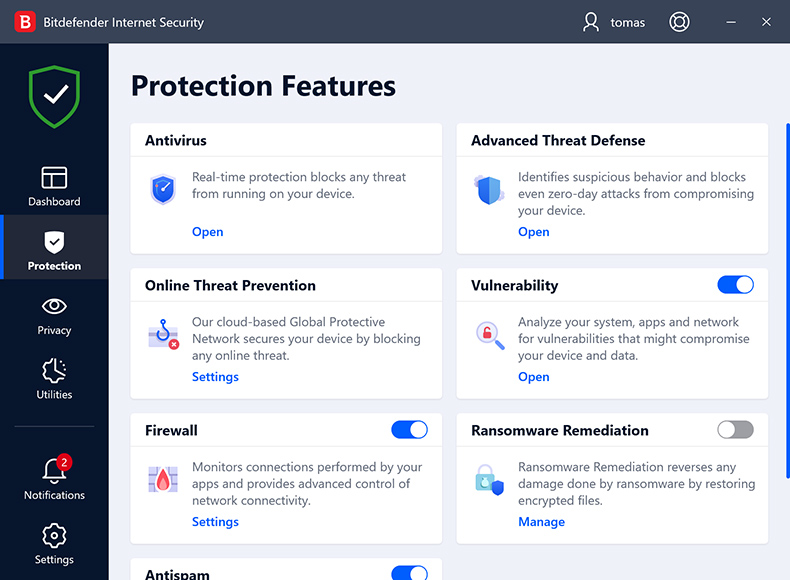 Shared Features
Bitdefender's Internet Security shares several features in common with Antivirus Plus, and by default the free version. There are a vast number of these and to cover each in detail will fill out the better part of an eBook, so some of the standouts will be discussed below. The first of which is Network Threat Protection, which is best seen as a tool that supplements existing web protections. Although supplementary it performs an important task by watching for attempts to exploit system and application vulnerabilities. For those who want to know exactly what the feature protects against, all attempted attacks are logged using their CVE names.
Today's threat landscape is dominated by ransomware incidents, whether the home user or Fortune 500 company, all have proved exceedingly vulnerable to attack. Today's antivirus suites need a feature that protects from this scourge. Bitdefender is not content to provide one layer of ransomware protection but looks to provide multiple. One such shared feature, while not exclusively an anti-ransomware feature, Advanced Threat Defence detects ransomware and other malware strains by analyzing behavior. One specific tool deserving mention is the Ransomware Remediation tool which provides a layer of protection for your data in the event of an infection. The tool backs up important files in the event ransomware activity is detected. Once the danger has passed the files will be restored. Both Advanced Threat Detection and Ransomware Remediation are great examples of how layers of security need to work together to prevent ransomware from ruining the day. Previous users of Bitdefender's products will note that Safe Files is missing, performing a similar role to Ransomware Remediation, the company felt the later was enhanced to the point that Safe Files was deemed superfluous.
Other shared features including the Password Manager, the hardened browser Safepay for more secure online banking and payments, and the anti-tracker that prevents ads and trackers do exactly what they set out to do. One of the few negatives that can be leveled at Bitdefender's offering is the limited VPN. Only allowing 200 MB of bandwidth a day, competing products don't have a limited VPN That being said for an additional 40 USD the VPN can be upgraded to have no bandwidth limit. The upgrade cannot be bought separately as a stand-alone product and is only an upgrade option once Internet Security is purchased. What follows is a brief look at some of the standout features unique to Internet Security and the other higher tier offerings from Bitdefender.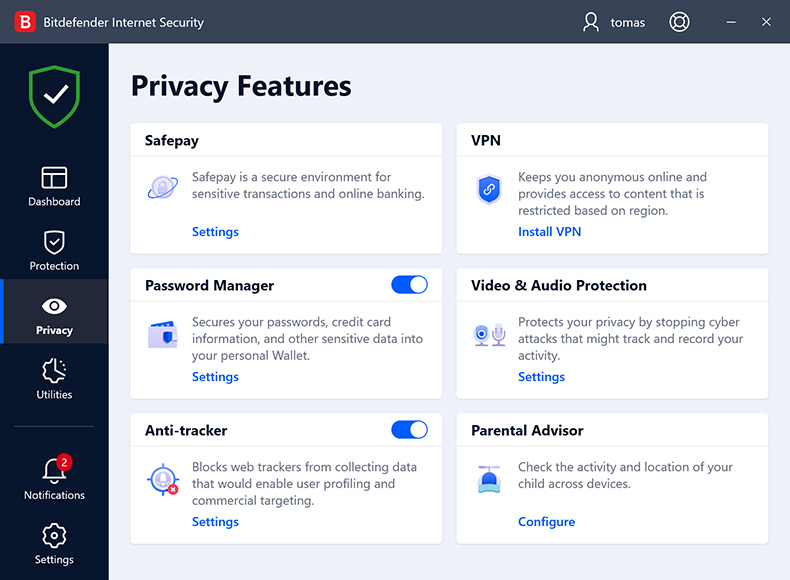 Firewall done Right
For any Internet Security package by a vendor, a firewall has become a standard inclusion. Despite becoming an industry standard, some vendors seem to hit the mark of what is needed. Bitdefender is one of those vendors. In tests, the firewall did exactly what was expected of it by blocking suspected, or downright dangerous websites and it prevented ports from being scanned by potential threat actors. The firewall also monitors how programs make use of your Internet connection. The monitoring is automatically placed into Autopilot mode which configures access permissions for known programs and monitors unknowns for any signs of network misuse. Autopilot mode can be changed to Alert Mode, this will inform the user of any attempt by a program attempting some form of network access and will ask the user how to proceed. The Alert Mode can be overwhelming to everyday users as the alert will specify what program or executable is requesting access to a specific IP address via a specific port. If that sounds like gibberish it is best to leave the feature in Autopilot Mode.
In summary, Bitdefender's Firewall protects against network-based attacks. In the past hackers deploying zero-day malware would simply turn off the antivirus and all its components, Bitdefender by default does not allow this by making sure core components like the firewall resist been terminated. Even if terminated the core components will revive themselves to help ensure a high level of protection is granted over the system.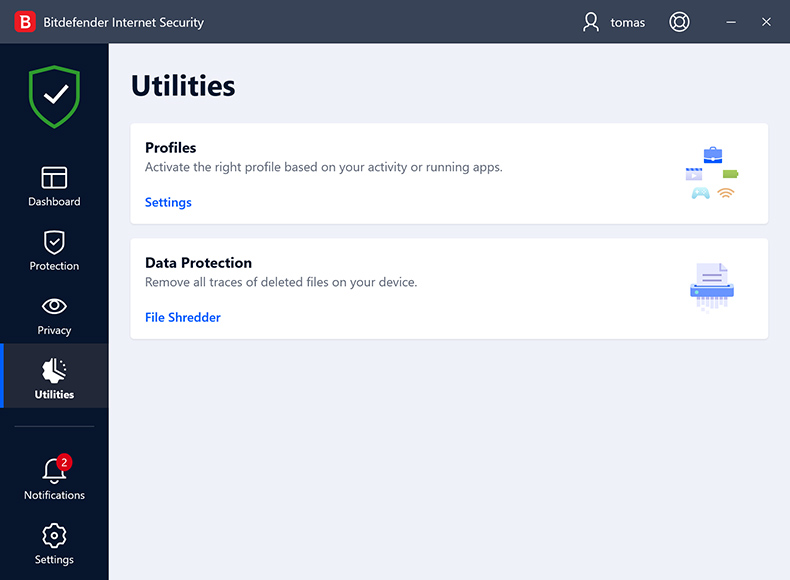 Parental Advisor
Over the years parental control applications attached to antivirus suites have become must-have additions. While they only see use in homes with children and younger teenagers still running around, parental control features have become valued additions in helping protect younger users from the worst the Internet has to offer. With Bitdefender's offering, profiles can be established for each child and the feature works across Windows, macOS, Android, and iOS devices. iOS support is limited but does offer but for everyday users, the limitations should not prove to be a deal-breaker.
In setting up profiles for the younger users, Bitdefender is capable of blocking websites that fall into 40 categories. Based on birthdate the feature will automatically block certain categories allowing the parent to fine-tune these parameters if necessary. On the activity page, parents will be able to review the younger user's location check-ins, apps used on each device, most-visited websites, blocked website categories, and time spent on each device. The time spent on each device can also be limited with Screen Time, helping enforce screen time limits imposed by concerned parents.
Lastly, Parental Advisor includes the Child Location feature. This allows parents to locate their child's device on a map. The feature is not only useful for seeing where the child's device is but parents can define safe zones of up to 100 to 200m and the feature can be set up to request the child check's in once they have arrived in a designated safe zone.
Protecting Video and Audio
The last feature that deserves special mention is the Video and Audio Protection feature set. Spying via webcam and the in-built microphone has been well publicized and is the stuff horror movies are made from. To secure the webcam, Bitdefender will only allow trusted programs to access the hardware. The trusted list will include programs like Skype and other similar platforms. If a new program attempts to use the webcam, the user will be presented with an alert asking the user how to proceed. As to protecting the microphone, which in practice spying by this method has been sneakier as there is often no indication that the microphone is on, Bitdefender does the same as with the webcam.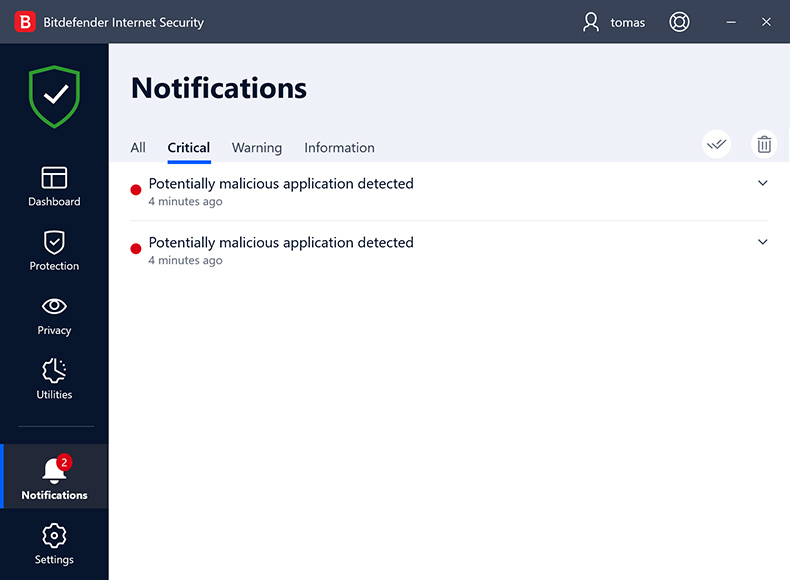 Criticism
One of the only cons to Internet Security is the performance hit. Even then it performs well but against some of its main rivals like Kaspersky or ESET, the difference in performance was noticeable. If we take ESET as an example though, Bitdefender's additional features do surpass those of ESET's. Further, the performance tests conducted by other publications showed a difference in numbers but no difference in the real-world operation of the Bitdefender's product.
A Case for Excellence
Bitdefender's Internet Security includes several features that one may come to expect from a higher tier suite. When this is viewed in the context that the product provides great anti-malware protection, and is costed to be super competitive in a very competitive market it becomes incredibly hard not to recommend Internet Security. This is especially true if users find increased value in the added features.
Appearance of Bitdefender Internet Security 2021: