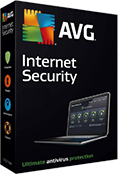 AVG remains one of the world's most popular security vendors with over 200 million users worldwide. Since the companies acquisition by Avast, which was announced in July 2016 and finalized in September the same year, both companies seem to have benefitted from the acquisition. In what feels like a lifetime, does AVG's Internet Security suite still stack up next to the likes of Bitdefender and Kaspersky? In short, yes but the writer still feels that it is easier to recommend the latter two's equivalent suites over AVG.
This comes down to fairly minor points in the grand scheme of things and AVG's Internet Security still has a lot more positive than negative going for it.
Works with: Microsoft Windows 10/8.1/8/7 with SP1 and latest KB updates installed
Cost
The balance between the cost of the product versus the features you get above the free antivirus is always a fine line. In the past, both AVG and Avast have struggled in this regard, especially when looking at the free version versus the paid suite. AVG's pricing scheme again may lead to a few head-scratching moments. For a single license, you are looking to spend 69.99 USD, for 10 licenses 89.99 USD. However, there are several special deals on Internet Security that drop the price significantly for the first year, a 10-license package can cost as little as 48 USD and a 15-license deal 78 USD. Again, it is important to reiterate that this is for the first year and prices will reach near to the first-mentioned prices unless another deal is offered.
Even if bought directly from AVG rather than going through a publication offering a discount a significant saving can be had on the first year. However, when you look at the base cost for AVG and compare it to Bitdefender's Internet Security package which for 3 licenses costs around 40 USD and has more features including parental controls, to justify choosing AVG one of the special offers will need to be found. That being said, as will be seen below AVG still provides excellent protection and a wealth of features. Further, the features provided by Internet Security do make a strong case for choosing it over the free one. Another key aspect of the 10 or 15-license deal is that the package can be installed on Windows, Android, and Mac devices. This most certainly is a tick in the suite's favor as modern users can have three to four devices easily that need protection and when a household is considered this number can jump exponentially.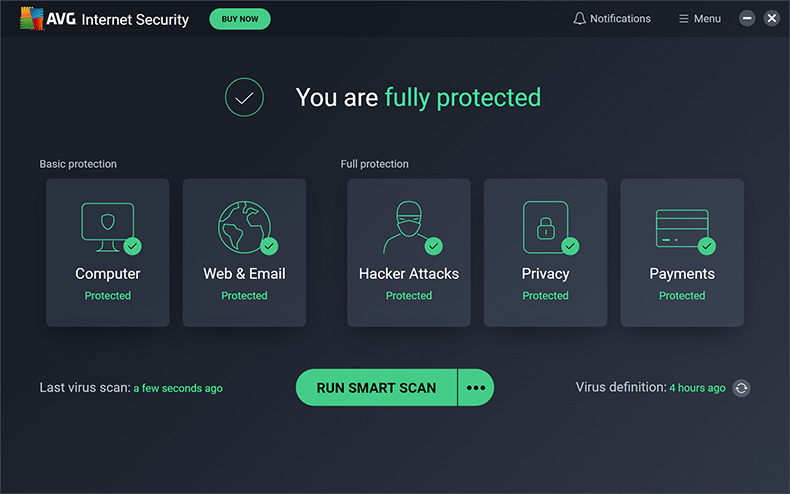 Antivirus Performance
While some may find the costing of Internet Security not as competitive as it could be, no matter the cost, if the product's anti-malware engine cannot defend against threats then the argument of cheap versus expensive is irrelevant. Here AVG not only performs incredibly well but consistently so. In the three independent labs that tested the AVG anti-malware engine, which is shared with the free antivirus suite, AVG consistently performs in the upper echelon.
Looking at AV-Comparatives' results for AVG, in terms of performance the malware-engine scored relatively well and placed 8th just behind Avast. This was still good enough to receive the labs Advanced+ ranking, the highest it awards but if you are looking for a negligible system impact, other vendors did perform better. In terms of protection, the lab conducts a real-protection test where AVG scored 99.7% and received the Advanced+ ranking. Other brands did perform better but not by much.
AV-Test applies a different set of tests but tests protection, performance, and usability. Each parameter is scored out of a possible 6. AVG just missed out on full marks across the board, scoring 5.5 with regards to performance. The two labs' tests have reflected real-world experience with Internet Security, with many noting how there was a discernible impact on system performance once the antivirus suite was installed.
Lastly, SELabs received the highest award the lab gives out, a AAA rating. This was because the anti-malware engine scored 99% in the Protection Accuracy test and 100% in the lab's Legitimate Accuracy Rating, combined this resulted in the AVG receiving 100% for the Total Accuracy Rating. Overall, there is little to fault with AVG's performance across the lab results, and based on the level of protection the anti-malware engine can provide AVG still ranks as a top contender.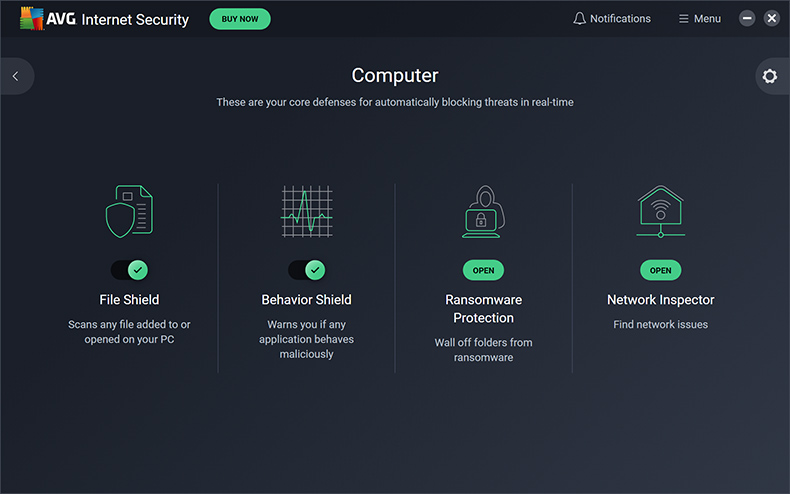 Shared Features
It is not just the anti-malware engine that is shared across AVG's free antivirus and Internet Security but a host of other features that have become crucial to defending against modern-day threats. These features can be split into two separate categories, namely computer protection and web-based protection.
Looking at the computer protection, features include File Shield, Behaviour Shield, Ransomware Protection, and Network Inspector. Looking at each, in turn, File Shield scans files that are added to or opened on the computer, helping protect against certain types of malware that may be hiding in them that may have been accidentally downloaded. Malware like this will often install into other files to hide and prevent detection. Behaviour Shield monitors applications for anything that might be perceived as malicious. This is an interesting feature given Avast, and now by proxy, AVG's impressive use of AI in the fight against malware. The smarter the AI gets, the more capable it will be in detecting suspicious activity. Ransomware Protection in some form or the other has become an absolute must for any antivirus, paid or otherwise, AVG's protection involves walling off files so they cannot be modified and encrypted if ransomware infects the computer. It is not so much a preventative measure as one which will make recovering from an attack easier without the need to pay the ransom. Lastly, the network inspector scans the Wi-Fi network which devices connect to and provides information about those devices, helpful in determining who is connecting and where.
The web-based features include a Web Shield and an Email Shield. The Web Shield is used to prevent users from entering in important credentials on suspicious sites, a common phishing tactic, and will also prevent suspicious downloads. The Email Shield monitors emails received for malicious attachments potentially containing malware. Such features are fairly standard for most antivirus packages but that does not mean they are not important.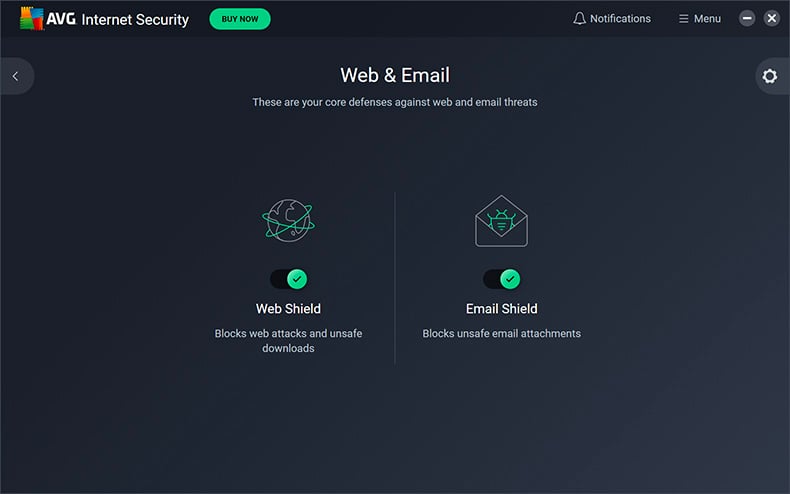 Internet Security's Features
This is where consumers will judge if paying for Internet Security over the free one is a wise financial decision. Fortunately, Internet Security does have several important security features necessary for peace of mind. These can be split into three categories: hacker specific protections, privacy protections, and payment protection. Looking at payment protection, AVG includes a security module that further enhances the Web Shield discussed above, called Fake Web Shield. The module further protects against fake websites looking to steal credit card details via phishing.
Privacy protections include Webcam protection and Sensitive Data Shield. The first of these prevents spyware from accessing the webcam unbeknownst to the user. At the time of writing, it was unclear if this level of protection was extended to the microphone. Some spyware samples seen in the wild do have the ability to switch on the microphone as well as the webcam. Other products in this price range by other vendors specifically state that the microphone is also protected. The second feature, Sensitive Data Shield, prevents hackers from accessing important files that may contain sensitive data.
The hacker specific protections offer the most well-rounded features included in the paid-for offering. Firewalls are now standard fare for all Internet Security packages and for Windows users, in particular, can beef up the already existing Windows Firewall. AVG's upgrade prevents not only websites but applications from abusing network connections greatly improving the computer's security posture. Any abuse, or IP address hack, are monitored for and stopped in real-time if a threat is detected. As soon as one such attack is defended against the user will receive a notification. AVG also includes a password protection module that can store passwords securely and then autofill them on forms the user trusts. A password manager will provide a more secure solution for those needing the extra security, but the feature found on Internet Security will be more than adequate for most home users. Lastly, Internet Security includes a Remote Access Shield, such a feature is welcome given the prevalence of attacks dependent on abusing remote access protocols. Over the years we have seen ransomware and tech support scams abuse the remote access protocol to great success, so having a feature that protects against such threats is great to see.
Internet Security also includes a VPN that is limited to a few hundred megabytes. For users needing an unlimited VPN, both Norton and McAfee offer such a feature. However, having an unlimited VPN is nice but not a deal-breaker if the antivirus package does what it says on the tin. AVG does that and more, making it worthwhile for users to look at before deciding. What AVG Internet Security lacks when compared to competitors is a robust parental control module that prevents the younger members of the household from getting up to too much mischief while online. For those with children, this is a bigger deal than households without but is certainly worth mentioning for those who feel they need some form of parental control feature.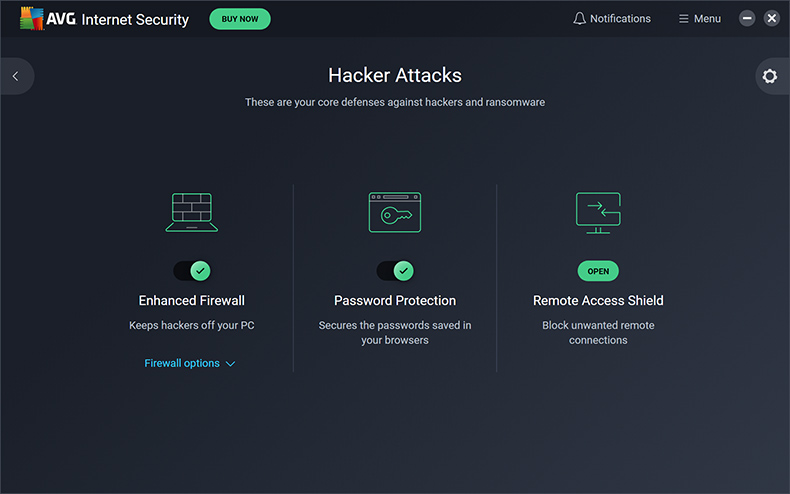 System Impact
This is perhaps one of Internet Security's greatest flaws, and the product takes its toll on system performance especially if the user is still using an older computer that just meets or just exceeds system requirements. The system requirements are mainly down to the operating system, for Windows users versions 7, 8, and 10 are supported and some platforms have reportedly been able to install the suite on systems severely outdated with only 512 MB RAM and a 1 GHz processor. While installation is not a problem on low spec systems it is the suite's operations that will take longer than expected and place a significant drain on the CPU increasing processing times. Some reports testing on a medium spec machine saw processing times increase by nearly 30%.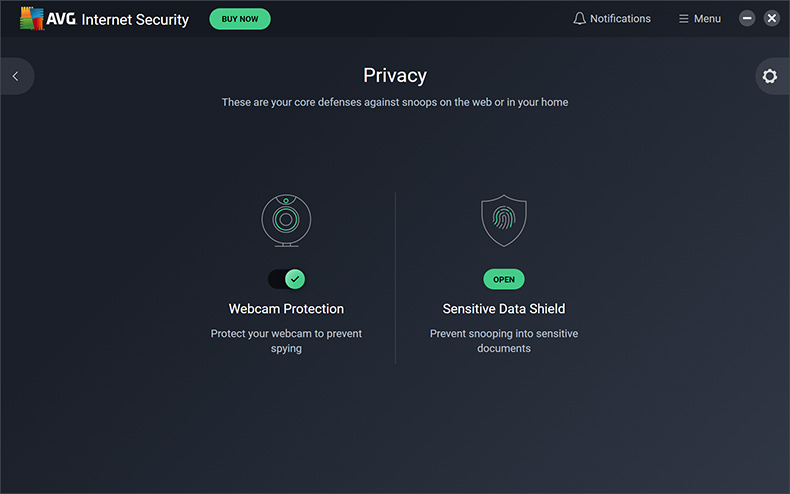 Conclusion
AVG will tick many boxes for those looking to improve their computer or mobile device's security over and above a free antivirus. However, those looking for a feature-rich offering will likely turn to AVG's competitors. AVG's Internet Security still performs exceptionally well in independent lab tests and does exactly what it says on the box and differs from the free version in enough ways that count that still mean the product does come recommended, especially for those not needing all the extra bells and whistles like parental control. In that regard don't bother with the single license offering, in today's age of numerous devices protecting them all at a small upcharge is preferable.
Appearance of AVG Internet Security: