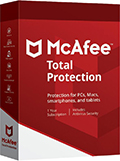 With McAfee, the debate of should you buy an Internet Security package or the more expensive but has more features Total Protection equivalent is now null and void. McAfee no longer markets Internet Security, so for consumers looking to add more firepower to their protection that what the base antivirus has to offer they would need to pay for Total Protection. This makes the choice easier as there is no choice. This lack of choice may rub some the wrong way; however, when we look at how Total Protection has been costed and some of its features perhaps there is a method to the madness.
For the decision to make any sense Total Protection would need to have a vast array of features seamlessly bolted on to make the advent of a non-decision worth it. Fortunately, Total Protection has included a vast array of features that would make even the most critical of buyers somewhat content. Features include Cross-platform password management, no-limits VPN protection, file encryption with shredding for originals, and identity protection. The no-limits VPN should be enticing as the few hundred megabytes offered by competitors seems out of place with how we interact with the Internet every day.
Works with: Microsoft Windows 10/8.1/8/7 with SP1 and latest KB updates installed
Cost
For those who have used McAfee Total Protection in the past, they will be well aware of the company's unlimited license practice. For a fixed fee, all devices in a home could have Total Protection installed on them, independent of OS, be it Windows, Mac, Android, or iOS. This used to cost just under 120 USD. For the latest offering, the unlimited package has jumped to 159.99 USD. The 40 USD increase is not all bad news as McAfee has reintroduced several limited license offerings. The old price of 119.99 USD will get the consumer 10 licenses, 99.99 USD five licenses, and one license will cost 79.99 USD. The 1 license offering is a bit of a black sheep amongst the others given that in increments of 20 USD per year to protect five and then 10 devices.
As to the exact reasons for the company choosing to return to the limited license model and increasing the unlimited option significantly can only be answered by the company. It is entirely possible that by removing Internet Security from the product range offering a more comprehensive security package at more competitive prices was needed to remain competitive. Despite the increase in cost for the unlimited package, the product is still priced competitively when compared to Norton's Life Lock that has more features but is more than double the price. Total Security also matches up well against similar Kaspersky products in terms of cost.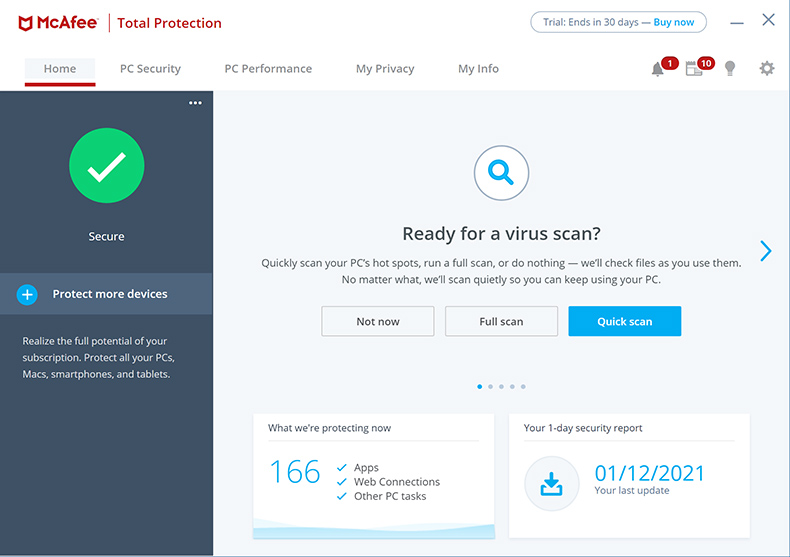 Antivirus Protection
Like with all major antivirus vendors most of the protection offered by the product is built off a shared anti-malware engine. This is often sold to the public as either a free antivirus product or the base level product with a few more features than the free version. The effectiveness of the anti-malware engine is tested by several independent labs on a fairly continuous basis. This helps the public determine the level of protection. There are currently three labs that test products marketed at home users, those being AV-Test, AV-Comparatives, and SE-Labs. The fourth lab followed by this publication is MRG Effitas; however, in their last rounds of tests McAfee's enterprise product was tested and the results may not be useful to home users as the testing parameters are different.
Returning to the three relevant tests for this review, in summary, McAfee Total Protection was in the top percentile for all three. The only blemish occurred in AV-Comparatives real-world protection test scoring an Advanced ranking rather than the top Advanced+ rank. In the lab's other two important tests, the performance test, and the malware protection test, the offering scored the Advanced+ rank.
Regarding the other two labs, the scores were faultless. AV-Test scored McAfee Total Protection a total of 18 out of 18 overall, scoring 6 out of 6 for each test. Those tests being performance, protection, and usability. SE-Labs scored Total Protection 100% in their Total Accuracy Rating. Further, the product scored 100% in both the Protection Accuracy Rating and the Legitimate Accuracy Rating. This resulted in Total Protection receiving the lab's highest rating of AAA. Based on the various lab results it is safe to say that Total Protection is built off a solid foundation and has the basic, but important, function of defending against malware more than down.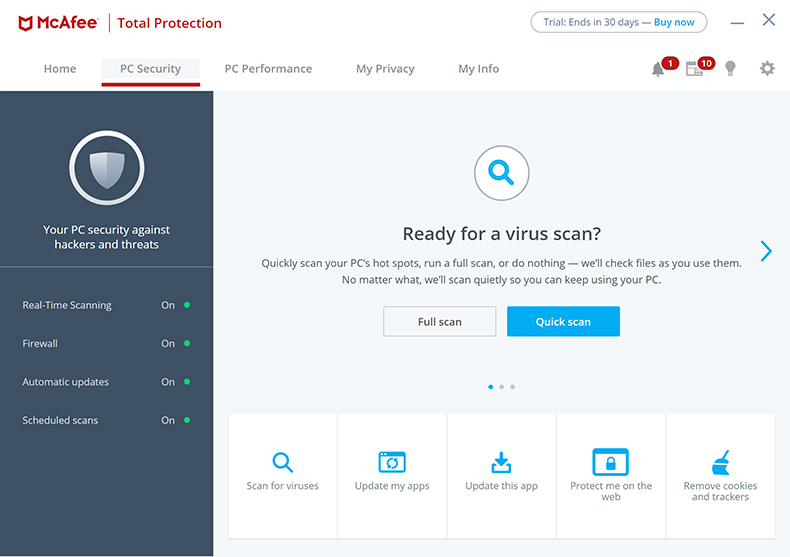 Shared Features
Other than the anti-malware engine shared across all of McAfee's home antivirus packages there are several shared features that deserve to be mentioned. According to the marketing material one of these features is the ability to protect against fileless malware, or put differently malware that does not require the user to accidentally download or open a malicious file but rather is executed through a program trusted by the user or the operating system. WebAdvisor is also a shared feature and looks to protect users against web-based attacks by steering users away from phishing and other fraudulent websites. What is more, is that WebAdvisor can protect users from the ever-popular tech support scams, it does this by steering users away from websites designed to trick users into granting remote access to their PC. There is also a module that protects against cryptojacking malware that is web-dependent, so your computer's resources remain in use for what is needed rather than mining cryptocurrency for a hacker.
For many products, Firewalls are only introduced as a feature in their Internet Security suite, McAfee, however, includes a firewall as part of Antivirus Plus. The firewall does exactly what is expected of a modern firewall, namely, to protect from outside threats and prevent programs installed on the machine from abusing network connections. Compared to ESET's firewall that feels like the user must hold its hand through every decision it makes by asking if an application is trusted as soon as it attempts to connect to the network, McAfee's offering handles much of its operations internally and by default. For inexperienced users, and even those wanting to install and forget, this is the preferred method of operation.
Given the threat still posed by ransomware to enterprises and consumers, some form of ransomware protection is a must. Antivirus Plus and by extension Total Protection has such a feature. Called Ransom Guard, the feature operates by monitoring for any attempts to alter files that are illegitimate. Ransomware is dependent on encrypting files so that they can no longer be accessed in any meaningful way until correctly decrypted. If Ransom Guard determines the altering of files to ransomware related it will quarantine the attacker and restore the files from a backup. There are several other shared features including a vulnerability scanner and checks on network health; however, it should be noted that Antivirus for Windows differs from the Mac version in several ways with even more differences when the Android version is considered. As this review is focussed on Total Protection, these differences will not be discussed but it is worth knowing if you are looking to protect devices across the OS divide.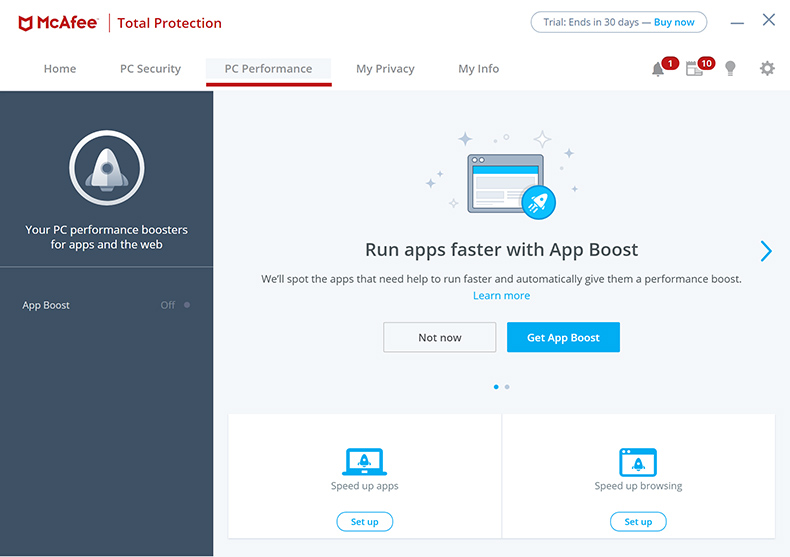 Unlimited VPN
One of the biggest draw cards for Total Protection is the unlimited VPN. As mentioned above other vendors offer VPNs but they are limited, in some cases to a few hundred MB a day, making their extended use all but impossible often forcing the consumer to upgrade the VPN or look for another provider. Total Protection bucks the trend to offer an unlimited VPN service. Why VPNs have become a security must-have is that they encrypt data in transit between your device and the VPN server, making it harder for hackers to spy on your data transmission. Another great security consideration regarding VPNs is that they mask your IP address making it far harder to track your location.
McAfee can offer an unlimited VPN because it bought TunnelBear, a company that already had an extensive VPN network in place. This allowed McAfee to offer a dedicated VPN service for 8 USD a month but also bolt on the service to existing products. Total Protection customers will find the VPN in the newly designed Web Protection features tab.
File Lock
Total Protection has several other features that are fighting for attention in this review, including the parental control feature and anti-spam protection; however, for those you believe privacy is paramount McAfee has File Lock. This feature allows the user to create several encrypted storage vaults to store sensitive files on. ESET and Kaspersky have similar features as well, but File Lock will only install if instructed to by the user. It is important to note though that files locked in the vault are completely inaccessible and when used in conjunction with the file shredder, used after copying the files into the vault, even the most paranoid will be sure their files are secured. This level of security does mean the user must make sure the vault is closed and locked via the application though, just as the bank should do when protecting other people's valuables.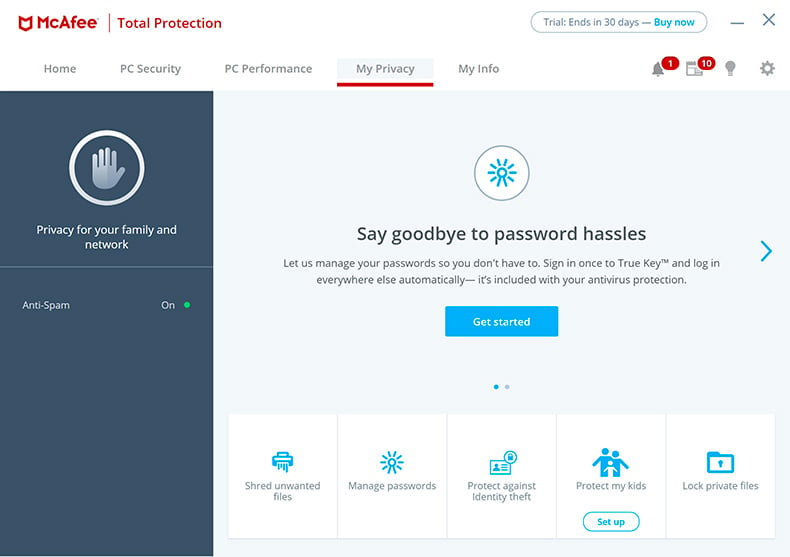 Identity Protection
For those who have had their identity stolen, they are all too willing to say how difficult it is to prove you are who you say you are if a hacker has been taking out loans using your details. Prevention then is the best policy when looking to protect your identity from those looking to steal it, however, given that we trust a massive number of companies with our data prevention is not always possible, and acting quickly is essential. To help in this endeavor Total Protection includes access to McAfee Identity Protection Essentials. The service involves 24/7 monitoring tools that will notify you if any facets of your identity are compromised. It is important to note that the service cannot prevent identity theft but can help in a quick response and provide valuable advice in the instance your identity has been compromised.
There are some important limitations to the service that needs to be mentioned. Firstly, it is only available in the US. Secondly, it can only be installed on one device regardless of how many licenses you purchased.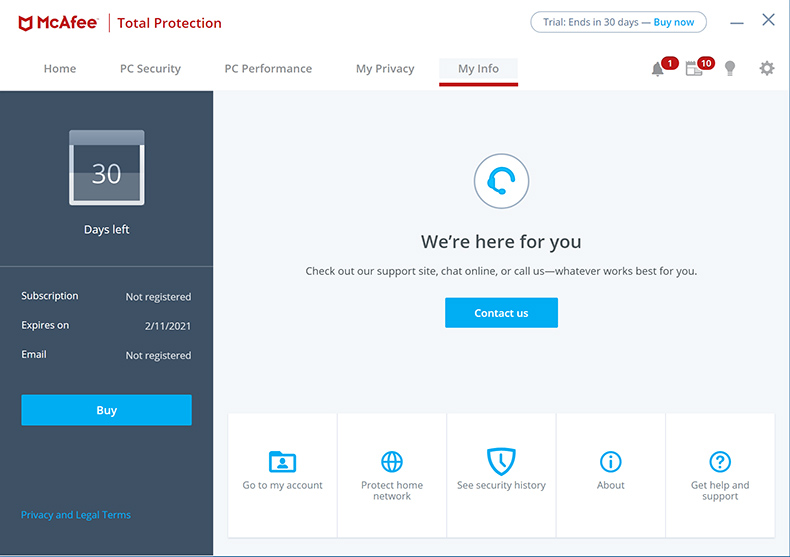 Conclusion
Given the number of features, shared and exclusive to Total Protection to say that it is well-rounded is an understatement. It is priced competitively for all that it offers; however, the removal of an Internet Security suite and therefore the choice for the consumer is limited. This may cause several customers to choose competitors especially those you only need to secure a handful of devices and have no use for parental controls. The price increase may outweigh the additional features for some. With that said, despite all the features Total Protection's performance impact is minimal, and won't be noticed by everyday users, and those needing both a VPN and a comprehensive antivirus suite should look at Total Protection.
Appearance of McAfee Total Protection: