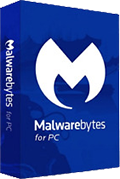 In 2019 when Malwarebytes released the fourth version of it's incredibly popular anti-virus engine much changed and generally all for the better. This year saw the release of version 4.3 and this publication deemed it fit to do a full review of Malwarebytes Premium to see how it compares to their competition.Unless you are specifically using the free version of a specific anti-virus suite, price is always an important factor to consider. Like many of Malwarebytes's competitors including Kaspersky, Bitdefender, and Trend Micro to protect one Windows or Mac device will cost 39.99 USD per year.
Typically, offerings that include more than one license, here 10 seems to be the magic number, or to protect every device in a household can cost anywhere between 50 and 60 USD as is seen with Sophos and McAfee. Malwarebytes has the option to purchase five licenses for 79.99 USD.
If looking to install Malwarebytes Premium on multiple devices the 79.99 price tag may be off putting when comparing its other products that emphasize multiple licensing for larger families. That being said an anti-virus solution is not solely dependent on price but how well it protects the device it is installed on.
Works with: Windows 7/8/8.1/10/11 (32-bit and 64-bit)
To use full-featured product, you have to purchase a license. 14 days free trial available.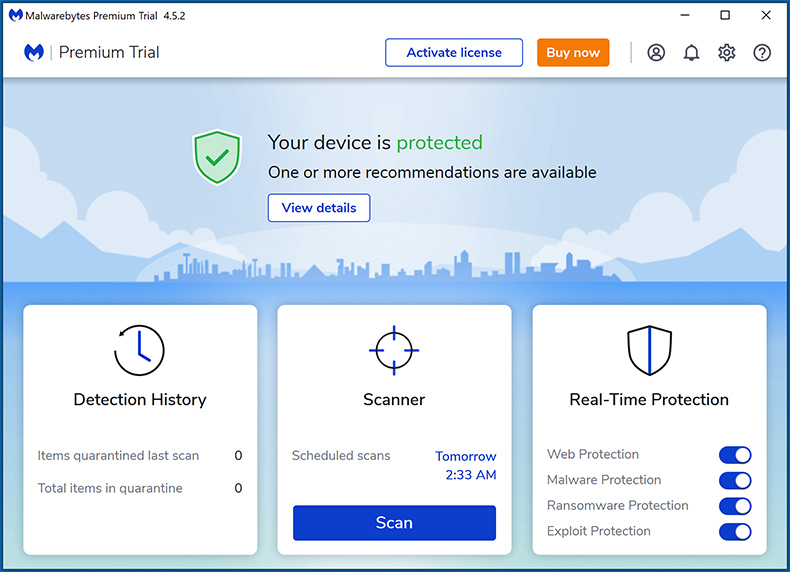 Overview
User Interface
Once installed the user is presented with a window featuring a blue city skyline in soft hues of blue and green creating a pleasant backdrop not too visually interesting as to be distracting. Further, the window contains three other windows containing the options available to the user, detection history, the scanner that also displays the time of the next scheduled scan, and real-time protection complete with sliders for deciding what options are to be activated.
These real-time protection options include web, malware, ransomware, and exploit options. The option to deactivate these seems to be a bit superfluous, especially for users who want to set and forget.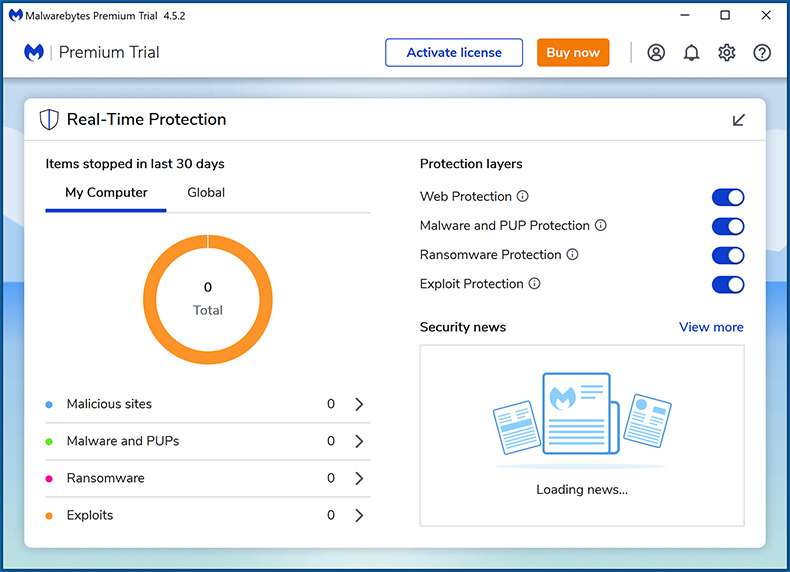 In summary, the user interface is clean and simple to use. This is certainly a positive for those who do not need a mass of options to customize every little detail.
Malwarebytes's Evolution
Longtime users of Malwarebytes will be abundantly knowledgeable about the claim that it worked in conjunction with other antivirus products. Early versions were even marketed as a supplementary security application that played well with a user's existing anti-virus suite.
Over the years, part especially with the advent of version 4, the product has been marketed as a stand-alone product in much the same way the company's rivals operate. The big question then is whether Malwarebytes still plays well with other security products, including Windows Defender, you have installed.
The simple answer is yes, but it is not done automatically. In the past, the program would perform several tricks with Windows Security Center to allow it to be installed alongside other products. Now that Premium is a fully-fledged anti-virus suite it registers itself with Windows Security Center, meaning that Defender is deactivated and the systems register Premium as the primary anti-virus. If a user is hellbent on having more than one solution Malwarebytes can be set up not to register with Security Center, allowing for two solutions to existing on the same system.
Features
Fast Scanning
By default Premium, like the free version, will always perform a full threat scan. These are typically completed in a blistering 90 seconds.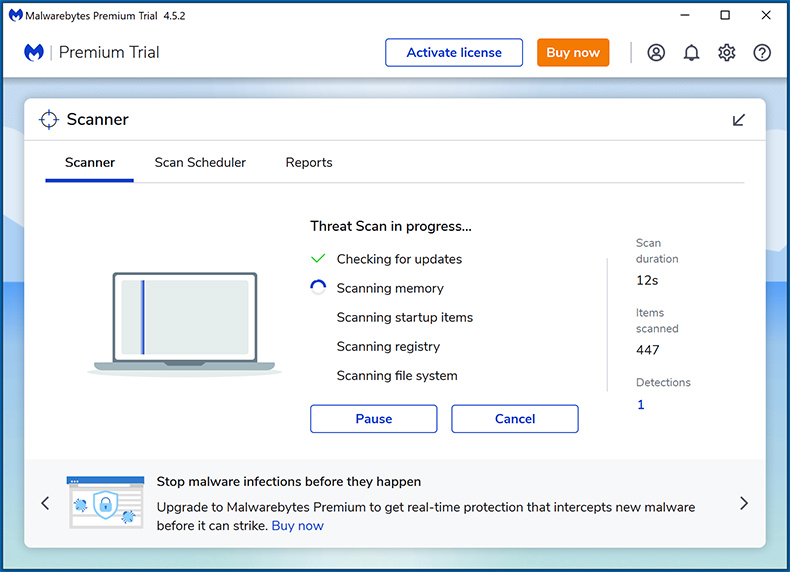 The current production time for a comprehensive scan is roughly an hour, showing just how quickly a scan can be performed by Malwarebytes. To do a complete system scan with Premium only takes roughly one minute more than the typically on-demand scan, which again is incredibly fast.
The Premium offering also includes a plethora of options for setting up custom scans along with the two mentioned above. Further, there are just as many options for setting up scheduled scans, including timing and what scan is performed when.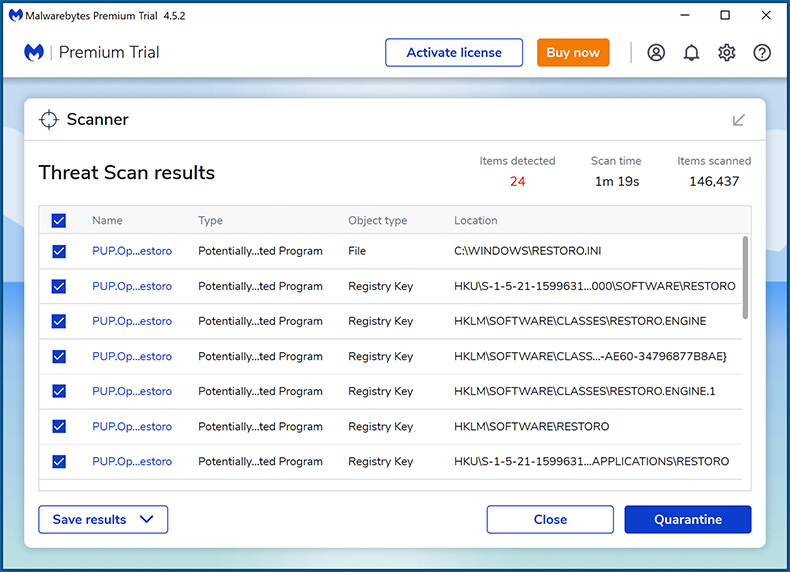 Standout Protection Features
Over the last few years, the limits of signature-based detections have been laid bare by the proliferation and impact of initially unknown attacks. Malwarebytes to combat this has included more modern techniques of behavioral analysis. Web protection blocks traffic to known dangerous addresses, whether by the browser or by a malicious application.
Ransomware protection watches for the behaviors that occur when an unknown program is getting ready to encrypt your files. This enables the module to catch even a zero-day ransomware attack, with no need to recognize anything but behaviors that suggest the possibility of a ransomware infection.
Premium also includes an exploit protection module designed to protect against software vulnerabilities being exploited to gain privileged access to the machine. Premium does this by providing an added layer of protection to popular applications like Chrome, Microsoft Office applications, and PDF readers.
The more common targets of current exploits include zero-day exploits. The layer of protection is again designed to detect exploit behaviors rather than exploits themselves. Part of this behavioral methodology prevents exploits from executing scripts and preventing return-oriented programming.
Premium like the free version also includes Browser Guard as an extra plugin for Chrome, Edge, and Firefox. The plugin steers users away from phishing and other fraudulent URLs that may also host malware. In all Premium comes with a dizzying array of security features that are incredibly forward-looking in preventing attacks.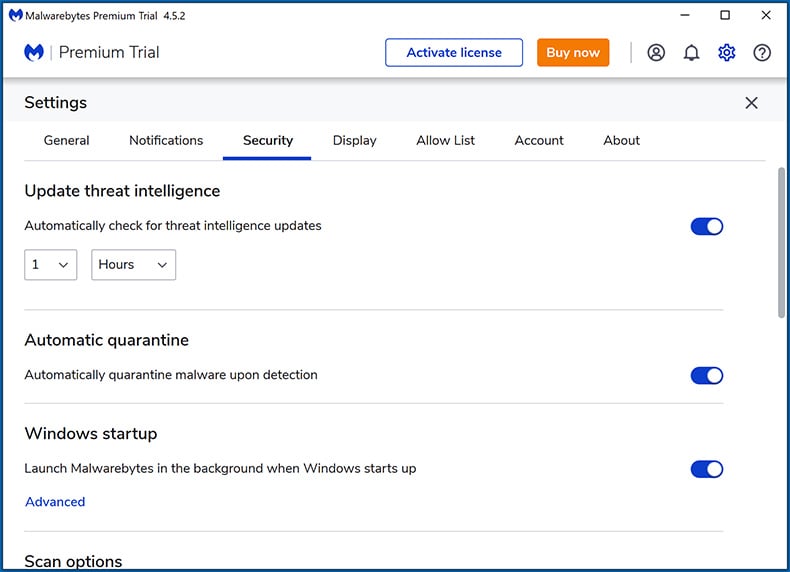 Conclusion
A mixed Bag
One issue regarding Premium is the mixed bag of results regarding independent lab results. This is due in part to modern protection methods being very hard to test. Another factor to consider is that Malwarebytes has not participated in independent lab tests for nearly as long as their competitors and only started in earnest with the move to a comprehensive anti-virus suite.
Another possible caveat is that many of the independent antivirus testing labs strive to create tests that emulate real-world situations, but this emulation isn't perfect. Many of them still include simple file recognition as part of their testing, meaning that behavioral defensive solutions are not considered in those particular tests.
In past reviews, we have focussed on the results of four labs in particular: AV-Test, AV-Comparatives, SE Labs, and MRG-Effitas. In the most recent round of tests conducted by the above-mentioned labs, Malwarebytes featured in three of them, namely AV-Test, AV-Comparatives, and SE Labs.
With regards to AV-Test Institute, the lab primarily test three parameters, those being protection, performance impact, and usability. These are all given a score out of six, with the latest tests being conducted in October 2021, and the closer to six the better.
Premium scored the following: protection 5.5, performance impact 6, usability 6. Malwarebytes's score of 17.5 out of a total of 18 allowed the product to be awarded a top title award. However, the same company's primary competitors, Kaspersky, McAfee, and Norton AntiVirus Plus achieved a score of 18 out of 18.
SE Labs's testing is where things do not make for happy reading. The lab uses a capture and replay technique to hit multiple antivirus protection systems with precisely the same real-world malware attacks a victim would be exposed to. The anti-virus product is then rated upon how well it performed in defending against the threat.
Products can receive the following certifications: AAA, AA, A, B, C, with AAA being the highest. Almost all the products reviewed either a AAA or AA rating bar one. That one being Malwarebytes who received a B, the lowest of the bunch for the Lab's first-quarter test. The product was not tested in subsequent tests but this is likely to change once Malwarebytes submits the product more frequently in the future.
Lastly, AV-Comparatives tested Malwarebytes Premium in their September 2021 Malware Protection test, but not the other two tests conducted by the lab. This too is expected to change in the near future as more tests are conducted. With regards to the Malware Protection test, the test is carried out by exposing the anti-virus to a large number of real-world malware samples.
The test first checks to see if the malware is detected and blocked straight away once the machine is exposed to the malware. If the malware gets past initial detection, researchers will attempt to execute the malware and see how the malware protection features handle the infection.
To this extent, Malwarebytes would have scored in the highest protection bracket achieving an Advanced+ ranking. It should be noted that due to false positives when the anti-virus detects something it believes to be malware but is not, the Lab will deduct ranks.
Malwarebytes had its rank reduced from a potential Advanced+ down two ranks to Standard. This is not a rare occurrence as K7 and Panda were also demoted to Standard, while Norton's submitted product dropped one rank also due to false positives detected.
While independent lab results may not make for the best reading, certain publications conduct their own tests in which Malwarebytes consistently scored in the top bracket, if it wasn't the top scorer. Publications will also look to test specific features of the product where possible.
In phishing and ransomware protection Malwarebytes performed incredibly well when the layers of protection are allowed to act as a unified product as intended by Malwarebytes. When modules are separated and tested in isolation discrepancies did occur but given how modern ransomware infections are often carried out as the final payload in a string of other payloads, meshing the layers to work together is a wise approach.
A New Claim to the Throne
With Malwarebytes Premium, the company has shrugged off the reputation of being a companion product to a separate anti-virus suite. Premium is now a fully-fledged anti-virus suite in its own right. It is competitively priced, at least, when only one device needs to be protected which for many home users is all they need.
While the independent lab results are a blight as noted above, the shift to behavioral analysis often does not sit with the traditional detection methods used by labs. Recent attacks have shown the limits of traditional signature-based detection methods, Malwarebytes' move to include behavioral erection methods is future-looking. Despite the product's relative immaturity it has still performed incredibly well and is certainly among the top choices in products designed to protect the home user.
Appearance of Malwarebytes Premium: