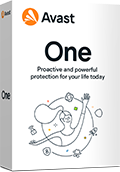 Avast has typically always had the problem of whether the paid-for anti-virus suite was worth the extra expense when compared to the free version made available for home users. The product line has received a rebranding with Avast One, now being the paid-for suite, and Avast One Essentials being the free version. Essentials have already received awards for being the editor's choice in the free category amongst several publications. Does that mean it's more of the same for Avast One? Is it easier to recommend the free version versus the paid version?
Despite the rebranding older products like Avast Premium is still available, however, One while costing you more does include several more features. One such feature that will grab the headlines is One now includes an all-inclusive and unlimited VPN service.
In Premium, this needed to be purchased as an add-on. The availability of Premium in the near future should not be taken for granted as Avast One is being released on a region by region basis with the product initially being offered in the US, the UK, Canada, and Australia.
Works with: Windows 7/8/8.1/10/11 (32-bit and 64-bit)
To use full-featured product, you have to purchase a license. 7 days free trial available.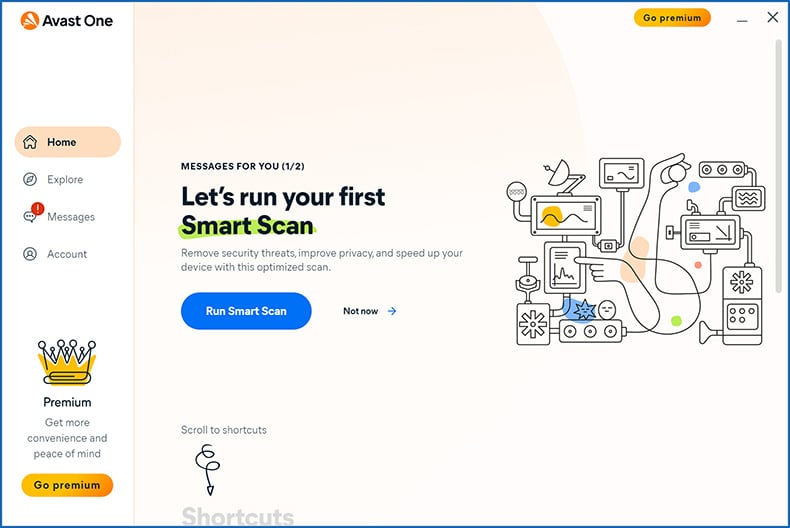 Overview
The Costing Hurdle
Given that Avast One Essential is already causing a significant stir amongst free offerings it would seem that the first hurdle Avast One needs to jump is pricing. If the consumer's perceived cost versus value is not there the free version will win out every time. Getting down to the cost straight away, for a single one-year license the consumer will pay 99.99 USD.
If you need multiple licenses the next option is the family one that comes with 30 licenses and is 139.99 USD. The licenses jump from one to 30 may seem a little extreme but considering that Avast One installs on Windows, Mac, iOS, and Android, further, a large enough family with multiple devices each can come close to the 30 license limit.
When comparing these prices to the competition Kaspersky Total Security and ESET Smart Security Premium also are 99.99 USD per year for one license. Both those products then feature a 10 license package but at 149.99 USD, Avast's offering certainly offers more in simple license value.
Simple price analysis ignores the modern reality of security software as the primary driver of value is successfully being able to protect the device it is installed on. The question still remains if the paid version is 99.99 USD worth in superior value to the free one? To answer this a deeper dive into the paid-for suite's features needs to be done.
Redesigned Interface
Along with the rebranding to the One designation, the interface also received a significant overall. Long-time users of Avast will be used to the dark grey with purple flourishes and green highlights to denote the device is secure. That has all been done away with. Now we have light shades of orange and white without a sharp corner to be seen.
Buttons have rounded ends, and cheerful line-drawing images abound, with daubs of pastel colors to indicate if a button is selected. Compared to the dark and stark approach seen previously the new interface features a strong emphasis on modern UX principles. The interface is shared between both One and Essentials, with One offering the added features as standard.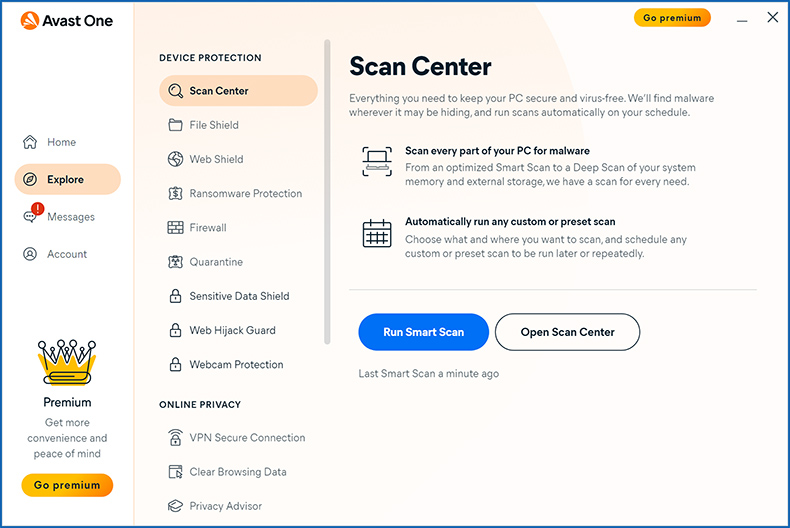 Independent Lab Results
Avast has featured in all four of the independent labs tracked by this publication for some time now and the rebranding to One has not changed that. It should also be noted that One and Essential share the same antivirus engine, and that engine is the same as the one used in the previous products released by the security vendor.
First off, taking a look at AV-Test's latest October 2021 test results the lab tested both the paid-for and free versions separately with both scoring full marks for protection, performance, and usability. Each test is scored out of 6 for a total of 18, with both versions of Avast scoring the full 18 and achieving the AV-Test Top Product Award.
AV-Comparatives do not assign numerical scores to products but rather each product receives a certification. Those being Standard, Advanced, and Advanced+. Avast has consistently scored an Advanced+ certification over the years tracked and October 2021's test is no different with the lab stating the anti-virus engine blocked 99.9% of threats the engine was put up against.
SE-Labs also has a different testing schedule from the two labs above. The lab will use a capture and replay system to hit each tested product with the exact same web-based attacks. Products can earn certification at five levels, AAA, AA, A, B, and C.
In the lab's Q4 test the lab scored 97% in the Protection Accuracy Rating, 100% in the Legitimate Accuracy Rating, and 99 in the Total Accuracy Rating. This was enough to score the product a AAA rating. The only products which scored a 100% in all rating tests were Kaspersky's and Norton's tested offerings.
Lastly, London-based MRG-Effitas again uses a different testing methodology but one regarded by many as the toughest of the labs followed. In their tests, if a product fails the banking trojan portion of the test they fail outright. In tests with other types of malware, they only get two chances, otherwise, it's a fail.
Those that completely prevent every attack earn level 1 certification. Those that let some malware attacks through initially but remediate the situation within 24 hours reach level 2. In the latest test slightly over half the tested products pass the latest banking test, Avast among them. Avast, however, Avast did fail the other types of malware tests.
Overall, Avast's performance in independent lab results is far above average and typically places the security vendor's anti-virus engine in the top performers.
Features
Shared Firewall
One and Essentials both share the same firewall module. That said it is one of the standout features for the free edition, as many free offerings do not offer a firewall at all. Avast's firewall is simple when compared to more sophisticated specialty firewall offerings on the market. While simple it is still effective when defending against network-based attacks and helps inform and steer users away from untrusted networks that are potentially harmful.
Another feature worth mentioning is that it will list all the applications on the device connecting through to the Internet and their data usage. The user can then block the application from connecting to the Internet, but fair warning blocking the wrong application from connecting can cause a fair amount of havoc with the device.
There is one major difference with One when compared to the free edition when it comes down to the firewall. Buying the premium offering unlocks the Advanced network security page in firewall settings which allows the user to hide things like your computer name from other devices on the network; it warns you if it detects some kind of a port scan attack; it notifies you if it detects evidence of ARP spoofing.
Avast One Exclusive Features
While the firewall does have features that only the paid-for users can access it is inherently a shared feature. Now we get to the paid-for features in earnest. The first of note is the device protection features. The first of which is the Sensitive Data Shield that provides an added layer of security to sensitive documents, like those that contain personally identifiable information.
The added layer of protection means that files selected for this protection cannot be accessed by other users of the machine and the number of apps that can access these files can be limited.
The next feature is Web Hijack Guard which is intended to protect against Domain Name System (DNS) attacks. This is where an attacker subverts the DNS of a website to redirect users to websites that host malicious content or malware. The feature prevents this from happening but as to how this is achieved seems to be a closely guarded secret.
One also was a webcam protection module that only allows trusted applications access to the webcam to prevent various kinds of spyware from being able to turn on your webcam at will. As a bonus, this module can be set to even require trusted programs to first receive permission from the user.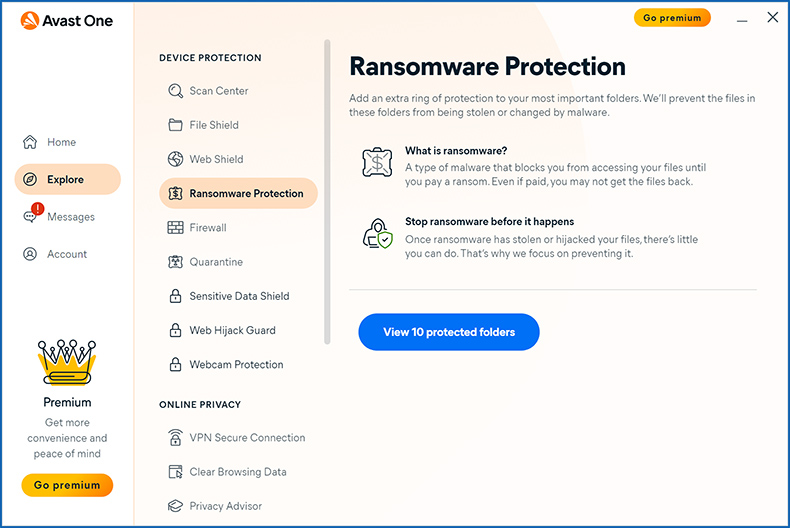 Privacy Features
As mentioned above one of the free version's stands out features was a limited VPN to go with its excellent lab results. The premium version lifts things a notch by offering an unlimited VPN along with the product, this is clearly geared to the market that would like one solution to both protection and privacy.
The VPN is based on Avast's Secure Line VPN which is a decent VPN, the only difference is that it has been completely integrated with One. For those wanting more specialized VPN services like split tunneling but does include servers in 55 locations located in 34 countries.
Other privacy features include a Clear Browsing History module and a Password Protection module. These do exactly as is stated on the tin, they are nice features to have and are now a gold standard inclusion for any paid-for anti-virus solution at One's price point. The last feature worth mentioning is Privacy Protection which checks if your email address or other sensitive information has been leaked in a data breach.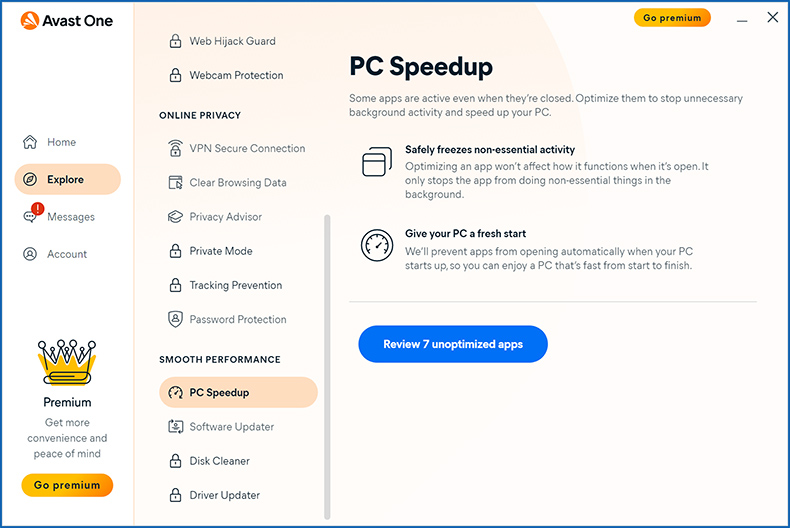 Secure VPN Connection
For those looking to get Avast One the unlimited VPN is certainly a massive drawcard. Then there is the macOS, iOS (not the best we've seen), and Android protection features that make choosing the 30 license family deal a definite win. However, for those just wanting one license what you get for One compared to the free version may seem a little lackluster. The free version provides above-average to excellent protection and the 99.99 USD or your region's equivalent currency can be used to get a full-featured VPN.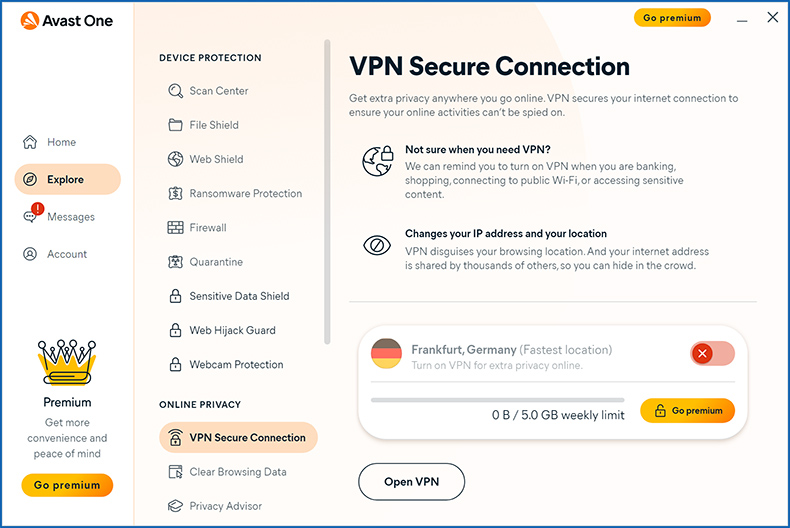 Conclusion
It appears that Avast is still saddled with the problem of where their premium offering comes into play. How many more features can be added to entice single license users while not impacting the bottom line drastically to keep the product competitive in a highly competitive market.
This may not be seen as a problem for Avast who may place more emphasis on the core product, that being the free version but for those looking for full-featured anti-virus suites at competitive price points other than free, there are certainly other options.
Appearance of Avast One: