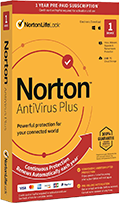 As the name suggests Norton's AntiVirus Plus is Norton's now trusted anti-virus protection plus several useful added bonuses. Perhaps the added bonuses are a bit misleading as you do pay for them and as it stands the product is one of the more expensive reviewed by this publication. Not only is it more expensive it does not offer multi-licenses at a reduced price like many of the company's competitors. But it is not only price and multi-licenses package deals that make a good product.
There is no way to soften the pricing blow as AntiVirus Plus costs 59.99 USD for a single license. This often means that the offering is 20 USD more expensive than many of its competitors. In the same vain many other vendors offer three licenses at the same price. AntiVirus Plus does allow you to install the product on every device you own, be it Windows. Mac, iOS, or Android.
However, if you wanted to install AntiVirus Plus on two PCs you would need two licenses which would come in at 120 USD as the product offers no deals on multi-licenses. For those needing multiple Norton licenses 360 Deluxe, the next step up in the product line, is likely the best package if you're deadset on purchasing a Norton product.
For approximately 15 USD less you get a product with five full suite licenses, five unlimited VPN licenses, and 50GB of hosted online backup. This is not the first security vendor we have seen that adopts this type of pricing model. Those familiar with TrendMicro products will notice a fair amount of similarity in how its products are priced and licenses handed out.
Works with: Windows 7/8/8.1/10/11 (32-bit and 64-bit)
To use full-featured product, you have to purchase a license. 7 days free trial available.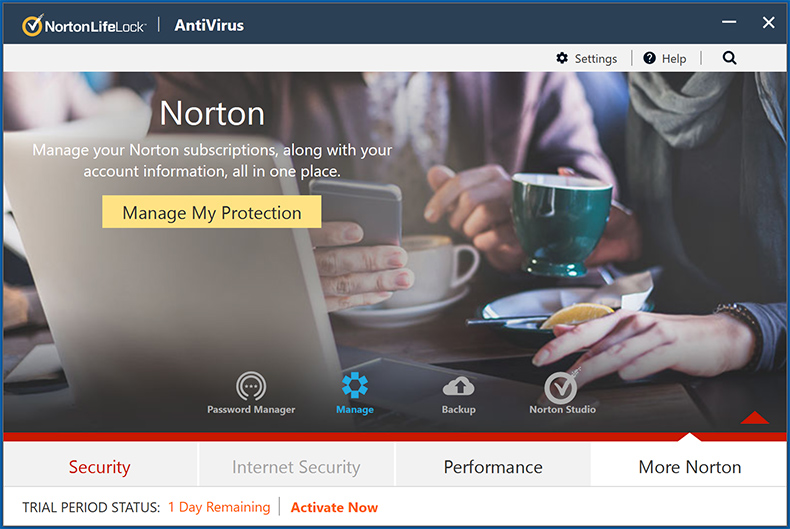 Overview
What You Get
At 20 USD more expensive than some of Norton's competitors the frugal customer will ask what exactly is worth the extra expense. As it stands the product comes with full tech support and the company's Virus Protection Promise. If Norton can't remove a malware infestation even after you follow all recommended steps, experts will log into your computer remotely and fix the problem.
In the unlikely event they can't sort things out, you can apply for a refund. This promise does require a commitment on your part. It only applies if you've signed up for automatic renewal. This is a nice added peace of mind feature but it is felt that these two features alone do not warrant the higher price. In the same breath, Norton's AntiVirus Plus offers an excellent array of security features that for many consumers will warrant the price tag.
User Interface
Currently, there is a lot of emphasis on Norton products linking to the My Norton App so that users get a unified experience no matter which device they are currently using. When using Plus users will be presented with a screen displaying the section to the Device Security, Cloud Backup, and Password Manager modules.
Upon clicking Device Security users will see the now-familiar Norton interface they've come to expect including an option to buy Norton's Secure VPN which unlike Deluxe 360 is not part of the basic anti-virus.
The familiarity extends to the color scheme of grey highlighted with yellow and green icons signally how secure an element of the machine is. The interface will show the status of the following modules: Security, Internet Security, Backup, Performance, and More Norton.
Those used to Norton products will have no difficulty navigating to certain features but new users may be in for a bit of a journey. For instance, if you want to access the scan feature you first have to click on Security, then you are presented with possibly the most used feature of any anti-virus suite.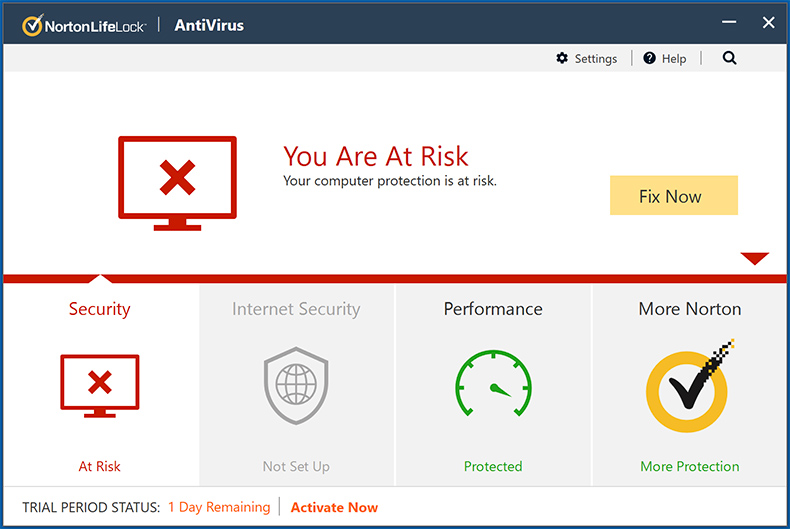 Excellent Lab Results
Following independent lab results is often the only way to get a picture of how your chosen anti-virus suite will perform when it inevitably encounters a threat. The typical user most certainly doesn't have a sandbox and real-world malware samples to put a product to the test. Given that this is all independent labs do for both home user-designed products and their enterprise-based cousins they form an important part of any review.
In SE Labs's latest round of testing, for October to December 2021,  Norton received a AAA rating. This is the highest rating the lab awards with the rating system being AAA, AA, A, B, C. This was result was shred by Norton and McAfee, Kaspersky, and Microsoft Defender Antivirus.
The lab's testing methodology includes capturing real-world malicious websites and using a replay technique to hit each of the selected antivirus products with precisely the same attack. Though it is a labor-intensive process, it does help consumers judge real-world ability to a much better extent than just the vendor's claims.
MRG-Effitas tends to apply a more pass or fail methodology to their testing and to get a pass the product has to defend against nearly all the threats it is exposed to. To achieve a pass mark it has to exhibit near-perfect results. In the lab's most recent test a Norton product was not tested.
However, in the past, the product has received the lab's coveted Online Banking Certification which tests how well a product performs against malware like banking trojans that can severely punish your finances if left to operate.Likewise, previous full-spectrum malware tests done by the lab to a Norton product also received the top-level certification meaning it defended against everything that was thrown at it.
AV-Test Institute also applies a different testing methodology, as do all the labs we follow.  The lab tests three vectors, namely, protection, performance, and usability. Each vector has scored a total out of six giving a grand total of eighteen.
In the lab's latest round of tests for products geared at home users Norton scored full marks in each vector and therefore full mark overall. The means that Norton received the Top Product Award from the lab. That said half the products tested received the award as any product with a score of 17.5 and above received the award.
Lastly, AV-Comparatives awards a product a certification based on how well it performs. In the lab's latest Real-World Protection Test Norton received the Advanced rating due to a higher number of false positives being detected. The lab awards are graded as Advanced+, Advanced, and Standard. In the past, Norton has reliably scored Advanced+ awards so this latest round of testing may just be an outlier but does deserve to be mentioned.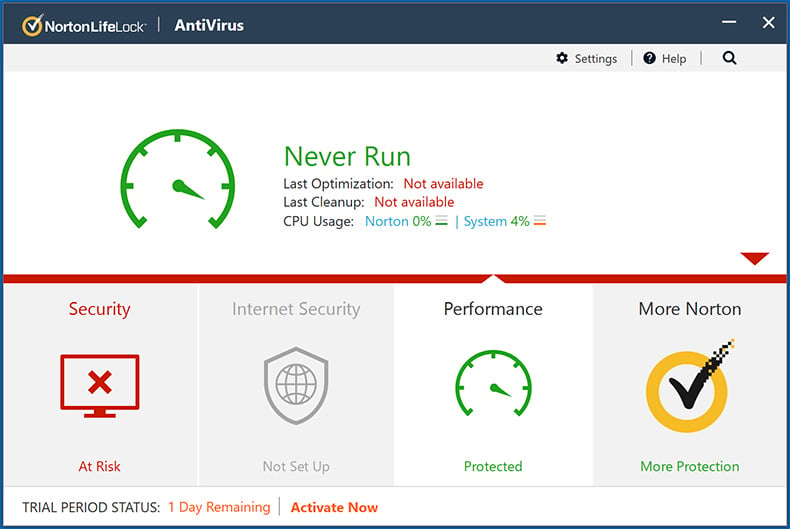 Features
All the Scanning Options
Once you have navigated to the scan feature within the Security section you will be presented with the now-standard options of a quick, full, and custom scan. There is more, a smart scan that will inform you of both privacy and performance issues. This is similar to the smart scan feature in Avast One, which is one of the company's Norton is looking to acquire shortly.
Sneakily the scan will also inform you of trackers used by advertisers and unscrupulous marketers but when you look to resolve the issue you are redirected to an upsell attempt to get you to upgrade your current suite.
Another scan type that has been specifically designed for if you feel you have been directly exposed to a piece of malware. Once you believe you have been exposed you can initiate a new scan along with Power Eraser, a malware removal tool. The eagle-eyed will notice that after a normal scan you are presented with a link to Power Eraser only, from which the user can decide further remediation if necessary.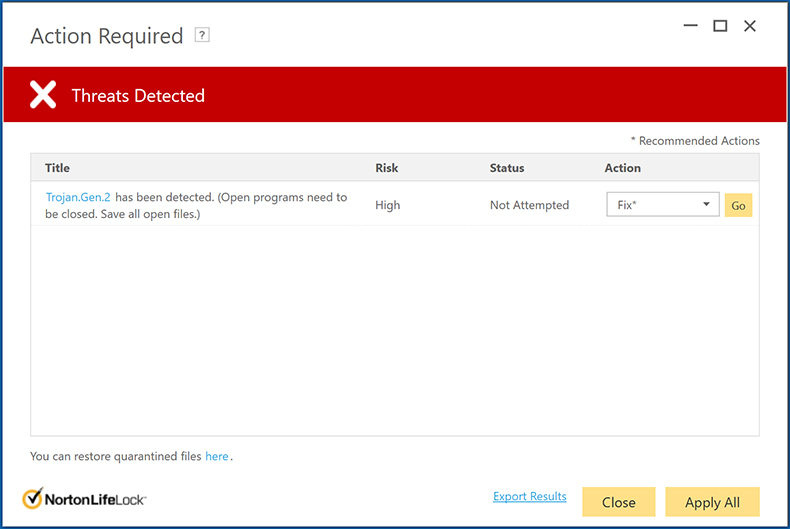 In terms of scan times, an initial scan can take up to 30 minutes with subsequent scans being a third of that. This is not the fastest scanning process when compared to the likes of Kaspersky or Trend Micro but it is not far off. The speed of scan completion, as well as its impact on system performance, have become less of an issue with the vast majority of products available to home users performing well in those categories.
More important to consumers now is the level of protection offered and the added features that make choosing to buy an anti-virus suite an easier choice of some pretty good free barebones anti-virus offerings by the likes of Avast and Bitdefender. Perhaps one such value-added feature is Norton's Insight scan which attaches a trust score to files scanned.
A lot of the information gained for conducting trust ratings is harvested from other users' data pertaining to similar files. Lastly, the diagnostic scan can be used as an additional troubleshooting tool if you run into any problems and should point to the potential problem for you.
Next-Level Phishing Protection
In today's threat landscape hackers are often presented with a very easy choice, spend a lot of time and effort developing info-stealing malware, or develop a website to look like someone'sbanking account's online portal. This choice is further simplified by the fact that if one site is cracked down on another IP address and typo-squatted domain name can be quickly deployed using the same code as before.
It is this reality that makes having a proper anti-phishing protection module a must for an anti-virus suite. In this regard, Norton excels. The phishing protection module not only blocks sites with suspicious URLs but blocks sites hosting malware and informs the user as to why the site is blocked.
It is not uncommon for the user to be informed the site was blocked due to the website being suspected of placing user information at risk. This feature extends the already powerful web protection that informs users as to the trust level of the website via colored icons. Green for safe, yellow for not entirely trusted, red for dangerous, and grey for unknown.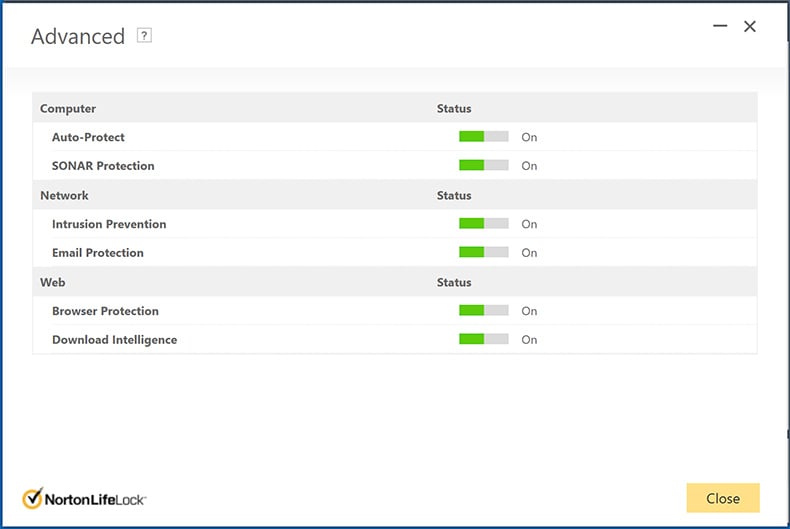 Data Protection for Ransomware
Given the prevalence of ransomware security vendors are constantly looking for ways to protect user data. If data is protected properly the necessity to pay the ransom is reduced to almost zero. Norton does this by preventing all unauthorized programs from modifying protected documents. This prevents possible malicious programs from modifying documents in specific directories, often those targeted by ransomware operators, effectively preventing the files from being encrypted.
To further help in this endeavor Norton also provides an online backup feature. However, this is limited to 2 GB forcing users to choose the files they most certainly cannot live without. By providing a backup facility users have an added layer of data protection in the event data is lost or encrypted by ransomware. It is, for this reason, we think the Backup module forms part of Norton's ransomware protection.
Conclusion
Plus vs 360
While Norton most certainly scores incredibly well, and incredibly consistently, in independent lab scores, the big question is the value provided by Plus. It is more expensive than its competitors but it is feature-rich and includes a complete Firewall, password manager, and multi-factor authentication assistance, as features not covered above but are included. This will prompt customers to buy Norton's entry-level paid-for suite, so the price might be the biggest issue for some.
The issue may be Plus's next level-up offering by Norton, 360 Deluxe. For the extra 45 USD users will be able to install protection on five Windows, macOS, Android, or iOS devices, as well as full VPN protection for five devices and 50GB of online backup storage. With VPNs becoming more of a must-have and the 50GB of online backup storage 360 Deluxe, though more expensive, maybe the better value all told.
Appearance of Norton AntiVirus Plus: