If you are looking for a no-strings anti-virus suite F-Secure Anti-Virus is worth checking out, but it is important to mention it only supports Windows machines. Along with only supporting Windows machines, it is bare-bones, you will not have VPN features, URL filtering, child protection, or any of the other several features that are becoming increasingly popular including in paid-for security suites. There is still a market for users that want a no-frills anti-virus solution and F-Secure certainly caters to this market segment.
F-Secure's pricing reflects the no-frills approach costing 30 USD for a single license covering a year. Alternatively, if you have more than one Windows device you are needing to protect, three licenses for a year costs 40 USD. And, that's it. No sneaky monthly prices which you have to pay for a year upfront or other predatory pricing structures Internet marketeers love so much, it's 30 USD for one license and 40 USD for three. This certainly caters to the crowd that wants their anti-virus to be exactly that and nothing more.
In comparison, competitors like Kaspersky and Bitdefender also charge 30 USD for their basic product but it does cover three devices. The rub is that after a year renewal costs 60 USD, where F-Secure's price remains the same.
Works with: Windows 7/8/8.1/10/11 (32-bit and 64-bit)
To use full-featured product, you have to purchase a license. 30 day free trial available.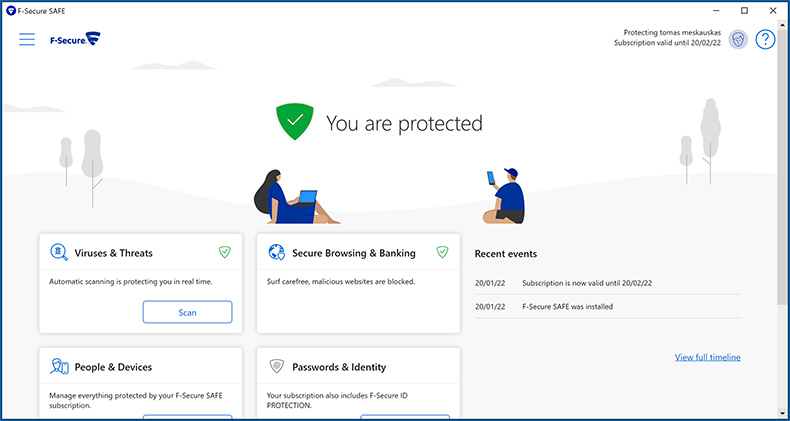 Overview
The Barest of Bones
If you like your anti-virus solution to come with all the bells and whistles, F-Secure's offering reviewed here is probably not for you. Simply because it doesn't have any. All F-Secure's Anti-Virus has are a scanning module and related security layers designed to detect and remediate a malware infection.
This is of course reflected in the product's interface which only has two tabs Antivirus and Tools. The antivirus tab will contain your scanning module along with scanning options. A quick scan is done in under a minute and this will be true for most modern systems running Windows 10 or 11 it is felt.
If malware or a threat is found the anti-virus will deal with it automatically. As to scanning options, you get a quick scan and a full system scan which is in the scanning option menu, a simple dropdown menu, in the tools tab as the quick scan is the default.
Customizing the two scanning options is severely limited and if you wanted to create a custom scan you are out of luck. You can schedule scans and are capable of scanning specific files but when compared to the wealth of scanning options provided by Norton, even in their base anti-virus product, F-Secure does come out looking a little bare.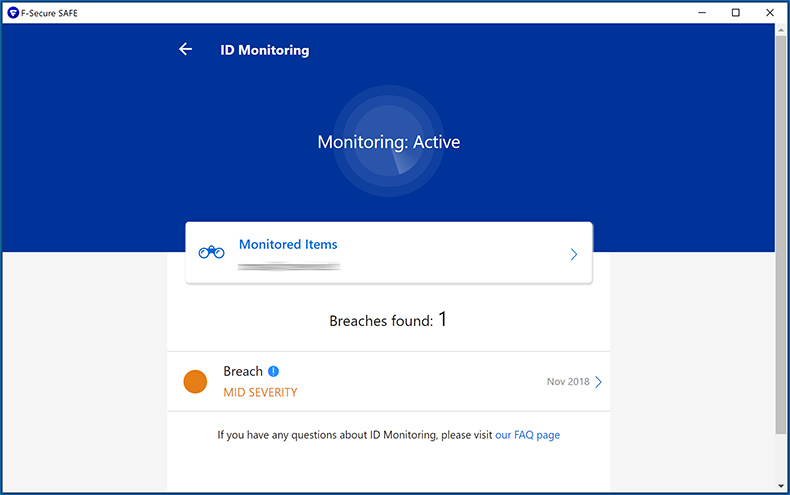 The upside for fans of bare-bones security products is the incredibly low impact on system performance. While modern complete anti-virus suites have improved in subsequent generations along with improvements in hardware in even the most basic laptops and pre-built PCs in terms of system impact some users are incredibly mindful of system impact. Jobs that require the majority of the CPU's output and or substantial amounts of RAM do not want to be competing with the anti-virus for resources.
Often for the average home user, this is not even a consideration but for those now working from home on different machines, sometimes even one's machine, it is important. This means that there will be a market segment for those looking for a basic anti-virus that is reasonably priced for some time into the future.
As to performance, the product scored the best in the AV-Comparatives lab test on system performance, topping the field of seventeen. This will certainly be a selling point for those focused on performance. While performance impact is an issue to some, all anti-virus suites need to provide a high-level of protection. If this is not the case performance impact and cost are moot points.
Independent Lab Results
The last time F-Secure was tested by AV-Comparatives was in the July - October 2020 testing round. This was when they topped the performance test. In the Real World Protection test the product received the Advanced rating which is the second highest rating, the best being Advanced +.Importantly, F-Secure defended against 100% of the malware threats it was tested against. Meaning that the malware engine performed without a failure.
The product tested was F-Secure Safe which adds an Internet Security module with several features over and above the base Anti-Virus reviewed in this article. The Internet Security module blocked a higher than average amount of trusted domains which contributed to the product not receiving the Advanced+ rating.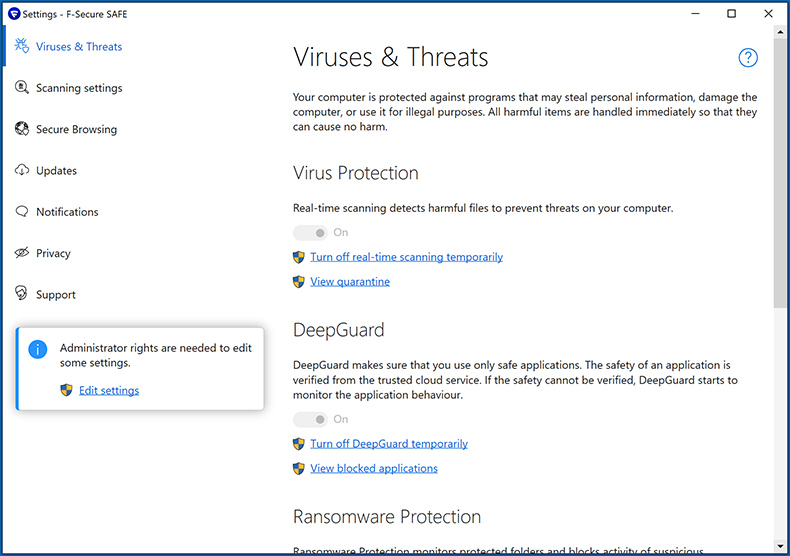 The next lab followed by this publication tested the most recent version of the antimalware engine used by F-Secure. AV-Labs tests three separate categories and scores each a total out of six. The three categories tested are protection, performance, and usability.
In the latest round of tests for September/October 2021 F-Secure score perfectly in each category, scoring a total of eighteen out of eighteen. This all but guaranteed F-Secure receiving a Top Product Award, the highest certificate the lab awards.
SE-Labs like the others also uses a different testing regime, awarding AAA, AA, A, B, and C to tested products with AAA being the highest. In the December round of tests F-Secure received a AAA award scoring 98% in protection accuracy, 100% in the lab's legitimate accuracy rating, and 99% in lab's total accuracy rating.
The fourth lab MRG Effitas awards specific certifications for specific tests designed to test specific aspects of submitted products. In total F-Secure was awarded the 360° Assessment Certification, 360° Exploit Certification, and 360° Ransomware Certification for the latest test conducted in the third quarter of 2021.
F-Secure's independent lab results are amongst the top products so the anti-virus certainly covers the protection parameter so important to a products continued success. This product covers all the bases a barebones product should and excels at those especially the ability to protect the device it is installed upon but what do F-Secure's other two products, Safe and Total Security, add that the modern consumer would want or need?
Features
Safe and Total
Current use of the Internet, though essential, is fraught with danger, many anti-virus suites come with added security measures to help secure this vital resource. F-Secure's product line with added Internet security modules is Safe.  The package contains URL filtering, banking protection, parental controls and additional apps to protect Mac, Android and iOS devices.
The latest version comes with stalkerware protection and an ad blocker for iOS. Further, the Family Rules parental controls system now supports daily time limits and bedtime to be set across all supported macOS versions and accounts.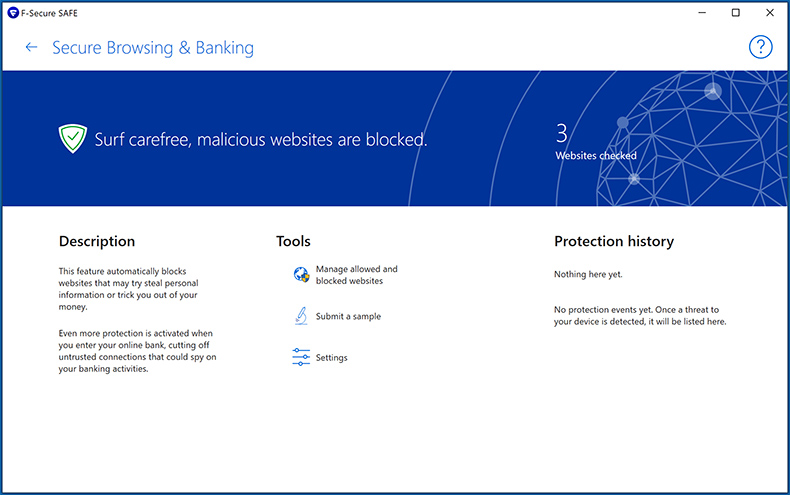 Of course these added features include a revised and increased price. For three licenses over a year you will be 60 USD, five licenses is 80 USD, and if you need seven that will cost 100 USD for the year. Pricing is in line with other competitor products but the value is debatable.
Bitdefender Internet Security includes a firewall, spam filter, webcam protection, a microphone monitor, and a bunch of online privacy suite that includes a password manager, file shredder, simple encryption tool, wireless network scanner, more. All the extra features Bitdefender offers comes at a similar price to Safe.
Lastly, the company's flagship product is Total which includes all the features of the above-mentioned products and then some. Total includes several products that are sold separately from the anti-virus packages including ID Protection and F-Secure's VPN service called Freedome.
ID Protection generates secure passwords, stores your logins, credit card details and other personal data and synchronizes it across all your devices. Interestingly, the product also has a DarkWeb monitoring module that will alert you if any of your details are leaked online and advises on your next remediation steps if information was discovered.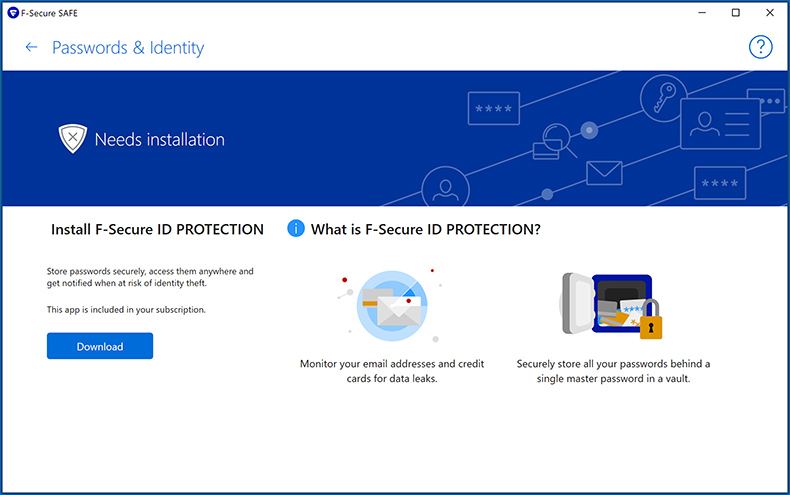 As for the VPN it is not a data limited VPN service like many other anti-virus suites offer in conjunction with their products but a complete VPN service, Currently the product boasts with servers across 23 countries, tracker blocking, a kill switch to protect you if the VPN drops, and absolutely no data limits at all. This brings us neatly to cost with three licenses of Total costing 80 USD, five licenses a 100 USD and 7 licenses 120 USD.
Conclusion
Value the Big Question
F-Secure Anti-virus presents a strong case for those wanting a stripped down product that doesn't attempt a sneaky product up-sell at every opportunity as some free antiviruses would. The big question is the value that Anti-virus offers as a base product when compared to other products developed by other vendors. Having some features like URL filtering and a simple password manager in the base product would go a long way adding value.
Further, Total is an excellent option for those looking to spend a bit more and who have devices with different operating systems running on each device. With the added full privacy suite and VPN it is hard to recommend the base product over some of the company's competitors or the company's other products.
Appearance of F-Secure Anti-Virus: