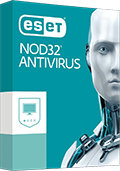 The primary goal of any antivirus package is to protect the device before malware can complete its programmed task and then maintain a watch on the system to prevent further exploitation.
Over the years two prevailing theories have been developed to meet this primary goal, focusing purely on the malware prevention aspect or including secondary features that in some assist in this task. ESET NOD32 Antivirus is certainly in the latter camp with several outstanding features being added to its core product.
However, the core product still needs to perform the main task of preventing malware infections from taking the route. In this review, we will attempt to answer that fundamental question while looking at the secondary features.
Works with: Windows, macOS, iOS, Android
To use full-featured product, you have to purchase a license. 30 day free trial available.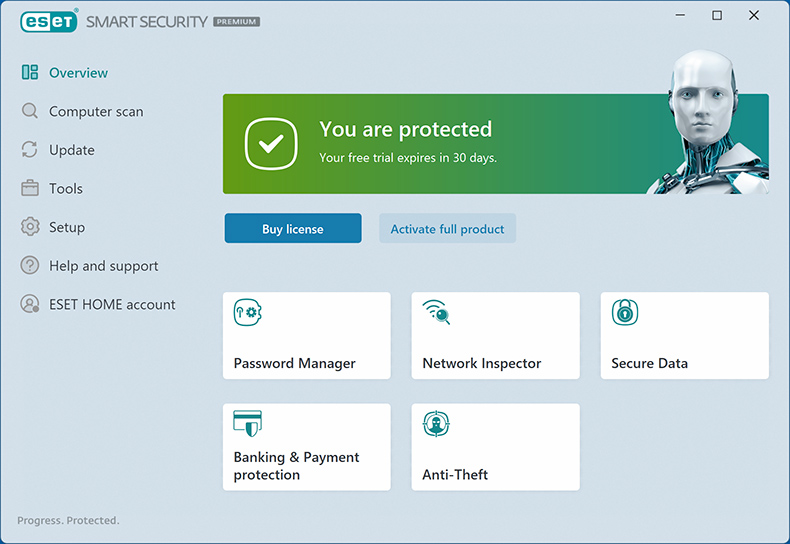 Overview
The first question many ask what does it cost? ESET NOD32 Antivirus, which will no be referred to as NOD32 for the sake of brevity, costs 39.99 USD for one year to protect one device. Subsequent licenses cost an extra ten dollars. ESET's website does offer savings for those willing to purchase multi-year licenses and could be recommended for those comfortable with the product. For those new to ESET's product line, signing up for multiple years could be a pain especially if you're not happy with your purchase.
Returning the 40 USD cost of NOD32, it is in line with products offered by Kaspersky, Bitdefender, and Webroot. For those looking to cover several devices across multiple platforms, as a family might need to do, McAfee costs 60 USD a year but lets you install the product on every device in your household, including devices running Windows, macOS, Android, or iOS. That being said NOD32 can be installed on a Mac, and your license can be used to activate an installation of ESET Cyber Security for Mac if you so choose.
Installation and Appearance
As with the vast majority of antivirus suites these days, before you can install the software you will be asked to remove potentially unwanted applications (PUAs), NOD32 is no different. After detecting applications that may not necessarily be malicious but exhibit security issues that outweigh any usefulness the app might have, the software will ask if you want to remove these and then proceed to install the security software. NOD32 will prompt first if you want to enable PUA detection before installation. It is advised that this option is enabled.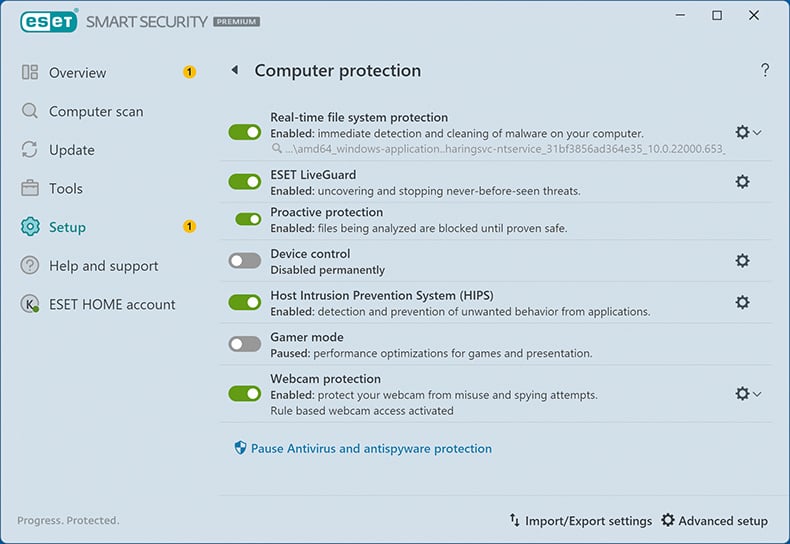 After installation, the software will automatically begin its initial scan of your system. This scan will be longer than subsequent scans and depends on how fast your computer is. Once this is complete the user interface will be opened and you will be greeted by ESET's blue-eyed cyborg and a fair amount of whitespace. ESET's products have never been the cutting edge of user interface and user experience design but they have always been functional and never presented too much of a navigation issue.
If you are required to perform an action or want to see the results of a recent scan a notification icon will appear in the relevant section. For those who enjoy tweaking settings to your heart's content NOD32 is almost unrivaled in the tweaking options it provides. For some, this is a pro but for others who want to set and forget all the options can be overwhelming, particularly for new users.
Less than Impressive Lab Results
Three of the four independent labs this publication follows have tested NOD32 against its competitors and ESET's results are less than impressive. London-based, MRG Effitas, puts selected products through what can only be described as hell week for antivirus solutions.
In the lab's latest test for Q3 of 2022, ESET received the lab's highest honors in labs 360° Exploit Degree and 360° Online Banking Degree certification test.  ESET failed the certification tests for 360° Assessment and 360° Ransomware Degree. Only Bitdefender and Symantec managed to receive certification in all the tests the lab does in the latest round of tests.
Two out of four in MRG Effitas tests might not sound good but the tests are notoriously hard and easy to fail, and middling test results are set to continue. In AV-Comparitives latest round of tests for the period of July to October 2022, the security vendor received a Standard rating in the real-world protection test, with Advanced and Advanced+ ratings being higher and only acknowledgment the product was tested being lower than Standard. In the performance tests, ESET achieved the highest Advnaced+ ranking and in the Malware protection test, an Advanced ranking was achieved. The test results combined in what can be described as a mixed bag.
ESET's security products were last tested by AV-Test Institute in December 2021 where the product tested, Internet Security, got full marks in all three tests. Since then no further testing of ESET products has happened so recommending the company's malware engine based on a test nearly a year old at the time of writing is dubious at best, even if the results for those tests are impressive.
Just by using the tests available at the time of writing it is hard to currently recommend ESET based on independent lab results. That being said it is not uncommon for security vendors to perform badly one year and then see good results in the years to come. In the past, ESET has been one of the top performers in tests.
Standout Features
Good Phishing Protection
When hackers are given the opportunity to either write code to form a piece of malware to steal credentials or confuse a victim into handing over said credentials, they tend to choose the latter. Simply, because phishing is easier. Security vendors have been looking at various ways to prevent phishing, some more successful than others. NOD32 includes a phishing protection module that prevents users from accessing suspected websites. The module did a good job in independent testing to prevent possible phishing websites from being accessed.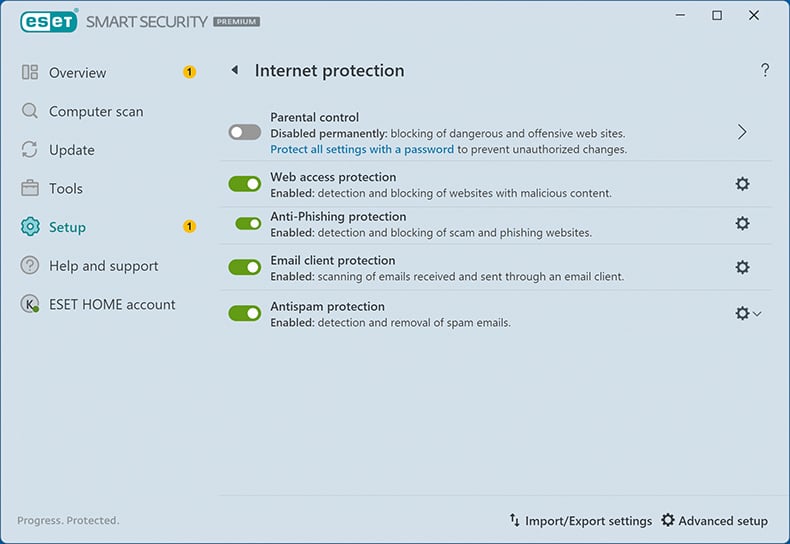 ESET Home
Formerly called My ESET, ESET Home allows the user to manage all the devices ESET products are installed on. The feature can be accessed either via the user interface or by going to home.eset.com on any browser. Once you log in, you can view all your licenses and protected devices. For each license, it shows the total number of devices, the number in use, and the number still available. Right from this dashboard you can open a license and add protection to the current device or send an email link if you feel you need to upgrade that device's security. Further, security issues on other devices can be seen from the management console, but to fix those issues you must be in front of the device as fixing security issues can't be done remotely.
Exploit Protection
NOD32 does come with a full firewall and network protection module but this is not enough to protect against certain exploits capable of bypassing such protection. To help prevent that from occurring ESET offers a Host Intrusion Prevention System (HIPS). In tests the security module managed to stop several vulnerabilities with high severity ratings with no issue, protecting the device it was installed on.
Tests showed similar features offered by Kaspersky and Bitdefender did score better on independent tests. ESET's HIPS also includes a Ransomware protection feature but it has met with mixed results and has room for improvement but it is still better than having no ransomware protection.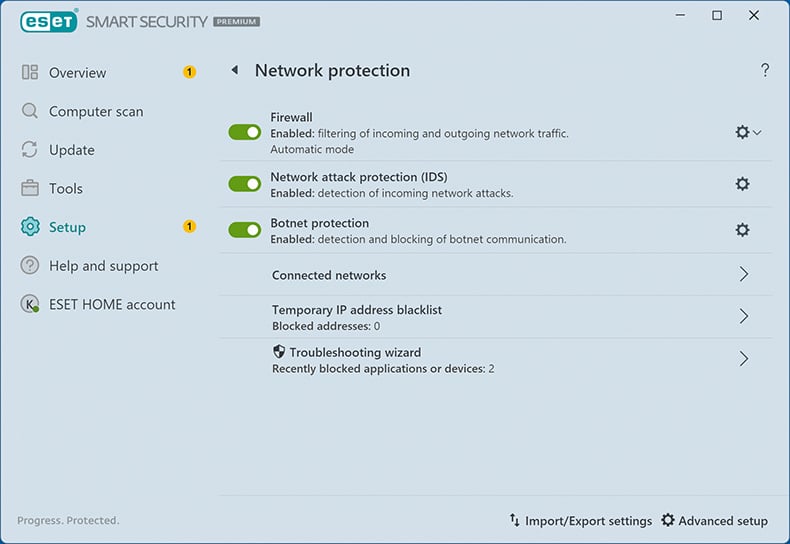 Super Powered Device Control
Here is one of the product's standout features but is somewhat of a double-edged sword as will be explained. NOD32's device control might just be the most elaborate and comprehensive one currently on the market. A user can create rules for a wide variety of devices, including card readers, imaging devices, and Bluetooth devices, as well as more traditional external drives.
Each rule sets an action for a device type, an individual device, or a group of devices. Available actions include blocking the use of the device, opening it in read-only mode, or allowing full read and write privileges. Further, You can also configure a rule to simply warn that the policy limits access to the device chosen and that accessing it despite the warning will be logged.
This is a double-edged sword in the sense that the average home user will never really want to dive into the depths, and they are depths, of this feature. For those amongst us who love to set every possible parameter hours of fun can be had with this tool but it is for a very specific market.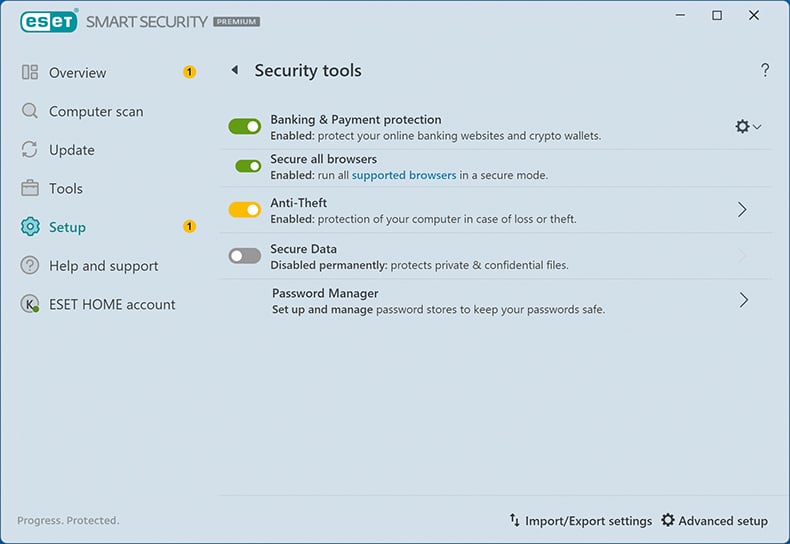 Conclusion
The blemish of ESET's NOD32 is currently the poor scores received by the independent labs mentioned above. All malware engines go through periods like this so in the past ESET has been a top performer, there is little doubt they'll hit those highs once more. These results make it hard to currently recommend the product on malware protection alone but as soon as new results are released this could easily change.
ESET has developed the reputation of being the techie's choice and with device control management as powerful as NOD32's, the product still earns this reputation. This does mean that the average home user will not unlock the product's full potential but the ease of use for most of the interface will not present much of a problem to users who tend to set and forget.
Appearance of ESET NOD32 Antivirus: