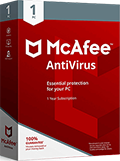 In our modern households we now have multiple devices and more often than note running on different operating systems. Antivirus vendors have cottoned on to this and now offer packages to install their product of multiple devices and across multiple operating system platforms. McAfee has long been the king of this approach and their latest antivirus offering, Antivirus Plus is no different.
That said, on Windows machines the full array of features is present. The mobile apps have been simplified somewhat by removing features found in previous iterations, depending on the user that is not a bad thing as it is in line with McAfee's drive to protect your identity rather than the mobile device itself. That is not to say that the device is left open to attack but rather the focus of the mobile security app has changed. The protection offered is still top notch and it is little wonder Antivirus Plus has received several editor's choice picks.
Works with: Windows, macOS, iOS, Android
To use full-featured product, you have to purchase a license. 30 day free trial available.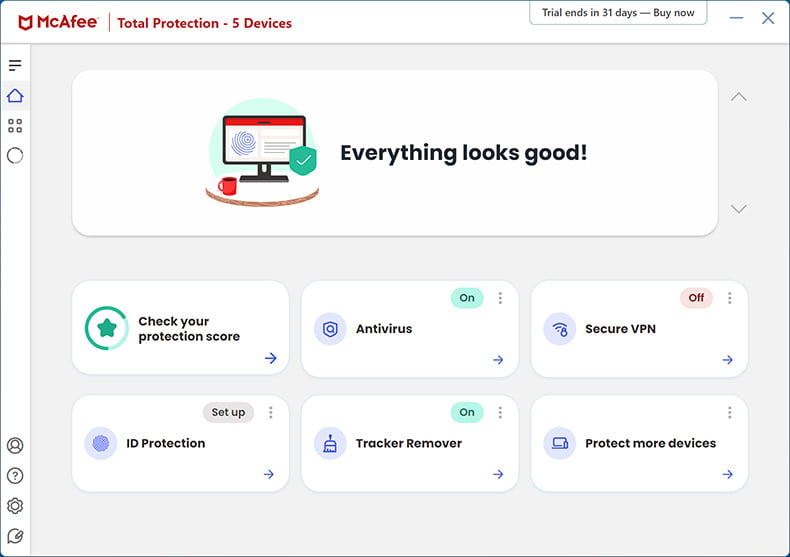 Overview
Receiving good reviews is one thing the cost is another. Pinning down an exact cost of Antivirus Plus can be difficult as specials on the product are run near constantly with platforms providing their readers or subscribers discounts on their purchase. According to McAfee's website at the time of writing to install Antivirus Plus on five devices costs 40 USD a year. Installing the product on unlimited devices will cost 50 USD per year for the Premium offering and 90 USD per year for the Advanced offering. Both Premium and Advanced are further bundles with extra features and it should also be noted that unlimited licensing is rare for the industry. Bitdefender, Webroot, and Trend Micro offer unlimited licenses but McAfee comes in cheaper than all the other three.
Installation and Appearance
Initial installation involves entering your purchased license key on their website. If you choose to select the automatic renewal option you will receive a Virus Protection Pledge from McAfee. This means that malware gets past the antivirus, and McAfee experts promise to remotely remediate the problem, a service that normally costs 90 USD. The value of this is debatable, however, if you do get infected by malware while using McAfee saving 90 dollars can come in handy.
Once your license key has been accepted you can download the antivirus software and install it. Installation is as simple as any modern user would expect it to be and once installed protection of the device is activated. The user interface is full of rounded rectangles and pleasant graphics illustrating if all is well or requires your attention.
McAfee sold of its enterprise business and is now purely consumer focused and this shows in how the interface is laid out. Following a complete redesign, the user is presented with a banner at the top of the main window that provides useful information about recent activities or actions to be performed. Then this is followed by six panels for each of the product modules, namely, Check your Protection Score, Antivirus, Tracker Remover, Protect More Devices, Browser Security, and Secure Apps. There is another menu on the left side featuring Home, My Protection, Protection Score, Account, Help, Settings, and Feedback. Sadly, Mac users don't get a refreshed interface but the Android and iOS apps have.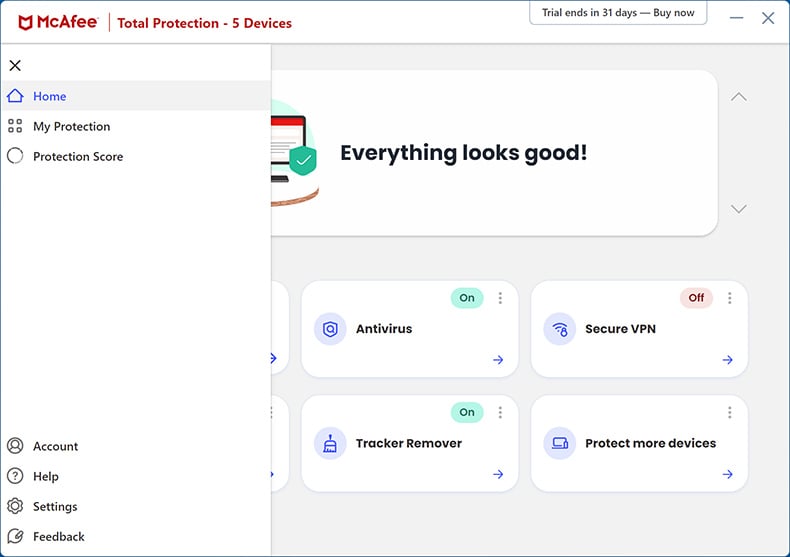 Impressive Independent Lab Results
This publication follows four independent labs specializing in testing consumer antivirus products. McAfee malware engine has recently been tested by three of the four, those being AV Comparities, AV-Test, and SE Labs. We'll look at each lab's results in turn.
Staring with AV-Comparatives, McAfee was submitted for testing in four tests. In the Real World Protection Test conducted from July to October 2022, the antivirus solution was awarded the Advanced+ rating which is the highest award the lab hands out. McAfee received this rating for the Performance Test and Malware Protection Test done in October and September of 2022 respectively. Where McAfee did not receive the highest award in the lab's false positive testing where only a few false positives were recorded, but overall it did perform well.
Regarding AV-Test McAfee was awarded one of the lab's Top Product rewards and it scored full marks in all three tests the lab does. Those tests are Protection, Performance, and Usability, all given a score out of six, which McAfee receiving full marks in each. It should be noted that at least two-thirds of the products tested received full marks as well.
Lastly, SE Labs whose testing follows a different methodology awarded McAfee their AAA certification, the highest awarded. Other vendors that received the certification were Norton, MIcrosoft, and Webroot. SE Labs tests products by using a capture and replay system to challenge multiple antivirus tools with identical web-based attacks.
Overall, McAfee's independent test scores are impressive. Based on the results alone it is little wonder the product has received several editor's choice awards. Modern antivirus tools no longer just look to protect the device from malware but offer several additional features to further improve the security stance of the device or protect against specific threats, McAfee is no different and has several standout features that will make it attractive to a wide variety of consumers.
Standout Features
All the Scan and Scheduling Options
A core function of any antivirus product is the ability to scan and detect malware and unwanted applications that may be harmful. The initial scan gets done right after installation and this one is typically the longest for antivirus products to complete. McAfee does little to buck this trend with some users reporting the initial scan took three hours, one of the slowest among antivirus products reviewed. Subsequent scans will be faster but what users will like is the ability to schedule scans so that long scan times are not so much of a frustration.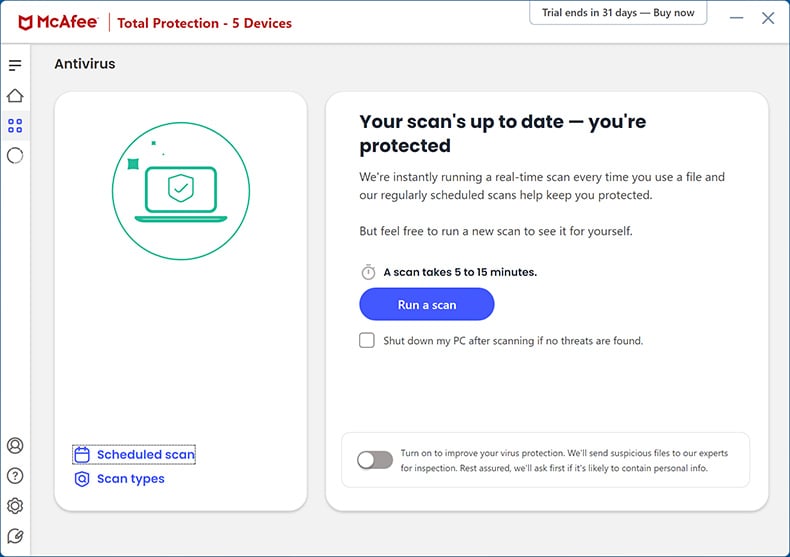 Phishing Protection that Inspires Confidence
Scamming individuals into handing over their important information and credentials is far easier than developing sophisticated malware, a fact that cybercriminals are all too keen to exploit. Security products need some kind of phishing protection to stop this from happening in the first place. Some advancements in this field have proven better than others with McAfee's anti-phishing module being better than most.
McAfee solutions are by preventing users from accessing malicious URLs and websites designed to harvest credentials and information. Given that sites can be taken down and reappear on different servers at the whim of a hacker, stopping users from accessing these sites by blocking them has proven very difficult. According to third-party tests, the module blocked 94% of phishing attempts on a Windows Machine. The score was 97% when done on a macOS machine but both scores inspire confidence that the module works to a high degree of accuracy.
Ransomware Protection
Given that ransomware has run away with the prize for the most potentially damaging malware variant out, security vendors needed to get their engineers on duty to try and protect customers against the threat. Here McAfee's approach is to add a ransomware layer protection to their real-time protection module rather than a dedicated security module. To detect if a ransomware attack is underway the module relies on detecting behavior associated with ransomware attacks. Further, attempts to file files, like when ransomware encrypts files, are immediately flagged. Once ransomware activity is detected the malicious program is quarantined and files can be restored from a backup encrypted.
It should be noted that because the ransomware protection module is part of the larger real-time protection module if you turn that off then the ransomware protection is no longer in force. This is perhaps one advantage to having ransomware protection as a separate security layer but the jury is still out on which is better.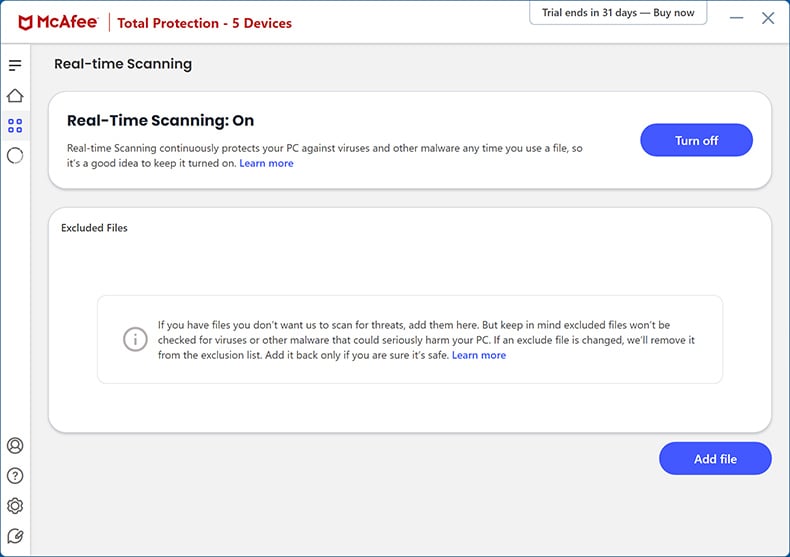 Good Performing and Unobtrusive Firewall
Having a firewall included in an antivirus suite have now become standard, but this is often included in flagship products. McAfee includes theirs even in the standalone offering, and it performs well without having the user change and modifies rules as other third-party firewalls do. The setting of rules can be a laborious process and requires a decent amount of knowledge about what ports hackers have used to attack machines in the past.
For the home user, it is a bit much to expect all of them to have that kind of knowledge, and many would simply prefer a set-and-forget application. McAfee's firewall takes the set-and-forget approach with Smart Access which will decide what traffic and ports are suspicious. For those who feel the need to tinker and set new rules when programs require access, you can switch the firewall to Monitored Access. This gives the consumer at least the choice but if you don't have the network knowledge simply don't turn off Smart Access.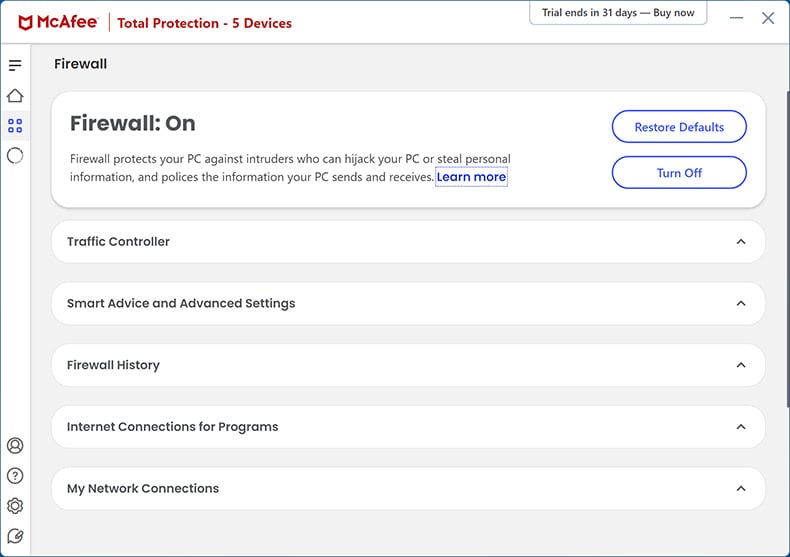 Conclusion
The list of additional features McAfee brings to consumers is exhausting and could fill an essay rather than an article. This is ultimately good for the consumer and with some features offered aimed at protecting the user's privacy and identity McAfee's Antivirus Plus is hard to ignore. With the addition of the independent lab results, it makes it easy to recommend the product to almost any user, but it is with your average home user that the product truly shines. Along with Bitdefender's antivirus suite, also feature-rich, the ultimate determiner will be how many devices need protection and for families where each family member can have three devices McAfee's unlimited license packages definitely would appeal to those households.
Appearance of McAfee AntiVirus Plus: