Bitdefender Antivirus Plus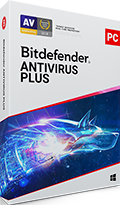 Several antivirus vendors have employed the "Plus" moniker at the end of the years to indicate a better product than their basic antivirus. Some vendors bolt-on secondary features while others look to provide a greater user experience with features more discreetly packaged.
The other question is whether the additional features are worth the increased price of admission and if customers are better served by the basic package. This is the main question we will look to answer in our review of Bitdefender Antivirus Plus.
Works with: Windows, macOS, iOS, Android
Download
Bitdefender Antivirus Plus
To use full-featured product, you have to purchase a license. 30 day free trial available.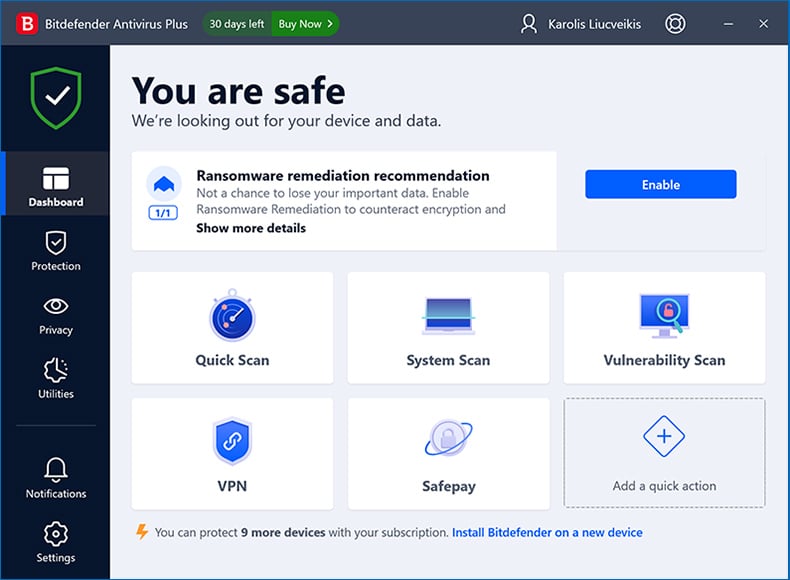 Overview
For those too impatient to read on, the answer to both those dilemmas that face antivirus vendors is the features are added in such a way as not to distract from the overall experience and function of the antivirus, and yes, the added price of admission is worth it.
Some of the features included in Antivirus Plus are a password management application, enhanced security for online transactions, ransomware protection, and even a limited data VPN. These security-focused add-ons have become increasingly important for users by virtue of simply being connected to the Internet. What is a handy user experience add-on is the tutorial that shows where these features are and how to use them after installation.
This brings us neatly to cost. Antivirus Plus costs 40 USD for one license per year. For three licenses you will pay 60 USD per year, for five licenses 70 USD, and 10 licenses will cost 80 USD. That is well within other vendors' pricing schemes bar McAfee's Antivirus Plus which allows you to install its security products on every device within the household for 5 USD more than Bitdefender's three license packages. McAfee probably wins the value-for-money battle if you need multiple devices across operating systems protected, however, there is still much in Bitdefender's favor when protection and features are concerned.
Installation and Appearance
To download Antivirus Plus you'll first need to sign up for Bitdefender's web-based dashboard, Bitdefender Central. Once done you can select what protection you would like and then download it, this process applies to Antivirus Plus. It can be a pain compared to the slightly older way of just downloading the product you want and entering your activation key but this new way seems to be the trend with several other security vendors doing something similar.
BitDefender Central is not just a hurdle to jump and does provide a fair bit of utility with its parental control and identity protection features being tied to the web-based dshboard. While there is utility in the web-based dashboard, and licenses can be monitored, renewed, and such it is still felt that many will feel it's an unnecessary barrier to entry.
Once downloaded and installed users will be presented with the main user interface. Here the user is presented with a black side navigation bar, a grey main window, and white tiles with icons for the various features. It is typical of Bitdefender's design language that past users have come to expect. Is it the prettiest or the best? While this is a subjective point we have seen other interfaces that may look nicer but Bitdefender's functionality is what wins here as you can easily navigate the antivirus and its features. By default the interface gives a series of quick action tabs that include a quick, system, or vulnerability scan, opening the VPN, and configuring Safepay online protection as well as adding other features like password protection if so desired. If the protection tab is clicked the user will be presented with options for the antivirus and vulnerability scans.
Older BitDefender users will wonder what happened to the Autopilot feature was the company's set-and-forget option that allowed the antivirus to run automatically and in the background. It is still there but does have a more visible role to help users make use of the additional features. Before all this can be discovered, Antivirus Plus will perform a full system scan, and this is a long one, some reports suggest scans can be nearly five hours depending on your system specs and how much stuff you've got stored on it. Subsequent scans will be shorter, but longer scans over previously reviewed products seem to be the norm now, at least for the initial scan with McAfee's Antivirus Plus clocking in at over three hours.
Long scan times might be a result of many vendors offering real-time protection, the once all-mighty scan is now more of an added layer of security. This additional layer can still be useful and BitDefender allows users to schedule scans so they don't impact daily life or inconvenience it.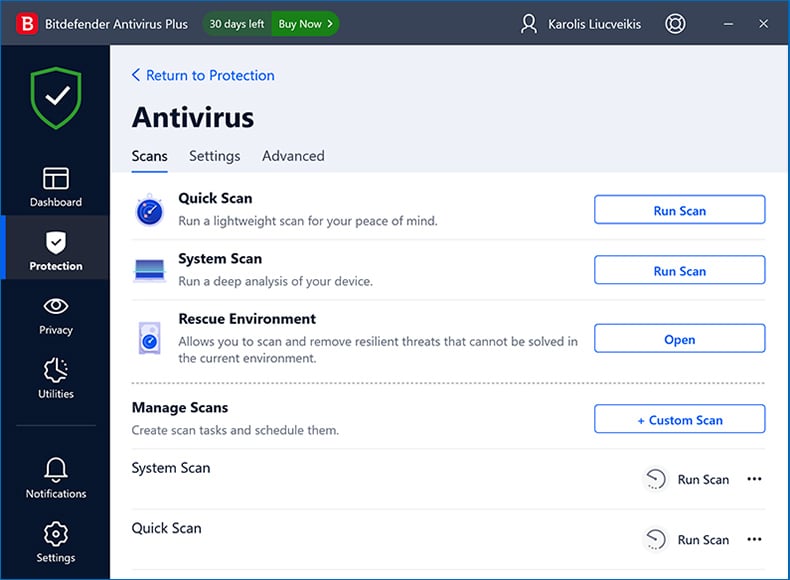 Stellar Independent Lab Results
Of the products we reviewed this year only Antivirus Plus was tested by all four labs this publication follows. In summary, the test results were as close to perfect as can be expected from any antivirus. AV-Comparatives runs four major tests on antivirus products submitted for testing, those being Real World Protection, Performance, Malware Protection, and False Alarm tests. In the first three of those tests, BitDefender received the Advanced+ award, the highest the lab rewards products. In the False Alarm test, BitDefender was in the second tier recording only a few false positives but other vendors like Kaspersky were in the top performers recording fewer false positives. If BitDefender had to take these results home to their parents I'm sure they'd be proud.
The next lab followed by this publication is AV-Test Institute. The lab tests each product according to three testing parameters each scored out of six, those being Protection, Performance, and Usability. In the first two Antivirus Plus received the full marks possible and in Usability, it received 5,5. The lack of the last six to make the scores perfect as a result of four false positives detected over the September and October 2022 testing periods. These results were enough to grant BitDefender a top product award for this round of testing.
The next lab is MRG Effitas, which has earned a reputation for developing tests hard to pass and even harder to perform well in. One such test is the lab's banking trojan test. To pass this lab's banking Trojans test, a product needs a perfect score. Anything else is considered a failure. The other test uses a wide variety of malware and offers two passing levels. If a product absolutely blocks every malware installation attempt, it passes at Level 1. If some malware gets through but is eliminated within 24 hours, that earns Level 2. Anything below those two levels represents failure. BitDefender was one of three vendors to pass the banking trojan test ESET NOD32 Antivirus and Malwarebytes. As for the malware test, only BitDefender and Malwarebytes received a Level 1 certification.
The last lab followed by this publication is SE Labs. The lab attempts to simulate the real world of malware as closely as possible for testing purposes, using a capture/replay system to present each product with a real-world, web-based attack. Certification from this lab comes at five levels, AAA, AA, A, B, and C. Bitdefender and several others attained a AAA certification. This means that by combining all the test results BitDefender was nearly perfect. This makes it easy to recommend Antivirus Plus on the lab results alone but other vendors have performed equally well and cost the same so looking at additional features has become more important than ever for the consumer.
Standout Features
Password Management
Typically password managers are found in complete security suites, rather than a standalone antivirus product like Antivirus Plus, so to see it included as an additional feature certainly increases consumer interest levels. For those used to using BitDefender products, the password management application Wallet has changed very little over the last few iterations. It still requires the user to use a strong master password to create "wallets" that contain passwords to applications and websites used by the user. It should be noted that if you require features like two-factor authentication you are better served by a standalone password manager. That being said for an application like Wallet that is perfectly serviceable to be included in a stand-alone antivirus is an advantage to the average home user.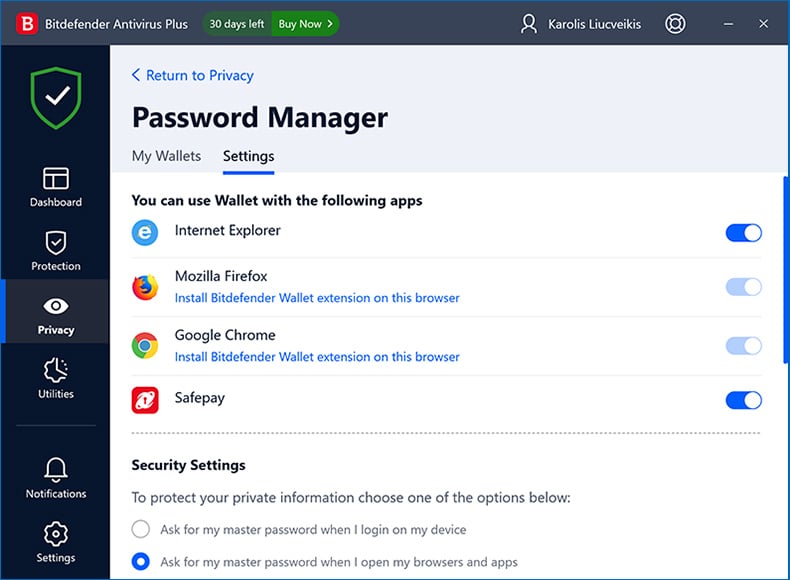 Enhanced Online Security
Antivirus Plus also comes with enhanced online security in the form of additional browser protection that includes an anti-tracker module as well. The anti-tracker comes bundled with a BitDefender browser extension for Chrome, Edge, Firefox, and Internet Explorer. Browser protection does a good job of preventing users from visiting malicious websites and websites set up for phishing purposes.
As for the anti-tracker extension, when a user visits a site that uses trackers the user will be notified and informed of how many trackers there are. The user then can block or allow each tracker if they so choose. By default, the extension is set to block all trackers by default.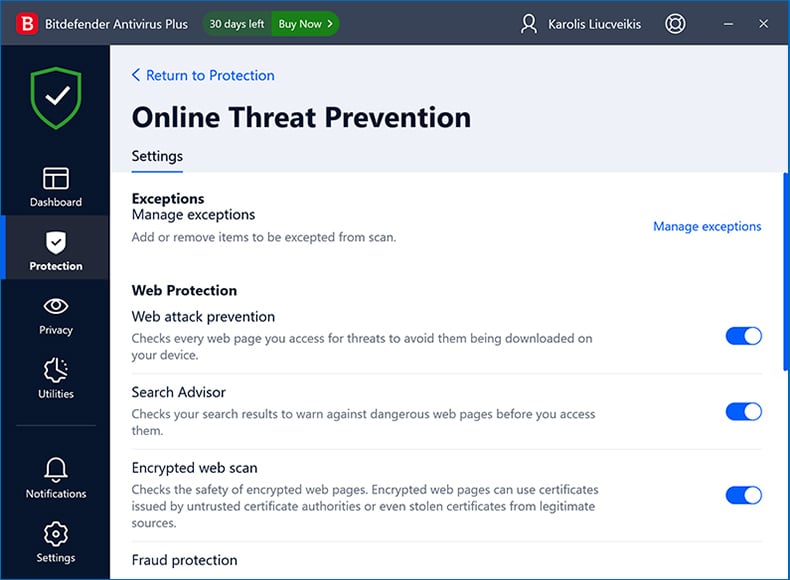 Comprehensive Ransomware Protection
For several years BItDefender's ransomware protection has been top notch and the ransomware protection included with Antivirus Plus is no different. The ransomware protection included with the antivirus is made up of three layers. The first of these layers is Advanced Threat Defense feature supplements regular antivirus scanning with behavior-based detection, including the detection of ransomware behavior. The second layer, Network Threat Prevention, blocks the exploit avenues some ransomware attacks rely on. Lastly, at the first hint of a possible ransomware attack, Ransomware Remediation backs up important files, restoring them after Bitdefender neutralizes the attack. Very few vendors apply such a multi-layered approach to preventing and fighting ransomware infections and this feature is certainly a must-have for today's computer user.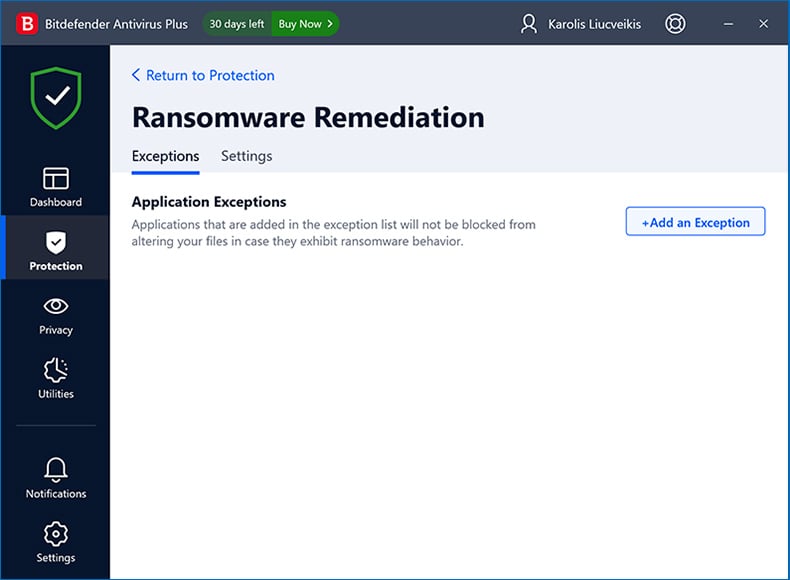 Limited VPN
VPNs are often included with full security suites but having one in the Antivirus Plus, essentially a stand-alone antivirus is a nice touch. It is limited to 200 MB of bandwidth a day. BitDefender does offer a premium VPN service at 70 USD a year that is unlimited and worth it for those needing a VPN on all the time. The VPN does include a Kill Switch feature, meaning that if the VPN connection drops it cuts the unprotected internet connection until the VPN comes back online and has a Split tunneling feature to exclude certain websites from VPN protection. In practice, split tunneling is used on websites that are high-speed reliant. Overall, 200 MB won't get you too far, and streaming video is definitely out of the question, but it can be used for online banking and other instances where sensitive information is sent over the internet.
Conclusion
BitDefender has developed quite a reputation for releasing products that deliver outstanding protection. Antivirus Plus is no different in this regard and is bundled with several great features that provide additional value to any home user making the initial cost seem like a great deal.
Appearance of Bitdefender Antivirus Plus: