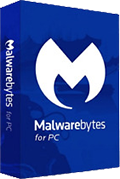 Over the years security firm Malwarebytes has developed a reputation for developing anti-malware tools vital to both home and corporate computer users. When the beta for version 4.0 was released, many journalists and InfoSec professionals were eager to see what the new version had to offer as well as the new improved Katana malware engine. We reviewed Malwarebytes 4.0 and found it to be an excellent choice for those wanting to shore up their cybersecurity defenses. There are two versions of Malwarebytes 4.0 - Free and Premium. Although the Free version is capable of removing existing malware, the Premium delivers way more features, as well as high-end malware protection.
Aside from removing already existing malware, the Premium version also protects system from the future threats and continually monitors the system to prevent any damage that might be done by various malicious applications. There are two types of subscriptions for home users: single user (1 device, €39.99 per year) and family pack (3 devices, €59.99 per year).
Works with: Windows 7/8/8.1/10 (32-bit and 64-bit)
To use full-featured product, you have to purchase a license. 14 days free trial available.
For those who are hesitating whether they should purchase the Premium version or not, Malwarebytes provides a free 14-day trial.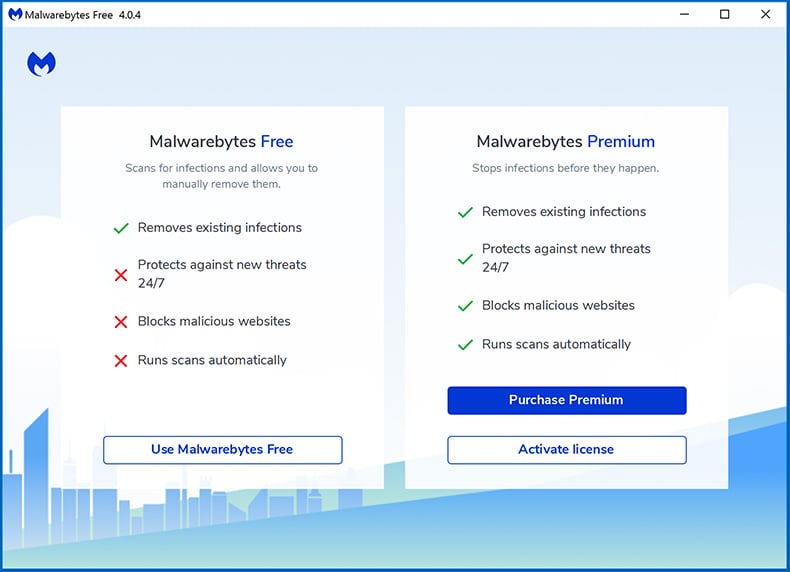 Overview:
It is what is new that has got people talking, that being the new malware engine called Katana. The malware engine has been designed to combat polymorphic malware which is basically an infection able to change certain key identifiers making it harder to detect. Emotet is a modern example of polymorphic malware. The engine has been further optimized with faster detection processes to back up the polymorphic detection which makes scans more accurate. The development also greatly decreases the number of CPU resources used which aides in that 50% reduction mentioned earlier. Akshay Bhargava, Chief Product Officer, stated,
Polymorphic threats have changed the game in cybersecurity. By the time traditional antivirus creates a signature for these threats, it can be too late. Cybersecurity providers need to stay ahead of the game by recognizing potential threats before they can cause damage. Malwarebytes 4.0 is designed to block these evolving threats in record time using innovative detection technology. Our new intuitive user interface helps customers more easily engage with their cybersecurity. Furthermore, the new engine is optimized and requires 50 percent less of the CPU while scanning.
It's not just under the hood that new features have been added. The anti-malware package offers a completely new user interface. The new UI makes a significant improvement over the old one and is both easier to navigate and far more intuitive. The interface does not bog users down with multiple menus, drop down, or navigation bars. Rather the user is greeted by an interface showing the three main features of the anti-malware package, those being detection history, the scanner, and real-time protection. For novice users and people that just want things to work such improvements come into their own. The new interface also links directly to Malwarebytes blog which has become a great resource for security and threat news. Further, the interface links to Malwarebytes' Threat Center where users can find more in-depth knowledge about specific threats as well as ways to prevent such threats from infecting their computer.
Features:
System Scan:
Quick Scan (Premium-only) - Scan your memory and startup objects for active infections.
Custom Scan - Set what to scan and how to handle potentially unwanted programs and modifications (PUPs and PUMs).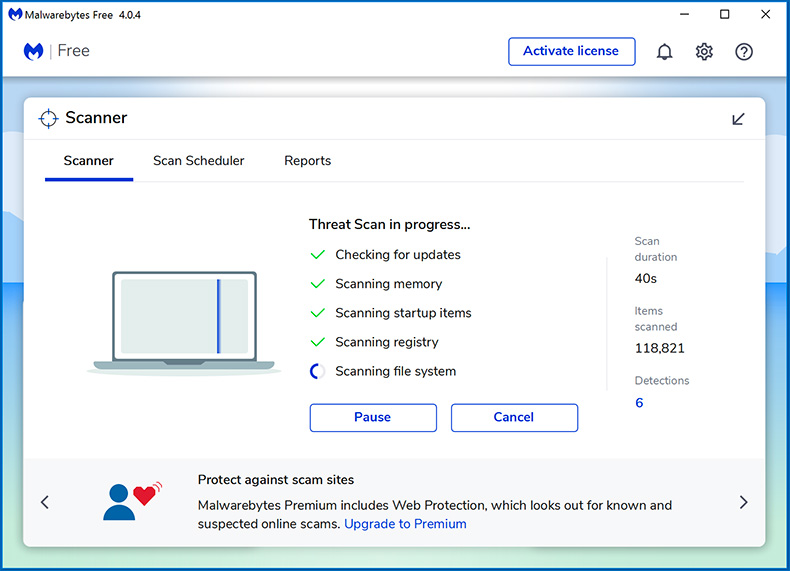 Custom Scan allows user to choose which drives should be scanned, whether the memory objects and registry/startup items should be scanned, should Malwarebytes scan within archives and search for rootkits. Users are also allowed to decide how the detected potentially unwanted programs (PUPs) and potentially unwanted modifications (PUMs) must be treated - ignored, warned about, or handled as malware.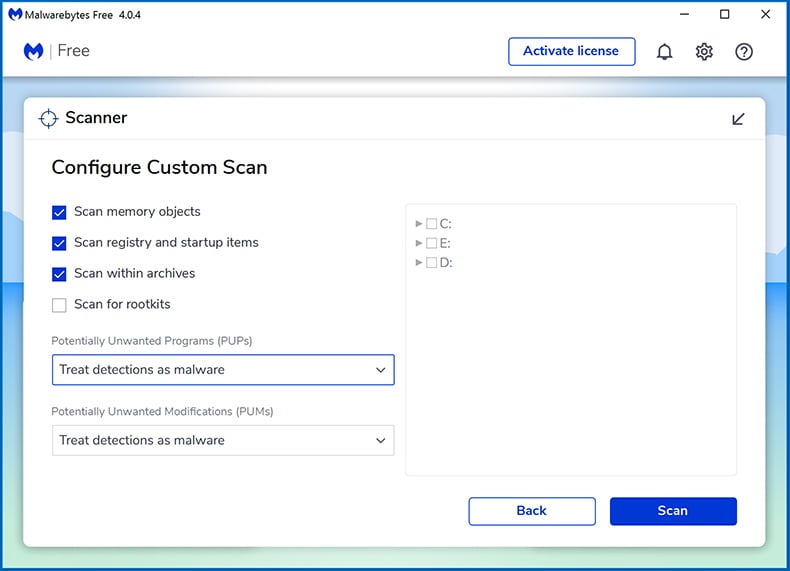 Malwarebytes also provides a scan scheduling feature, which is kind of self-explanatory - users can easily schedule the system scans however they want. Yet this function is also Premium-only.
Real-Time Protection (Premium-only):
Web Protection - Blocks online scams, phishing sites, sites with ransomware.
Malware and PUP Protection - Blocks malware, viruses, adware, potentially unwanted programs (PUPs), and more.
Ransomware Protection - Blocks malware that locks you out of your device or files, then demands payment to restore access.
Exploit Protection - Blocks malware that takes advantage of bugs and vulnerabilities in a system in order to allow the exploit's creator to take control.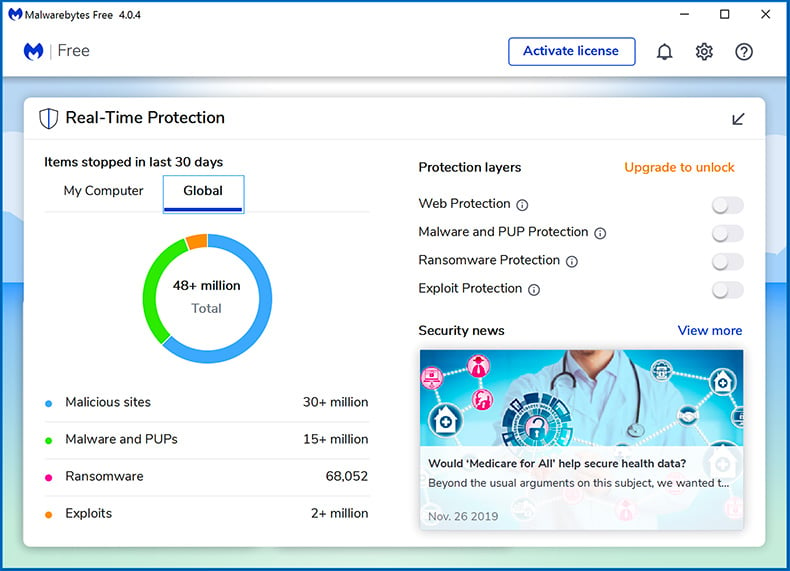 Help/Support:
Malwarebytes is also implemented with a "Help/Support" section which contains four shortcuts:
Malwarebytes Support - Leads to Malwarebytes web page which essentially contains answers to frequently asked questions (FAQ).
Malwarebytes User Guide - Leads to Malwarebytes web page which contains the entire user manual.
Support tool - Automatically installs a Malwarebytes Support Tool which is designed to help users troubleshoot issues with Malwarebytes by automatically gathering various data and creating a new support ticket or updating an existing ticket with the gathered data.
Malwarebytes Labs - Leads to Malwarebytes web page which constantly provides latest news relating to cybersecurity.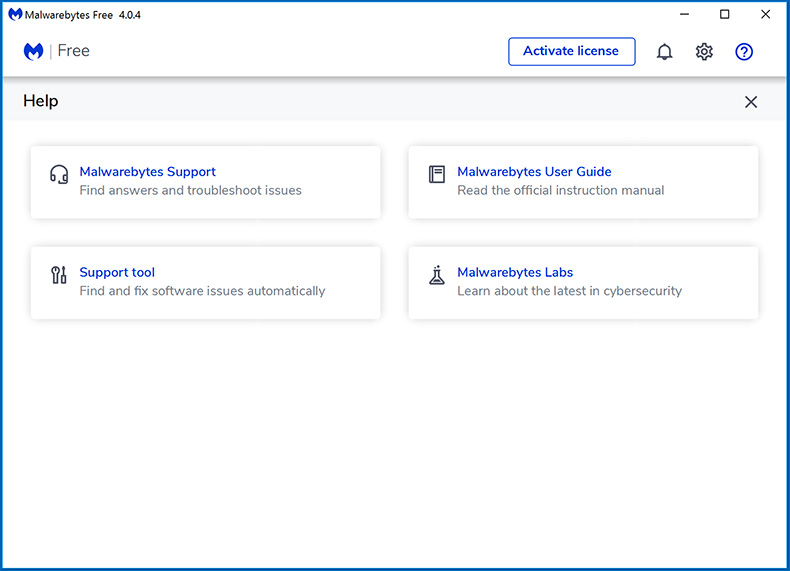 Conclusion:
There is little doubt that version 4.0 marks a significant improvement over previous versions but there are some things to consider before downloading the product. Firstly, if you are still running Windows XP and Windows Vista, version 4.0 is not supported on these operating systems. If you are still running XP or Vista current versions of Malwarebytes 3 will still work and will still receive support for the foreseeable future. Another feature, or lack of features, some may find an advantage is that the free version does not come bundled with any add on, like a safe browser or limited VPN services. What you are getting is as advertised. What Malwarebytes Free is then is a great tool for removing malware from your system, in this regard it performs near flawlessly.
Malwarebytes does come with a Premium version that is available for purchase. The premium version includes real-time protection, ransomware protection, and a host of other features that enable users to switch from a more traditional anti-virus package to what Malwarebytes terms their anti-malware offering. Upon downloading and installing version 4 you are offered a free 14 day trial of the premium offering and if you are in the market for a new security package you can do a lot worse than Malwarebytes Premium.
If you do not have an anti-virus package installing version 4 comes highly recommended and it is advised you upgrade to the Premium package. This advice mainly comes from the nature of modern cyberattacks and the malware used. In the case of ransomware, for example, merely scanning a machine once infected does not prevent the malware in many cases from completing its mission of encrypting your data. In some instances removing the ransomware once it has encrypted data may permanently make the recovery of that data impossible. If upgraded to Premium then this is not an issue as it affords not only real-time protection but also specialized ransomware protection.
Even if you are content with your current anti-virus package downloading the free version is again recommended. Malwarebytes has developed a reputation for developing great malware engines and scanners that have historically detected malware other solutions miss. Version 4 is no different in this regard and the Katana engine is expected to only improve with future cyber threats making the free package from Malwarebytes almost an essential security tool on any system. Having both Malwarebytes version 4 and another anti-virus package, if you choose not to go with the Premium, will greatly increase your cybersecurity posture.
Appearance of Malwarebytes Anti-malware: