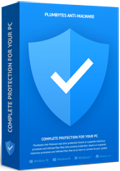 Works with: Windows XP (with SP3, 32 bit only), Windows 7 (32-bit and 64-bit), Windows 8 (32-bit and 64-bit), Windows 10 (32-bit and 64-bit)
Download
Plumbytes Anti-Malware
Plumbytes Anti-Malware is a tool to detect malware on your computer. You need to purchase full version to remove infections.
Plumbytes Anti-Malware is a relatively new security application released by Plumbytes Software LP in December 2015. Being basically a desktop program that is supposed to track and remove Trojans, adware, browser hijackers, worms, keyloggers and other threats, it seems to have gained popularity among computer users with already more than 3,5 million downloads. The app claims to have the following features on board: detection and removal of all the latest malware and spyware which are usually missed by antiviruses; browser "anti-hijack" protection for safe browsing; special fast scan algorithm to minimize scanning time; basic security threat detection for safe browsing and some other. Important: there is no real-time scanning functionality, that is the software will not filter the attacks in real time. On the other hand, absence of this function means that the program will not interfere with other apps currently running and prevent excessive resource consumption and PC slow-down. It also means that regular system checks are recommended.
Overview:
Installation of Plumbytes Anti-Malware is very fast and easy. After terms & conditions are accepted, the process runs automatically. Depending on the internet connectivity, it takes around 2 – 3 minutes to complete installation. After the program is successfully installed, it automatically starts full check of the computer. If CPU is busy with some other heavy tasks, one can always stop or pause the process – this will not be a problem thanks to user-friendly interface. Plumbytes Anti-Malware definitely consumes some resources. It does not affect the main system functions though and does not slow down the computer drastically.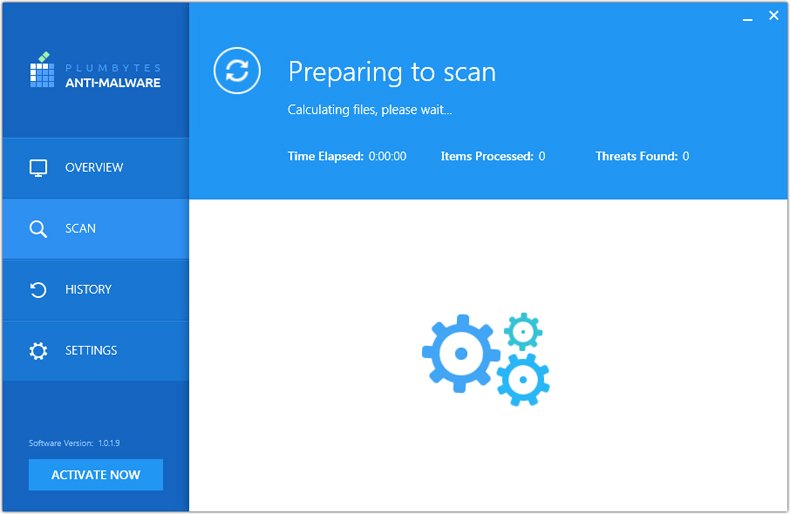 The interface is minimalistic, simple and almost elegant. Main menu on the left side of the window offers 4 basic tabs. Overview tab is mostly a homepage containing the summary of the main functions. Scan is the main work area. History contains all the previous scan logs and issues tracking. Settings has quite a few options which are, nevertheless, enough to control the main functions of the program. Users can easily scan their PCs with a free version of software. However, one needs to purchase the full version to process issues and problems. This is the only difference between these two packages. The full pack costs $49.99.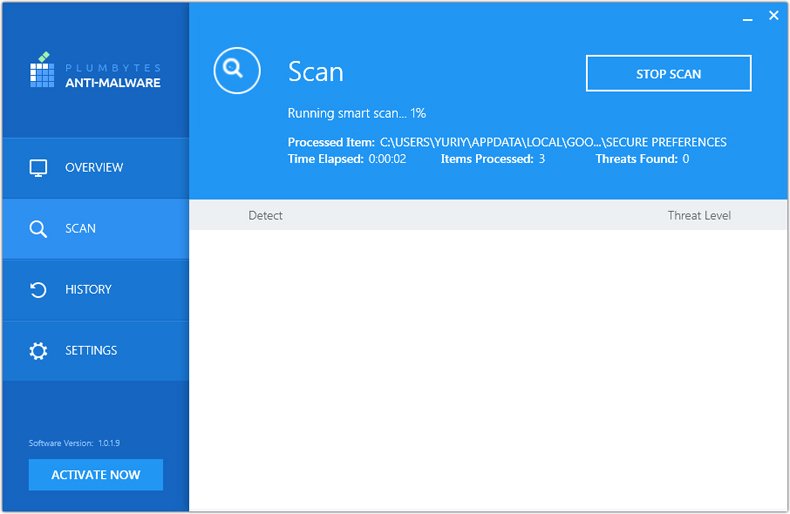 As for malware processing, the full version of Plumbytes Anti-Malware detects and deletes infected files. But it does not clean them if the virus is embedded in the original file. That is, the program detects the virus and removes the file, but it cannot take the virus out of a file. Therefore, Plumbytes recommends using Anti-Malware together with an antivirus solution. A single license key is enough for up to 3 computers within the same household (applicable only to home usage, not business).
Performance:
Our tests have shown that Plumbytes Anti-Malware does not consume much resources of CPU when running in the background. Here are the main figures for comparison. When in the background, the program uses 0% of CPU resources and does not affect PC performance. When scanning or updating, it will take from 40% to 80%. So, it is recommended to run the full check when the computer is not busy with other heavy and important tasks. The same as with usual antivirus checks that users run from time to time on every PC.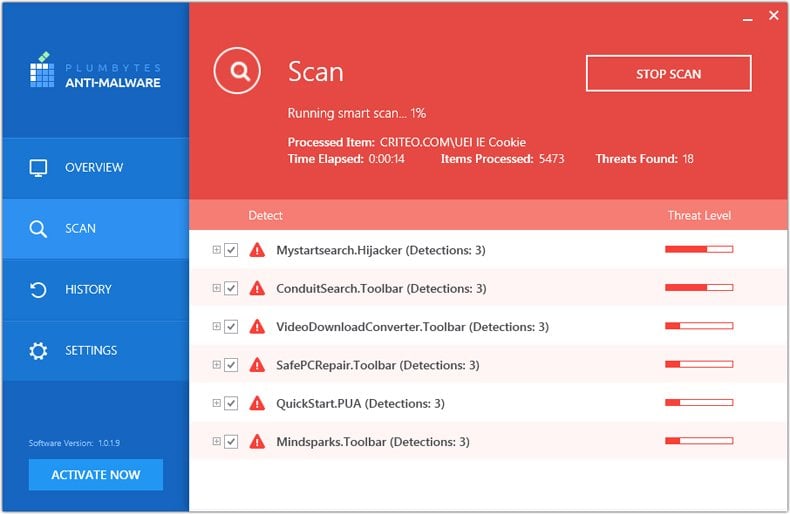 The software updates once a day. This ensures that the databases contain all the relevant information on virus threats. Update starts automatically when the user switches on the computer connected to the internet.
Features:
There are 3 types of scan: quick, smart and full. Quick scan checks only active processes. Smart scan covers the most vulnerable PC areas. Full scan looks at every folder thoroughly and checks the files inside.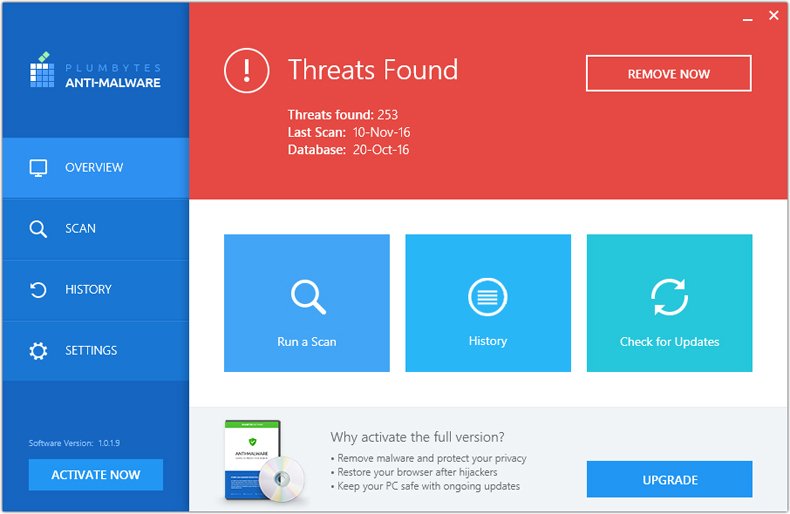 Malware detection: this feature helps to detect and remove viruses, spy software, and other programs that may harm the PC. This feature helps to remove malware that antiviruses usually tend to miss.
Spyware detection: this feature helps to detect and remove the recent adware, spyware and other potentially unwanted programs.
Basic Security Threat Detection: this one protects PC while the user surfs the internet.
Browser "Anti-Hijack" Protection: it protects browser against hijackers.
Fast Scan: This feature makes Plumbytes Anti-Malware's scan work 5 times faster thanks to multi-thread scan algorithm
Premium Support: Every user of Plumbytes Anti-Malware gets 24/7 tech support.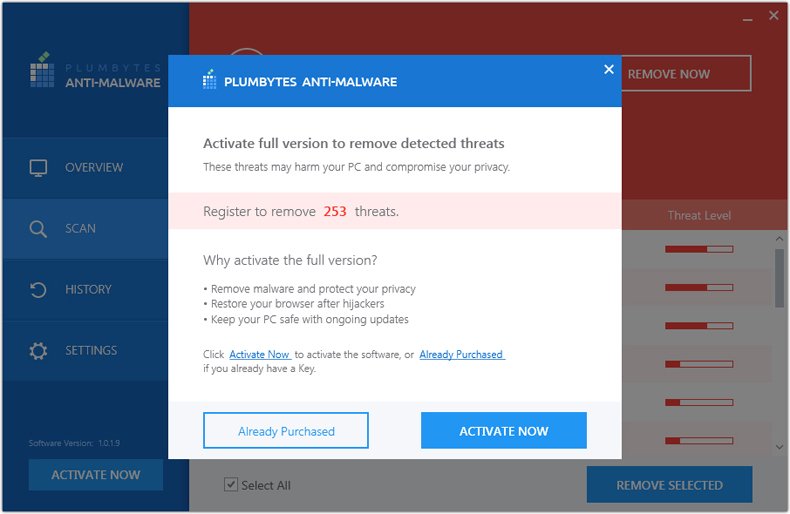 Summary:
Plumbytes Anti-Malware is a compact, easy-to-use and reliable software for protecting and cleaning up your PC. Today, annoying ads open new browser tabs without permission and install junk extensions, add-ons and programs on every unprotected computer. So, it is obvious every PC needs some kind of protection that would block malicious actions working together with an antivirus while the user is surfing the internet. Ordinary antiviruses cannot detect all attacks as not every attack is categorized as a virus infection. That is where Plumbytes Anti-Malware comes on stage. Our tests have indicated that the app is able to detect many potentially unwanted programs overlooked by the antiviruses so it seems to be worth the money and might become a great add-on to the protection of your browser and PC.