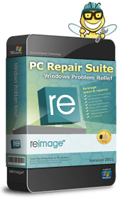 Works with: Windows XP (32-bit and 63-bit), Windows 7 (32-bit and 64-bit), Windows 8 (32-bit and 64-bit), Windows 10 (32-bit and 64-bit)
Download
Reimage PC repair tool
Reimage is a tool to detect malware on your computer. You need to purchase full version to remove infections.
Reimage as a company is fast looking to become a world leader within the IT sector. Key to their ambition is their flagship product Reimage PC Repair Solution which first was made available to the public in 2007. The program is advertised as "Windows Problem Relief" and is designed primarily to scan, assess, and repair files within the operating system. Added to this by files rendered corrupt by various forms of malware are restored to their original health, thus ensuring stability and the system operate efficiently once more. Reimage was premised on the idea that through a dedicated team of professionals, they could create software which would not only do what has mentioned above but also be affordable and simple to use. Since 2007 the company has won numerous awards. Despite the awards and the accolades the company has received they still remain dedicated to providing a solid dependable product with their R&D team working continuously to ensure compatibility with every new Windows build and Microsoft security patch.
Overview:
Once the user has downloaded Reimage PC Repair the installation process is quick and simple. Once installed on your PC, the time taken to do so is dependent on how fast your system is and can take a few minutes, the program will run displaying the user interface. As a default setting the program will begin a scan of your system. Once the scan is complete you will be notified via the interface as to what issues were found. An added feature to the scan results is the Windows Damage Severity feature which displays how severely damaged your Operating System is. This is a handy piece of information for users without an in depth IT knowledge base from which to draw from and enables them to make educated decisions as to their system's overall health.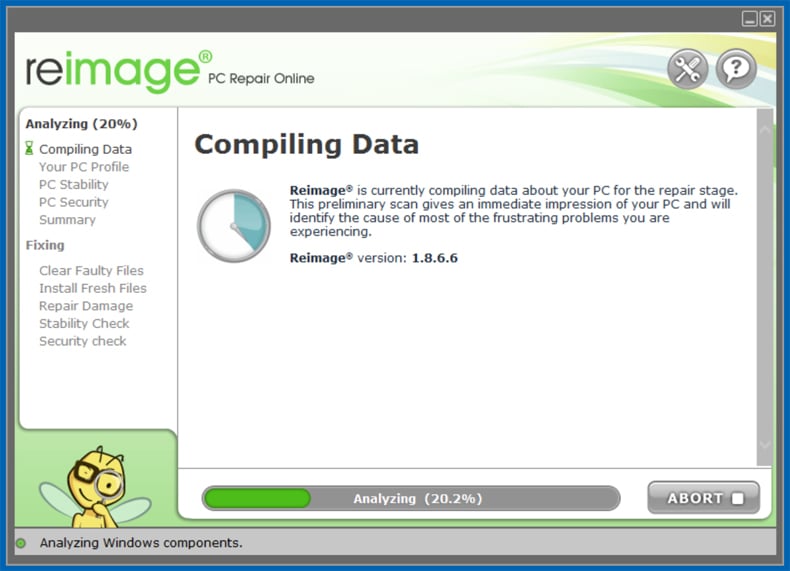 Once the scan is completed the repair process can be initiated. Note that the download and scan feature are free but in order to repair the system a license key is needed. This can be purchased from Reimage. Three license cost comes in at approximately 60 USD and includes unlimited use for a year. Reimage has a vast library of Microsoft files which it uses to replace the corrupted or altered files that are hurting overall performance. Currently, the library includes over 25 million authentic and pristine Microsoft files used to repair users otherwise corrupted files. The repairing of the user's system is done by replacing the corrupted file with the pristine file from the Reimage library.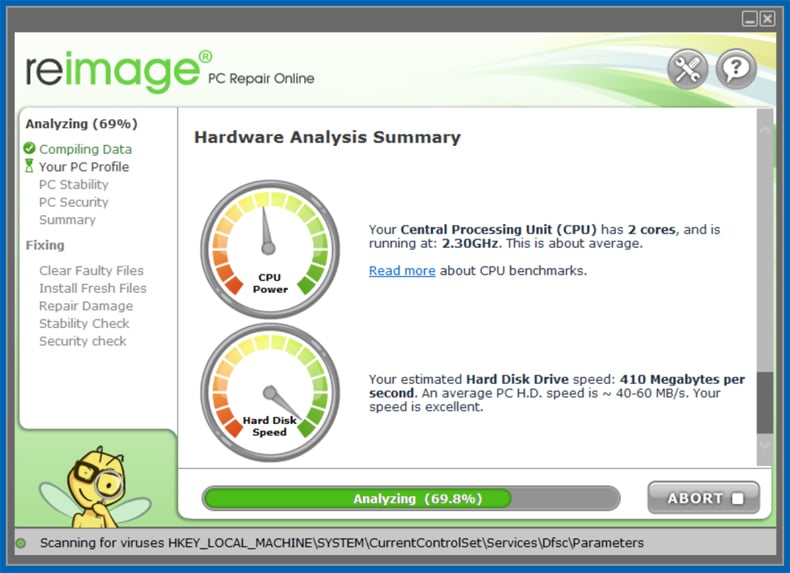 Features:
The user interface is logical and simple to use which is a massive positive as this makes navigating the program easy and intuitive. The program is designed to fix the following problems:
Windows Errors
"Blue Screen of Death"/stop error screen associated with fatal system errors
Damaged DLLs
Freezing Computers
Virus damage
Operating system recovery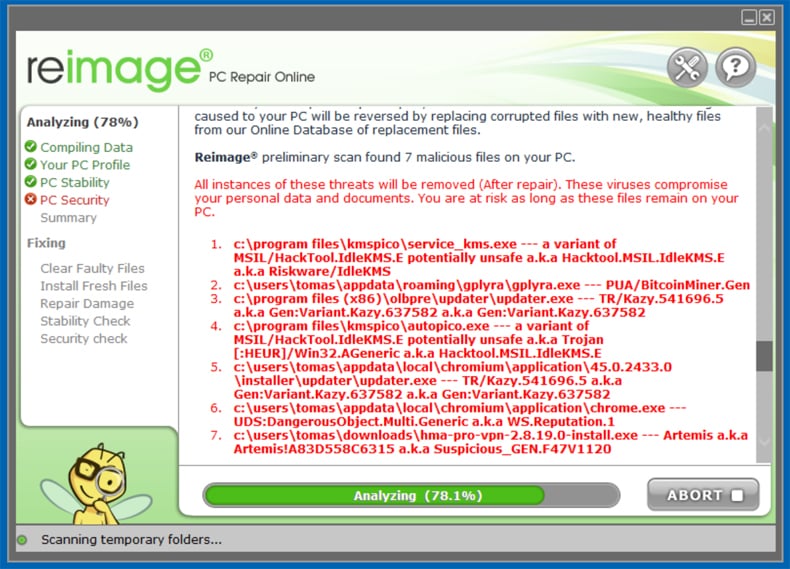 The range of problems addressed by Reimage makes it unique. However, the program is limited to only repairing Windows files relevant to the operating system. Hardware problems can be detected on the scan but cannot fix them, any hardware problem that arises the part in question would need to be replaced. The program cannot fix issues arising from any 3rd party software, such programs include the likes of Microsoft (MS) Office, Skype, Adobe Software, ICQ, Winamp, Mozilla Firefox, iTunes, Non-MS Games, Windows Genuine Advantage Validation. One may find that performance of 3rd party programs improves if they share Windows OS files but the program cannot fix issues arising directly from the 3rd party software. It is also important to note that Reimage is not an antivirus solution and also cannot repair compromised antivirus software files.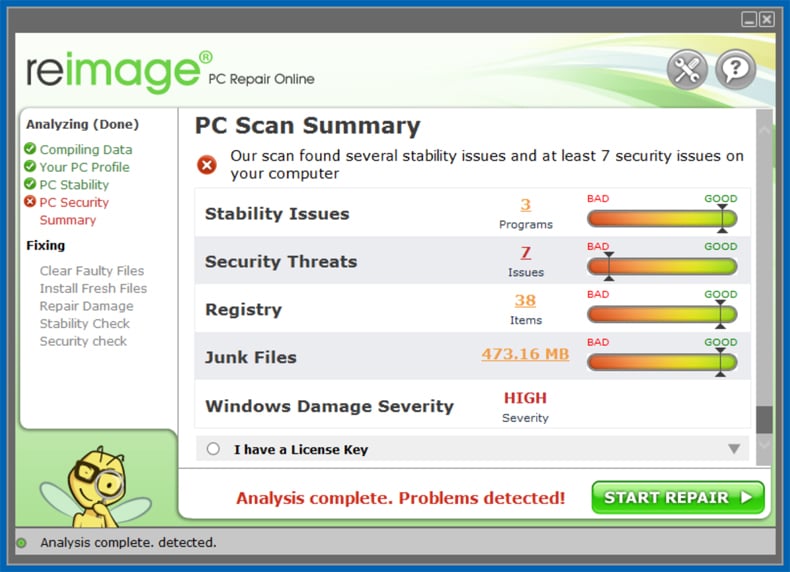 System Requirements
In order to run Reimage PC Repair Solution you will need the following requirements:
1 gigahertz (GHz) 32bit (x86) or 64bit (x64) processor - Single - core or Multi - core
512 megabytes (MB) of system memory
40 GB hard drive with at least 15 GB of available space
Windows XP, Vista, 7, 8, 10
Broadband internet connection with a physical connection being preferred
Summary:
Reimage enjoys a unique position within the IT software marketplace as it is the only offering of its type available. While the price for the product may appear steep for the yearly license, often calling out a service technician can be roughly 70 USD just for the call out. Given the company's vast library of pristine authentic Microsoft files and the company's dedication to keeping the library and their product up to date purchasing a license could solve the problem you may have quickly and easily. The company also offers 24/7 support via a telephone service or an online chat service to further assist users.

The company also offers a Mac version which is designed to free up space by deleting browser history and unnecessary application data in order to improve performance. Just as fast and easy to use as Reimage PC Repair Solution it is a handy tool in monitoring hardware and system performance.