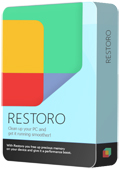 Works with: Windows XP (32-bit and 63-bit), Windows 7 (32-bit and 64-bit), Windows 8 (32-bit and 64-bit), Windows 10 (32-bit and 64-bit)
PCs are not the invulnerable pieces of technology we would want them to be. Things going wrong, or they stop working as efficiently as they should have. This has become part and parcel of owning any PC. This is true at the best of times, with errors occurring when they are needed the least. What does one do when one wants to fix these problems? If you have a degree in computer science or electrical engineering you could spend your time tinkering. However, not all of us, in fact only a few of us, would even know where to begin. That is where software designed to repair multiple facets of your PC come in. Restoro Labs is fast becoming a world leader of internet-based system repair solutions. Their offering, Restoro, is a highly acclaimed and award-winning repair solution. The software is specifically designed to scan, access, and repair Windows operating systems. This results in improving performance and increase system stability.
Overview:
As mentioned above, Restoro is a repair solution and can be used to repair problems that may result in Windows Errors, the dreaded blue screen of death, a system which continually freezes, and damage associated from malware infections. Added to this it is also able to reverse the damage done to databases by replacing files. The software is able to do this due to a number of processes it follows.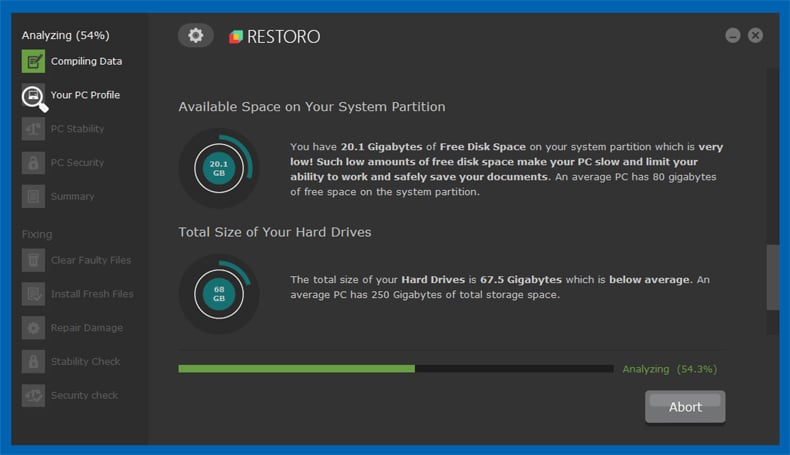 Initially, the software completes a thorough scan of the required PC, including the Windows operating system. The scan takes approximately five minutes. Once the scan is complete it places the errors detected into three main categories. Those categories have been hardware, security, and stability. Problems considered under the hardware categories include low memory, the hard disk speed, and the running temperature of the CPU. It is in the security category that the offering excels. The software can detect various types of malware including adware, trojans, spyware, and rootkits. Lastly, the problems detected under the stability category inform the user which programs and applications crash the most frequently.
Once the scan is complete the user is notified as to what is causing certain problems and then the user can proceed with allowing the program to repair them. The program will quarantine and remove the detected malware. The program will then repair the system files, DLLs, and registry keys that have been corrupted or damaged. This is done by replacing the corrupted file with a sanitary one from Restoro's vast database. Restoro's online database includes 25,000,000 components which are updated continually.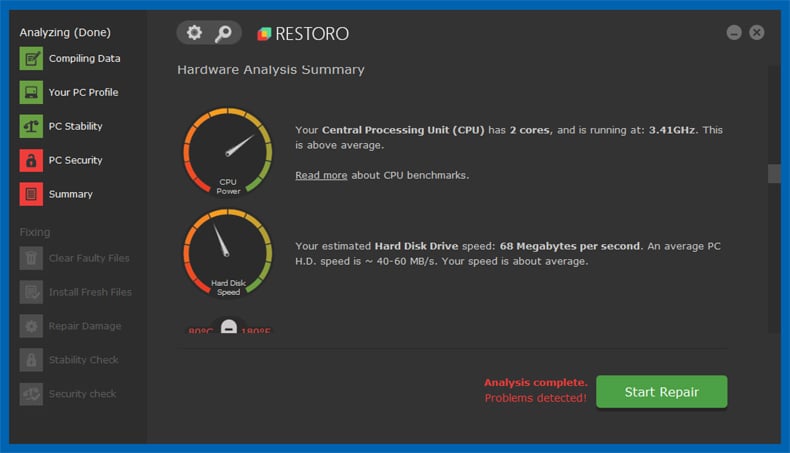 One of the major advantages to using Restoro is that the program can restore and replace DLL files that are either missing or damaged. A DLL, or Dynamic Link Library, are files essential to the running of programs. When progeams are installed or uninstalled certain DLLs will get overwritten by newer versions when a new program is installed. This will inevitably cause problems and errors for programs dependent on the older, now overwritten DLL.
One of the major issues Restoro also repairs, besides file damage as a result of malware infection, is the dreaded Blue Screen of Death (BSoD). This problem occurs when a fatal system error is caused. The blue screen error message is displayed by the Microsoft Windows family of operating systems upon encountering a critical error. These messages are generally displayed when the computer is affected by a non-recoverable fault which causes the system to crash. Restoro repairs and helps prevent fatal system errors occurring.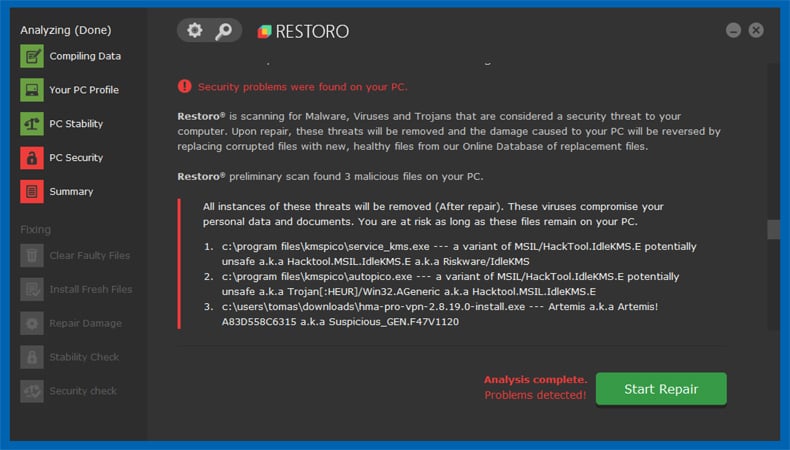 Another more common problem, less serious than a blue screen of death scenario, is the Windows Error. These are not fatal system errors but can be incredibly frustrating. These errors can result in the freezing and crashing of programs and is another problem where Restoro excels at repairing and preventing such errors from occurring.
Although Restoro is a great product within the system repair category, there are certain errors and issues it cannot fix. Most of these are as a result of 3rd party programs which do not share Windows OS files. These include Microsoft (MS) Office, Skype, Adobe Software, ICQ, Winamp, Mozilla Firefox, iTunes, Non-MS Games, Windows Genuine Advantage Validation. What may be experienced by the user in some instances is a repair of 3rd party programs which share Windows OS files once restarted after the repair process. It is also important to note that although Restoro can help repair the damage done by malware it is not an anti-virus and does not offer pre-emptive protection.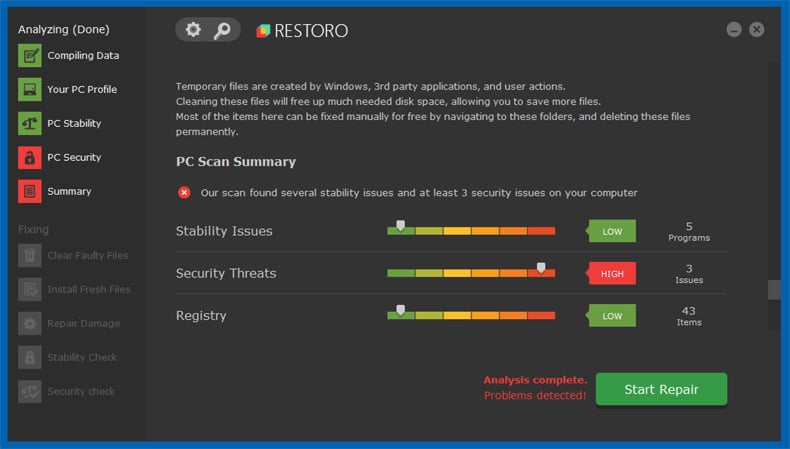 Restoro also cannot fix hardware issues but it can be used as a vital tool in diagnosing whether your hard drive, CPU, or RAM is using an error and needing to be replacd.
System Requirements:
Restoro will be able to scan all versions of Windows since XP. In order to run the program, it is recommended that the PC has at least 512MB of RAM and high-speed internet access to allow for ease of repair. The program, however, does not support MAC or Linux systems.
Summary
For the price of 50 EUR, the program can be an effective tool for repairing and improving your PC. When calling a technician can cost 70 EUR for a call out a repair solution like Restoro is even more appealing. Further Restoro's services ensure that repairs are done in private, giving the added advantage of never having to risk your personal data. Besides the vast online library, the company boasts it also offers 24/7 phone line support. When all the above is considered Restoro offers a great product at a competitive price. It will save users not only money but time as well.
While Restoro is a great product users should be aware of what the program is intended for. The product is not intended to be a replacement for an antivirus software package. It is regarded by the company as a complimentary solution to an antivirus. As mentioned previously the product can repair the damage left behind by the malware after it has been isolated or removed by an Antivirus. It is further recommended that users install a trusted antivirus package and keep it updated to further prevent malware infections.