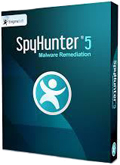 Works with: Windows XP (32-bit)(SP2), Windows Vista (32-bit and 64-bit), Windows 7 (32-bit and 64-bit), Windows 8 (32-bit and 64-bit), Windows 10 (32-bit and 64-bit)
Download
SpyHunter 5 Anti-Malware
Free Remover allows you, subject to a 48-hour waiting period, one remediation and removal for results found.
SpyHunter 5 is the latest complete anti-malware and anti-spyware solution offered by Enigma Software. When a new version of an offering is offered it is often prudent to ask whether the upgrade is indeed better than the previous offering. To that end, an overview and review of what is new are essential to answering the above question. Briefly, SpyHunter 5 boasts a lot of new features and an updated certificate by West Coast Labs' Checkmark Certification System. The new interface has been designed to accommodate all levels of PC user be they professionals or new users. Perhaps the stand out feature of SpyHunter 5, in general, is the ability to detect and remove rootkits and all of the malware that may be installed as a result of your PC being compromised.
Overview:
Simply put a rootkit is a program or, more often, a collection of software tools that gives the hacker remote access to and control over a computer which in turn enables the hacker to install all manner of malware variants. Added to this SpyHunter 5 is able to also detect and defend against trojans, worms, toolbars, fake anti-spyware and fake antivirus plus programs which includes those frustrating fake PC optimizer programs.
General Information and Compatibility:
SpyHunter 5 is specifically designed to offer anti-malware protection which is automated with as little need for the user to intervene as possible. This saves time and effort on the part of the user and they can rest assured that their PC is protected. To that effect once installed the program will immediately set up the protection shields for real-time long-term shielding from various malware types and variants including ransomware. Importantly SpyHunter 5 is competitively priced at 39.99 USD, when you look at the numerous features the price tag is most definitely worth it.
As to compatibility, the new offering by Enigma Software has been designed to work ideally on all Windows versions. That been said users will get the most out of the anti-malware solution if running Windows 10, Windows 8.1 and 8, Windows 7 and Windows XP and Vista. The offering runs on both 32 bit and 64-bit architecture with a focus on ensuring that the program is by no means resource heavy.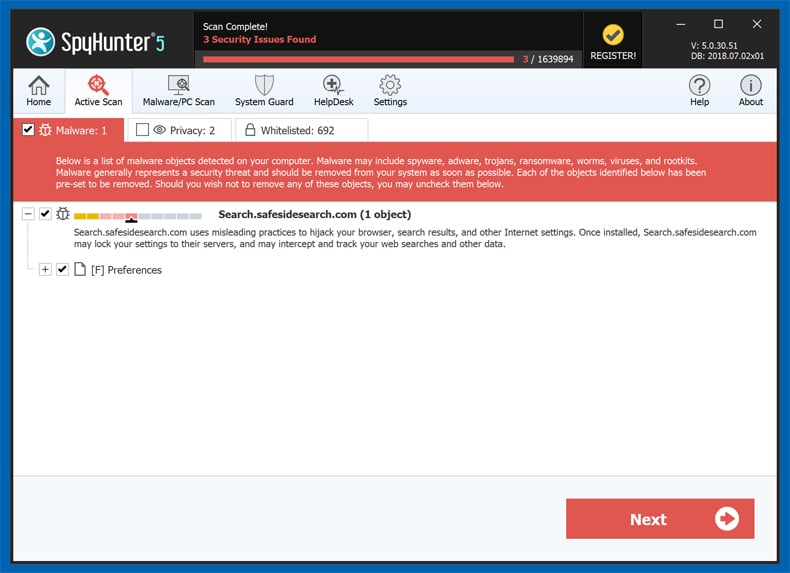 Features:
One of the major reasons to consider purchasing SpyHunter 5 is the platforms use of advanced technology to protect the user. This has become a staple of the product even in earlier versions; with the release of SpyHunter 5, the design is lighter enabling better use of that technology. This enables the program to evolve with threats and still be able to detect malware specifically designed to evade traditional anti-virus offerings. This optimization can be seen in the fact that the product is virtually invisible on the computers it is running on utilizing only 1.3 MB of RAM while the program is not scanning. This is combined with a created module enabling automatic customization this enables the offering to comply with the needs of the user.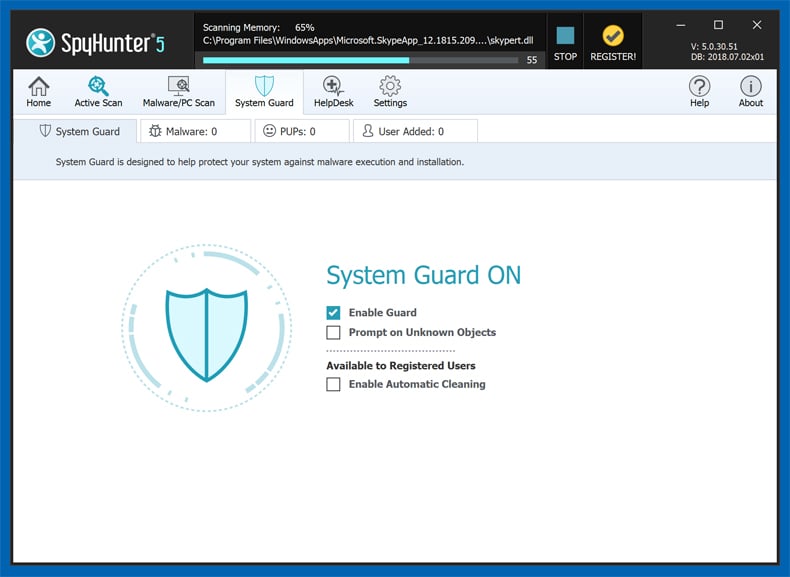 SpyHunter 5's rootkit detection was mentioned above but further analysis shows exactly why it is such a great feature. This ability to detect rootkits can be seen as an essential to modern cyber security but few other companies offer this level of protection. When a rootkit is detected the user is informed and asked to restart their PC. This is done in order to do a scan with the intention to fully remove all of the objects, related to the rootkit. Added to this the program the program also has a compact mini-OS which enables the program to be booted on devices that do not have Windows installed on them or with the case Windows itself is not able to boot with the purpose to remove the rootkit professionally and automatically.
What about particularly stubborn pieces of malware that the program can't deal with automatically. For that reason, Enigma Software offers the HelpDesk feature. This feature gives users the ability to contact technicians giving them the benefit to analyze the infected machine remotely and then fix the problem at hand. This is an impressive feature as often when dealing with malware infections there is no one solution fits all.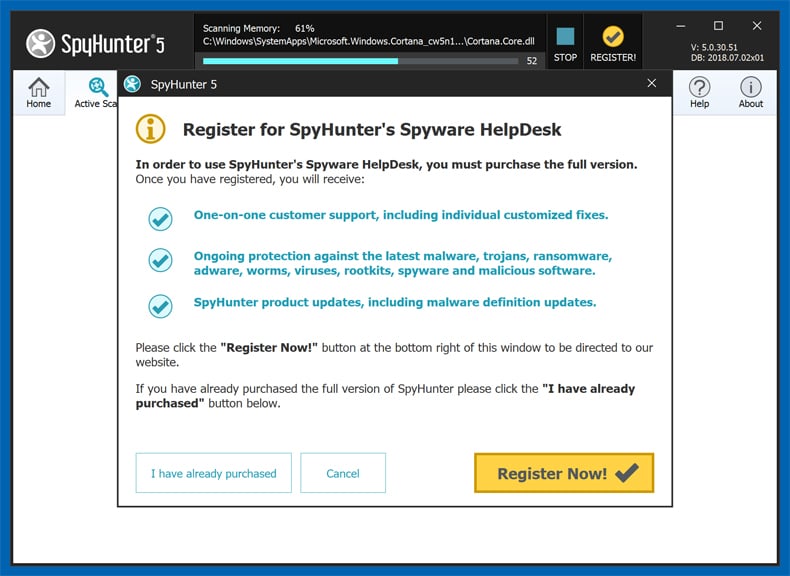 This added level of protection itself will be seen by many users to be worth the 39.99 USD price tag, which in itself is a good price tag for such a feature-rich offering. Added features in the latest version include greater an advanced DNS setting feature. This allows you to use official DNS providers so that you can further secure any information leaking on your network, which can further lead to malware infections. In line with the DNS settings feature the program also offers customizable network setting so the user can modify and secure the incoming and outgoing internet traffic.
Summary:
SpyHunter 5 can be seen as a definite improvement over the previous offering by the software company. While the offering is feature rich, boasting features which bigger competitors do not have in similarly priced products. What is a standout is the new lighter design that is incredibly light on resources. This means that the advanced technology offered by Enigma Software can be better used as well as a greater user experience. When that is combined with the HelpDesk users can feel confident that their PC is receiving the best possible protection.
How to uninstall SpyHunter?
If you decided to uninstall SpyHunter you should follow these steps:
Windows 10 users: Right click your mouse over the Windows logo ("Start") button. In the opened menu select "Settings". In the opened window select "Apps", In the right side menu search for SpyHunter application, select it and click "Uninstall".
Windows XP, Windows 7 and Windows 8 users: Click on the "Start" button, in the opened menu select "Control Panel". In the opened window click on "Programs and Features". In the "Programs and Features" window select SpyHunter and click "Uninstall".