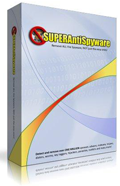 Works with: Windows 2000, Windows XP, Windows Media Center, Windows Vista, Windows 7 and Windows 8
Visit the official website of SUPERAntiSpyware Professional
SUPERAntiSpyware is a lightweight and easy-to-use anti-spyware program with over 35 million downloads worldwide. SUPERAntiSpyware was founded in 2004 by Nick Skrepetos, who started working on computer software in 1983 and went on to formulate several successful companies including SuperAdBlocker.com and Panicware, Inc. SUPERAntiSpyware was acquired by Support.com in 2011 and offers two versions: Free and Professional. The professional version costs $29.95 per year with some additional features not included in the free version. The professional version of this anti-spyware program is capable of repairing broken Internet connections, scanning startup programs, protecting registry entries, performing scheduled scans, and automatically downloading daily definition updates. The free version provides basic functionality such as on demand malware scans and scan customization.
Overview:
The User Interface of SUPERAntiSpyware is somewhat dated, however, it is minimalistic and straightforward to use. The main window contains several buttons such as Scan, Settings, Help and Information, and Check for Updates. Users can also select to receive malware database updates prior to scanning their computers, or enable 'Rescue Scan' (a scanning option optimized for a highly-infected system). All advanced features and options are accessed by clicking a 'System Tools and Program Settings' button.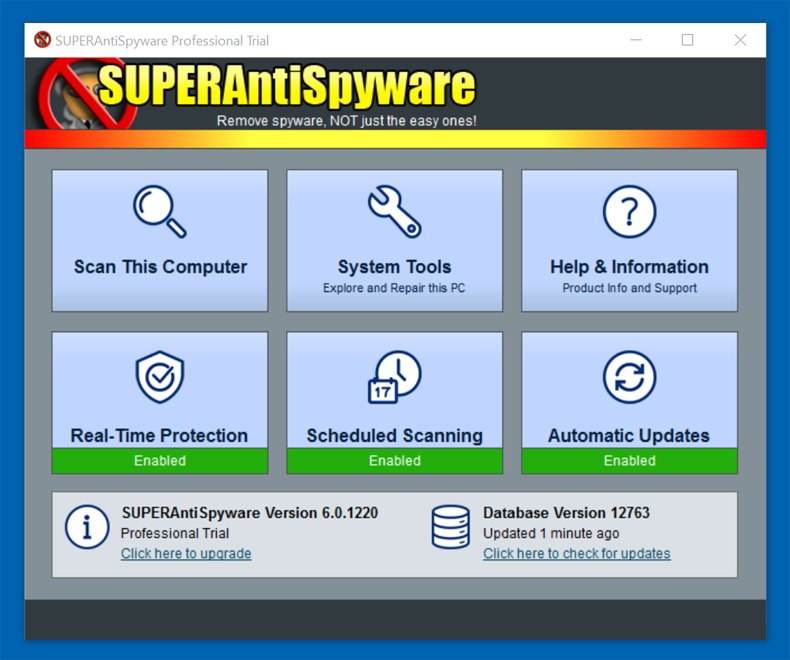 Performance:
The installation process of SuperAntiSpyware is quick and simple. Users choose from different installation options: 'express' or 'custom'. Custom installation enables selection of the software installation patch plus several other options, whilst 'express' setup installs the anti-spyware program with default settings. Immediately following installation, SuperAntiSpyware updates its malware definition database and is ready to use. The quick scan performed by our test system took less than 2 minutes (250 GB of data) and is one of the best scan times in the industry.
Scanning:
SUPERAntiSpyware provides four types of scanning: Complete Scan, Quick Scan, Critical Point Scan, and Custom Scan. You can also enable the 'Rescue Scan' feature for highly-infected systems. This is useful when you are unable to run a scan due to the malware consuming excessive resources on your PC. Complete Scan: scans all files on the user's computer, including the system files. Critical Point Scan: scans only the most common hiding places of malware. Quick Scan: takes more time than the Critical Point Scan, however, it checks more files and registry entries, and thus, this extra time may pay off with superior malware detection rates. Custom Scan: provides an opportunity to check specific files or folders without wasting time scanning the entire hard drive.
Features:
Real-time blocking prevents the installation of possible threats (spyware, fake antivirus, keyloggers, etc).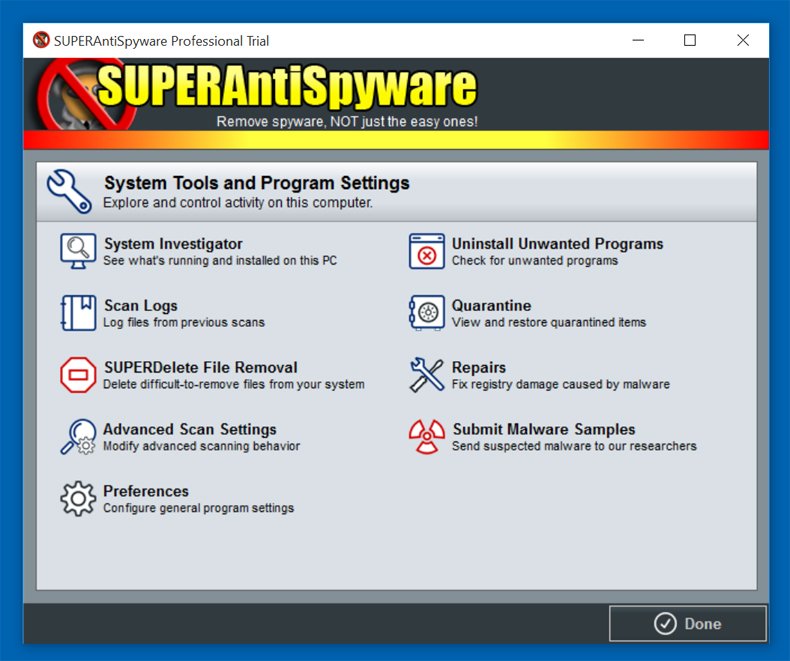 Registry repairs - allows repair of various registry entries that may have been modified by malware. For example, repair broken network connections, re-enable Windows Task Manager, etc.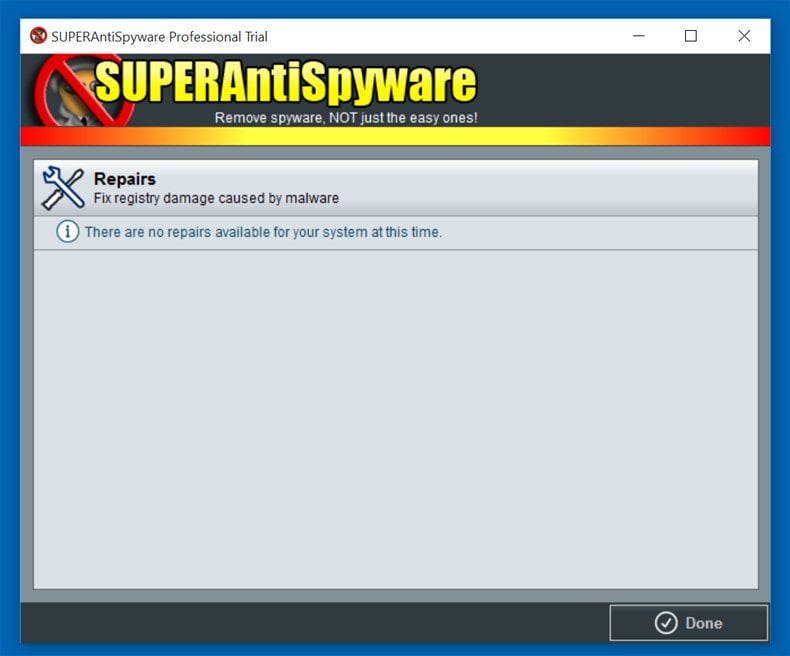 Uninstall unwanted programs - provides a list and enables easy removal of potentially unwanted applications present on users' computers.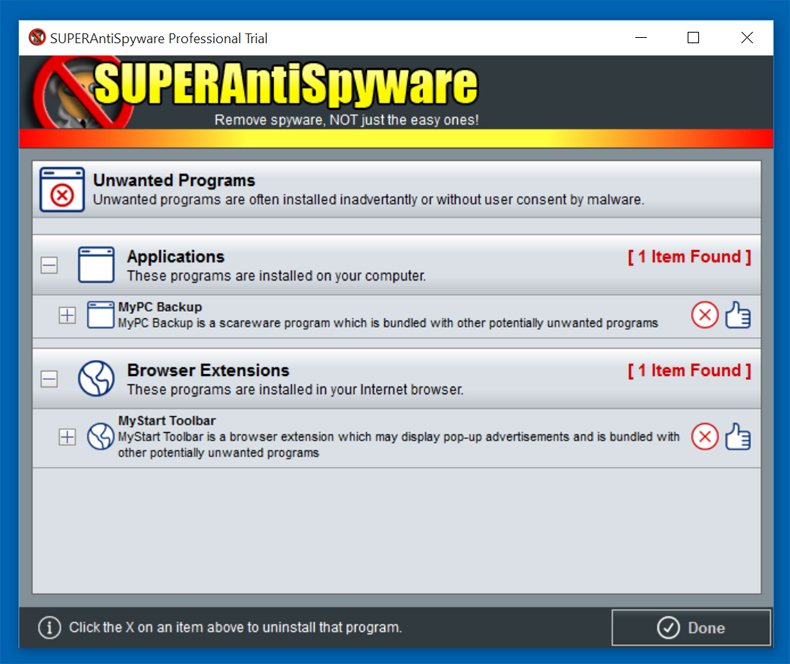 SUPERDelete File Removal - 'Aggressively' removes any selected file. Useful to remove files that have been compromised by malware.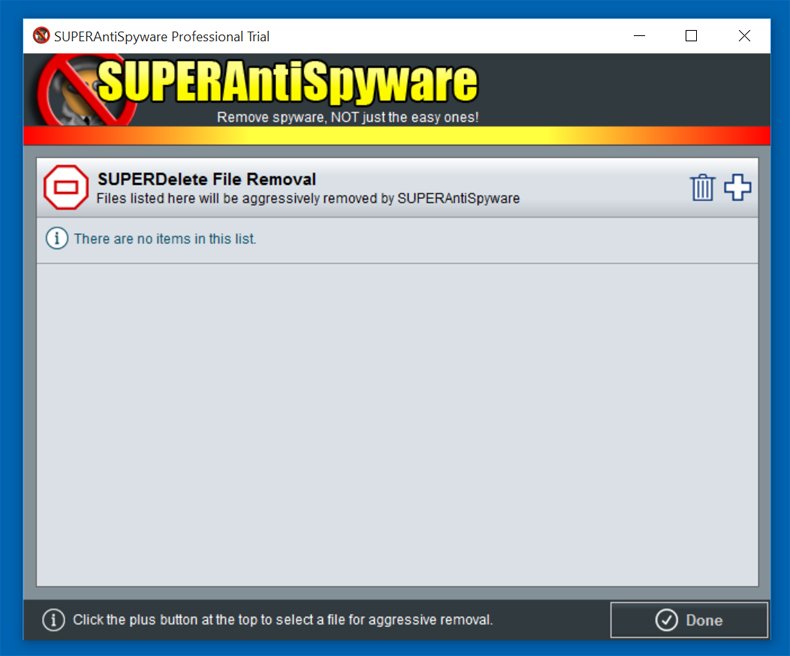 Conclusion:
SUPERAntiSpyware is one of the most lightweight anti-spyware programs in the industry. The Professional version of this program is packed with useful features that are significantly helpful when dealing with browser hijackers, adware, and various malicious programs. It looks like the developers of SUPERAntiSpyware are serious about combating malware! This program is a good choice as an optimal tool for complementing primary antivirus software.