Welcome to my Computer technician blog! Here we will discuss about various computer, viruses, spyware, adware and spam related problems. Find software reviews and tests. See how viruses, malware and other malicious programs work. See how to get rid of them and not get infected. You will find several categories on this blog. Hope you will enjoy my writings!


Categories:
General - General posts, notices and other information.
Spyware - Posts, related to spyware, malware and other infections.
Viruses - In this section I will post news and articles, related to viruses.
Software reviews - Reviews of various computer security software.
You can subscribe to my

RSS Feed
Wednesday, 27 March 2013 10:36
"This extension is managed and cannot be removed of disabled" (Google Chrome) - how to remove?
This article will explain how one can remove a "managed" Google Chrome extension. Notice that recently we are seeing a rise in adware infections, in many cases such PUP (potentially unwanted programs) installs on users Internet browsers disguised as legitimate browser extensions. Most commonly adware comes bundled with free software downloaded from the Internet and it's installation is a consequence of not paying close attention to the installation steps. To avoid unwilling adware or PUP installation Internet users should always install freeware choosing "Custom Installation" option instead of "Typical Installation", be sure to opt-out any changes to be made to your Internet browser settings, also disallow installation of any additional software. In this removal guide I will show how to remove SelectionLinks managed Google Chrome extension - I chose this extension just as an example, this removal guide is universal and will help you remove any managed Chrome extension.
Tuesday, 29 January 2013 16:26
Internet access is blocked due to malware infection, how to eliminate it?
This tutorial will show you how to regain control of your Internet access if it's blocked by malware. Some variants of malware alters Internet browsers settings by adding a Proxy Server, in such case you won't be able to visit any websites and thus you won't be able to download required software to eliminate security infections. Other types of malware changes computer's DNS settings or adds various entries to your operating system's HOSTS file. By changing these settings computer viruses can cause redirect issues or completely block Internet connection. If you can't access Internet and you suspect that this may be caused by some virus infection check these settings and make sure that everything is in place.
Monday, 28 January 2013 16:18
How to perform system restore using command prompt? (ransomware or virus is blocking safe mode)
System Restore is a function which help restore one's operating system files to an earlier point in time. System restore can be useful when some malicious software has invaded one's computer and has damaged system files. Moreover this function can be very useful when dealing with ransomware infections which blocks computer's screen. This tutorial can be useful for computer users who would like to perform a system restore using command prompt. In some cases, especially when dealing with ransomware infections doing a system restore can become a very complicated task - modern fake antivirus programs and ransomware infections are capable of blocking operating system's safe mode and safe mode with networking, this leaves the only solution - performing System Restore using command prompt.
Monday, 28 January 2013 15:52
How to create a new user account using command prompt?
This tutorial will show you how one can create a new user account in Windows operating system using command prompt. This guide can be helpful when dealing with ransomware or fake antivirus programs which blocks Safe Mode and Safe Mode with Networking. Cyber criminals who are responsible for developing malicious programs are implementing new methods to protect their bogus software from elimination - this includes blocking user's access to safe mode.
Wednesday, 25 July 2012 11:39
How to burn and use a rescue CD? A method to remove ransomware from your PC.

Recent outrage of ransomware (screen lockers) has impelled me to write this guide explaining how can a computer user boot from a rescue disk. While rescue disks is not a common method used to help remove spyware and viruses, recent rise in screen locker infections has made this an attractive way to unlock your PC without taking it to a computer repair shop. Most commonly rescue disks is used to remove viruses from computers when it's impossible to use safe mode. In this guide I will use ImgBurn software to burn the .iso file to the CD.
Friday, 02 March 2012 15:31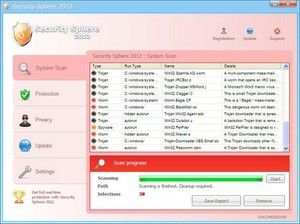 Today by testing new malware and fake antivirus samples a great idea came to my mind. Remember that trick when you hit CTRL+A and ENTER on your friends computer? When all the programs, files, shortcuts and everything else that are on a desktop are executed at the same time and probably the only way to get back to normal work is restarting your computer.
The Idea - What if we do the same with lots of various fake antiviruses?
This was totally blowing my mind all day and at last I decided to take the challenge and do the test. I prepared my old Intel P4 computer with 512M of ram, restored it to fresh install and checked if everything works perfectly.
Meet the participants - Fake antiviruses
After spending some time when searching for various fake antivirus samples I selected 14 participants. All of them are fake antiviruses that tries to scare user into buying full versions by displaying fake warnings and errors. Some of them are old versions, some are recent.  Before starting a test I scanned all samples with AVG Antivirus free edition and one of them is even not detected by this antivirus with very recent updates.
Stay in touch with PCrisk