Spyware, malware and other infections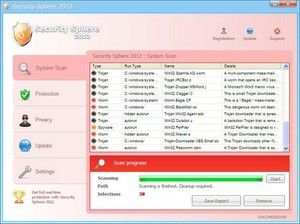 Today by testing new malware and fake antivirus samples a great idea came to my mind. Remember that trick when you hit CTRL+A and ENTER on your friends computer? When all the programs, files, shortcuts and everything else that are on a desktop are executed at the same time and probably the only way to get back to normal work is restarting your computer.
The Idea - What if we do the same with lots of various fake antiviruses?
This was totally blowing my mind all day and at last I decided to take the challenge and do the test. I prepared my old Intel P4 computer with 512M of ram, restored it to fresh install and checked if everything works perfectly.
Meet the participants - Fake antiviruses
After spending some time when searching for various fake antivirus samples I selected 14 participants. All of them are fake antiviruses that tries to scare user into buying full versions by displaying fake warnings and errors. Some of them are old versions, some are recent.  Before starting a test I scanned all samples with AVG Antivirus free edition and one of them is even not detected by this antivirus with very recent updates.
When you surf the Internet, be very careful. I'll keep saying that again and again. Now there is very popular online "scanners", that scans your computer for viruses and spyware infections. Of course all these scans are fake and tries to scare user. Don't believe these online scans, especially if you haven't requested one.
Wait a minute! This is important - we check your devices - this is one of the most popular fake online spyware and virus scanners.
When you open the web page of this scanner, firstly a javascript message pops-up. It says that your computer contains a various infections and the system requires immediate checking.
When you press OK, this web page imitates "My Computer" folder with local hard disks, documents folders etc. These hard drives and documents folders are the same to all visitors. They do not represent real your computer configuration. However it may look very real and scary to less-experienced users.