Top Antivirus 2015
Antivirus software is the most important software on your computer - without it your system can be easily infected with various malware and viruses. Such infections have the potential of causing a considerable amount of damage to your PC. The threat of computer viruses is constantly growing, so it is very important to choose a right security program to protect your computer. This list consists of well known, top antivirus software. Click "read more" to find more information about your selected antivirus software.
IMPORTANT: Be sure you have only one anti-virus software installed on your computer, having two different programs may cause problems.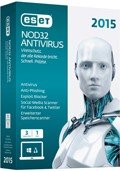 Works with: Windows XP (32-bit) (SP2), Windows Vista (32-bit and 64-bit), Windows 7 (32-bit and 64-bit), Windows 8 (32-bit and 64-bit), Windows 8.1 (32-bit and 64-bit)
In business for 22 years, ESET has been a well-known Internet security company for most of that time and continues to create exceptional antivirus products to this day. In fact, ESET is often the preferred choice for IT service management organizations deploying antivirus software to multiple PCs because it is simple, effective and affordable.
While there has never been a question about the effectiveness of ESET NOD32 as an antivirus tool, previous versions of the software have left much to be desired in terms of ease-of-use and the overall user experience. A plain, difficult to navigate UI has plagued ESET for years, but the company was determined to change that for 2015 by completely revamping the interface. The new face of ESET is more user friendly while retaining the award-winning protection the company has been providing customers for years.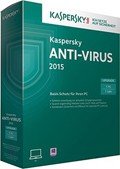 Works with: Windows XP (32-bit) (SP2), Windows Vista (32-bit and 64-bit), Windows 7 (32-bit and 64-bit), Windows 8 (32-bit and 64-bit), Windows 8.1 (32-bit and 64-bit)
As one of the four largest Internet security vendors in the world, Kaspersky Labs knows what it takes to produce a high-quality security product for businesses and consumers alike. Historically ranking in the top of its class, Kaspersky Antivirus products are an excellent choice for every PC user and Kaspersky Antivirus 2015 is no exception.
Boasting real time protection against an assortment of malware threats while maintaining fast and efficient PC performance, the latest offering for Kaspersky is one of the best products the Russian-based company has produced in the last few years and it remains one of the most affordable antivirus options on the market.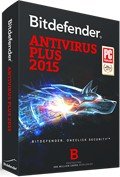 Works with: Windows XP (32-bit) (SP2), Windows Vista (32-bit and 64-bit), Windows 7 (32-bit and 64-bit), Windows 8 (32-bit and 64-bit), Windows 8.1 (32-bit and 64-bit)
Bitdefender Antivirus Plus is always a contender for top antivirus product due to a solid detection engine, clean interface and low system footprint. Since these are some of the most important components of any antivirus solution, it should come as no surprise that Bitdefender has once again released a high-quality product that offers more additional features than many of the other products in this middle-of-the-road category.
One of the most interesting things about this year's release is that the improved user interface is exactly the same as the one available in Bitdefender's premium security suite (although some features are grayed out and disabled). And, unlike many other antivirus products, Bitdefender defaults to an Autopilot mode which takes care of most security issues in the background without the need for user input. This makes Bitdefender one of the easiest solutions to use and the additional features offered by the 'Plus' are equivalent to the full security suites offered by some of the competition.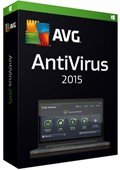 Works with: Windows XP (32-bit) (SP2), Windows Vista (32-bit and 64-bit), Windows 7 (32-bit and 64-bit), Windows 8 (32-bit and 64-bit), Windows 8.1 (32-bit and 64-bit)
Trusted by over 172 million users worldwide, AVG is perhaps most well-known for its free antivirus offering as it is considered one of the most functional and reliable free solutions currently available. For a nominal annual fee, however, users receive additional features not available in the free 2015 release. Referred to as AVG Antivirus Pro 2015, this product offers many features not typically found in comparably priced competitive solutions.
One of the most significant changes to AVG Antivirus for 2015 is the migration away from a user interface designed with a look and feel similar to the Windows 8 Metro UI. While the revamped interface will still be familiar to users of previous iterations of the product, new customers not quite sold on Metro UI won't be disappointed with the newly designed interface AVG offers. Unfortunately, some of the same issues that plagued last year's release are still present including a rather lengthy installation process requiring almost constant user input and difficulty installing AVG on a system already plagued with malware infection.
Why do I need Anti-virus protection?
Having an antivirus program installed on your PC these days is very important - the threat of computer viruses and malware infections is constantly growing. Various computer viruses have a potential of causing significant damage to your computer. Such infections can delete user's data, steal your personal information, lock your computer, and ask to pay a ransom to unblock it and perform other rogue tasks. Infected computers becomes unstable, Cyber criminals can access your personal data and perform other malicious tasks. Choosing the best antivirus program can be a complicated task. We at pcrisk.com are dealing with spyware, malware, and virus infections daily, so we know which security suites works well and which fail to detect and remove various security issues. When adding software to our top antivirus lists, we check every aspect of the antivirus we are recommending. We perform various tests, look at independent testing companies recommendations etc.
Nowadays an antivirus program became a must, if you care about your computer's security and your own privacy you should always use one.