Top Antivirus 2020
Antivirus software is the most important software on your computer - without it your system can be easily infected with various malware and viruses. Such infections have the potential of causing a considerable amount of damage to your PC. The threat of computer viruses is constantly growing, so it is very important to choose a right security program to protect your computer. This list consists of well known, top antivirus software. Click "read more" to find more information about your selected antivirus software.
IMPORTANT: Be sure you have only one anti-virus software installed on your computer, having two different programs may cause problems.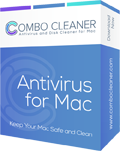 Works with: Mac OSX 10.10 (Yosemite), Mac OSX 10.11 (El Capitan), macOS 10.12 (Sierra), macOS 10.13 (High Sierra), macOS 10.14 (Mojave), and macOS 10.15 (Catalina)
To use full-featured product, you have to purchase a license. Limited three days free trial available.

Special limited time offer for PCrisk.com users!
To use this coupon, go to Combo Cleaner checkout page. Coupon will be applied automatically. Or you can manually enter coupon code: PCRISK10 for a 10% discount. 
Combo Cleaner is an antivirus and system optimizer created by a company called RCS LT. This application runs on Mac computers and works with all recent Mac operating systems, including Yosemite, El Capitan, and Sierra. This application takes a different approach as compared to traditional antivirus suites. As well as an antivirus function, Combo Cleaner includes a disk cleaner, big files finder, duplicate files finder, privacy scanner, and application uninstaller. This app can be used to clean computers of security threats and free up significant disk space cluttered by redundant files. Although Mac computers are thought to be more secure than Windows systems, a reliable antivirus solution is paramount.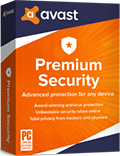 Works with: Windows 7/8/8.1/10 (32-bit and 64-bit)
Many other antivirus vendors offer an incredibly wide range of products, with features increasing as the does the price. Avast has taken a far different direction and streamlined the paid options to two and if you include the free antivirus, the company only offers three products. The product which is the anchor and which will draw consumer attention is Avast Premium Security. The question is raised then does Premium Security measure up to competitors like Kaspersky, Bitdefender, and Norton? From the get-go, Premium Security is already costlier than some of its competitors and is resource heavy when compared with other top tier products. Those to black marks normally spell the end for a product looking to score 4 or more stars in traditional rating reviews. Premium Security to its credit does do a lot right despite the black marks and will for the needs of consumers.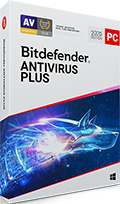 Works with: Windows 7/8/8.1/10 (32-bit and 64-bit)
Often when reviewers and journalists review Bitdefender and their latest antivirus offerings terms like "value for money" and "bang for your buck" are bandied about. Given the product offered by Bitdefender, these statements are entirely true. Bitdefender consistently offers a great antivirus solution for less than their competitors. Does Antivirus Plus 2020 continue this trend?
The short answer is yes. However, the company has looked to add extra features and make existing features run more efficiently. In numerous tests, Bitdefender was often the fastest to perform scans while draining little in the way of system resources. This is always seen as a win in reviewer's books but performance aside, Antivirus Plus 2020 offers features every great product has offered in the past and then some. For instance, the Windows build of Total Security grants users access to an antivirus, a firewall, spam filter, malicious website blocking, online banking protection, parental controls, a limited VPN, a password manager, file encryption, secure file deletion, PC clean-up and optimization which are just some of the overall features.

Works with: Windows 7/8/8.1/10 (32-bit and 64-bit), Windows Home Server (64-bit)
ESET was founded in 1987 in Slovakia and since the company's founding, it has grown to be a company to help secure PCs across the globe. The company now offers antivirus solutions for Windows, Mac, and Android as well as offering tailored business solutions. For the average home user, a tailored business solution might as well be a lesson in Ancient Greek, for that reason, it will be ESET's NOD32 Antivirus 2020 that will be the main product reviewed.
ESET's offering is a yearly contender for the best product within certain categories and generally always features in the top 10 of whichever publication it is reviewed for. It's this consistency that has helped developed ESET's reputation to produce effective and reliable products year on year while also boasting a wealth of experience from decades of successful business operations. Another reason for the reputation is the lack of discernible system impact even on older machines, this has come to be a hallmark of top tier antivirus packages.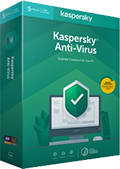 Works with: Windows 7/8/8.1/10 (32-bit and 64-bit)
Year on year Kaspersky produces antivirus software packages that rank near the best, if not the best for that year. This year is no different. The product line-up for 2020 is again a great choice for consumers on any budget. Perhaps what is more impressive is the company despite allegations of being linked to the Russian government and having to move operations to Switzerland, the products released by the company have remained impressively consistent.
Kaspersky Anti-Virus 2020 for Windows offers complete protection with a wide variety of features, depending on which package you go for. One negative is the lack of features included with the lower-tier packages. In this regard, Bitdefender has Kaspersky beat as consumers will find better value in the lower tiers of Bitdefender's product range. Overall though it is hard to argue with someone if they choose Kaspersky Anti-Virus to protect their machine. Kaspersky is also now leading the pack as it has adopted two-factor authentication for online accounts, showing that best security practices can be implemented into software for a more secure online presence.
Why do I need Anti-virus protection?
Having an antivirus program installed on your PC these days is very important - the threat of computer viruses and malware infections is constantly growing. Various computer viruses have a potential of causing significant damage to your computer. Such infections can delete user's data, steal your personal information, lock your computer, and ask to pay a ransom to unblock it and perform other rogue tasks. Infected computers becomes unstable, Cyber criminals can access your personal data and perform other malicious tasks. Choosing the best antivirus program can be a complicated task. We at pcrisk.com are dealing with spyware, malware, and virus infections daily, so we know which security suites works well and which fail to detect and remove various security issues. When adding software to our top antivirus lists, we check every aspect of the antivirus we are recommending. We perform various tests, look at independent testing companies recommendations etc.
Nowadays an antivirus program became a must, if you care about your computer's security and your own privacy you should always use one.