Top Antivirus 2018
Antivirus software is the most important software on your computer - without it your system can be easily infected with various malware and viruses. Such infections have the potential of causing a considerable amount of damage to your PC. The threat of computer viruses is constantly growing, so it is very important to choose a right security program to protect your computer. This list consists of well known, top antivirus software. Click "read more" to find more information about your selected antivirus software.
IMPORTANT: Be sure you have only one anti-virus software installed on your computer, having two different programs may cause problems.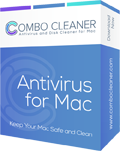 Works with: Mac OSX 10.10 (Yosemite), Mac OSX 10.11 (El Capitan) and macOS Sierra (10.12)
Combo Cleaner is a tool to detect malware on your computer. You need to purchase full version to get full functionality.

Combo Cleaner is an antivirus and system optimizer created by a company called RCS LT. This application runs on Mac computers and works with all recent Mac operating systems, including Yosemite, El Capitan, and Sierra. This application takes a different approach as compared to traditional antivirus suites. As well as an antivirus function, Combo Cleaner includes a disk cleaner, big files finder, duplicate files finder, privacy scanner, and application uninstaller. This app can be used to clean computers of security threats and free up significant disk space cluttered by redundant files. Although Mac computers are thought to be more secure than Windows systems, a reliable antivirus solution is paramount.
Today, security researchers see a rise in adware targeted at Mac computers. While adware and potentially unwanted applications are not recognized as 'high risk' security threats, they can lead to annoying pop-ups, privacy issues, identity theft, and dangerous malware infections. Having a reliable antivirus solution prevents these issues. Furthermore, Combo Cleaner employs an antivirus scan engine equipped with Mac and PC virus definition databases. This prevents Mac users from inadvertently forwarding infected email attachments to friends and colleagues who use the Windows operating system.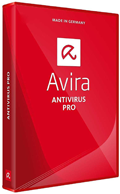 Works with: Windows XP (32-bit) (SP2), Windows Vista (32-bit and 64-bit), Windows 7 (32-bit and 64-bit), Windows 8 (32-bit and 64-bit), Windows 8.1 (32-bit and 64-bit), Windows 10 (32-bit and 64bit)
The latest offering from the German company is as solid and dependable as previous offerings in terms of its malware engine. It scores well independent tests, as will be seen, but potential users are going to struggle to justify spending the money for the Pro version rather than the free version which has taken the art of teasing users to a new level. In essence, Avira potentially has the same problems as its European neighbor Avast, in that the free version does all you want from a basic antivirus program and does those well. It is doubtful if the user who paid for the Pro version will feel as if it is money well spent. With prices ranging from $38 for one license for a year to $151 to come five computers for the same amount of time, Avira Pro is on par with other offerings including Kaspersky, Bitdefender, and Norton who are often rated by independent labs and media houses as better.
Installation of both the free and the pro version is simple and hassle-free. Once installed though, the user is bombarded with a predominantly white interface packed with features. This can be intimidating to first-time users of the program or users just wanting to scan their computer. Other companies have spent a lot of time and effort to simplify the interface as much as possible, it feels like Avira has gone the other direction by adding more.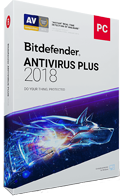 Works with: Windows XP (32-bit) (SP2), Windows Vista (32-bit and 64-bit), Windows 7 (32-bit and 64-bit), Windows 8 (32-bit and 64-bit), Windows 8.1 (32-bit and 64-bit), Windows 10 (32-bit and 64bit)
Bitdefender Antivirus Plus consistently ranks in various publications as editor's choice. The 2018 offering by the company is no different. There are a number of reasons for this and all those reasons can be seen as subjective. One fact to argue with is Bitdefender's consistent exceptional results in third-party lab tests. The offering generally is one of, if not the best all-round performer in those tests. Another reason many editors will choose Bitdefender as a top performer, or at the very least highly recommend the offering is the sheer amount of features available in the basic package, features often included only in other companies top of the line products. More on the features and independent lab results to follow.
Pricing has not changed since the previous version at $39.99 for a single license or $59.99 for three licenses for a year. This prices the product in and around similar top-rated offerings such as Kaspersky, Norton, and Webroot. McAfee is priced at $59.99 but that lets you install antivirus protection on all the Windows, macOS, Android, and iOS devices in your household.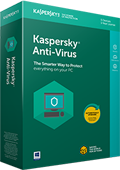 Works with: Windows XP (32-bit) (SP2), Windows Vista (32-bit and 64-bit), Windows 7 (32-bit and 64-bit), Windows 8 (32-bit and 64-bit), Windows 8.1 (32-bit and 64-bit), Windows 10 (32-bit and 64bit)
Since the company was founded in 1997 by Eugene Kaspersky the company has developed a reputation for providing excellent products. Along with other antivirus offerings such as Bitdefender, McAfee, and TrendMicro, Kaspersky's product offerings are continually recommended by industry professionals and are often considered to be top editor's choices within media houses. Kaspersky's 2018 offering continues this trend.
As to the all-important aspect of cost, Kaspersky appears to be more expensive than other offerings with the product clocking in at $59.99. Particularly when you consider most other offerings come in at under $40, it might lose some appeal. However, where many of those offerings only come with a single license, Kaspersky seems to understand that people have multiple devices they wish to protect. Thus Kaspersky offers 3 licenses for $59.99 with the option of purchasing 3 more for an additional $20.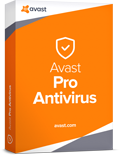 Works with: Windows XP (32-bit) (SP2), Windows Vista (32-bit and 64-bit), Windows 7 (32-bit and 64-bit), Windows 8 (32-bit and 64-bit), Windows 8.1 (32-bit and 64-bit), Windows 10 (32-bit and 64bit)
Avast is often better known for their free antivirus offering but the Prague based company can boast 400 million users and claims to have 40% of the security software market outside of China. In 2016, it acquired AVG, and Avast products now combine the best of both technologies. The software is powerful and full of features including real-time virus protection, URL filtering, a password manager, browser clean-up module, wireless network checker, and a secure browser for your online banking and shopping.
While Avast Antivirus is a solid product there are some negatives that prevent the offering from been considered on par with Bitdefender of Kaspersky for example. One of these problems is the price point of the product. At $39.99 for one license for the period of a year, it is priced in the same bracket as Bitdefender, Norton, Kaspersky, and Webroot. This in itself is not the real issue, the issue lies in why someone would purchase Pro when the free version has almost all the same features bar two.