Force 47 to Crack Down on Vietnamese Activists
Vietnamese activists and bloggers received a lump of coal this Christmas. The Army of the South East Asian country announced its latest plans to try and stop online dissent. A new cyber unit was announced to be created featuring 10,000 staff geared towards trawling the internet and social media in an effort to curd what one general has called "wrongful views". The new unit has been called "Force 47" by their creators.
Vietnamese leaders have long distrusted the internet and seen it as a tool which if left uncontrolled can be used by dissenters to ultimately erode the government's power base. In the summer of 2017, the countries President warned that rumors and innuendo could weaken the foundations of the state. While the exact objectives of Force 47 are not clear, some observers have concluded that the cyber soldiers will escalate smear campaigns against activists online.
While the government looks to crack down on the internet and those willing to speak out against the government, many small businesses have come to rely on social media. Such business owners have come to rely on Facebook and other platforms to reach new customers. This has led to many warning that restricting access to the internet could damage one of Asia's fastest-growing economies, which the government says grew 6.8% this year, the fastest pace in a decade.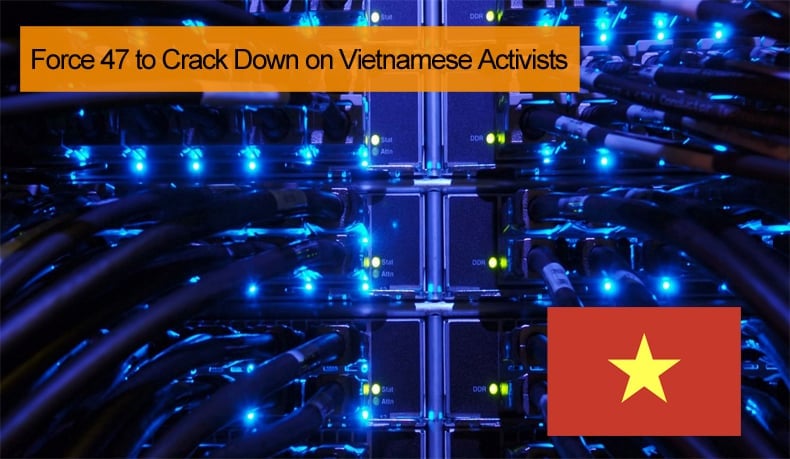 The deployment of Force 47 can be seen as adding another layer to the government's continual attempts to rein in the internet. In recent months, the country has increased the penalties for anyone using Facebook as a platform to attack the government. In November 2017, a young blogger was given a seven-year prison sentence for "spreading propaganda against the state," while a well-known environmentalist, Nguyen Ngoc Nhu Quynh, was handed a 10-year sentence on the same charges in June of that year. According to Amnesty International Vietnam is holding at least 80 political prisoners.
Dissidents and rights activists fear that this measure will lead to more measures designed to silence them and place stricter controls on the internet. Nguyen Anh Tuyen, a translator, and well-known blogger described how the government is growing anxious over the spread of what he calls micro protests, organized through social media. The nature of the criticisms leveled at the Vietnamese government range from campaigns to stop Hanoi's city government cutting down trees to demonstrations against China's expansion into waters also claimed by Vietnam. It is feared by the government that these small and diversified protests will merge into one united protest against the government weakening their grasp on power.
Businesses also in the Governments Crosshairs
Businesses in Vietnam have been instructed by government officials to boycott Facebook and Google's YouTube as part of government efforts to encourage the companies to respond more quickly to its requests to remove critical content. Currently, the communist state has a draft law before it requiring firms such as Facebook and YouTube to set up representative offices and provide expensive new server systems in-country would make it easier for the state to pressure social-media platforms. Vietnam's Chamber of Commerce and Industry and the Asia Internet Coalition, which includes Facebook and Google as members, have criticized the draft law. They concluded that the draft law will have a negative impact on local businesses which have profited from the boom in social media here in recent years and contributed to the countries impressive economic growth rate of just under 7%.
While the methods employed by the Vietnamese government may appear to be crude they reflect moves under way elsewhere to tether the free-information ethos that characterized the early days of the web. Thailand has threatened to block Facebook if it doesn't remove sensitive images of its new king, while China famously operates an extensive firewall. Facebook has been blocked in China since 2009, being replaced by homegrown social-media networks that authorities can more easily control. Daphne Keller, based at the Center for Internet and Society, believes that:
"Governments are becoming much more aware that they have the leverage to control the content that they don't like on the internet, and they are pushing their authority. The era when people thought the internet was ungovernable is past, or is rapidly passing."
Approximately 63% of Vietnam's 96 million citizens have access to the internet. To that effect what the communist state's government sees as a threat to its power, the government has increased its cyber espionage capabilities drastically in a region with weak defenses. Cyber firm FireEye has noticed that the proliferation of cyber espionage capabilities was becoming "more common than not" and would have implications for governments, journalists, activists, and even multinational companies. The California based company in 2017 identified a "significant intrusion campaign" into several companies with business interests in Vietnam, which it said was "aligned with Vietnamese government interests". Targets of the campaign included Vietnamese immigrants living Australia and government employees in the Philippines. The Vietnamese government has denied the allegations and stated that it did not allow cyber attacks against organizations or individuals.
Activists are sorely in need of allies in helping keep what little internet and privacy rights they have. They are imploring big tech companies to stand firm against what say are attempts to limit free speech and contain critics. This position was dealt a significant blow when YouTube took down nearly 4,500 videos, Facebook has suspended more than 150 accounts in 2017 after the Vietnamese government requested for them to be removed. Another example of the region's crackdown on the internet occurred when Thailand's military government requested that YouTube remove a clip from the Charlie Chaplin film "The Great Dictator," which featured a strongly pro-democracy and antimilitary tone. The decision was later reversed when YouTube determined that the clip broke no laws.
The idea of a "free" internet was hailed by experts, academics, and human rights activists. That ideal has taken numerous knocks over the years. 2017 may go down as a body blow that eventually led to the idea been knocked out.