The Facebook-Cambridge Analytica Scandal: The Plot Thickens
Since news broke surrounding the whole scandal involving Cambridge Analytica and their misuse of data provided by Facebook the story has evolved somewhat. The excellent work of investigative journalists who published the initial shocking report on the matter has now come to head with many vocal voices demanding the truth and eventually, justice for the betrayal of what they hoped was private. It is also felt that such abuse of the democratic principles held dear by many western governments needs to be bolstered to prevent such abuse in future. The article which follows details events in line with the public demanding answers to such questions as well as further details on how Facebook manages your data.
UK Regulators Raid Cambridge Analytica Offices
It was reported by the Guardian on March 24 that investigators from Britain's data watchdog had spent nearly seven hours searching the London offices of Cambridge Analytica. It is believed that a total of 18 law enforcement officials entered the Cambridge Analytica headquarters in London's West End on Friday night to search the premises after the Information Commissioner's Office (ICO) was granted a warrant to examine its records. A spokesperson for the ICO stated:
"This is just one part of a larger investigation into the use of personal data and analytics for political purposes."
The focus of the data watchdog's investigation includes the acquisition and use of Facebook data by Cambridge Analytica, SCL (the parent company of Cambridge Analytica), and Dr. Aleksandr Kogan, the academic who developed the app used to gather the data. While the pressure mounts now on the company at the center of the scandal the company itself has gone into PR defense mode. Dr. Alexander Tayler, who was appointed after the suspension of Alexander Nix, issued an apology about the way some data had been collected by an affiliate company. In the statement to the press and public he stated:
"I am sorry that, in 2014, SCL Elections (an affiliate of Cambridge Analytica) licensed Facebook data from a research company [GSR] that had not received consent from respondents…The company believed the data had been obtained in line with Facebook's terms of service and data protection laws. We are now undertaking an independent, third-party audit to verify that we do not hold any GSR data."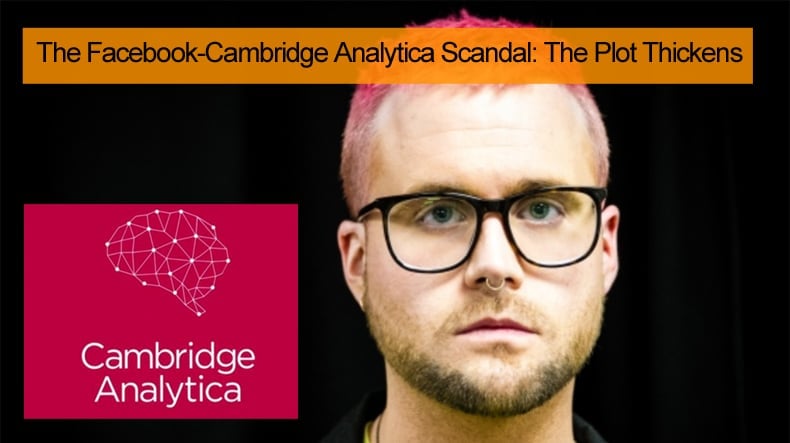 Tayler further wished to emphasize that the source of the allegations, Christopher Wylie, is not a whistle-blower. According to Tayler, Christopher Wylie was a part-time contractor who left in July 2014 and has no direct knowledge of our work or practices since that date. Tayler further stated:
"He was at the company for less than a year, after which he was made the subject of restraining undertakings to prevent his misuse of the company's intellectual property while attempting to set up his own rival firm."
These comments appear odd in the sense that the cat is out the proverbial bag and much damage has been done. These comments may be seen as an attempt to discredit Wylie and an attempt to remove some credibility from the information he revealed. However, it is his information that has resulted in all the media attention and now UK regulators searching the premises on Cambridge Analytica's London offices. As it stands Cambridge Analytica, Facebook, and Kogan deny any wrongdoing.
Facebook collects Call and SMS Metadata from Users
While news of the police raid in London was breaking, news of a different kind was beginning to emerge affecting Facebook. It appears that Facebook collects call and SMS metadata from user's smartphones. Several Facebook users who downloaded an archive of their Facebook data in the wake of the Facebook-Cambridge Analytica scandal discovered that social network's app collected data on all phone calls made on the phone, the start time of each call, its duration, and the contact's name as long as those numbers appeared in the user's contacts list. The app also gathered information on all sent or received SMS messages to contact list entries, however, the content of the messages was never recorded.
These claims were further corroborated by a user in New Zealand, Dylan McKay , who also discovered that Facebook had collected approximately two years' worth of phone call metadata from his Android phone, including names, phone numbers, and the length of each call made or received.
Facebook responded to the reports by issuing a press statement. In it, a spokesperson for the social media giant stated:
"Call and text history logging is part of an opt-in feature for people using Messenger or Facebook Lite on Android. This helps you find and stay connected with the people you care about and provide you with a better experience on Facebook. People have to expressly agree to use this feature. If at any time, they no longer wish to use this feature they can turn it off in settings, or here for Facebook Lite users, and all previously shared call and text history shared via that app is deleted. While we receive certain permissions from Android, uploading this information has always been opt-in only."
This, however, contradicts the experience of several users who insist they never gave the app their express permission as is alluded to in the above statement issued by Facebook. It is also stated that Facebook says that the company keeps the data secure and does not sell it to third parties but the post doesn't address why it would be necessary to retain not just the numbers of contacts from phone calls and SMS messages, but the date, time, and length of those calls for years.
Kogan also under Fire
It is not just the major companies who are taking flak from all corners. Cambridge University is coming under increased pressure over how it handled concerns raised about the mass data harvesting at the heart of the Facebook and Cambridge Analytica scandal. Concerns have been raised after a cache of emails revealed heated exchanges between senior academics involved. It appears that some colleagues were opposed to Kogan's research with one email going so far as to say his activities are a "get rich quick" scheme back in 2014. It would appear that the scandal will definitely have an impact on how companies handle user data in the very near future.