What is Windows Security System and how to eliminate it from your computer?
Windows Security System is a malicious software which imitates a legitimate antivirus program. In reality this bogus software doesn't have any of the features required for an antivirus program, it's a scam released by Internet criminals. They designed Windows Security System to imitate all the processes of a computer security scanner and to scare unsuspecting PC users into believing that their computer has various malware and virus infections. To distribute this fake program Internet criminals are using Trojan infections which infiltrates user's computer and installs this rogue without user's agreement.
Such Trojans serves as downloaders which can spread various types of infections varying from key-loggers to fake antivirus programs such as Windows Security System. Trojans which are used to spread this scam are distributed through spam campaigns, P2P networks and various misleading websites, to keep your PC clean from such infections you should update your operating system and use a legitimate anti-spyware and antivirus programs. After infecting your PC this misleading program will modify your operating system and will set itself to start on every system start-up, furthermore it will generate various random files in your Windows temporary files folder. Windows Security System detects these newly created random files as being malware in it's imaginary security check-ups and will ask PC users to "convert to a full version" (purchase a license for Windows Security System) in order to remove these supposedly detected security threats.
This rogue program is not unique, it comes from a family of rogues which distribution dates to year 2011. Predecessors of Windows Security System were named Antivirus Protection 2012 and Security Monitor 2012. You shouldn't trust any information displayed by this rogue software, it's main goal is to trick you into purchasing it's useless license key. If you click "Clean and Disinfect" after a fake security scan shown by Windows Security System you will be asked to purchase this program to clean the found security infections - don't buy this program it's a scam, security threats that are found by this program doesn't exist on your computer. Use this removal guide to help eliminate this scam from your PC.
Before downloading the remover: Click "Activate" button which is located in the bottom right corner of the Windows Security System program window, and when registration window opens enter this registration key.
9YW1-KI7D-V7GG2
By doing this you will trick Windows Security System into thinking that you have already purchased it's licence. This will restore your Internet connection and other disabled Windows features. After registering this fake program be sure to download a legitimate antispyware program and completely remove this rogue from your PC.
remover for Windows Security System

By downloading any software listed on this website you agree to our Privacy Policy and Terms of Use. We are affiliated with anti-virus and anti-spyware software listed on this site. All the products we recommend were carefully tested and approved by our technicians as being one of the most effective solutions for removing this threat.
Windows Security System removal:
1. Load your computer in safe mode with networking. Click Start, click Shut down, click Restart, click OK. During your computer starting process press F8 key on your keyboard multiple times until you see Windows Advanced Option menu, then select Safe mode with networking from the list.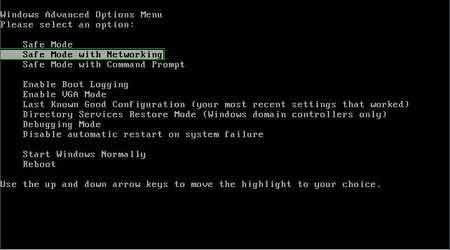 Video showing how to start Windows 7 in "Safe Mode with Networking":
2. Open Internet Explorer, click Tools and select Internet Options. Select Connections, then click LAN settings, if a "Use a proxy server for your LAN" is checked, uncheck it and press OK.
3. Download HijackThis and save it on your desktop. Some malicious programs are able to block HijackThis so when you click the download link, in the Save dialog rename HijackThis.exe to iexplorer.exe and only then click the Save button. After saving the file on your desktop, double click it. In the main HijackThis window click "Do a system scan only" button. Select these entries (place a tick at the left of the entry):

O4 - HKCU\..\Run: [Security Manager] C:\Documents and Settings\[User Name]\Application Data\Windows Security System\windowssecuritysystem.exe
O4 - HKCU\..\Run: [Windows Security System] "C:\Documents and Settings\[User Name]\Application Data\Windows Security System\windowssecuritysystem.exe" /STARTUP

After selecting required entries, click "Fix Checked". After this procedure you can close HijackThis and proceed to the next removal step.
4. Download and install antispyware software to completely remove the infection.
remover for Windows Security System

By downloading any software listed on this website you agree to our Privacy Policy and Terms of Use. We are affiliated with anti-virus and anti-spyware software listed on this site. All the products we recommend were carefully tested and approved by our technicians as being one of the most effective solutions for removing this threat.
Other tools known to remove Windows Security System: