Top Antivirus 2014
Antivirus software is the most important software on your computer - without it your system can be easily infected with various malware and viruses. Such infections have the potential of causing a considerable amount of damage to your PC. The threat of computer viruses is constantly growing, so it is very important to choose a right security program to protect your computer. This list consists of well known, top antivirus software. Click "read more" to find more information about your selected antivirus software.
IMPORTANT: Be sure you have only one anti-virus software installed on your computer, having two different programs may cause problems.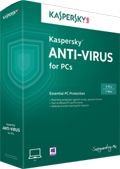 Works with: Windows XP (32-bit)(SP2), Windows Vista (32-bit and 64-bit), Windows 7 (32-bit and 64-bit), Windows 8 (32-bit and 64-bit), Windows 8.1 (32-bit and 64-bit)
Official Kaspersky Anti-virus 2014 Website
Kaspersky Anti-Virus 2014 (KAV 2014) is a popular antivirus program developed by Kaspersky Lab, which recently celebrated its 16th anniversary. Kaspersky Labs is now one of the four largest internet security vendors in the world. Its latest antivirus program 'Kaspersky Anti-Virus 2014' continues to provide Internet users with reliable and effective protection from the latest security threats.
This new product has several new and updated features to make it more flexible and powerful. In this review, we will take a closer look at the new features offered in KAV 2014. The installation of KAV 2014 takes just one click after downloading the setup file. If you are an advanced user, there are further options, however, the default installation requires little effort and is rapid.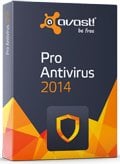 Works with: Windows XP (32-bit)(SP2), Windows Vista (32-bit and 64-bit), Windows 7 (32-bit and 64-bit), Windows 8 (32-bit and 64-bit), compatible with Windows 8.1
Official avast! Pro Antivirus 2014 website
avast!'s roots span back to 1988, and ever since, this company has been developing great computer security software. With its fine reputation, it is no surprise that avast! has become the most popular antivirus program in the world. This October, avast! released the avast! Pro Anti-Virus 2014 suite. Although avast! is known mainly for its free antivirus products, there are now three additional commercial versions offering improved security: avast! Pro Anti-Virus, avast! Internet Security, and avast! Premier Anti-Virus.
This review is focussed on avast! Pro Antivirus 2014. Installation of this anti-virus program is straightforward, requiring minimal effort (express installation). Be aware that, at time of testing, this antivirus program was bundled with a Google Toolbar; users who wish to avoid installation of this, should choose the advanced installation and deselect the toolbar option when installing avast! Pro Antivirus 2014.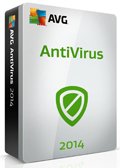 Works with: Windows XP (32-bit)(SP2), Windows Vista (32-bit and 64-bit), Windows 7 (32-bit and 64-bit), Windows 8 (32-bit and 64-bit)
AVG was founded in 1991 and has been developing reliable antivirus solutions ever since. AVG antivirus is trusted by more that 172 million users worldwide, making it one of the most popular antivirus developers in the world. This September, AVG released its latest antivirus security suite, 'AVG Anti-Virus 2014'.
The user interface of this new version has changed little, however, it offers several new features. The following article reviews these new features. Installation is straightforward, however, some effort is required to select the appropriate installation options. For example, Kaspersky Antivirus 2014, takes just one click to install, whereas AVG's installation is somewhat more involved. We also noticed that it is more challenging to install this program on an operating system that is already infected.
Why do I need Anti-virus protection?
Having an antivirus program installed on your PC these days is very important - the threat of computer viruses and malware infections is constantly growing. Various computer viruses have a potential of causing significant damage to your computer. Such infections can delete user's data, steal your personal information, lock your computer, and ask to pay a ransom to unblock it and perform other rogue tasks. Infected computers becomes unstable, Cyber criminals can access your personal data and perform other malicious tasks. Choosing the best antivirus program can be a complicated task. We at pcrisk.com are dealing with spyware, malware, and virus infections daily, so we know which security suites works well and which fail to detect and remove various security issues. When adding software to our top antivirus lists, we check every aspect of the antivirus we are recommending. We perform various tests, look at independent testing companies recommendations etc.
Nowadays an antivirus program became a must, if you care about your computer's security and your own privacy you should always use one.