Yontoo adware - how to eliminate Buzzdock ads from Google and deceptive ads from YouTube?
Yontoo is a company that develops browser add-ons and web applications. Their products include such web apps as Best Video Downloader (web app which allows users download videos from YouTube), PageRage (app which allows users to change Facebook layouts), EasyInline (app that adds possibility to highlight text and ads options to search across various popular resource sites) and many other. While the thought of enhancing Internet browsing experience by developing various browser add-ons and plug-ins is praiseworthy Yontoo apps are all ad supported and are using some deceptive ways to display them. For example after installing Best Video Downloader YouTube visitors will notice that the ads that are shown when visiting YouTube doesn't come from Google anymore, Yontoo app overrides Google ads with their own.
To my mind downloading YouTube videos doesn't fit to any copyright laws in the first place, furthermore ads that are shown in YouTube after installing Best Video Downloader app can make some big troubles to the security of your PC and to your privacy. Some of the mentioned ads will ask user to fill some online forms in order to claim some prize (scam) etc. Such shady ads could easily end up in installation of unwanted applications or even malware.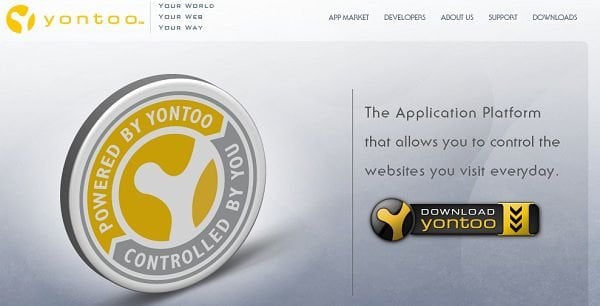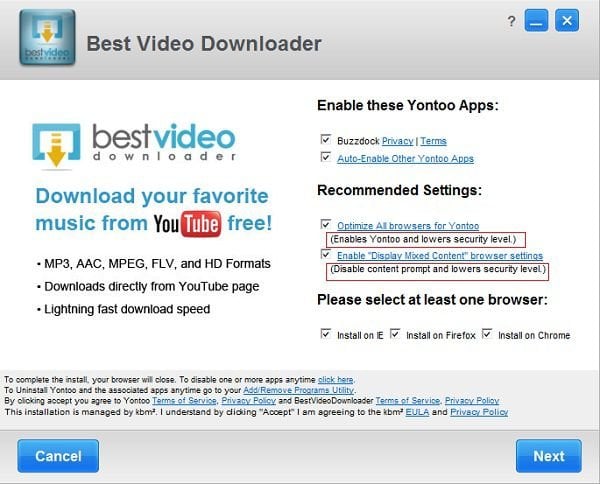 Furthermore while having Yontoo apps installed on your Internet browsers you will notice that when using Google search engine the ads that are displayed while performing a search no longer comes from Google. Yontoo overrides them with Buzzdock ads. Google is a reputable company which spends a lot of time and money to filter out ads that could make harm to your computer or your own privacy, to my mind having some third party ads appear in the place of original ads is not a good idea.If you have installed Yontoo by yourself and you are happy with the free services that you get you shouldn't do anything, just be cautious when clicking on the ads that are shown in YouTube and Google, but if you care about your computer's security and your own privacy you should remove this unwanted app from your PC. Use the provided removal guide to help you eliminate Yontoo from your computer.
Why you should remove Yontoo from your computer:
Yontoo overrides your Internet browsers and displays deceptive ads.
Slower Internet browsing experience.
Yontoo is detected as adware, Trojan or unwanted application by most of legitimate antivirus vendors.
Yontoo removal: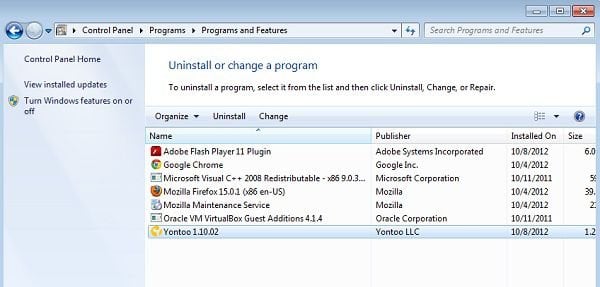 Windows 7 users:
Click "Start" ("Windows Logo" in the bottom left corner of your desktop), choose "Control Panel". Locate and click "Programs and Features". Look for "Yontoo" select it and click Uninstall.
Windows XP users:
Click "Start", choose "Settings" and click "Control Panel". Locate and click "Add or Remove Programs". Look for "Yontoo" select it and click Remove.
After uninstalling Yontoo scan your computer for any left unwanted components or possible malware infections. Recommended anti-spyware software.
Scan your computer for possible malware infections
By downloading any software listed on this website you agree to our Privacy Policy and Terms of Use. We are affiliated with anti-virus and anti-spyware software listed on this site. All the products we recommend were carefully tested and approved by our technicians as being one of the most effective solutions for removing this threat.
Yontoo removal from browsers:
Video showing how to remove potentially unwanted browser add-ons:
Remove Yontoo from Internet Explorer:

Click "Tools" (or gear icon in Internet Explorer 9), select "Manage Add-ons". Look for Yontoo related entries (Yontoo Api, Yontoo) and disable them.
Remove Yontoo from Google Chrome:

Click on a wrench or bars icon (top right of the screen), select "Tools" and click on "Extensions". Locate "Yontoo", select it and click on a trash can icon.
Remove Yontoo from FireFox:

Click "Tools" (at the top of the window), select "Add-ons". Click on "Extensions" and disable "Yontoo".