Friday, 14 December 2012 16:58 | Written by
Tomas Meskauskas
|
Fast Address Bar - how to remove this browser add-on?
Fast Address Bar is a browser add-on which claims to enhance Internet user's browsing experience by adding search engine functionality to the address bar. After installation of this browser plug-in every time Internet user would type an address into browsers address bar Fast Address Bar would suggest additional websites. Notice that after installation of this add-on whenever you click on suggested sites you will be redirected to search.fastaddressbar.com Moreover some of the suggested sites could be promoted by the developers of Fast Address Bar. This browser plug-in can be downloaded from it's homepage or it may come bundled with freeware downloaded from the Internet. Some computer users complaints that this browser add-on was installed on their computer without their consent - such situation could occur if computer users have recently installed free software and wasn't paying attention to it's installation steps. To avoid installation of such unwanted toolbars Internet users should always check every installation window of free software that they are installing on their computers - disallow installation of unwanted browser extensions and toolbars, opt-out option which suggest that you should change your browsers settings (homepage, default search engine). Fast Address Bar is not related to viruses or malware, it's a browser extension which most commonly installs on user's computer using freeware bundling.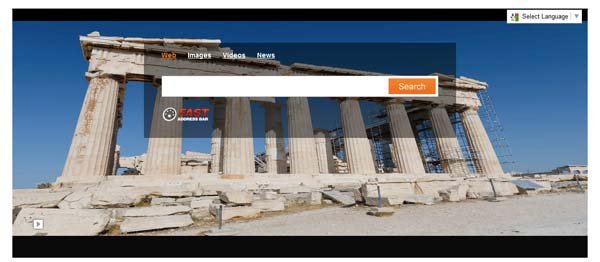 Computer users should be cautious when installing Internet browser add-ons - most of them tracks your Internet browsing, displays unwanted ads and causes redirect problems. Most commonly free software developers are bundling their software with browser add-on for monetization purposes. If you have installed Fast Address Bar yourself and you are aware of it's presence you don't need to follow any removal steps, however if you feel that this browser extension was installed without your consent we recommend to eliminate it from your computer. Use the provided removal guide to eliminate Fast Address Bar from your Internet browsers.
Fast Address Bar removal: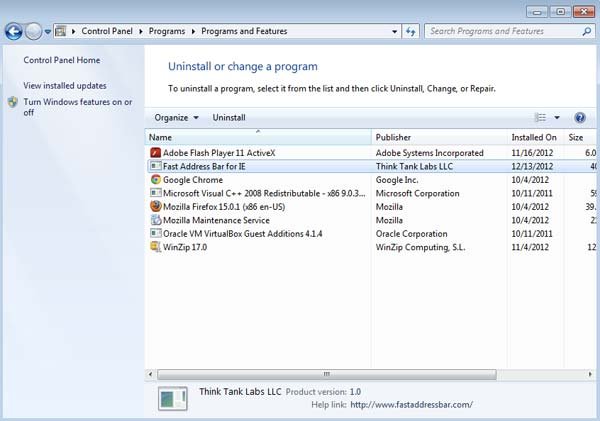 Windows 7 users:
Click "Start" ("Windows Logo" in the bottom left corner of your desktop), choose "Control Panel". Locate "Programs and Features". Look for "Fast Address Bar for IE" select this entry and click Uninstall.
Windows XP users:
Click "Start", choose "Settings" and click "Control Panel". Locate and click "Add or Remove Programs". Look for "Fast Address Bar for IE" select this entry and click Remove.
After uninstalling Fast Address Bar scan your computer for any left unwanted components or possible malware infections. Recommended anti-spyware software.
Scan your computer for possible malware infections
By downloading any software listed on this website you agree to our Privacy Policy and Terms of Use. We are affiliated with anti-virus and anti-spyware software listed on this site. All the products we recommend were carefully tested and approved by our technicians as being one of the most effective solutions for removing this threat.
Fast Address Bar removal from browsers:
Remove Fast Address Bar from Internet Explorer: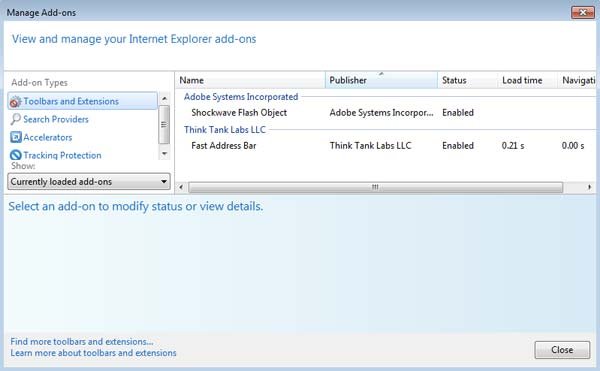 Click "Tools" (or gear icon in Internet Explorer 9), select "Manage Add-ons". Look for "Fast Address Bar" and disable this entry.
Remove Fast Address Bar from Mozilla FireFox:

Click "Tools" (at the top of the window), select "Add-ons". Click on "Extensions" and disable "Fast Address Bar".