Sunday, 27 January 2013 11:54 | Written by
Tomas Meskauskas
|
Smart Security - how to remove?

Smart Security is not your typical antivirus program - it's a scam created by Cyber criminals. This rogue security scanner infiltrates user's computer using malicious websites, drive-by downloads and Trojans. After this bogus program installs itself on user's PC it will start imitating a legitimate security program and will report various security infections supposedly detected on one's computer. Moreover this misleading program will also generate security warning messages which states that user's PC ia at risk - to eliminate the supposedly detected security threats Smart Security will ask to activate it's full version. Notice that paying for the full version of Smart Security equals to sending your money to Cyber criminals, this software is a total scam, it pretends to detect security infections which in reality doesn't exist on user's PC.
This misleading strategy is used to scare PC users into believing that their operating system has various security issues - Cyber criminals are hoping that unsuspecting PC users will fall for this trickery and will purchase a licence key for Smart Security. If you see this program scanning your computer for security infections you can be sure that your PC is infiltrated with a rogue antivirus software - don't pay for it's full version and eliminate Smart Security from your computer.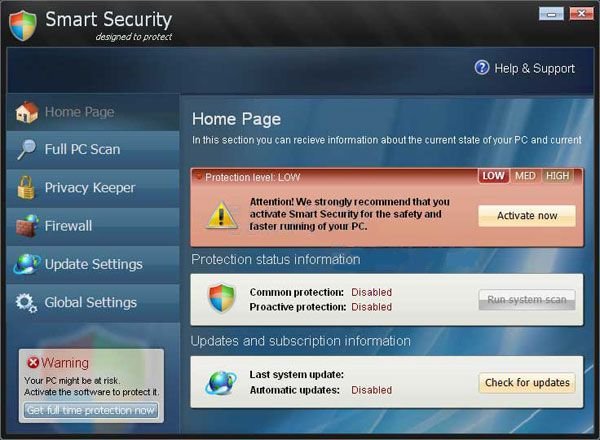 Smart Security shouldn't be trusted - this rogue security scanner is just an imitation of a real antivirus software, this bogus program uses generated security warning messages and false malware detection lists to trick PC users into thinking that their computers are infected with high risk security threats. Most commonly such fake antivirus programs are installed on user's PC using found security vulnerabilities - to prevent such infiltrations one should keep all of the installed software and your operating system up-to-date, also don't forget to use legitimate antivirus and anti-spyware programs. Notice that Smart Security disables operating system's Task Manager and disallows execution of Internet browsers - this makes it's removal process more complicated. If your PC is infected with Smart Security - use the provided removal guide and eliminate this scam.
Fake security warning pop-ups generated by Smart Security:
"Your PC might be at risk. Activate the software to protect it."

"Security Warning! Malicious program has been detected. Click here to protect your computer"

"File is infected by W32/Blaster.worm Please activate to protect your computer"
Smart Security removal:
To make the removal process of Smart Security less complicated you can try entering the retrieved registry key. Click "get full time protection now" button located at the bottom left corner of the main window, enter a fake email address and this registry key:

Y78REW-T54FD1-U2VCF4A
Notice that by entering these registry keys you will trick Smart Security into thinking that you have purchased it's full version - this will unblock your Task Manager and you will be able to use your Internet browsers to download legitimate anti-spyware software and completely eliminate this scam from your computer.

By downloading any software listed on this website you agree to our Privacy Policy and Terms of Use. We are affiliated with anti-virus and anti-spyware software listed on this site. All the products we recommend were carefully tested and approved by our technicians as being one of the most effective solutions for removing this threat.
Some variants of Smart Security disables execution of all installed software, this is done by changing some registry entries in your operating system. If you cannot run or download the recommended anti-spyware software, download this registry fix file. It enables execution of applications - click on the link below, when the download is complete, double click it, click "Yes and then "OK".
Smart Security removal using Safe Mode:

1. Load your computer in Safe Mode with Networking: Click Start, click Shut down, click Restart, click OK. During your computer starting process press F8 key on your keyboard multiple times until you see Windows Advanced Option menu, then select Safe mode with networking from the list.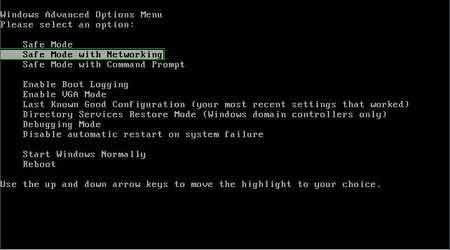 2. Download fix.reg file After saving the file to your desktop - double click fix.reg and then click YES to confirm.
3. Download recommended anti-spyware software and run a full system scan - remove all the infections that it detects.
remover for Smart Security fake antivirus
By downloading any software listed on this website you agree to our Privacy Policy and Terms of Use. We are affiliated with anti-virus and anti-spyware software listed on this site. All the products we recommend were carefully tested and approved by our technicians as being one of the most effective solutions for removing this threat.
Other tools known to remove Smart Security:
Additional information:
If you are unable to remove Smart Security using the provided removal guide , you can use these manual removal instructions. Use it only if you are an experienced computer user, otherwise you could harm your operating system.
(Instructions on how to end processes, remove registry entries...)
End these Smart Security processes:
[random characters].exe
Remove these Smart Security registry entries:
HKEY_LOCAL_MACHINE\Software\Smart Security.exe
HLEY_LOCAL_MACHINE\SOFTWARE\Microsoft\Windows\CurrentVersion\Run "random"
HKEY_CURRENT_USER\Software\Microsoft\Installer\Products\random
HKCU\SOFTWARE\Microsoft\Windows\CurrentVersion\Run "Smart Security"
HKEY_CURRENT_USER\Software\Microsoft "adver_id" = "29"
HKEY_CURRENT_USER\Software\Microsoft\Windows\CurrentVersion\Policies\Associations "LowRiskFileTypes" = ".exe;"
HKEY_CURRENT_USER\Software\Microsoft\Windows\CurrentVersion\Run "Smart Security"
HKEY_CURRENT_USER\Software\Microsoft\Windows\CurrentVersion\Run "rundll32? = ""
HKEY_CURRENT_USER\Software\Microsoft\Windows NT\CurrentVersion\Winlogon "Shell" = "%UserProfile%\Application Data\defender.exe" /sn"
HKEY_LOCAL_MACHINE\SOFTWARE\Microsoft\Windows\CurrentVersion\policies\system "EnableLUA" = "0?
HKEY_LOCAL_MACHINE\SOFTWARE\Microsoft\Windows\CurrentVersion\Run "rundll32? = ""
Delete these Smart Security files:
%Documents and Settings%\[User Name]\asr.dat
%Documents and Settings%\[User Name]\Application Data\1tmp.bat
%Documents and Settings%\[User Name]\Application Data\defender.exe
%Documents and Settings%\[User Name]\Application Data\scan.dll
%CommonPrograms%\Smart Security\Smart Security.lnk
%UserProfile%\.Smart Security
%ProgramFiles%\Smart Security\Smart Security.exe