Editor's offer: Download Combo Cleaner and protect your PC
Download Combo Cleaner
Protect your digital world against latest malware, adware, ransomware and spyware threats.
CLICK HERE TO START YOUR DOWNLOAD
Not your OS? Download Combo Cleaner for Mac
Step 1
Click the green download button above. After downloading the file click on it to open the installer

Step 2
Click YES to approve Combo Cleaner installation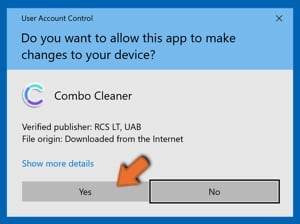 Step 3
Start scan and remove detected threats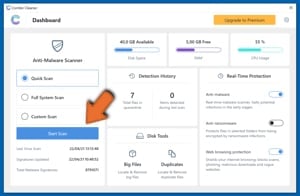 Antivirus scan
Powerful on-demand scanner scans every file on your computer for malicious code.

Real-time protection
Real-time anti-malware scanner uncovers malicious applications the second they are being downloaded or executed.

Anti-ransomware
Anti-ransomware module protects your selected folders from file encrypting malware.

Web protection
Web-protection module prevents you from visiting phishing and infected websites.

Big and duplicate files scanner
Removes useless big and duplicate files to uncover wasted valuable disk space.

Support by experts
Dedicated in-house support staff that is ready to answer all user questions related to the usage of Combo Cleaner.