Operation ISIS: How A Sect of Anonymous Stopped a Terror Attack

Written by Karolis Liucveikis on
France, the country, and Anonymous, the hacktivists, have declared war on ISIS. President Obama has reluctantly done the same: in his Oval Office address on December 7th, the 74th anniversary of the Japanese attack on Pearl Harbor, Obama used the word "war" for the first time in reference to current events. Of course, Anonymous does not have any aircraft carriers like France, but they are adept at hacking, so could be quite useful in helping cutting off ISIS's access to the internet and countering some of their propaganda. Mainly they do this by outing ISIS accounts on social media and hacking their email. That Anonymous, the virtual group, has joined with the USA, France, UK, and Germany, who have actual armies, is something new. Anonymous is usually on the side of anarchists and others who oppose government. But in a startling piece of largely underreported news, The Independent and other media reported that an Anonymous sect stopped terror attacks in New York and Tunisia by uncovering and reporting those plans to the authorities.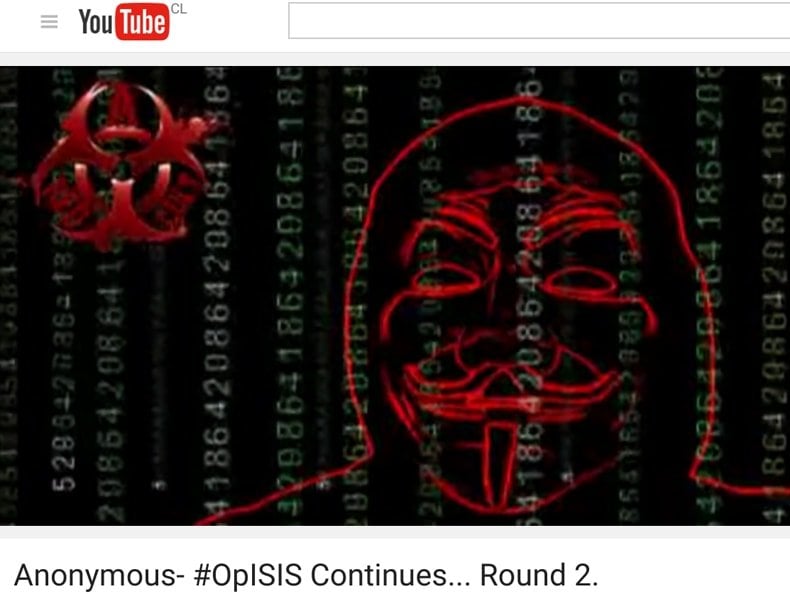 Anonymous are not known for following civil procedure in carrying out their complaints. When they hack companies and websites they see themselves as doing good while their vandalism of private property does actual financial harm. They have been reckless too at least once: anonymous did serious damage to individuals when they listed some people as being members of the KKK who were not.
But now they say they are taking their cyberwar to the level of war. You can read their declaration below: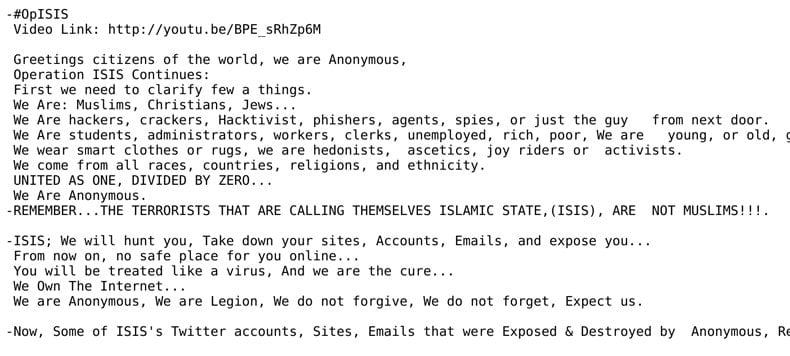 One of their attacks was on November 27. Then Anonymous hacked an ISIS website and replaced the landing page with a Viagra ad. Beyond that they have set themselves to the task of getting ISIS members kicked off Twitter, YouTube, and Facebook.
Now they want your help.
Anonymous Enlists the Aid of Your and Me
Anonymous is trying to crowdsource insults against ISIS. They called for December 11 to be ISIS Trolling Day and have posted some tips on how to going about hurling verbal assaults against ISIS members in a personal way. What make this bit of hacktivism different is that the group that heretofore existed only in cyberspace this time plans to show up in person in New York, London, and Paris to hold rallies.
In a rallying cry to their followers, Anonymous suggests their followers post photos of dead ISIS soldiers under the hashtag #Daesh and #Daeshbag, since ISIS likes to post gruesome photos of its victims and beheadings. Anonymous says followers should take pictures of fornicating goats and post those suggesting that the goats are ISIS soldiers and their wives. They say help them in their hunt to patrol social media. They ask that you ask your friends to find and report ISIS Facebook pages. And for those who know produce a video, make one of those making fun of ISIS.
The Independent says that ISIS is moving onto the Dark Web, which makes it harder to find them. But social media is where they will have to remain to recruit recruits since would-be soldiers would not know anything about the Dark Web.
To help stop ISIS from recruiting terrorists on the web, President Obama in his Oval Office speech called on Silicon Valley to help push ISIS off social media. Twitter and Facebook have always thrown people off their platforms who use fake names. The question this time is will they help the intelligence agencies read their mail. Certainly they would never tell the public if they do.
Anonymous Stops real Killers
Now a splinter group of Anonymous has apparently thwarted a terror attack. GhostSec has taken the momentum from that to go legit, partnering with other like minded hackers to carry on their cyberwar in the open.
According to Tech.Mic, GhostSec hackers, posing as jihadis, thwarted a terrorist attack in Tunisia by infiltrating hacker forums. The Russian Times says they also prevented an attack in New York. Both were said to be "Paris-style attacks."
The hackers, having uncovered the secret plot in Tunisia, were not sure what to do with this intelligence since they no doubt are used to avoiding the police and not cooperating with them. So they picked a name out of a New York Times article and contacted the Kronos Advisor security company who alerted the authorities. The attack was foiled and GhostSec have become heroes to the few who know about that.
Since then Ghostsec has become The Ghost Security Group calls itself a counterterrorism unit collaborating with the US and other governments. That's quite a turnaround.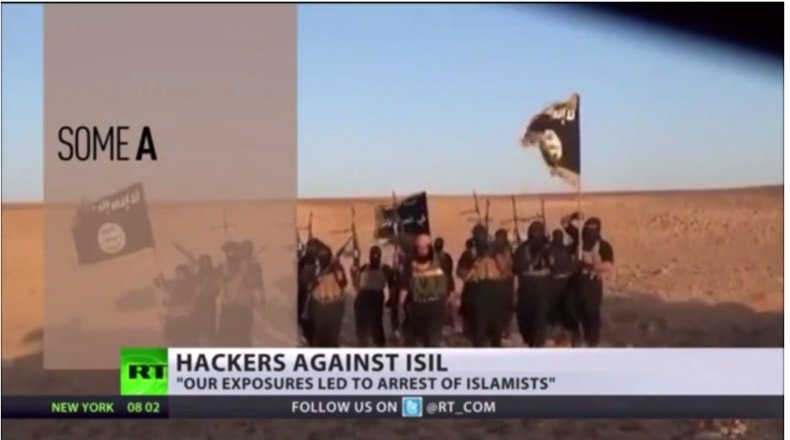 Their press release announcing that they have teamed up with other groups including Peshmerga Cyber Terrorism Unit, Katiba des Narvalos, and Controlling Section, all groups dedicated to flushing out ISIS online. All of these groups are quite tiny, having only a few followers. CrtlSEC France is the largest with almost 3,000 followers. On their French language web site they posted wanted posters of one of the Paris shooters, who remains at large, and explained that the Twitter account of an ally in the war against ISIS had to be recovered Twitter. Twitter deleted it; that mistake is easy to understand given their name, Jihadi Jean.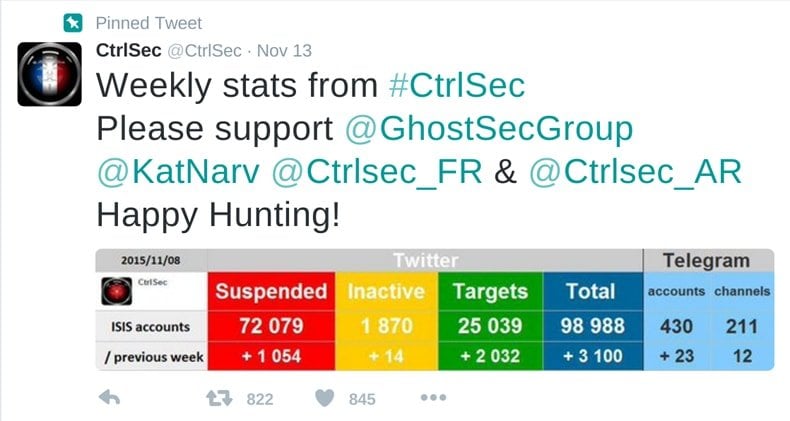 Ghostsec boasted that they have had 60.000 Twitter accounts deleted. Good for them.