YOUR BROWSER HAS BEEN LOCKED - how to remove this ransomware virus?
"Your browser has been locked" and "All activities on this computer has been recorded" messages which appear while browsing the Internet are not legitimate. These messages which ask to pay a fine of $300, 200 GBP or 200 Euro (using Ukash, PaySafeCard or GreenDot MoneyPak) in order to unlock one's computer are not related to any legitimate authorities, they are created by Cyber criminals with an intention of stealing money from unsuspecting Internet users. Notice that paying a fine when asked by such browser locking message would equal to sending one's money to Cyber criminals.
Such Internet browsers (Internet Explorer, Google Chrome, Mozilla Firefox, Safari) locking messages are called ransomware viruses - most commonly Cyber criminals who are responsible for creating such scams are exploiting the names of various authorities around the world (FBI, EUROPOL, RCMP, Gendarmerie nationale, etc.). Ransomware viruses rely on fake law violation notifications (Copyright and Related Rights Law, viewing or distributing prohibited Pornographic contents, neglectful Use of Personal Computer) to scare computer users into paying a non-existent fine. Cyber criminals have created several different variants of ransomware viruses, this particular one lock's user's Internet browser using Java script, however there are several ransomware families which blocks the entire screen of one's computer.
Screenshot of FBI "Your browser has been locked" ransomware virus: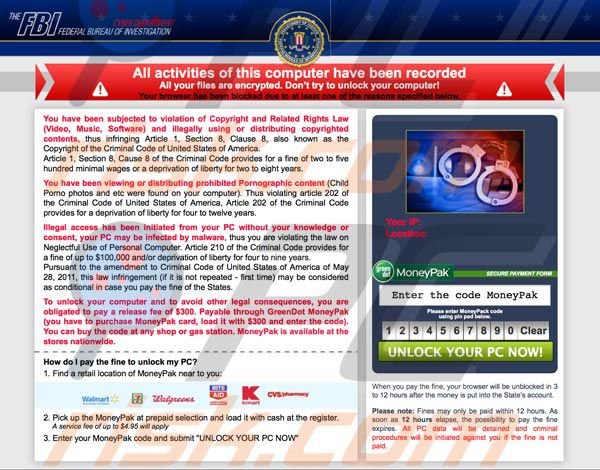 Screenshot of EUROPOL "Your browser has been locked" ransomware virus: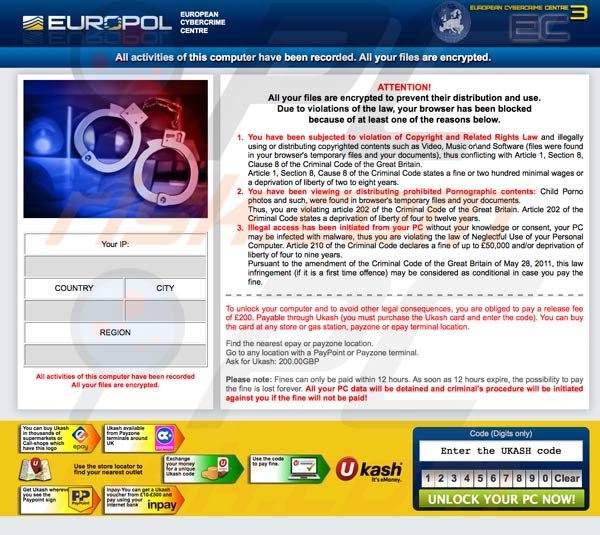 Screenshot of Gendarmerie nationale ransomware virus: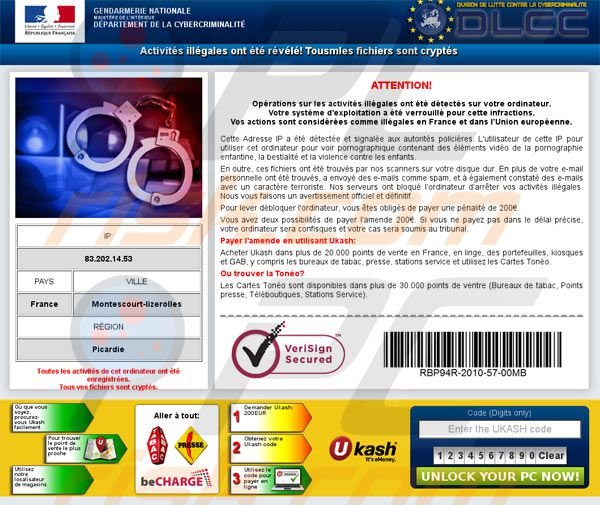 Screenshot of RCMP ransomware virus: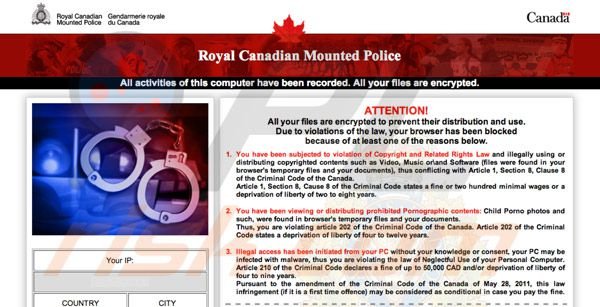 Cyber criminals who are responsible for creating this scam have added one additional payment which would supposedly clear all of user's Criminal records. This fake message is shown to users who have already payed the fine to unblock their Internet browsers.
FINE HAS BEEN PAID. YOUR CASE HAS BEEN CLOSED.
YOU CAN PAY $450 PROCESSING FEE TO DELETE ALL CRIMINAL RECORDS.

To Delete this case from all criminal records and avoid any problems at work and other places where criminal records can be checked, you are obliged to pay a release fee of $450, payable through GreenDot MoneyPak (you have to purchase MoneyPak card, load it with $450 and enter the code). You can buy the code at any shop or gas station. MoneyPak is available at the stores nationwide.
This message is just an additional scam, it's a fake message and there are no real criminal cases opened.
"Your Browser has been locked" virus removal:
These Internet browser blocking messages rely on JavaScript - every time Internet user tries to leave such page a warning message appears - "YOUR BROWSER HAS BEEN LOCKED ALL PC DATA WILL BE DETAINED AND CRIMINAL PROCEDURES WILL BE INITIATED AGAINST YOU IF THE FINE WILL NOT BE PAID". After clicking OK, users are presented with another message "Are you sure you want to leave this page?" after clicking "Leave this page" the cycle of these messages continues. If your Internet browsers are locked by one of these messages - don't pay any fines, the right way of treating this scam is it's elimination. In order to close the browser's window user's have to temporary disable Javascript - after successfully closing the ransomware message don't forget to enable Javascript. Moreover if your Internet browser have redirected you to such ransomware page it could be an indication of a serious security infection. To keep your computer safe always keep your software up-to-date and don't forget to use legitimate antivirus and anti-spyware programs.
After successfully closing Internet browser's window with a fake message scan your computer for possible malware infections. Use recommended anti-spyware software.
Scan your computer for possible malware infections
Eliminate "Your Browser has been locked" virus from Internet Explorer (disable JavaScript in IE):
1. Click on the "gears" icon. Select "Internet Options".
2. Click the "Security" tab, click the "Internet" symbol, click the "Custom Level…" button.
3. In the Settings list, scroll down to "Scripting" section. Under Active Scripting, click the radio button to the left of "Disable".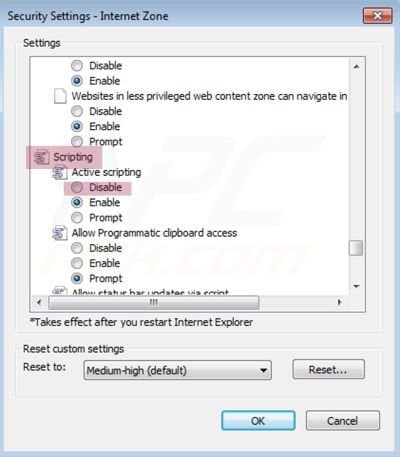 4. After temporary disabling Javascript in Internet Explorer you will be able to close the fake "Your browser has been locked message". To be sure that your computer is not infected with malware - scan your computer for possible malware infections. Use recommended anti-spyware software.
Eliminate "Your Browser has been locked" virus from Mozilla FireFox (disable JavaScript in FireFox):
1. Click on the FireFox button and select "options"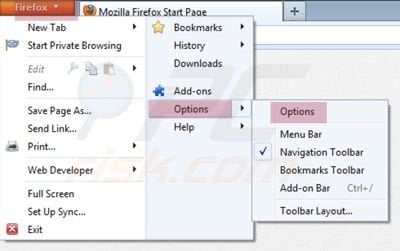 2. In the top row of icons click "Content". Click the check box to the left of "Enable JavaScript".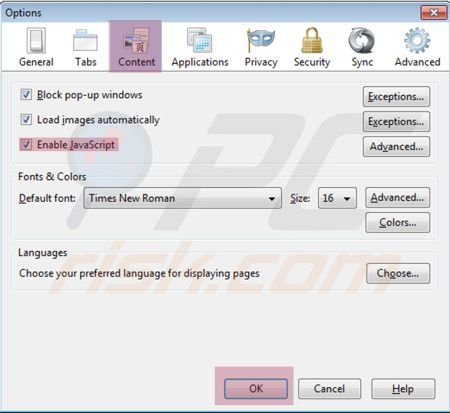 3. After temporary disabling Javascript in Mozilla FireFox you will be able to close the fake "Your browser has been locked message". To be sure that your computer is not infected with malware - scan your computer for possible malware infections. Use recommended anti-spyware software.
Eliminate "Your Browser has been locked" virus from Safari (disable JavaScript in Safari):
1. Click on the Safari menu, click on Preferences.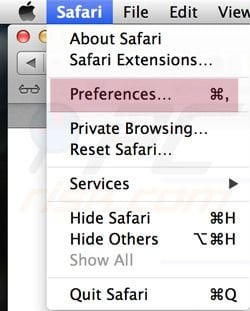 2. Click the Security icon. In the "Web content" section uncheck the tick next to "Enable JavaScript".

Eliminate "Your Browser has been locked" virus from Google Chrome (disable JavaScript in Chrome):
1. Click on the "bars" icon. Select "Settings"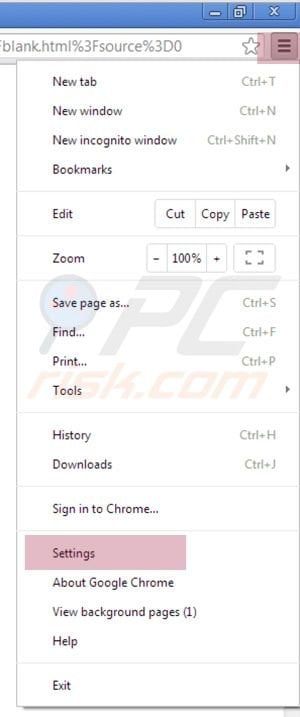 2. Scroll down and click on "Show advanced settings…"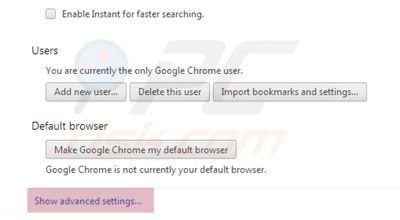 3. In the "Privacy" section, click on the "Content settings…" button.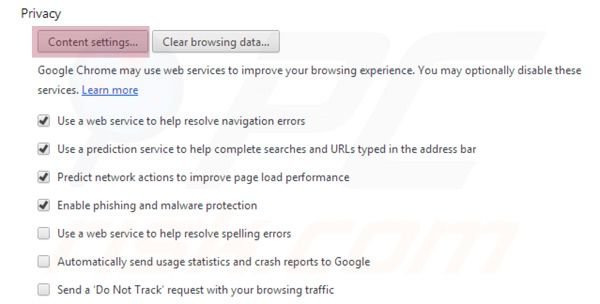 4. In the JavaScript section select "Do not allow any site to run JavaScript" and click "Done" button.

5. After temporary disabling Javascript in Google Chrome you will be able to close the fake "Your browser has been locked message". To be sure that your computer is not infected with malware - scan your computer for possible malware infections. Use recommended anti-spyware software.